Elderberry winter tonic recipe and a giveaway!
It's a bumper crop year for elderberries here in Nebraska, it appears. Little Mack asked me yesterday when we were going to start school. I looked at him blankly for a moment, thinking "School? Already? When there are so many elderberries to pick and process?" That's not what I said, though. I said "School! School? Oh, yeah–school! I can't wait–I think–next week, how does that sound?"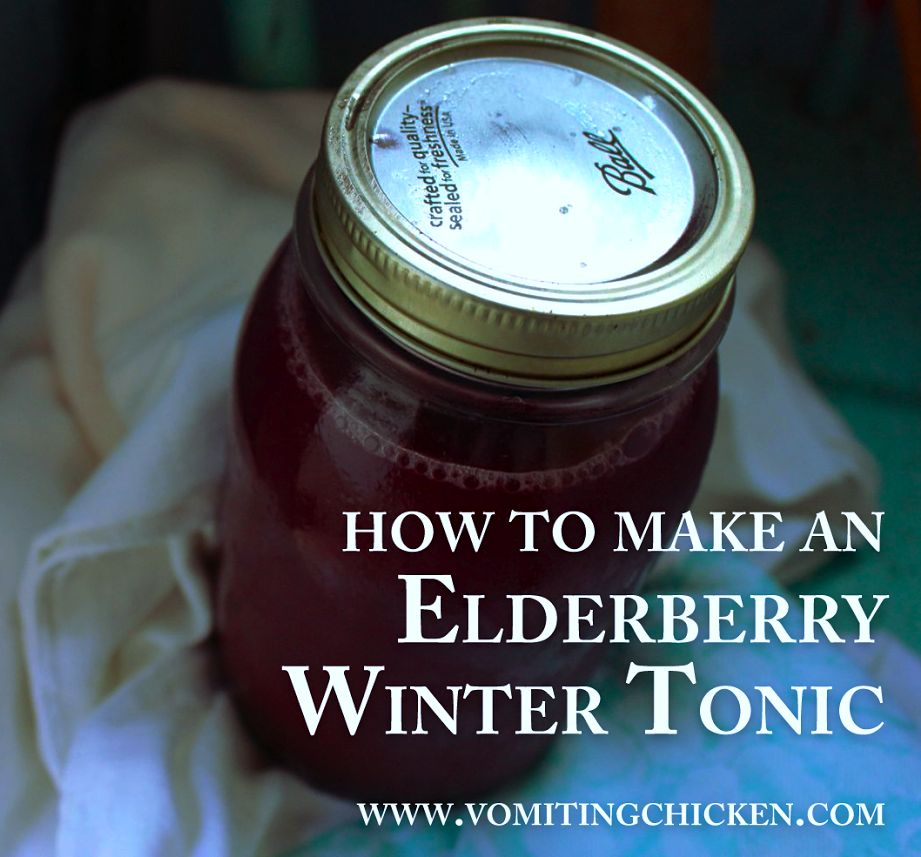 I hissed to Amalia, later: "I'm not ready to start school yet!" and she laughed and said (in a fond manner, sweet girl that she is) "Mom, you're never ready to start school!" Which. Is true. Why, I ask you, does school have to start at the most delicious time of year, when the nights are cool and perfect for star-gazing, even the bugs are beautiful and fascinating, harvest season in the garden and the fields and the wild areas is just beginning and the days are sunny and pleasant? Hello?
Two words: Outdoor School. That's what I'm thinking. 🙂 In the Woods School. At the Picnic Table School. Picking Elderberries School. 🙂 On the Bikes School. Yes, I think we can make this work. 🙂 School is a very broad term at our house.
Very Broad, indeed.
Learning happens everywhere, with just a bit of forethought, don't you agree? A good history reader can be stuck into a backpack and read in the waiting room, while Mom has her eye appointment (it will take longer than you think, you know.) Sketchbooks can be carried anywhere, those daily sketches done in the car or during church (it helps me listen, don't laugh). Math can be done outside, on the picnic table, as long as you can ignore the bluebird scouts that happen through one morning, the funny little Icelandic roos that are beginning to crow now and sound like dear rusty hinges, the dog that is whining plaintively for a walk, the bald eagles that soar overhead now and then . . . okay, kids, better move inside to do math.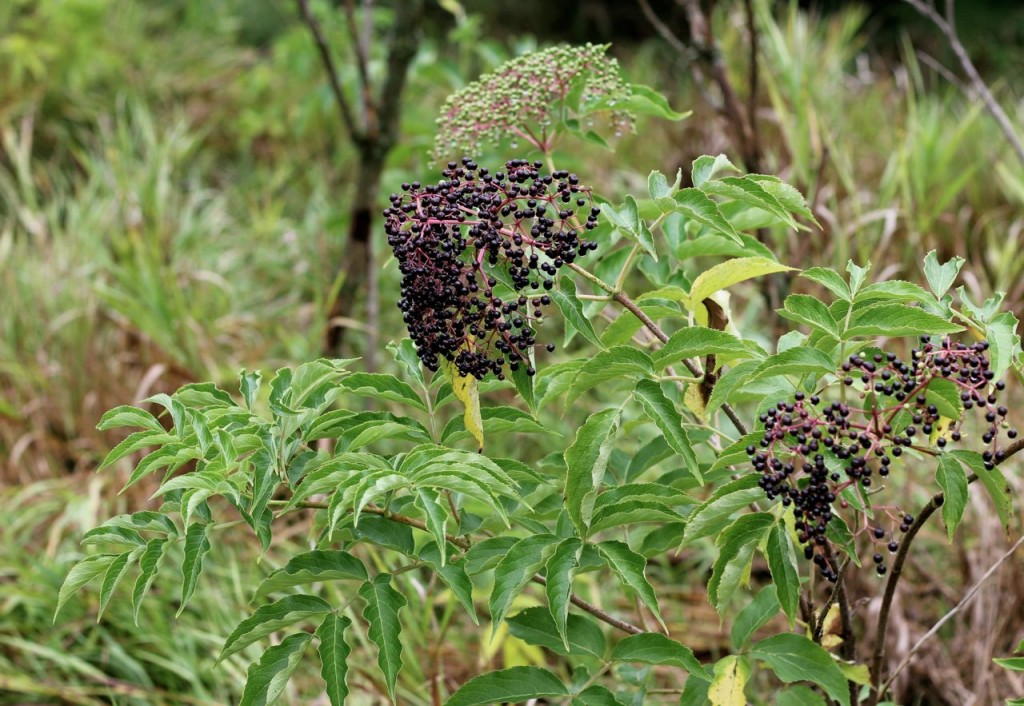 But anyway. I'm scrambling here a bit this week, since we've been picking wild elderberries and wild plums and rose hips to make into our precious cache of wild foods for winter. I'm thankful for all this activity out and about, inside and out. Not to mention, my tomatoes are producing like gangbusters.
"Gangbusters." Whatever does that mean??

I gave a boxful of beautiful heirlooms to a tomato-loving friend whose tomatoes haven't produced as she had hoped this summer. "I thought you'd give me the ugly ones," she said. There are no ugly tomatoes this year. It is a great tomato year in my garden. Take a gander. (More about this next week).
The weather has been delightful–very cool at  night, and perfect temperatures and sunshine during the day–and it's so pleasant to turn attention from a weedy, grasshopper-bopping garden to the wild areas around our home. I would live outside, if I could. That's between you and me, Gentle Reader. And anyway, you already knew that, right?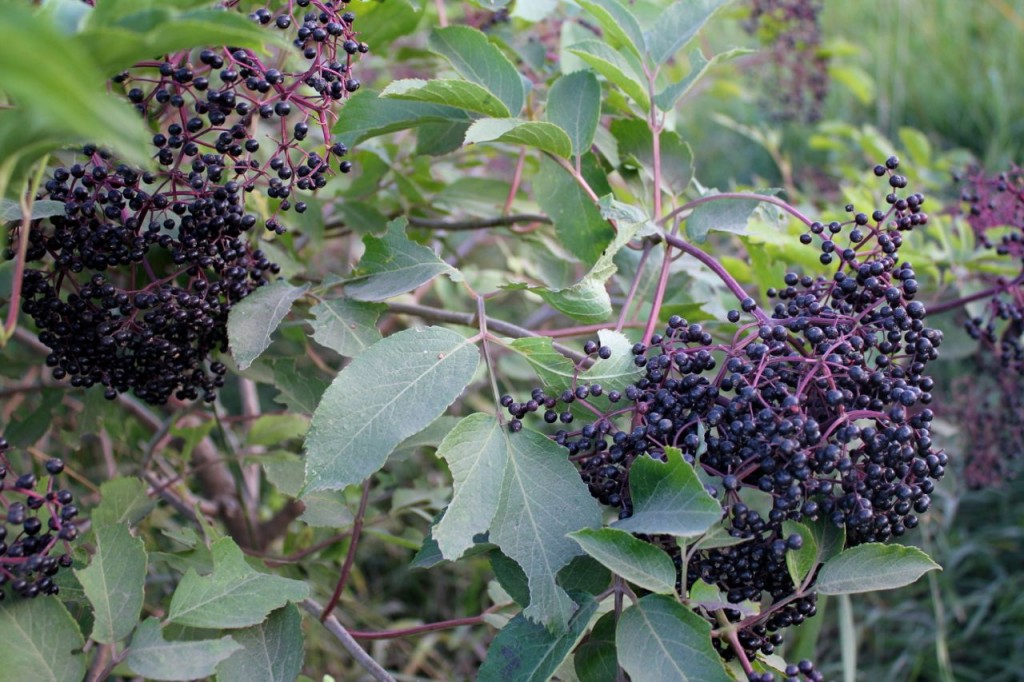 Anyway. Here's my elderberry winter tonic recipe that I promised you earlier this week. You can use fresh elderberries, or if it's not the right time of year for elderberry harvest or if they don't grow in your area, you can buy them here.* Be aware that the recipe is slightly different if you use the dried elderberries. Hang on, I have an elderberry giveaway at the end of this post, too.
Elderberries are an awesome wild food, with many great medicinal properties. Read more about them here. They are best known for being a powerful booster of the immune system, and that's why so many health-conscious folks make some sort of winter tonic or syrup, yours truly included. Elderberries are rich in antioixidants and vitamins A, B and C. They've been reported to be good for many health problems, including easing arthritis symptoms (not that I'm old enough to start worrying about that . . . cough . . . ).
The only tedious thing about making this winter syrup is the stemming of the elderberries, but I have one handy tip for this task: Netflix. The kids and I never turn on the t.v. during the day, unless we're working on a tedious task together that can be done with one eye on Sherlock. Or a Downtown Abbey rerun. Or a M*A*S*H, if we've only got 20 minutes or so. Yesterday both Amalia and Mack asked me if we were going to work on elderberries ("please, Mom? Can't we work on elderberries today?" 🙂
Thank you, Netflix.) 🙂
It almost feels like we're getting away with something, enjoying our elderberry stemming so, so much. 😉
I just love Sherlock. If Mack joins us, there are certain episodes that we don't watch, because they are a bit too grim. What am I saying? Some episodes are too grim for me.
This happened at our place yesterday afternoon: Me: Oh, my, well, I need to vacuum the living room and finish up the dishes first before I have time to stem the elderberries-–" Little Mack: *sighs* Okay Mom, I can do the vacuuming and I'll ask Amalia to help do the dishes so we can do the elderberries quicker . . . " I am not making this up. It happened. Cross my heart.

But, back to the winter tonic. This is a very strong syrup and can be taken every day as an immune booster (1 tsp per day for adults, half that for kiddos) or added to fizzy drinks (I'm making elderberry kombucha with it this week) or used in any way that you'd use other sweet syrups. It's just lovely to have in the 'fridge all winter long. It's a delightful taste of fall that will nourish you through the winter months, if you get on it and make it now. I like to drizzle it on breakfast yogurt, too.
If you don't have the time to make it right now, you can always stick the stemmed elderberries in the freezer and make it later. If you have the freezer space available. (I don't.)

Elderberry Winter Tonic
Author:
Amy from vomitingchicken.com
Recipe type:
immune-boosting syrup
Prep time:
Cook time:
Total time:
Elderberries and raw honey are both anti-viral, and together with fresh ginger and spices, make a delicious and nutrient-rich syrup for use in your healthy kitchen! This recipe can be doubled or tripled or quadrupled or whateverupled.
Ingredients
1 cup fresh elderberries, washed thoroughly and stems removed, or ⅔ cup dried*
1 cup water (or if using dried elderberries, make it 3 cups of water)
2 Tb fresh ginger (grated) or 1 tsp dry
1 tsp cinnamon
¼ tsp ground cloves
½ cup honey (local and raw, if possible)
Instructions
Bring berries, spices, and water to a boil, then lower the heat to simmer.
Cover and simmer for 20 minutes (or 45 minutes if using dried elderberries). (Word to the wise: don't go out to the garden while this is happening, because invariably it WILL boil over and your son will shriek mightily from the kitchen and you will bolt back to the house, thinking that he has had a horrific accident. You will be relieved that he is not mangled in some way, but your stovetop will be, I'll warrant, a distressing mess.)
Strain out elderberries, pushing on them with a wooden spoon to get all the juice out.
Let cool.
Stir in honey.
Decant into bottles or jars and keep in the refrigerator. Lasts for months.
Use in drinks, on ice cream, pancakes, etc., or just take 1 tsp per day as a health-building tonic.

This winter tonic (I like calling it a tonic, it has such a restorative, old-fashioned sound to it) will help sustain you through the winter months, when you are recalling lovely days like this one . . .

But wait, that's not all . . . to reward you for reading this blog to the end, I'm doing a quick, impromptu giveaway. Mountain Rose Herbs, the excellent company that I buy organic herbs and many other things from, gave me some dried elderberries to do a giveaway with! Let's keep this simple. To enter this giveaway, leave a comment below. For a second entry, share this post (making a note in the comments that you did so). That's it! The contest will end a week from today (next Thursday) and we'll pick a winner randomly.

Good luck to you and thanks, guys!

*hugs*

*Quick note: This affiliate link is a company that I have done business with and heartily endorse. Shopping from an affiliate link like this one doesn't cost you a cent extra, but helps me create a bit of revenue that I roll back into this blog, helping me create free content for you! Cool how that works, eh? Thanks so much!