Hey guys, my shop is open!
I've been teasing you for weeks now, and now you see that I wasn't kidding! I have some beautiful and very useful things in my shop.
Click on the individual pictures, if you want more information about these lovely things. With any luck, my website will take you to the individual product pages *fingers crossed*.
(Currently, I am only shipping to customers in the continental U.S.)
Handmade Maple French Rolling Pin
This one is my own everyday French rolling pin. I've used it for years, nearly every day.

My Dad and I worked together to come up with the best French rolling pin for everyday use. It's made of maple–a tough, beautiful, yet inexpensive wood. It's very smooth to the touch, easy-as-pie to clean, and will be the only rolling pin you'll ever need. The French style (slim silhouette, no handles) in my opinion is so much easier to use and keep clean.
Don't have an everyday rolling pin yet?
Then this one is the one you need.
Bitty Walnut Rolling Pin
Sometimes you need a smaller rolling pin, to roll out just a few biscuits or a pastry for a small pie, or maybe you want to give a lovely smaller rolling pin to a smaller person.
Then this little beauty is just perfect:
Just perfect for bitty hands or bitty jobs!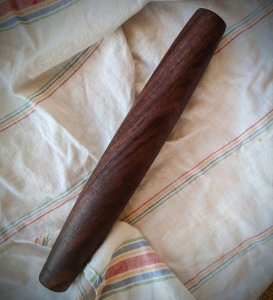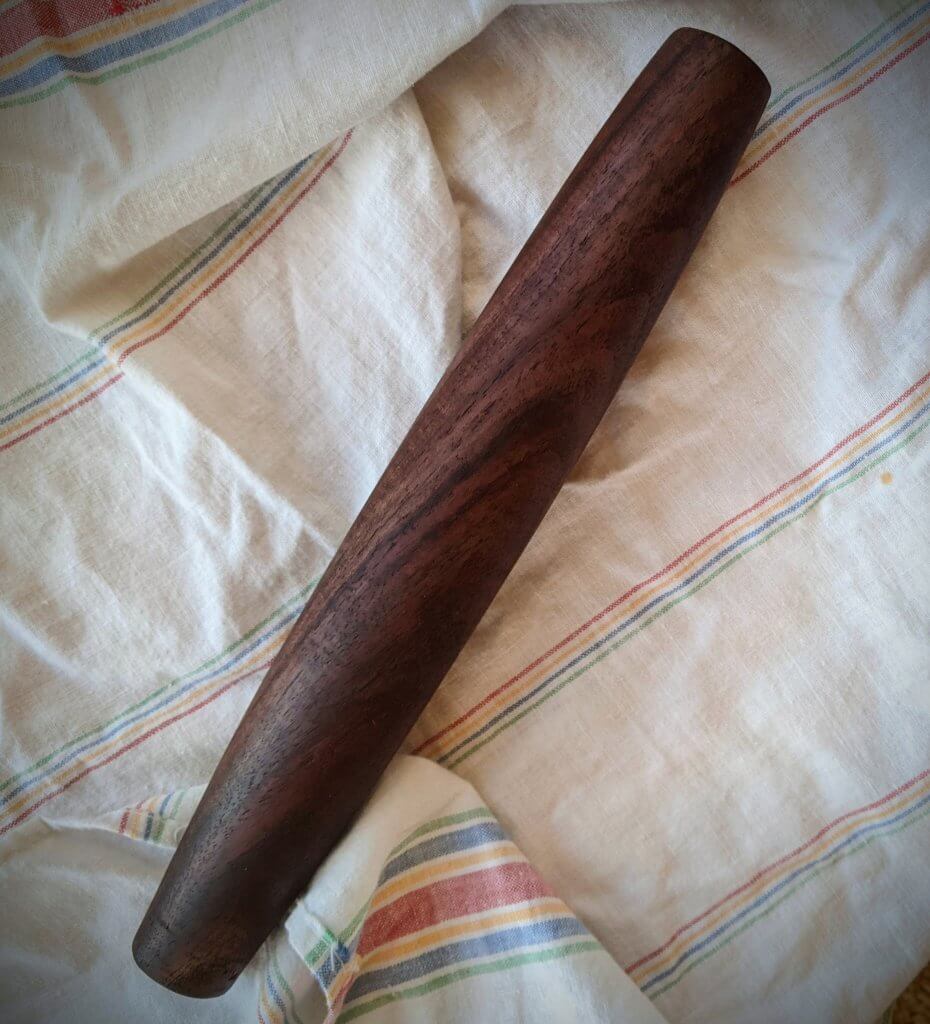 "Mommy and Me" pair of rolling pins in Walnut
How cute are these? This pair of small and teensy rolling pins are just the thing for a mommy with littles who like to help in the kitchen, or a Grandma or Grandpa who have the grandies over to make cookies. Won't it tickle those grandies to have their very own Teensy rolling pin, just the right size for their little hands?
(The Teensy is also sold separately.) Click on this photo to read more about them and to order some for yourself: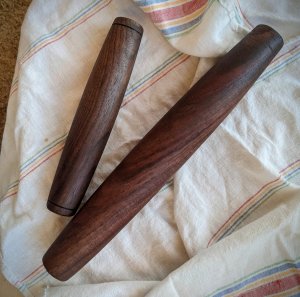 Cherry and Hard Maple pins, Bitty-sized
If you want a Bitty sized French rolling pin with just the proper amount of taper, you can't go wrong with one of Dad's pins. Click the photo below if you would like to learn more about the small pins in Cherry and Hard Maple.
Hand-turned Walnut Rolling Pin, full-sized
Here it is, by popular request. The bitty walnut rolling pins are so popular that Dad decided to make full-sized walnut pins, as well. They are beautiful, slightly smaller than the Everyday Rolling Pin and–trust me–you probably need one in your kitchen!
Walnut is a beautiful, lustrous, rich wood with lots of variations of color. Take a gander.
And then you might want to order one, asap. Dad has a limited supply of this old walnut.
Click on the photo below to learn more, and/or to order one for yourself today!
Thanks again for your love and support, Gentle Readers!

*hugs*
Save
Save