Okay, Gentle Reader, here goes. The story behind the rather unusual and sometimes-criticized name of my blog. (In my defense, I never dreamed that anybody but my family would ever read this space. And I knew they'd laugh at the title.)
To wit.
Last summer I noticed that one of our hens, "Nelly" by name, a lovely blue and brown Ameraucana, developed an unusually large crop. She was off-balance. As you probably already know, if you're a chicken person (and you probably are, if you're looking at this page) chickens possess a muscular pouch along the esophagus called the 'crop'. It stores feed prior to entering the proventriculus, where digestive enzymes will be deposited before being passed into the gizzard. That's where the feed is ground down to a paste, allowing it to be passed into the stomach for digestion.
If this fascinates you as much as it does me, you may want to see an in-depth article about chicken digestion, right here.
Occasionally, the crop becomes backed up, as evidently had happened with poor Nelly. This problem—called crop impaction, crop binding, or pendulous crop—can occur when a chicken eats too much, too quickly. In this condition, even if a chicken continues to eat, the feed cannot pass the impacted crop.
Poor Nelly reminded me of a top-heavy woman when she scooted about, the swollen crop swaying in a disturbing manner. Her spirits seemed to be good. She was perky and energetic, darting after bugs and competing with the other chickens for scraps. It was a bit disconcerting to watch her, however.
I pondered. What could I do?  Should I do something? Was there anything that could be done? Perhaps it was a problem that would take care of itself, I thought, squeamish coward that I am, so I decided to just watch her closely for a few days.
So, I watched her. I saw that she would lumber out of the coop in the mornings to eat and drink and scuttle about with the other chickens as if everything was hunky-dory, not at all like she was carrying what amounted to a largish softball in her chest cavity. She seemed a tad reflective. There didn't appear to be any self-pity involved, any rancor or bitterness or the using of this trial as an excuse to treat her fellows with meanness.
Nelly has excellent character, apparently.  She could be a model of surviving a difficult situation with bravery and aplomb. I needed to point her out to my children, I decided. They could learn from her. I could learn from her. (Sigh.)
I decided pretty quickly that I did, indeed, need to do something. Of course my first line of research is to call my dad. Dad is a farm boy and knows a lot about everything. I never know the difference between what topics he's actually an expert on, and what he might just make up to satisfy me,  because he always sounds so grave and intellectual.
Dad is a man of many gifts with an encyclopedic memory, and I knew he'd know how to fix my Nelly.  Moreover, I knew he'd be empathetic and understanding, since I'm pretty sure that I inherited my painfully tender heart where animals are concerned from him. Dialing the phone, I imagined, in a rush of affection that Dad would in all certainty rush out to cure my suffering chicken right then and there.
"Sounds like it's time for chicken soup!" he proclaimed happily. I was appalled to hear him actually smacking his lips. "Coincidentally," he added, "Mom has some fresh homemade noodles curing on the counter here. I could run some out . . ."
So much for fatherly empathy and understanding.
"Dad. It's Nelly, not some superfluous rooster. I'm not gonna butcher her," I countered, much as the thought of chicken and noodles, to be honest, gave me pause. Mom does make the very best noodles.  They are tender, yet chewy. They plump up in the broth so nicely. (I posted that noodle recipe, by the way, right here, if you're interested.)
Trying to forget Mom's homemade noodles, plump and squishy and steamy hot in their aromatic stock, surrounded by hearty chunks of chicken meat, I proceeded to my next line of research: Google. I don't often ignore the wisdom of Dad, but this time, Nelly's life was at stake. Literally.
I dived in to "chicken crop problems" and immersed myself in reading about shared experiences and wacky hypotheses and bizarre chicken-crop-problem anecnotes that left me eventually bobbing to the surface, gasping for breath.
I found hundreds of entries about crop problems in chickens! Who knew the crop was such a ailment-prone organ?
Here's a fact, Gentle Reader: chickens are like pigs, in that they will eat nearly anything. I've seen hens gobble down moldy bread with relish, grab a live mouse and fight over it, and much, much worse, which I won't divulge to you (this is a family website).
One website asserted that the only way to really understand Sour Crop, another "frightening disorder," was to "pretend, for a moment, that you are a chicken." Another one explained in detail how to make a chicken vomit.

I wasn't going there, I decided.
Chicken with noodles was sounding better and better. I was not taking Nelly to the vet, or spending hundreds of dollars on her, I'm sorry. I was fond of her, it's true. But my pocketbook certainly had its limits.
I finally went on a short walk to clear my head. While out, I spotted Nelly, and guilt washed over me. Poor thing! Here she was, giving her all, laying those beautiful eggs day after day and I couldn't be bothered to take care of something as simple as an impacted crop, merely because I happened to be a bit squeamish about–of all things–vomit.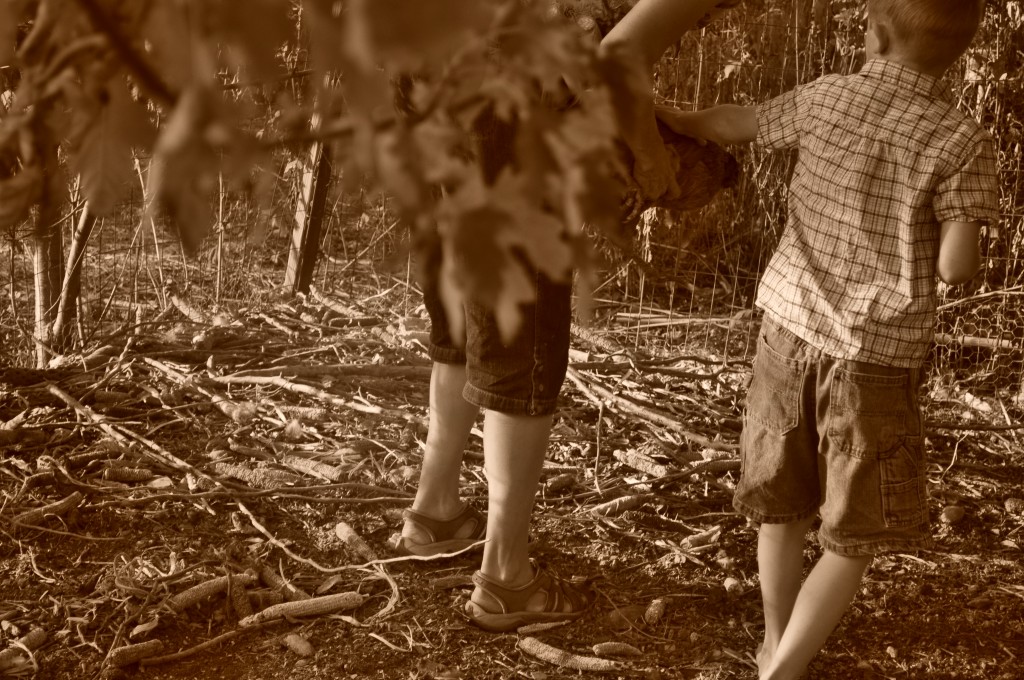 For Pete's sake–she had been suffering for a couple days by now. She was a noble chicken with excellent character. She deserved better! Then and there I decided that it was time: something had to be done. Her frontal corpulence had become, in fact, alarming. But what, from all the remedies that I had read about, should I do?
Diagnosis was an important first step, so I carefully caught Nelly and palpated the lump. From what I had read, it could be impacted grain, or impacted hay and grass, and the latter was by far the more complicated problem. Hmmm . . . Nelly seemed to have impacted grain and hay and probably grass, too, as far as I could tell. I could feel clearly the contents of the crop through the skin, stretched tight as a drum.
I drew on my vast wealth of Google-knowledge for the next step in the diagnostic procedure: to smell the chicken's breath. If it had an "offensive odour," it could mean "sour crop" which is a worse problem yet, and usually results in (you guessed it) chicken noodle soup. Or dumplings. Stewed chicken. It was a little hard to smell Nelly's breath, because she was flailing about so, but as far as I could tell it seemed pretty much like any other chicken's breath. She smelled, overall, like a chicken.
It seemed to me that the easiest course of action, of all the suggestions that I read about, might be to go in for the vomit. So I took a deep breath, braced my feet, and . . . trying to recall the articles I had perused on the subject, positioned Nelly with her head downwards. She relaxed a little, and stopped trying to kill me, being in this vulnerable position.
I prayed for gravity to take effect, as I began to massage the crop, gingerly at first, and then a bit more vigorously. I did get a few coughs out of her, and then as she shook her head in distaste, and splattered spittle out onto my hands and arms and jeans, I thought I could detect a "foul odour" on her breath. Hmm. . . could it be the dreaded sour crop? 
I felt a bit accomplished when she vomited just a bit. Strangely.
I wouldn't say that it was a satisfying experience for either of us. Not like it would have been, say, if she'd really just upchucked all over the place, and then hopped down, crop nice and flat and smallish again, as it was meant to be, and cheerfully joined her friends in the grass for her evening salad, winking her thanks to me–her selfless benefactress–and maybe even laying an extra blue egg of gratitude.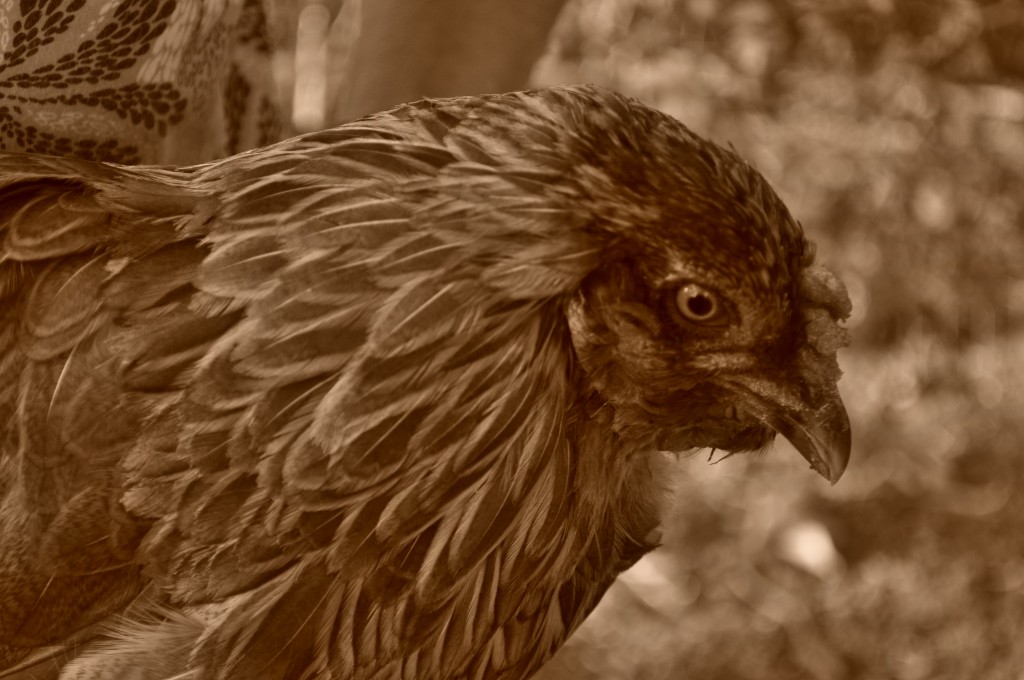 I continued to massage, trying to be as gentle as possible.
I was so intent on my work that I didn't even hear my daughter Amalia walk across the yard to my side, and I jumped when she spoke.
"What are you doing to that chicken?" she asked, her blue eyes open wide.
"Trying to make her vomit," I muttered. I managed a brave grin of sorts, through the hair that had fallen in my face, and the blobs of chicken spittle that had splattered up on me. I must have looked every bit of a maniacal lunatic, disguised as her mild-mannered mother.
Without a word, my daughter turned and walked stiffly back to the house. Probably she was practicing what she was going to say when she made the 'phone call to her dad to inform him that his crazy wife was out in the yard, trying to make a chicken vomit.
Their lives would never be the same, after I was hauled off to the institution. What would all her friends say, she wondered, dully, as she stumped back to the house.
Who would do the cooking now?
I repeated this little procedure a few times over the next couple of days, convinced that it was, after all, doing some good. Nelly started to run when she saw me coming–away from me, that is, not towards me.  Happily, she did recover. She's still a little on the stout side, but I never did have to resort to taking her to the vet, performing at-home surgery, pretending that I was a chicken, or feeding her with an eyedropper 'round the clock.
In retrospect, the entire episode was probably worth it to see Bryan's face on that first day when he got home from work and asked me his daily question:  "Did you do anything interesting today?"
So now you know, Gentle Reader, the story behind the name of this blog.
That's how it started, and I've kept it, because in all the loveliness and beauty and goodness of life, there is also dirt. And vomit. And hard days. It's all part of it. And I write about all of it.
Welcome! and . . .
*hugs*
Save