Handmade Maple French Rolling Pin: my everyday rolling pin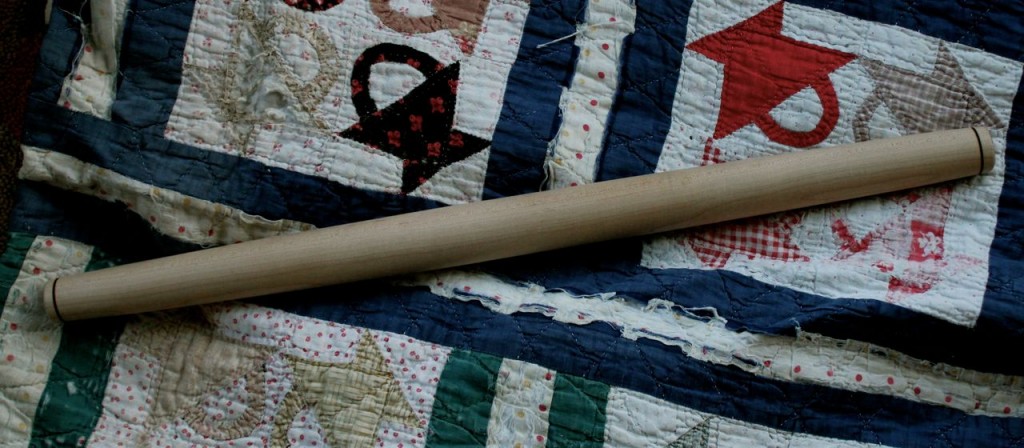 An amazing Nebraska craftsman makes my rolling pins for me–okay, it's my dad–and he signs every one of them with his initials and date. No two are exactly alike, and I have a limited number of them for sale. I'm not sure when he'll get the gumption (just joking, Dad!) to say "no!" to me, so grab one up while you can! 😉
This particular rolling pin, like my own everyday rolling pin that Dad made me years ago, is made of maple, hand-turned, sanded, oiled, and ready to use. I have used one like this one for years and I love the shape, the size, how easy it is to clean up (no handles to gunk up with flour or dough) and how the surface of it gets better with age.
I pull my everyday pin out to roll out biscuit dough, bread dough, pie crusts, tortillas, and more. Cinnamon roll dough! Focaccia! Scones! The sky's the limit!
Caution! This is the last rolling pin you'll ever buy. It will raise your rolling pin bar, most likely, and you'll never be content with any other sort!
I have other pins, but this is the one I grab every day.
Care instructions: Wash by hand with a mild dish detergent and warm water, rinse, and dry immediately. I asked Dad about the best way to maintain these rolling pins. "Make your family one pie a week," he said. "Actually, two pies a week would be even better." If you notice that the surface of the pin seems dry, apply a coat of olive oil or vegetable oil liberally, allow to sit overnight, and then towel off with a soft towel. It'll be ready for use again in the morning. Please do not put into the dishwasher, microwave, or soak in water.
Stats: My everyday French rolling pin is about 24″ long.
$35
Save
Save
Save