4 Simple things you can do to attract bluebirds to your place
It's a strange feeling that I experience in the late winter, when I hear the soft, sweet, peculiar sound of a bluebird's warble. The birds are usually not visible, as they flit quietly from tree to tree, but my ears are finely tuned to that sweet sound, so I know that they are passing through. What it means to me is that winter is nearly over, and that the bluebirds are scouting out suitable places to raise their babies. I feel a clenching of the heart, a painful longing for spring and warmth and the color green, whenever I hear that sound.
It is possible to attract bluebirds to a proper nesting place in town, but they seem to prefer wide open spaces (as do I) so they are more commonly found in the countrysides here in Nebraska.  But if you offer an attractive enough space in town and you coax some of these birds to nest in your yard, you'll be in for a treat!
Bluebirds are sweetly quiet birds. You have to be attuned to their soft song to know that they are about. They are beautiful, but it's a quiet beauty, and you will miss that flash of blue if you aren't paying attention. They don't own the flashy sharp beauty of the bright red cardinal, or the aggressive nature of the bluejay, or the chattery nature of the house sparrow. It's unfortunate that you can miss them entirely if they are in your area.
But now, Gentle Reader, that you are reading this, you'll know to watch out for them!
There are three types of bluebirds: Eastern, Western, and Mountain varieties. Bluebirds are a type of thrush, related to the robin, and all the species are migratory, though I've noticed bluebirds in our area from late winter through spring and summer, and into the fall. They go someplace warmer during our bitter Nebraska winters (again, as would I if I had a choice).
There are many reasons why you do want to attract bluebirds to your area, whether you live in town or in the country. First of all, they are underdogs, and we like to champion the efforts of underdogs, don't we? I do. Because of the introduction of English sparrows and Starlings to the states in the late 1800s, and because of the loss of nesting areas, it is estimated that the numbers of these lovely songbirds went down by as much as 90% between 1920 and 1970. Secondly, bluebirds might be your new best friends if you have a garden, because they eat an astonishing amount of insects. They do eat a few other things–berries, mostly–but they live primarily on their insectivorous diet.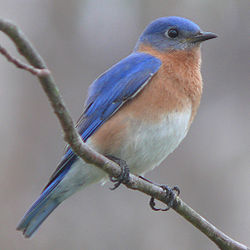 Bluebirds are admirable family birds, and are fun to watch. The female will lay four to five light blue eggs that will take thirteen to fifteen days to hatch. The male will bring food to his mate and the young during the critical first few days of feeding. He will look like a tiny hawk, in his slumped hunting position, waiting patiently for an insect or beetle to show itself. Then he pounces on it and brings it back to his family.
Bluebird young will fledge in fifteen to twenty days. Even though the parents will keep feeding them, the fledglings can find their own food in about two weeks.
You will see some of the youngsters from the first brood bringing food to their new siblings. If I see bluebirds flying around together, I always try to sit down and watch the show. You may even spot the family returning in the following spring to scout out nesting areas.
If you want to attract these lovelies to your property (and trust me–you do!) you need only attend to four simple things:
1.  Food.  Bluebirds consume a large amount of insects, especially when they are raising their babies. Insecticide use is, therefore, not encouraged.  You can also put out suet, which bluebirds will eat.  They will also eat elderberries and other small berries, so adding a few of these bushes to your landscape will encourage their nesting. (Or lots!)
2.  Fresh water.  All birds need fresh water for bathing and drinking, and if you live in colder areas and you want to keep them around over the winter, a water heater in your birdbath is essential.
3. Shelter. Bluebirds prefer older, larger trees with plenty of space in between them, so avoid planting thick and dense plantings of trees or bushes. They also like posts or small trees near their nesting boxes, for perching.
4.  Nesting.  Bluebirds prefer wooden nesting boxes of a certain dimension. You've probably seen them along country roads or in public parks. They are widely available in the shops where you  might buy wild bird feed, or in your local farm store. Or you can find a plethora of styles online. Preferably nesting boxes should be installed in a spot with plenty of space around for flying, and about 4 to 7 feet off the ground. Since bluebirds are territorial, allow plenty of space between the boxes, if you put up more than one. Some sources say a minimum of 300 feet must be between the boxes.
You can also put out nesting materials–fabric scraps, pine needles, yarn, feathers–and watch your bluebird houses for signs that sparrows and starlings may be moving in. Don't let them set up shop! Also, clean out the houses after each brood flies away, to make it attractive for the next nesting period.
That's all you need to know, Gentle Reader, to attract bluebirds to your place.  Put up a couple of nesting boxes, provide some food and water, and listen for that soft warble, and watch for that flash of blue! You'll be glad that you did. But before you do, one last thing–a poem about bluebirds for you to enjoy.
The Bluebird


by John Burroughs

A wistful note from out the sky,
"Pure, pure, pure," in plaintive tone,
As if the wand'rer were alone,
And hardly knew to sing or cry.

But now a flash of eager wing,
Flitting, twinkling by the wall,
And pleading sweet and am'rous call,–
Ah, now I know his heart doth sing!

O bluebird, welcome back again,
Thy azure coat and ruddy vest
Are hues that April loveth best,–
Warm skies above the furrowed plain.

The farm boy hears thy tender voice,
And visions come of crystal days,
With sugar-camps in maple ways,
And scenes that make his heart rejoice.

The lucid smoke drifts on the breeze,
The steaming pans are mantling white,
And thy blue wing's a joyous sight,
Among the brown and leafless trees.

Now loosened currents glance and run,
And buckets shine on sturdy boles,
The forest folk peep from their holes,
And work is play from sun to sun.

The Downy beats his sounding limb,
The nuthatch pipes his nasal call,
And robin perched on treetop tall
Heavenward lifts his evening hymn.

Now go and bring thy homesick bride,
Persuade her here is just the place
To build a home and found a race
In Downy's cell, my lodge beside.
Hey, I'm linking up with the Barn Hop over at The Prairie Homestead. Come on over!