5 Super Tips on Organizing Seed Packets: a lovely, necessary chore
I love this time of year: the long months of waiting are over, and the garden is ready to be planted. In my garden and hoop house, the early season crops are well-established and even needing a first weeding (that would be beets, carrots, turnips, radishes, lettuces, cabbages, and the like. Also onions, potatoes, and peas and their ilk); I've got lots of flats of other plants–some flowers, lots of greens, tomatoes, peppers, and so on–growing inside, and stretching up while we wait for the magical date when they can finally be set out in the garden, too (here in this part of Nebraska, our frost-free date is around May 10).
When your favorite reading material over the winter months is a stack of seed catalogs (cough), you tend to order way more seeds than you need. I refuse to feel guilty about spending money this way, for three reasons:
I don't have a drinking habit which, apparently, can get quite expensive.
I don't smoke, which–ditto.
Most seeds stay viable for years.
Okay, I just thought of a fourth reason: 4. Growing your own food is just such an excellent thing to spend your money on!
But. It can be tricky to organize all those seed packets, when you carry them over from year to year. So how do you organize them so you don't waste all those valuable little seeds? Through trials and error, frustration and desperation, I've stumbled across a system that works for me.  I'd love to hear your tips, too.
And if you have enough self-discipline to just order just exactly what you need from year to year and no more, and use the seeds all up so you don't have to organize or store nuthin', then I don't wanna hear about it.
😉 (just kidding)
First, did I surprise you a bit when I mentioned the fact that many seeds stay viable for years? It's true. And it's a mercy that they do! For example, I may order a variety of tomato seeds that I love–for example, Dr. Wyche's yellow, from Baker Creek Heirloom Seeds. Yes, it's my favorite, but I still won't plant all 25 seeds that come in that little packet. I'll plant maybe 15, giving away 5 and tucking 10 plants into my garden. So what do I do with those last 10 seeds? I'll put them away for next year. As long as I store them correctly (you want them in a cool and dark place over the winter) they'll last for years.
If you take a look at this Seed Viability Chart from the High Mowing Seeds blog, you'll see that there are only two types of seed that only last a year (supposedly): onions and leeks. (And honestly, even then, I'd do a simple seed viability test before I tossed them).
Here's a simple seed viability test that you can do, if you have questions:
Put a few of the seeds in question in a damp paper towel and seal them in a plastic baggie.
Label them, if you're like me and might forget what the heck is in the plastic baggie sitting on the countertop.
Let them sit for a day or two. Or three. If the seeds are viable, they'll begin to sprout.
Of course, each type of seed germinates at different rates. Some seed will begin to show life in a day or two. Others take several days. Here's a chart that shows different germination rates. If they don't show any life during the time period stated, you can toss them without guilt. You'll notice on the chart that most types of seed will germinate within 5 to 6 days.
Here's how I organize my seed packets. Being a messy (cough) creative and (clearing throat) basically not very organized person, this system that I use is quite loose, but it works for me.
1. First, I pull out all my seed packets and group them according to the type of crop and what season I'd plant them in. For example, I put seeds for beets, carrots, and turnips together, since I'll probably be wanting to plant them at the same time, approximately.
2. I make notes on what I might need to purchase this season on a list I have at hand, (by the looks of it, not much). Also I glance at the dates on the packets, and toss the ones that I figure are probably not worth the effort to plant. If I have a question about viability, or if it's a particularly expensive or rare seed, I'll do the seed germination test, as mentioned above.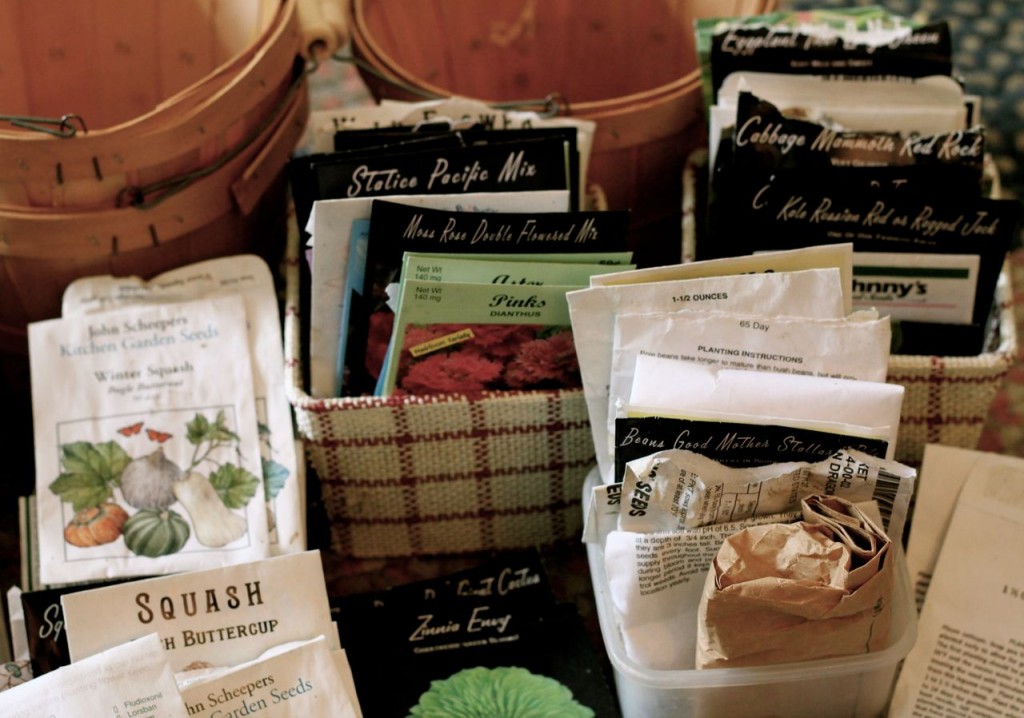 3. I gather the various groups together in rubber bands or little containers I've collected over the years. Categories with large amounts of seed packets–heirloom tomatoes, for example, or root crops, or melons–get their own little container. 🙂
4. I store the small containers into a couple of larger containers (like the tray you see in the first photo, and a couple of square baskets) to keep them all organized. This way I can tell at a glance what seeds are in each category.
5. The most important seeds get the prettiest containers. 🙂 See what I keep the seeds for my heirloom tomatoes in.
That's it, Gentle Reader! I find that it's really important to go through my (leftover) seed collection late every winter, before I order any new seeds. Or, even better: at the end of the gardening season, sometimes I go through my seeds and make notes for what I need next year. This is a better plan, one that I usually don't follow (too busy canning tomatoes and making salsa at that time!). That way, you can dive right into the seed catalogs when they arrive in your mailbox in, er, early winter. I was surprised this year at how little I really needed to order. Maybe that's not as fun as usual, (I do love to order seeds!) but I don't like to waste money or time, so this really helps.
It's Garden Season Proper here in Nebraska, and I hope you've got dirt under your fingernails, too, wherever you are!