An afternoon with the U.S. Poet Laureate: Ted Kooser–my new BFF*
First of all, here's a poem by one of my very favorite poets:
"A New Potato"
"This is just one of the leathery eggs
the scuffed-up, dirty turtle of the moon
buried early in spring, her eyes like stars
fixed on the future, and, inside its red skin,
whiteness, like all of the moons to come,
and marvelous, buttered with light."  –Ted Kooser
I only desire one thing for this Valentine's Day coming up (shhh, please don't tell my Good and Patient husband) and it's this:  a Valentine's poem from Ted Kooser.
For over twenty years or more, blessed, undeserving women around the country have checked their mail and found a postcard bearing a red heart in the corner and a poem: a valentine from Ted Kooser.  Gentle Reader, needless to say, I've never received one of these envelopes, though I'm clearly Mr. Kooser's biggest fan.
This Valentines' poem thing got to be such a big project that Mr. Kooser eventually had to rein it in (I would imagine his wife might have encouraged this reining in) and instead published a book entitled Valentines.  You can purchase this book anyplace, practically, including your local bookstore, if you live in Nebraska.  I think it would make a perfect gift for your Valentine, come to think of it.
For those of you who may not realize it, Ted Kooser was the U.S. poet laureate from 2004 to 2006. He also happened to win the 2005 Pulitzer Prize for Poetry, and he lives within an hour's drive from a very important place.  My house.
I've seen Mr. Kooser, former U.S. Poet Laureate and recipient of the Pulitzer Prize for Poetry, many times in and around Seward, Nebraska.  I've literally (and I mean that literally!) bumped elbows with him at garage sales (we have that in common–we're both devotees), seen him pass by our table at Farmer's Market (my daughter and my mother and I all gawked and stared like groupies, and that is, perhaps, what we are: nerdy Ted Kooser groupies, three generations' worth) and I've seen him buying large paintings at my favorite thrift store, the Etcetera Store in Seward.  (Yes, we're both weekend painters–another thing we have in common!)
I know where he lives, and I also know that he (like me) is an introvert and an intensely private man (woman, in my case).  And that's why I've never rushed up to him, groupie-like, and gushed at him, though I'd really like to.
"Hello, Mr. Kooser! I love your poetry!  I've read your book Local Wonders at least three times and I've listened to it on my MP3 player three times, too!  I loved listening to that book in your own voice.  It gave me shivers, it really did, especially the part about the baby mice and the mother mouse licking the chemicals off of them, so tragic, and I loved the bit about your Aunt, remember? And did you know that after I listened to it (the first time) I ordered 25 wild plum bushes to plant around our place, just as a protest to the 'idiot county workers' (your words, I believe) who spray all the wild plum bushes in the ditches every spring.  I mean, think of all the wild plum jelly we could make–say, we could make it together sometime, wouldn't that be fun??–I'm totally with you on so many things, we have so very very many things in common, I'm sure of it, and Mr. Kooser–I just know we're kindred spirits."
This is what I'd probably say, and then my cheeks would flame up embarrassingly and I would realize that I had just offended an intensely private, quite famous man with my lack of self-control and decorum.
I can imagine what it feels like to be famous and yet to not want to be the center of attention every time you walk out your door.  I can.  Imagine that.  I enjoy my own little circle of anonymity.  I'm happy about that, for the most part.  Being a nobody.  Being able to write all these jaggedy little sentence fragments with nobody criticizing because I'm somebody big and famous and should know better than write so many of them.  In a row. Constantly.
So I jumped (leaped! catapulted my body!) at a chance last summer to attend Ted Kooser's book-signing in Seward, at the fabulous Chapters bookstore.  He recently wrote and published a children's picture book, House Held Up By Trees.

The book tells the story of a house that Mr. Kooser walks by on his daily walks.  It's an old farmhouse that has been sitting empty for so long that sapling trees (we'd call them 'weed trees' at our place) have grown up all around it, actually lifting it off its foundation in spots.  It's a romantic spot.  Yes, it's that cool.  And it's a beautiful book.  I bought several copies.
The really awesome thing, in my opinion, about the event was that afterwards, all the rest of the area Ted Kooser groupies and I were invited to follow Mr. Kooser himself as he drove his car out to the farmhouse that is featured in the book.  If I'm not careful, I'll descend back into sentence fragments as I try to describe to you how excited I was at the prospect of actually getting to rub elbows with the admirable Poet Laureate himself.  Very. Excited.
The day arrived.  My daughter Amalia, a promising writer and a winner herself (like Mr. Kooser) of numerous writing awards, including the Bess Streeter Aldrich Short-Story Contest (I did proofread her entry, ahem) was excited to go with me.  (Nobody wins anything if their work is rife with typos or grammar mistakes, that's all I'm saying).  It was standing-room-only at the bookstore.  The manager of the store and a couple of workers were flushed and happy with the turnout, as they sold stack after stack of Mr. Kooser's books.
Mr. Kooser gave his talk and then he signed books for those of us who didn't come early, and then he gave driving directions to the farmhouse.  I fumbled in my purse for a pen, and wrote the instructions out on the palm of my hand.  I'm fairly infamous for getting lost, and I was taking no chances here.
I was surprised to see that not many of the groupies lined up in their cars to follow Mr. Kooser out of town.  It was an unusually warm day, it's true, with a fierce south wind, but hey–this is Nebraska, a little 30–40mph breeze is nothing new.  (News flash!  Gasp!! Wind is blowing in Nebraska!) I think our car was the third in the caravan of vehicles that was following the poet down the dusty gravel road.  I watched his little red car with a laser-like beam.  I was not going to get lost today.
What an afternoon it was turning out to be, after all!  All of my favorite things–my daughter Amalia (I love the rest of you all, too, now), a drive in the country, Ted Kooser, and exploring an old abandoned farmhouse–yippee!  I couldn't imagine anything making the day better, except for perhaps some good refreshments.  Some guacamole, perhaps, or cheesecake.  And a nice glass of wine.
The house was everything I had hoped for.
I enjoyed walking around the old farmhouse with my daughter, pointing out the flowers that still grew around the foundation–day lilies and Virginia bluebells, to name a couple–but I couldn't ignore the fact that my crush was just yards away from me.  He didn't appear harassed or bothered by the fact that his friends and neighbors were being friendly with him, so I finally mustered up the courage to speak with him.
I asked Mr. Kooser a question about a newspaper interview that I'd read.  In it, he had mentioned that he had lost his writing voice since becoming famous.  That statement had never left me, and I had been hoping against hope that it would not be a permanent loss.  What a price to pay, to gain fame but lose your voice!  And what a voice, at that. So I asked him about that.  "Has it come back?"  I asked.  He is, after all, no longer the U.S. Poet Laureate.  He grinned crookedly at me, and said "I'm working on it."
Emboldened by my conversational success, I asked if I could take his picture with my daughter Amalia.  Of course he didn't refuse.  He's sweet that way.
Then he asked me what was on my hand.  What did I write on my hand?  I blushed, because now I knew–why would he have noticed that I had something written on the inside of my palm, unless he has a crush on me, too?
Maybe this will be the year . . . the year that Ted Kooser will send me a valentine.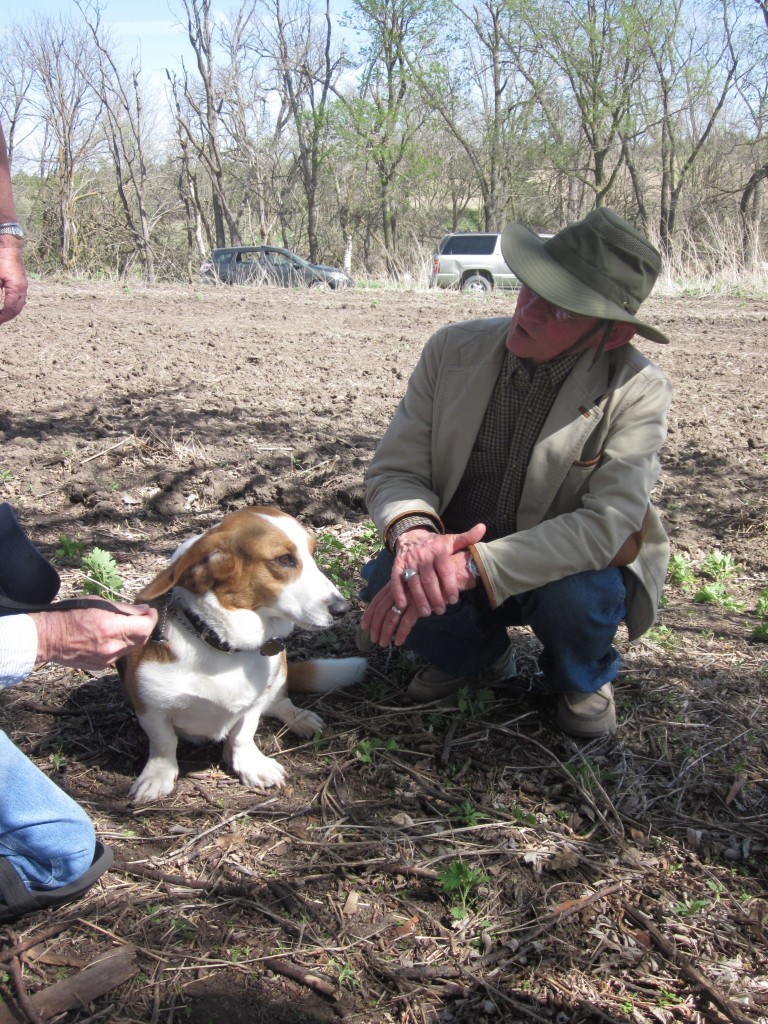 Here Mr. Kooser makes friends with Teddy.  I can tell by his body language here that he is composing a Valentine's poem to me in his head, can't you?
 *BFF = Best Friend Forever, if you aren't in junior high.
**"crush" here meaning "high esteem, sincere admiration," for those of you who might take this word seriously here, including my children and my long suffering husband.