The Big Reveal: Dad's Potato Tower comes down
I've got to say that I've been anticipating this day with great excitement! Ever since Dad planted his potato tower back in the springtime, I've wondered about his rash and yet inventive experiment in potato planting. What would it produce? Bushels and bushels and bushels of lovely potatoes, or . . . not?
This is what he did, in case you didn't catch my previous post about Dad's potato planting prowess.  He planted a few seed potatoes in the bottom of a tomato cage, and then as the plants grew, he heaped in dirt, lining the outside of the cage with strips of cardboard to keep it all in.
Dad also snaked a soaker hose down through the dirt and made sure the tower was nicely watered during dry spells. Other than that, he did nothing except let the thing grow. Of course we all visited the tower several times, to check on its progress and of course . . to wonder . . . and in my case, anyway . . . to dream.
After all, when planting potatoes you can't know if you're going to have a decent crop or a failure until the day you dig them!
So the day has come. Dad called me yesterday and said that the potato vines had died down, and that he was ready to excavate the tower. I begged him to wait until I could come the next day. "I've got to write about this!" I said. "I've got to document the bushels and bushels . . ." Such was my optimism!
"You may not want to, if it's a bust," he hinted. And then he admitted that he'd dug around in the top of the tower and hadn't found anything. I refused to be realistic pessimistic about the experiment. I could just picture the piles and piles of potatoes!
"My readers have been waiting for this, Dad," I said (and it's true that I have received a few e-mails this summer asking me when I was going to write about what was inside Dad's potato tower). "I've got to write about it, whether it's a boom or a bust. I owe it to my Gentle Readers." Dad agreed to wait until today, when I could come over to witness The Big Reveal of the potato tower. This proves my devotion to you, Gentle Reader, of course, waiting for an added 24 hours so I could share this experience with you.
Are you ready? Are you sitting down? You may not want to read the following if you tend toward heart problems, or if you've already had a tad too much coffee today. That's my disclosure.
So here's what the potato power looks like, after a season of growth and then the inevitable dying-down of the foliage.
Here's the potato tower going down, with a bit of tugging from Dad, Mom, and me: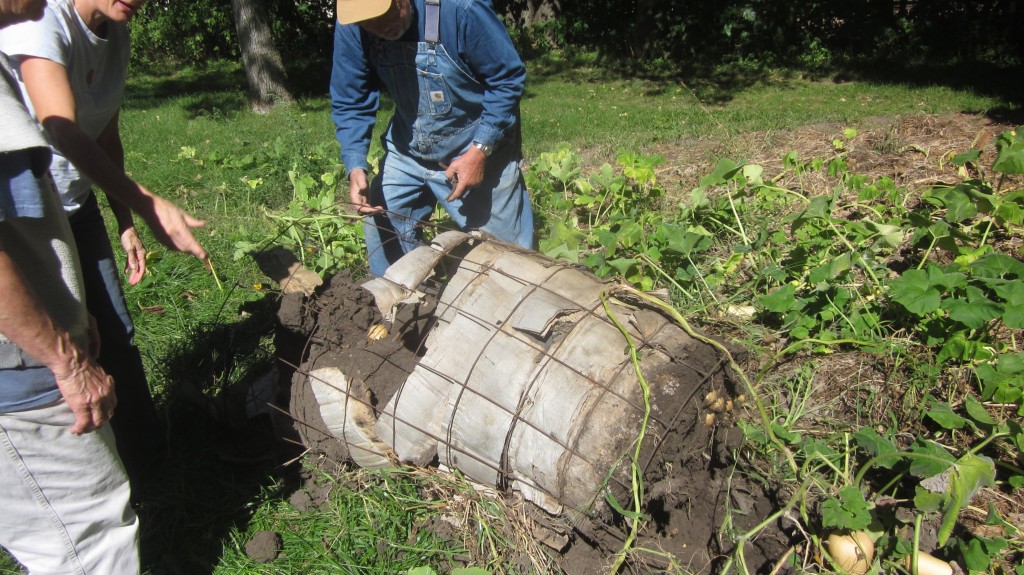 "Hey! There are potatoes inside!"
Here's what we found in the middle of the tower: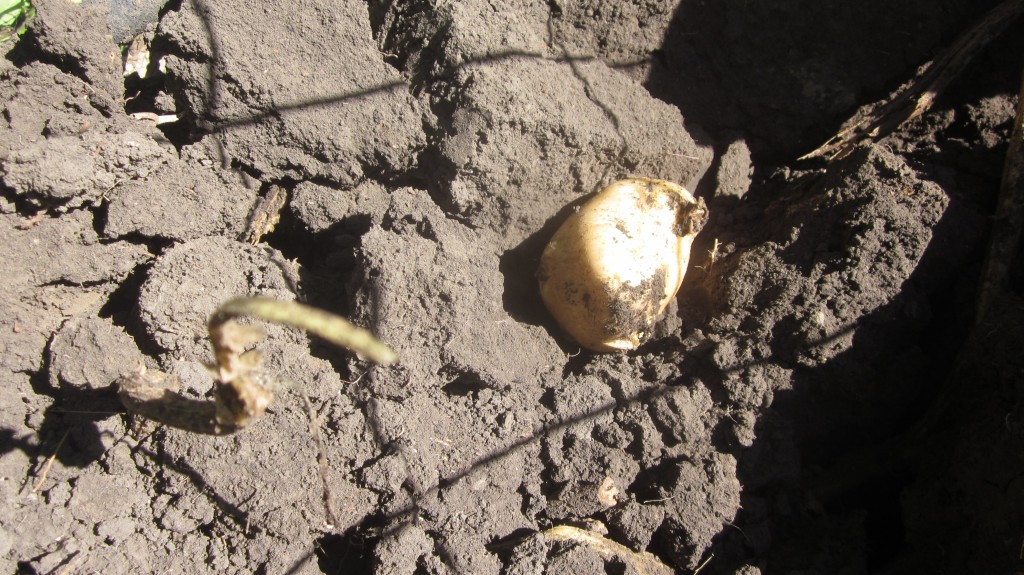 One. Lousy. Potato.
Here's what we found at the bottom of the potato tower: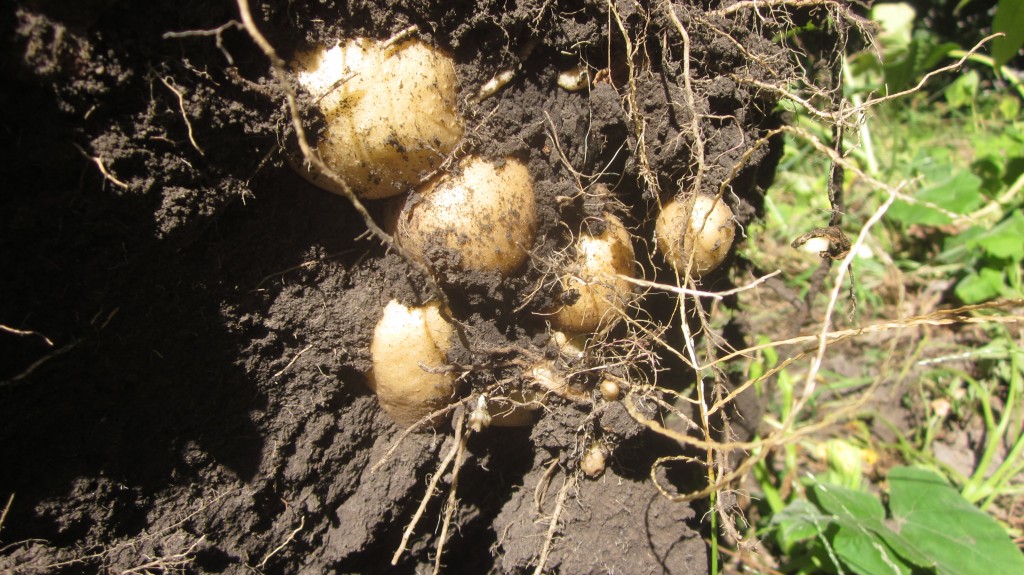 A nice cluster of potatoes.
Here's the most interesting find of the day: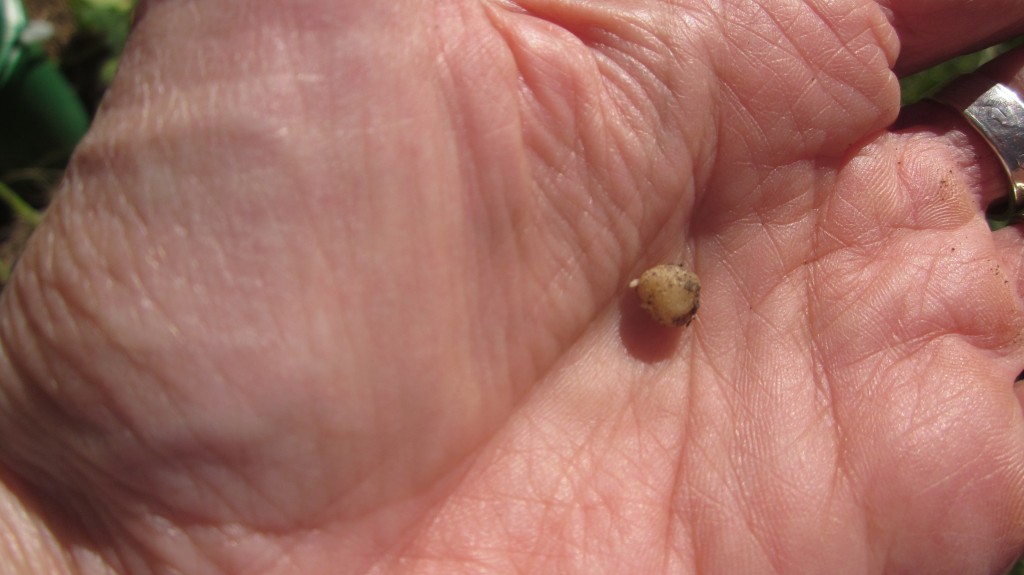 Tiniest. Potato. EVER.
And here's the sum total harvest of potatoes from the tower: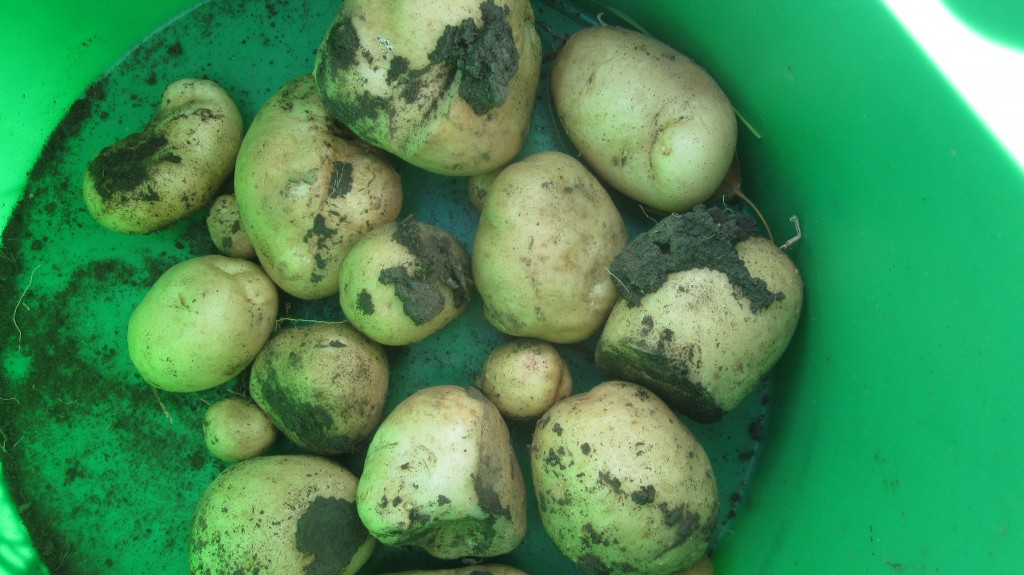 Well! Hardly the bumper crop that we had dreamed of, after all! I had imagined hauling bushels and bushels of lovely potatoes away from that tower, and what we found I could have hauled out in my outstretched shirt. Oh well.
I learned two things from this experience:
Thing One: When you jump into a new gardening experiment, start small the first year. It was a bit disappointing to topple the tower and find just a handful of potatoes at the bottom. But it was just one tower's worth. It just took a few minutes to plant, and not much time to maintain. It would have been crushingly disappointing, say, if Dad would have gone whole-hog (like one of his daughters, ahem, tends to do . . .) and planted a dozen of these towers . . . (uncomfortable clearing of the throat) . . . um . . . on to Thing Two . . .
Thing Two: There are many basic gardening principles which just do not change over the years, including (but not limited to!) the fact that potatoes like to grow underground. There are all sorts of fun and interesting trends in gardening currently, including planting your crops in pallets, or towers, or piles of tires, or crates. But the fact is that most garden plants just prefer to be planted the way your grandparents planted them: in rich, roomy, garden soil, with a nice addition of manure and/or compost. That just doesn't change.
So that's it, Gentle Reader! The Big Reveal! Dad was a bit sheepish about the whole deal, but there is something fun and worthwhile about trying something new in the garden every now and then, even if all you learn is . . . to never do it again.
I've shared this post with The Prairie Homestead's Blog Hop this week. Hop on over there to learn something new this week!