Building a Hoop House isn't for Sissies: Phase 1
Guess what? One of my dreams is coming true, beginning last weekend, when we started building a hoop house over one of my garden spaces. I can hardly believe it! I've wanted a one of these babies for so long.  When we were town dwellers, years ago when our older kids were littles, I read Elliot Coleman's wonderful book Four-Season Harvest and that book lit a fire in me that has been burning quietly ever since, not unlike a smoldering compost pile that gets set on fire by mistake (whistling).
The author of this intriguing and fire-igniting book, Eliot Coleman, is a gardener in Maine who grows vegetables year-round, with the help of hoop houses, cold frames, indoor pots, and more. His book is a delight, and I consult it more than any other gardening book, as I appreciate his casual approach to gardening and his sense of humor. He apparently relishes every phase of gardening–from planting seeds to weeding to harvesting. I'm pretty sure that Eliot and I ("Do you mind if I call you Eliot," I'd say, blushing) could be Garden Fence Buddies (GFBs), if Maine and Nebraska weren't 1,800 miles away from each other.
"It's only 28 hours' drive away, honey," I'd say to my hubby, who usually is very understanding about such things, as I hopped into the car. "I'm going to go visit Eliot now. I need some advice about preventing squash borers in my garden this year, and I think we'll discuss heirloom lettuce varieties, as well. See you in a week or so."
"Remind me of why you're going again?"
"Eliot and I–he lets me call him by his first name, though he is a famous gardening guru and author and I'm just a little bird from Nebraska, you know–are GFBs, honey. We have much to discuss. About gardening, and such. Compost. Mulch. New lettuce varieties. You know."
Squash borer prevention.
"Okay, dear, have a good time. Say hi to–what's his name again?" My good husband looks up from his book, a bit relieved that he doesn't have to listen to garden talk for a good week or more, and still vaguely puzzled about where I'm going, and why.
Bryan is not a gardener, but that's okay. He still occasionally  feigns interest when I exult over my perfect radishes and sympathizes over my yearly battle against the Squash Borer.  And he's helping me build a great big hoop house, and that's where I started with this post.
Eliot's attitudes toward gardening suit my own, so he must be right–right? He believes in simplicity ("If what I am doing in the garden seems complicated, it is probably wrong"), seasonality (tomatoes in summer, broccoli in fall, maché in February–and in fact, his influence is why I still grow maché–or corn salad, a cool-weather green–twenty years after reading this book for the first time) and "diplomacy" in the garden (which "has more to teach us than just how to grow food").
It's easy to understand and enjoy his philosophy of organic growing.
But wait. I was going to tell you about the building of our hoop house, right? Pardon me . . . I just get so excited when I start thinking about Eliot Coleman. Anyway, because of the influence of this book, my good husband built me a small hoop house out of PVC pipes and plastic sheeting, to cover a small area of our garden when we were town-dwellers, many years ago. He also built me some cold frames that fit inside it, and the combination of the two resulted in my being able to harvest lettuce, spinach, radishes, (and the aforementioned maché) all the way to Christmas and even into January, some years.
It was heaven.
Now that's love.
Here in Nebraska, harvesting perfect lettuces in January is really something. Our first frost usually occurs around October 10th and the last one around May 10th, so that humble little hoop house extended my gardening season by at least two months in the fall, and I could also start my seeds and plants much earlier in the springtime, too.
Fast forward a few years, and now we live on our acreage, surrounded by very few trees and apparently in one of the windiest spots on the planet. Chicago (the so-called "Windy City") is very windy, and I hear that Antarctica is said to be quite windy as well, but out here on the prairie of Nebraska, we know the truth: we have the windiest spot on the planet, perhaps even in the entire solar system. Well. I guess that Neptune is pretty windy, with wind speeds of 1500 miles per second . . . Yeah, maybe that's almost as hard as the wind blows out here on the untamed prairie. (Whatever.)
So anyway, when we put up our little PVC-and-plastic-sheeting from the hardware store hoop house on our new garden spot on our windy acres, ("The Windy Knoll" or "Wind Tunnel U.S.A." or "Embrace the Wind Hill") it blew down. The very first day. And it wasn't even particularly windy that day, I recall. There was a slight breeze, I think. I remember watching the wind whip that plastic sheeting around a bit like a cat plays with a mouse, and then zippp! it took off, tumbling through the grass and then up into the air, like a very large translucent bird.
We decided that if we were ever to enjoy a protected garden again, we'd have to go with a professional model made out of steel instead of PVC, so we ordered a hoop house kit from a bonafide company early this spring, and we started putting it up last weekend. I have a few pictures to share with you about this Phase 1, which I will get to–right–now. At last.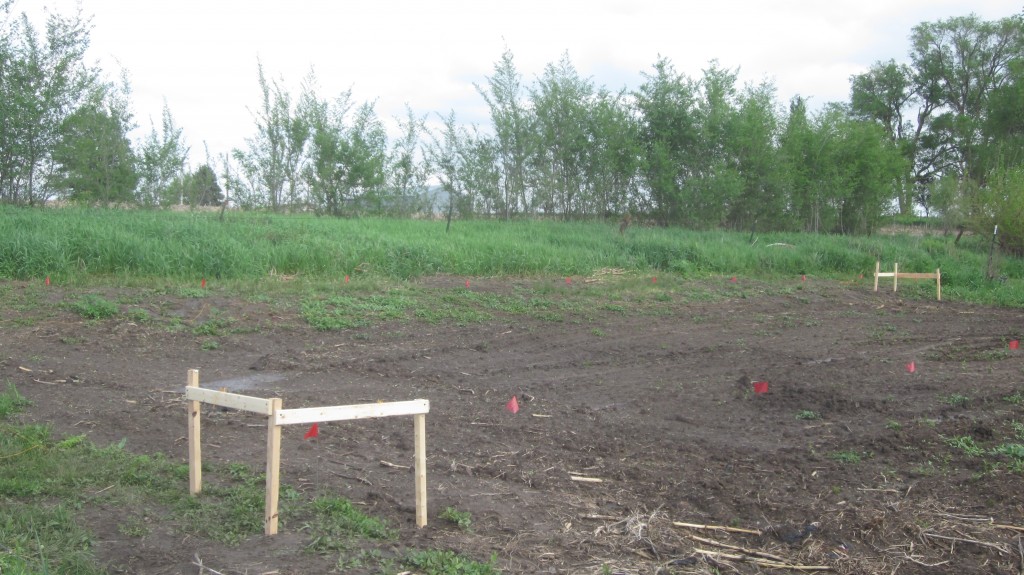 Here's the spot for our hoop house, leveled as much as possible. Bryan and Timothy built batter boards to help with getting the posts set square and true, and have marked the spots for the posts with flags. They'll use string stretched taut to get the posts at just the right levels. Artistry aside, in order for this structure to be put up correctly, everything must be straight and true. (You can see the native brome grass there at the edge, just watching for a chance to spread out and grow in that nice garden soil. Back, brome grass, back–don't even think about it!)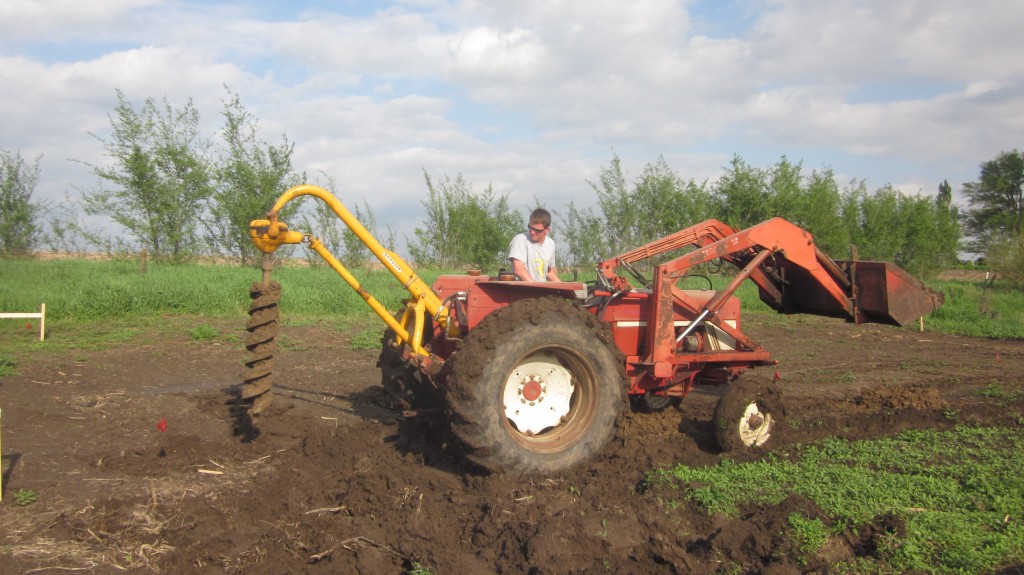 My brother Matt happened to be available and willing to bring his tractor and huge post-hole drill over to dig the holes for us. We've traded a chore that, by hand with a post-hole digger, would have taken us many, many (many) hours to one that'll take us only an hour or two. Thanks, Matt. Plus, it's fun to watch this process. My brother is so studly and picturesque, don't you think?  (Down, ladies–he's taken!)
The post-hole drill was surprisingly easy to target onto just the right spot–with a helping hand here offered by Dave.
We had had a nice rain the night before, so Matt's tractor was sinking a bit . . . Timothy, Dave, and Bryan, check out the ground for . . . what?  Oil leakage? Buried gold? Little Mack watched carefully for dinosaur bones. Don't laugh. There have been quite a few dinosaur bones found in Nebraska.
Matt asked little Mack to help dig the holes. Mack was happy to climb aboard and offer his muscle to the project, and asked me to watch for the dinosaur bones for him, as he was going to be busy for a bit. 🙂
"Any dinosaur bones yet, Mom? Are you watching–Mom??"
Mack loves his Uncle Matt, and he's pretty impressed by all his big, noisy, handy toys, too.
"I want one of these, Mom, now that I have a Swiss Army Knife. Next birthday, maybe?"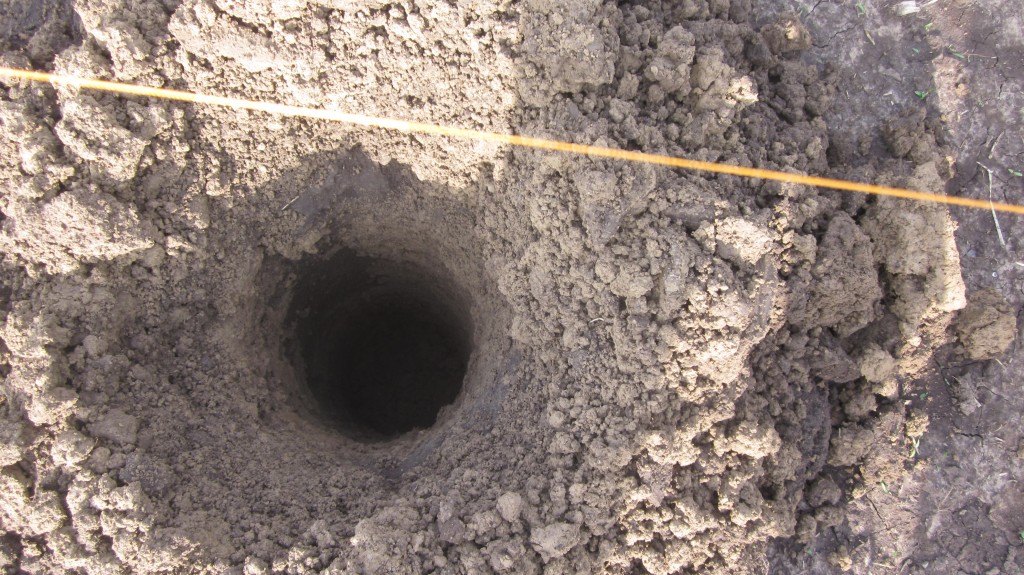 No dinosaur bones, yet, no buried treasure, and no "black gold, Texas tea," either.  Just lots and lots of thick, heavy clay.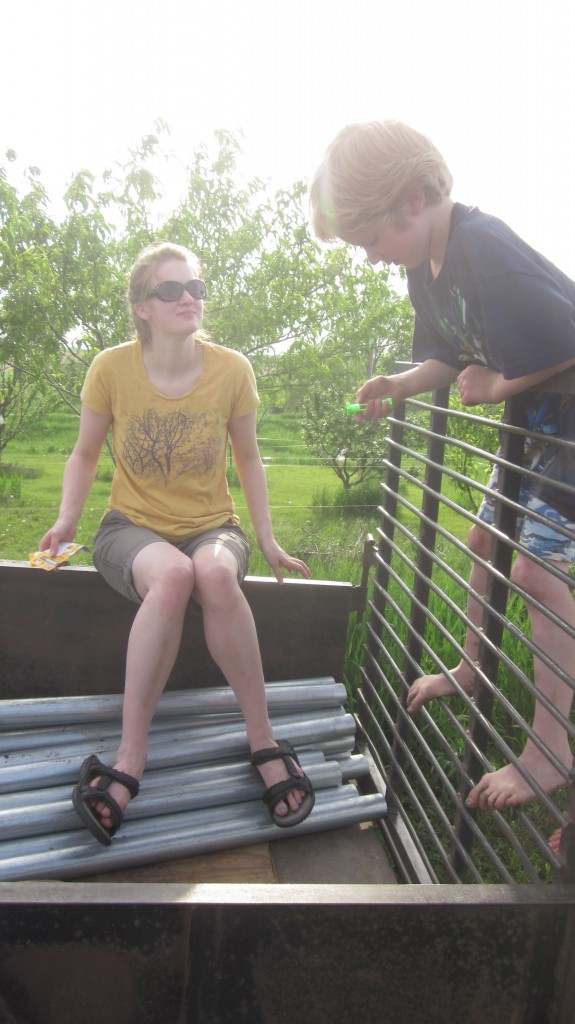 Bethie and Amalia kept the digging team well-hydrated with ice water with lemon, and then later they brought out fried-egg sammages and watermelon slices.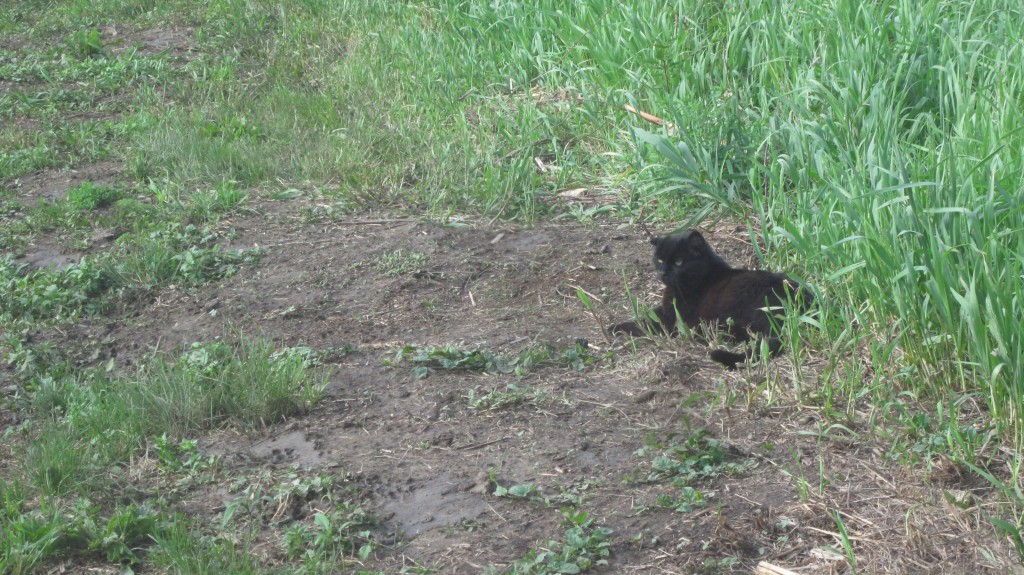 Our cat Pippin watched the entire process, from start to finish, from a respectful distance.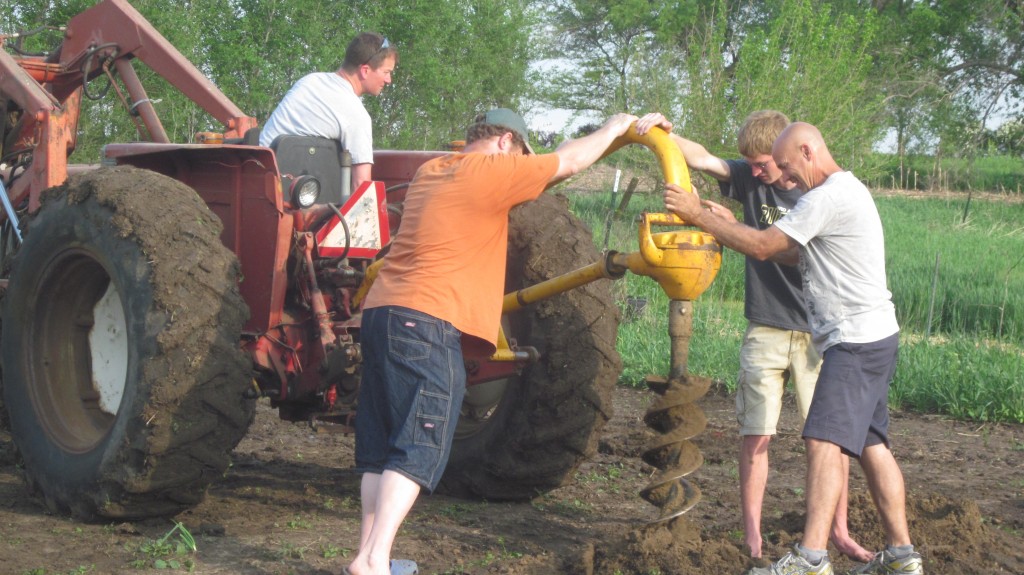 Sometimes the post-hole drill needs a little encouragement.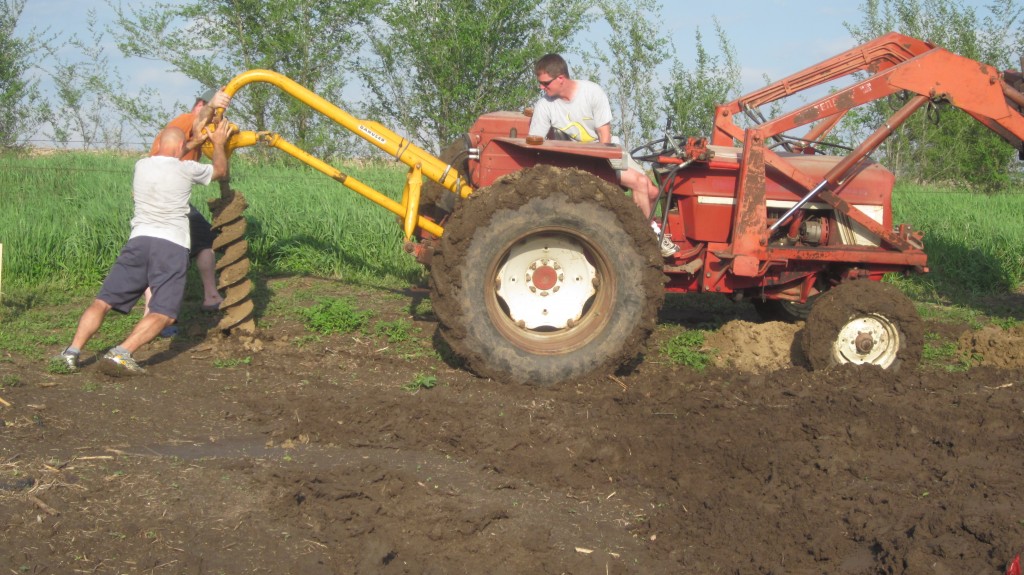 The last few holes are on a bit of a slant–and the mud is mired on the wheels, too–and the guys have to use their manly persuasion to get it at the right angle. That's a lot of combined muscle there.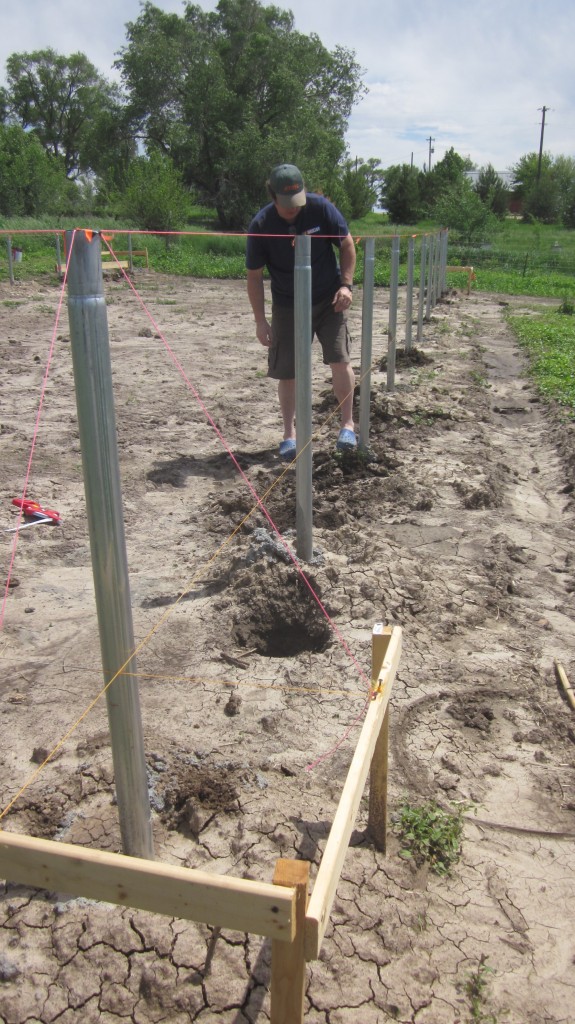 The next day, Bryan and Timothy and Dave mixed concrete and poured it into most of the holes, and set the posts. Because of our infamous wind, we are pouring concrete into every other post hole. If our area was more protected, we'd probably just put it in the corner posts and call it good. But we don't want to see this hoop house flying away.
When the mud has dried a bit, a few days later, Bryan goes out to check their work, and it appears that everything is straight and true.
Despite the fact that we found not one dinosaur bone, no trunks of hidden gold, and no "black gold," Phase One of our project seems to have been a success.
I coax my seedlings to wait a bit longer, and not to despair. They sag a bit, but promise me to be patient.
Time to put these seedlings into bigger pots!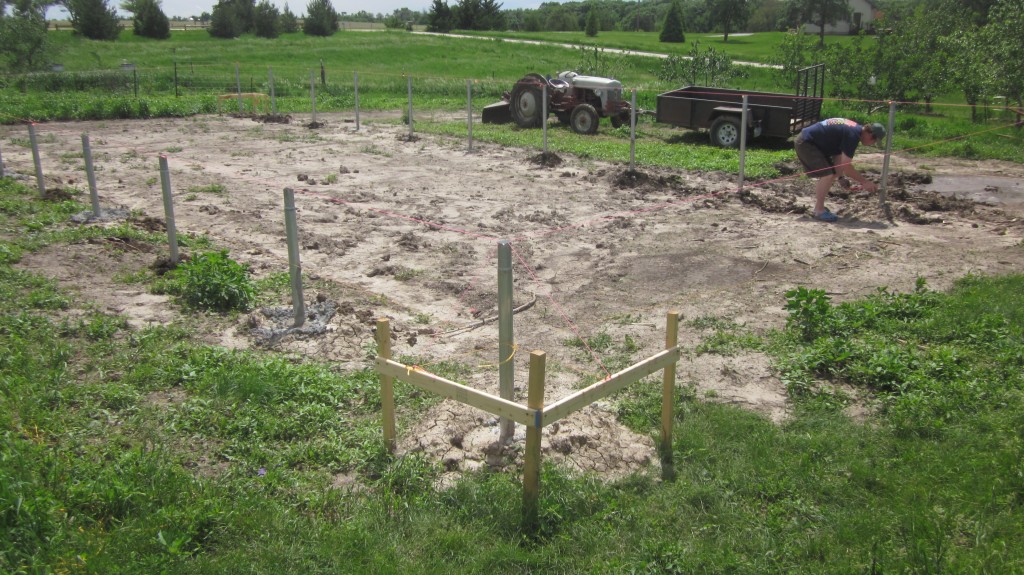 Bryan removed the string that the guys used to get the posts at the right heights and angles, and prepares to remove the batter boards, too. Phase One is complete.
Our hypothesis that hoop house building is not for sissies is spot-on!
Thanks for popping in, Gentle Reader. If you want to follow this story further, check out this post.
*hugs!*