Long Live Summer! Cherry Tomato and Quinoa salad
Children have been back in school now for weeks, in our area of the country, God bless 'em. Folks are getting back to work on indoor projects, assuming that the fun part of the year is over. Might as well get something done. People are saying that summer is over.
People are wrong. That's the funny thing about folks.
But I take umbrage, I do, with the notion that summer is over. As long as the garden is producing like crazy, as long as the temperature is delightful and the butterflies are fluttering about and the cicadas are buzzing; as long as the chickens are still fattening themselves on grasshoppers, Gentle Readers, summer is not over.
Not in my book.
But Mom, just yesterday, you were saying how much you liked fall . . .
That was yesterday, my prince. Summer's back. Now be quiet and eat your tomato salad.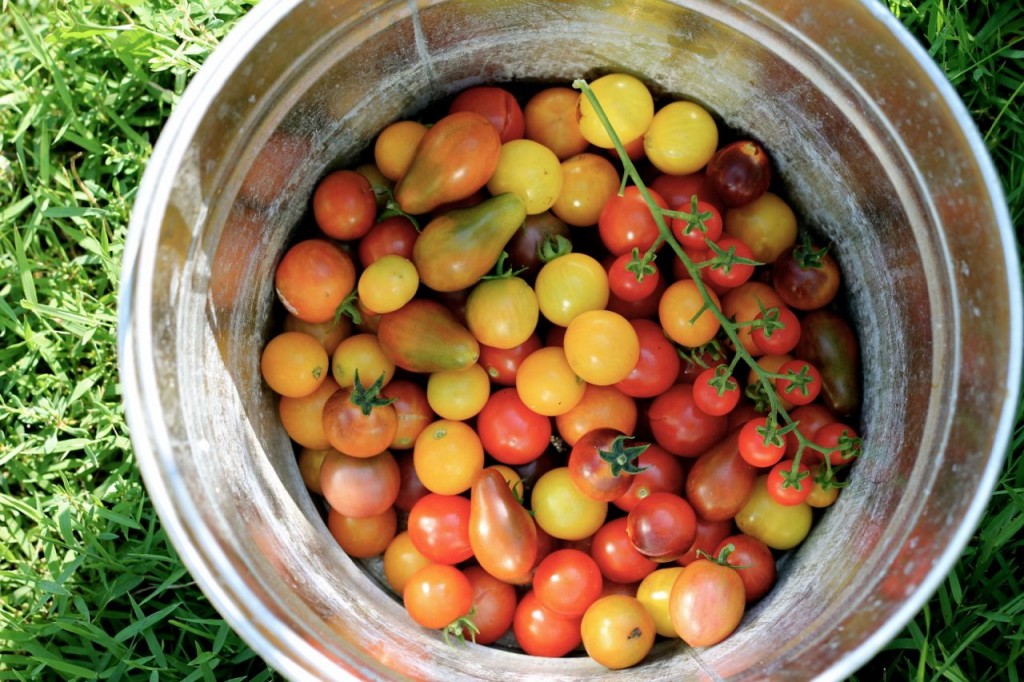 As long as I'm picking cherry tomatoes like these from my tomato jungle (most of it in the hoop house this year) then there is plenty of summer left. Hallelujah! I'm not a fall-hater, oh no, but I hang on to summer just as long as I can. As long as I can dig my elderberry-stained fingernails into this current season, I will. I want to suck the marrow out of each and every glorious summer day, before I will admit that it is time to let it go.
These cherry tomatoes of mine agree, obviously. They are producing like there is no tomorrow, like fall is not around the corner, like summer will last forever. I sell a few, but I've scads left and though it's marvelously fun to lob them at little Mack as he passes by the garden, I really don't want to waste them. But what do you do with so many cherry tomatoes, when you plant more than anybody really needs?
(cough) . . . when you plant more than a small country needs . . .

I have an answer for that. Make dinner with them. For, like, the entire world.
One cherry tomato plant will produce enough to keep my family nicely fattened on cherry tomatoes. The usual tomato plant, nurtured and adored by me in our loamy soil, grows very rapidly and produces amazing amounts of fruit. So why do I feel compelled to grow so many varieties of cherry tomatoes?
Just because. That's why.
Also, each variety has a unique taste, and the varieties all put together in a salad or a snack bowl are a visual delight. I'm big on visual delights, you know. So I can't resist planting several varieties each year. Let's see, this year I planted Sunsweet II, Blue Berries, Pink Bumblebee, Purple Bumblebee, Chocolate Pear, Chocolate Cherry, Tess's Land Race Currant, Isis Candy Cherry, and a couple more varieties that I don't remember. Lots of colors, lots of varieties, lots of tomatoes!
I'm already not regretting planting such a plethora of cherry tomatoes. On days when I'm out gardening for most of the day, for example, I never have to wander back to the house when I get peckish. A handful of the marvelously sweet Sunsweets perfectly satisfies me. You know my favorite way to eat them? Simple.
Pluck warm ripe cherry tomato from the vine.
Plop into ready mouth.
Close eyes, smile, and chew.
Repeat.
I wonder. Could I become corpulent by eating too many cherry tomatoes? Is that even possible? I'll say that some of them have to be quite high in sugar content. I can tell you this, the percentage of days that I come in from the garden uncomfortably full and not even remotely interested in making dinner is high. I blame the cherry tomatoes. Snack night, anybody?
I never get tired of them. But. There are many other ways to eat cherry tomatoes, too, even some that require just a bit of preparation, like this tasty quinoa salad. This is a meal in a bowl, with quinoa (or you can substitute rice, if you like) and cheese and, of course, tomatoes. I've even thrown in a handful of cooked black beans, and that's good, too.
cherry tomato, quinoa and blue cheese salad do it
Recipe Type
:
hearty salad
Author:
Prep time:
Cook time:
Total time:
A big salad in the 'fridge that can pass for a complete meal is a blessing indeed to a busy gardener and cook. Also a blessing: one more way to eat those delicious cherry tomatoes in your garden or the farmer's market!
Ingredients
2 cups cooked quinoa (start with 1 cup uncooked quinoa, 2 cups water, and cook according to package directions)
3 cups grape or cherry tomatoes (substitute with any variety diced tomatoes)
8 ounces (about 1 cup) fresh mozzarella cheese, cut into small chunks (or crumbled feta, blue cheese, or your favorite cheese)
1 large cucumber, peeled if necessary, and cut into small chunks
6 green onions, chopped
10 to 15 torn basil leaves or even more if you're a basil lover (guilty!)
1/4 cup rice vinegar
3 Tablespoons olive oil
1/2 teaspoon salt, or to taste
1/2 teaspoon freshly ground black pepper, or to taste
1 tsp sugar, optional and to taste
Instructions
Cook quinoa (or rice) according to package directions.
Mix first four ingredients together in a large bowl.
Mix up the dressing: the vinegar, oil, seasonings, green onions, and basil, and pour over the salad.
Cover and refrigerate 2 to 4 hours before serving, if possible. If not, consume immediately!
Make enough for leftovers, because it's even tastier the second day!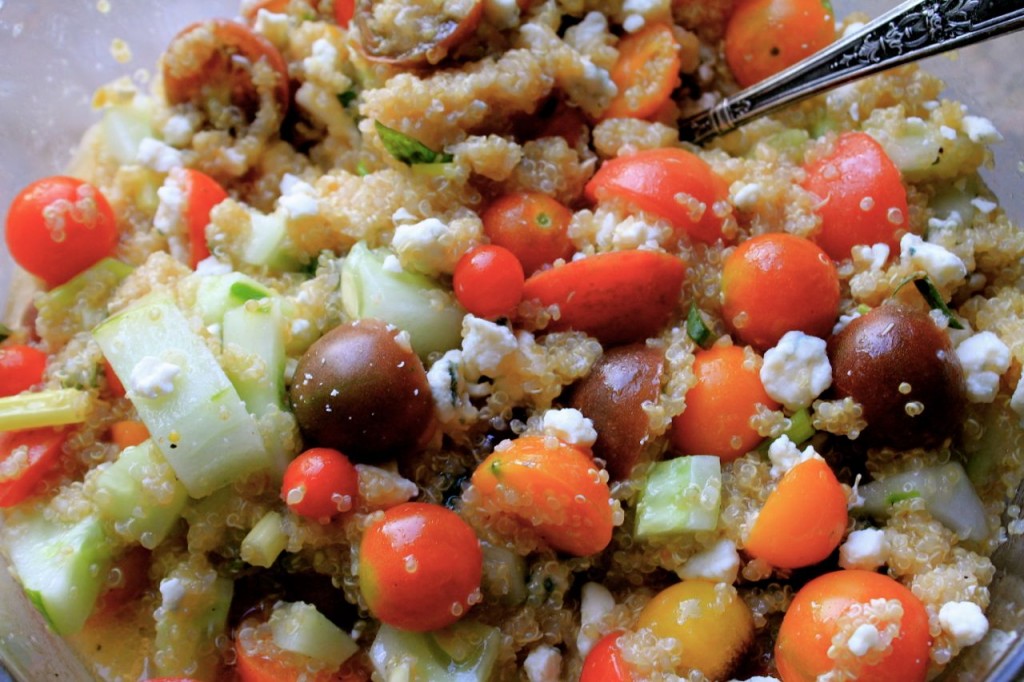 Yum. Now, when some well-meaning folk try to tell you that summer's over, you can pull this bowl of salad out of the 'fridge and sit down and eat it, and your faith in summer's length and duration will be restored. You'll know that those folks are wrong as wrong can be. Summer can last as long as you want it to last.
Long live summer!
And Amen!
–cheeky summer-lovin' *hugs*, ya'all–