Climbing Mount Maunganui: surprises at the top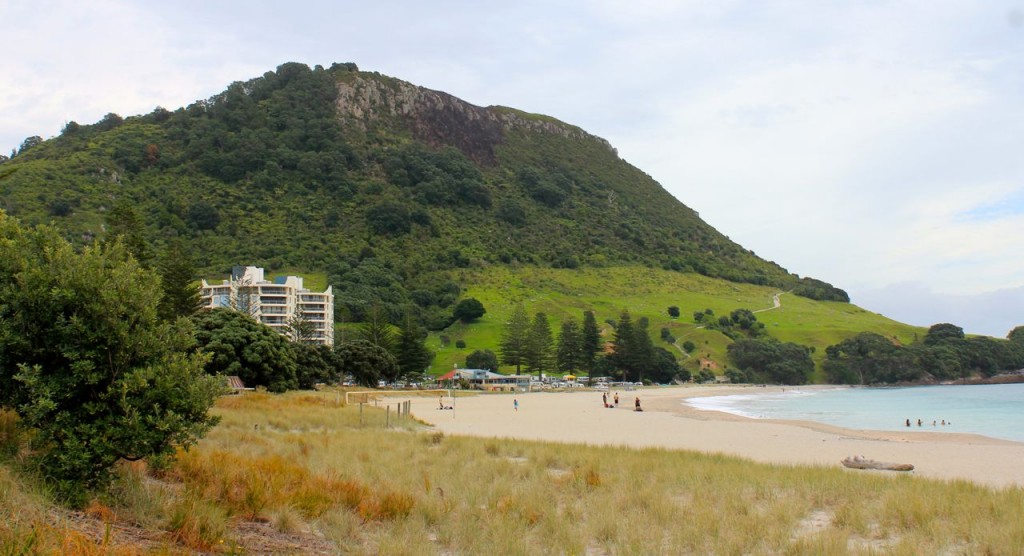 Mount Maunganui is the name of the extinct volcanic cone that rises above the town of Mount Maunganui, and is now officially known by its Maori name Mauao, but it is colloquially known in New Zealand simply as The Mount.
When Bryan and I were presented with an opportunity to come to New Zealand five years ago, it was this postcard picture of the Mount that captured my imagination. I really, really wanted to see this place. It seemed too beautiful to be real.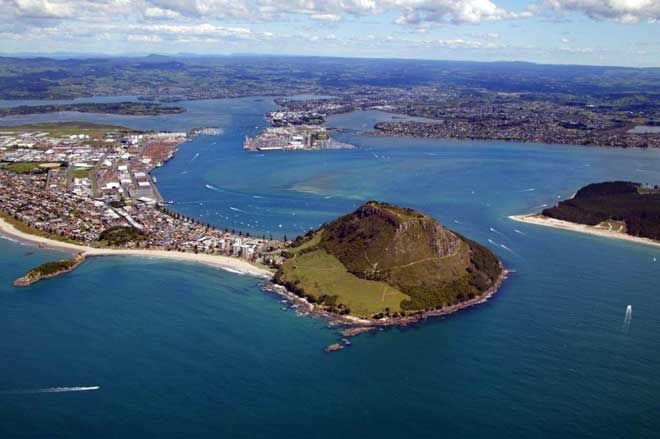 Mount Maunganui is also the name of the town in the Bay of Plenty of New Zealand, located on a peninsula to the north-east of Tauranga, the city where we are staying while we're here. Because of its location on a sandbar, the residents of Mount Maunganui have both a harbor beach (Pilot Bay) and an ocean beach with great surf, just a few blocks across the town from each other. At the base of Mauao, the distance between the harbor and ocean side is only a couple of blocks.
The Mount is an iconic symbol of this area, and it's a big deal for tourists to hike up to the top and take in the view. Many locals make it a goal to hike the Mount every day, or as often as possible. It's not a hike for the faint-hearted or the gimpy-of-knees, although the latter can make it up to the top if she takes frequent photography breaks and bursts out in frequent Kiwi-ish-accented conversation and laughter with a willing daughter. 😉 (I hear.)
One of the first things we did when we came to visit this area the first time, five years ago, was to climb the Mount. For some reason, this time we saved it for the last week. It was a stouter climb than I remembered, but gentle reader, I did it for you. I just knew you'd love the views from the top. And. There were a couple of surprises up there, too. Which I will share with you right now. (Watch–I really can shut up if I put my mind to it.
Little Mack wasn't thrilled with another hike–we had already been on several challenging "tramps" here before we did this one, and he had it in his mind that finding treasure on the beach was more along the lines of what he felt like doing. But he jogged along anyway. He didn't exactly have a choice.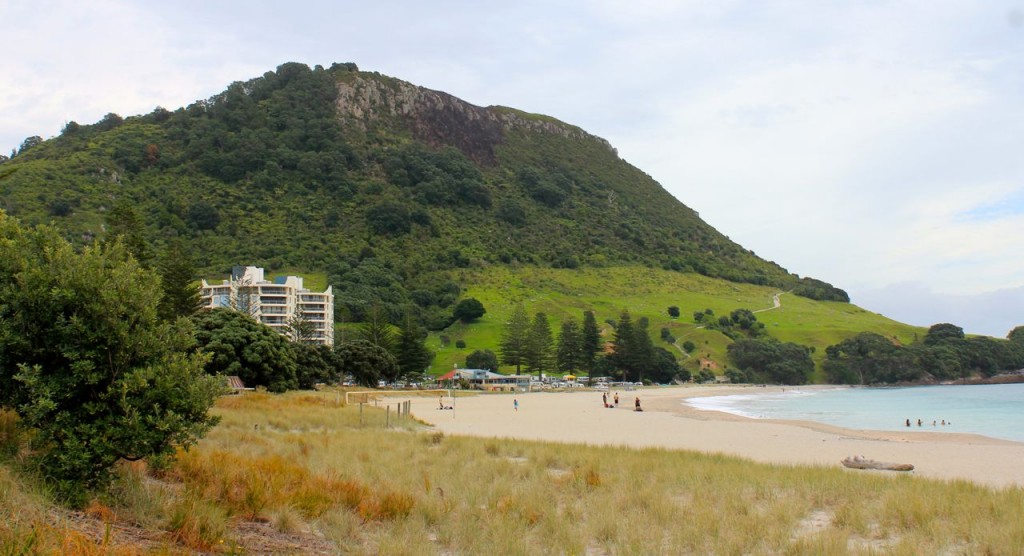 Here's the Mount from a ways away, on the ocean side. The beach there on the right is where Mack and I spent many happy hours playing in the waves, and all of us have picked up way too many shells off that beach to bring home, probably. We do have a 50-lb weight limit, after all. But there are so many. Can you blame us? Just look.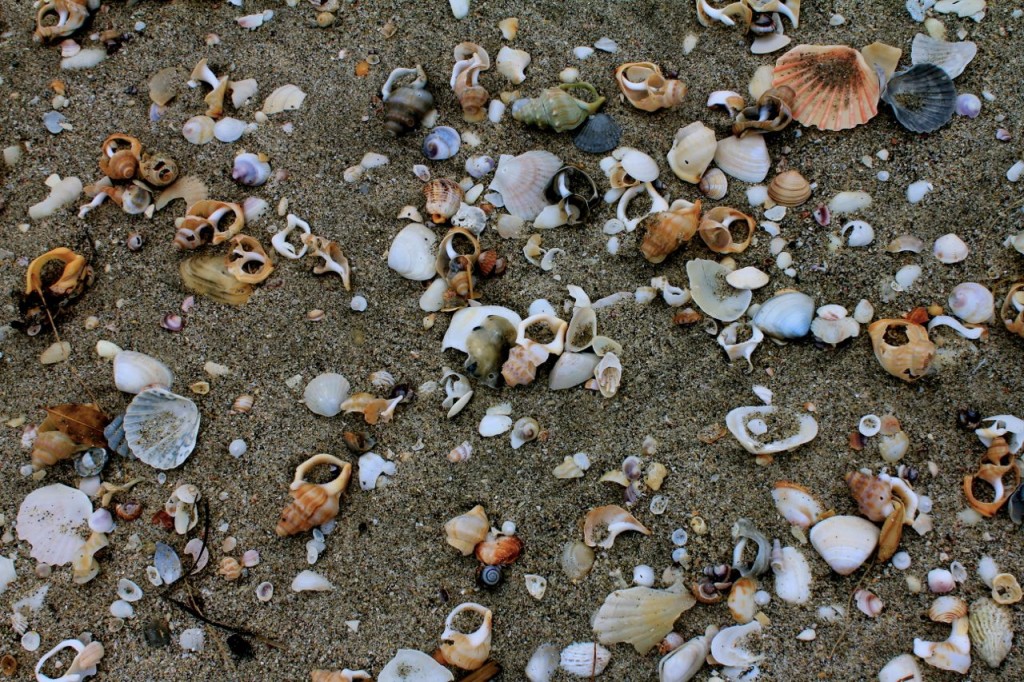 Mack doesn't feel particularly energetic. "Can't we just pick up shells?" he asks, with a whine in his voice. "After our climb, we'll do some shelling," I promise.
Mack is a little homesick and he's ready to pack up and return home. He has had quite enough fun, thank you very much, here in New Zealand. He misses his Grandma and Grandpa, his cousins and his own bed.
But he's a good sport, albeit not a smiley one today.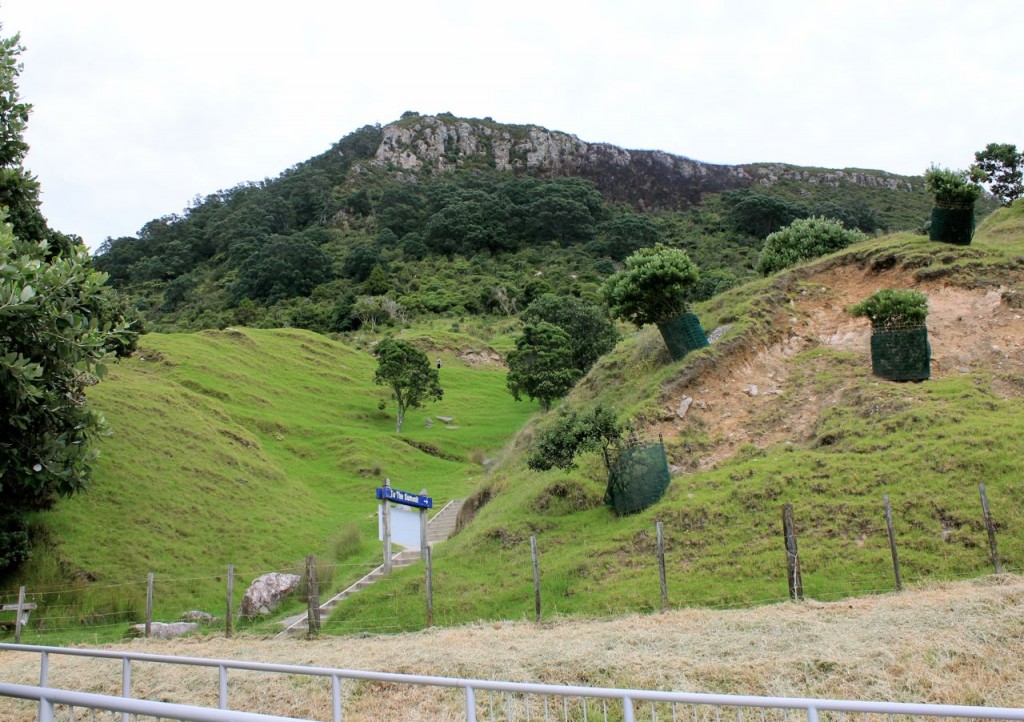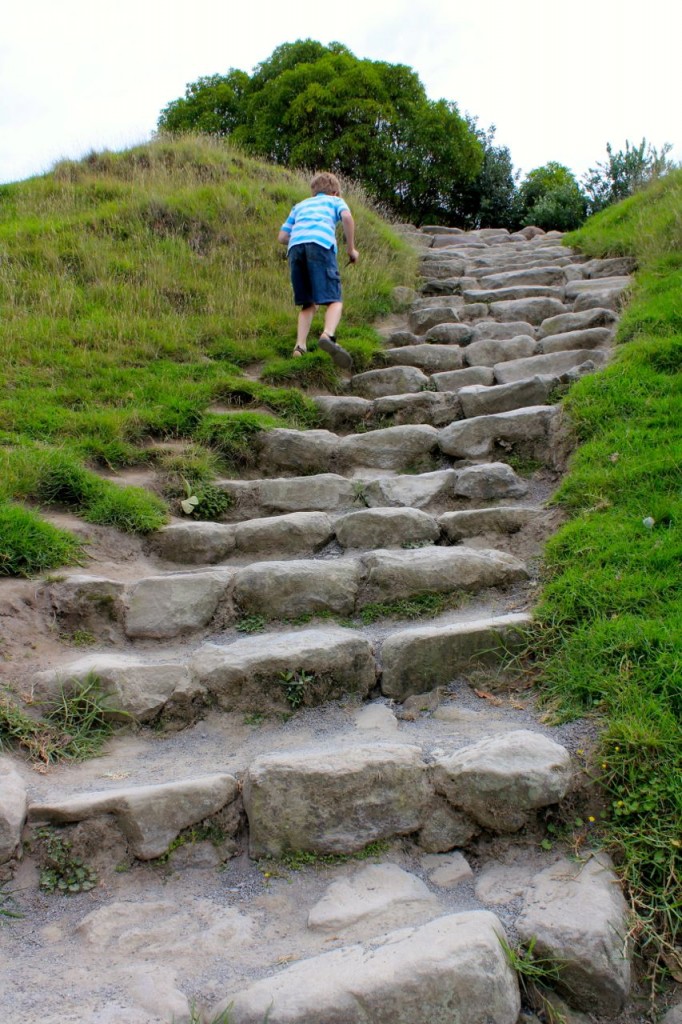 Mack leads the way, and sets the pace. Which is not a slow one, by the way. He's ready to get this–one more climb up a mountain!–out of the way so he can get back on the beach. This is how the climb starts.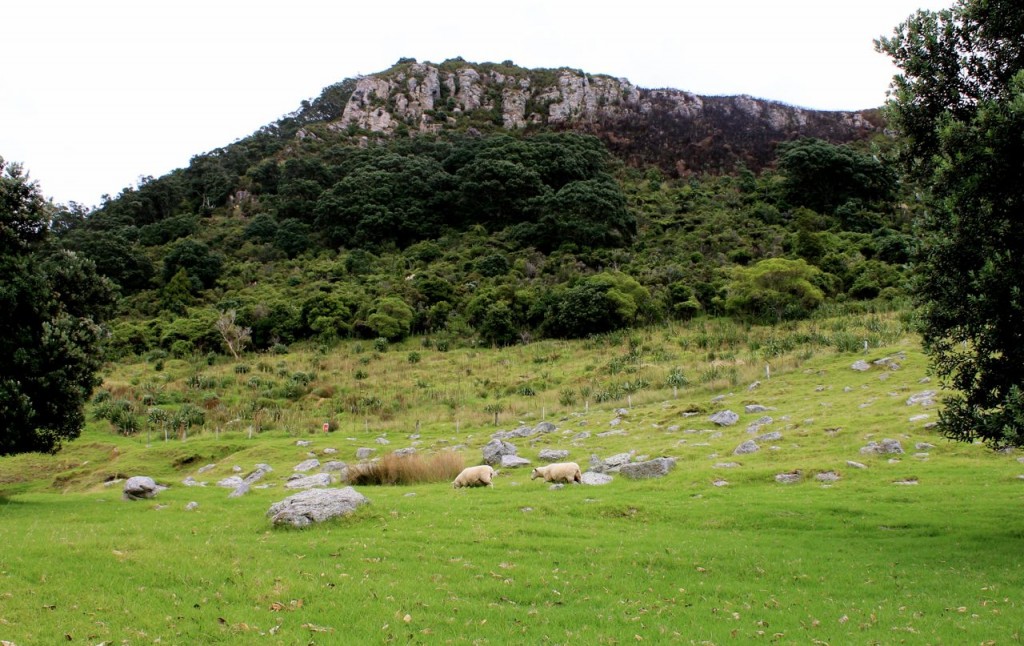 A flock of sheep is kept on the sides of the Mount, because: who would want to mow it?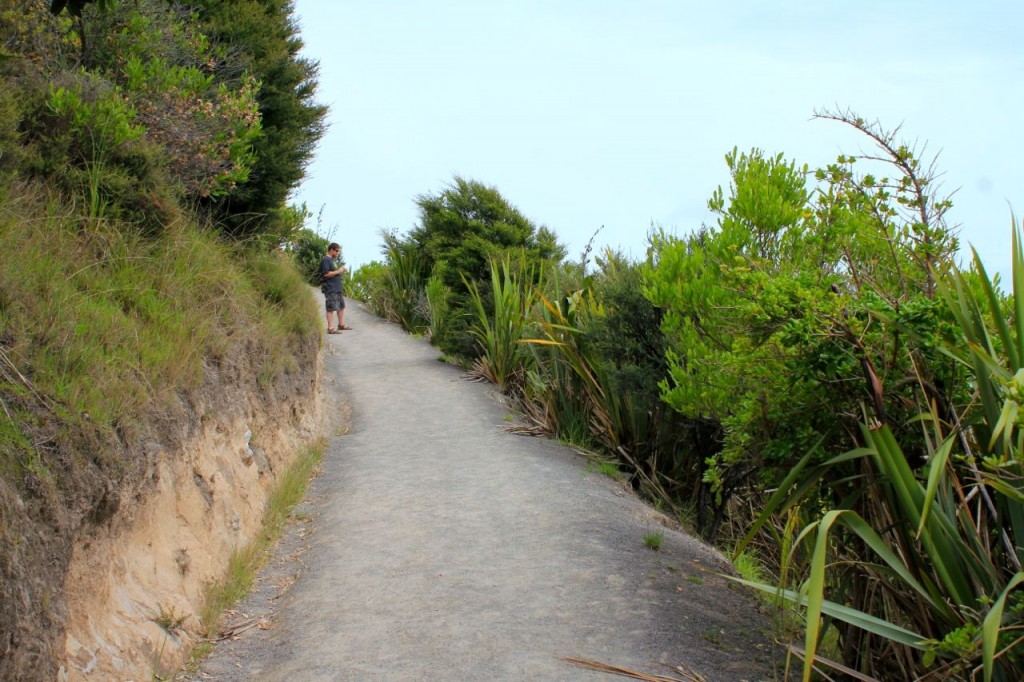 The terrain changes dramatically, as we wind around the side of the mountain. From a rocky stairway surrounded by gentle grassy slopes, to a gravel-covered path, to a path with a sharp cliff (above) plunging down to the ocean far, far below (just beyond that green growth, trust me!) and on the other side of the path, look up . . .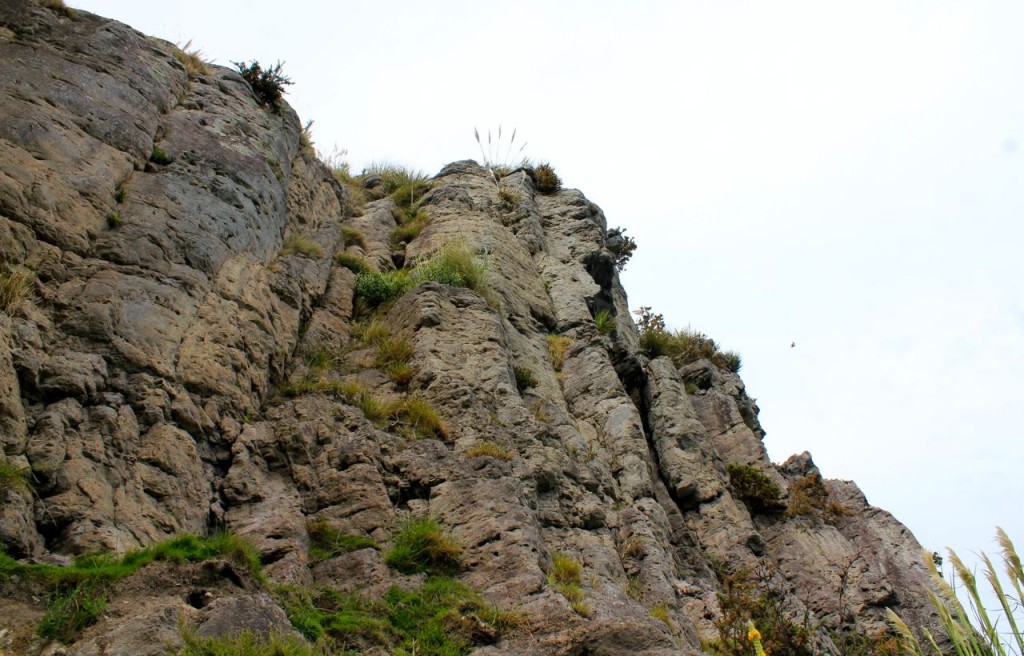 This is what you see. I try to coax Amalia and Mack to climb these rocks with me, but no. I chided them with the fact that Timothy would have gone up with me. 🙂 (Right, Timothy?) Amalia kept a firm hold on my hand, and kept me on the path with her. She tried to distract me, by discussing the local fauna and flora. Like this.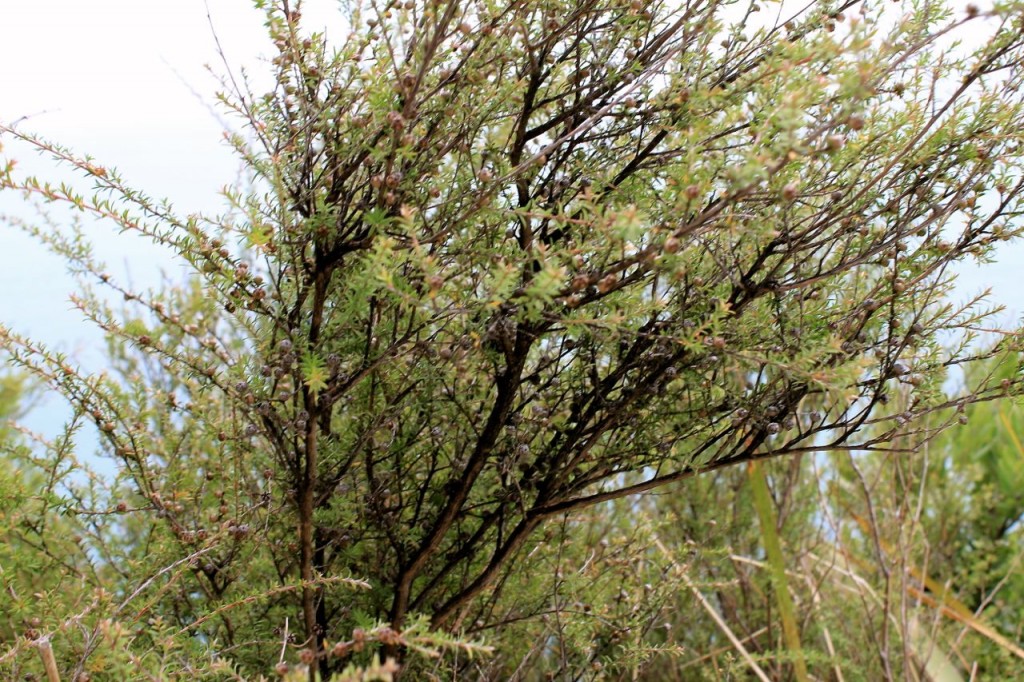 This is a Manuka myrtle (Leptospermum scoparium) bush, the nectar from the blossoms, you know, bees use to make the now-world-famous Manuka honey. And no, I'm sorry, it's no cheaper to obtain here than it is where you are. I checked. 🙁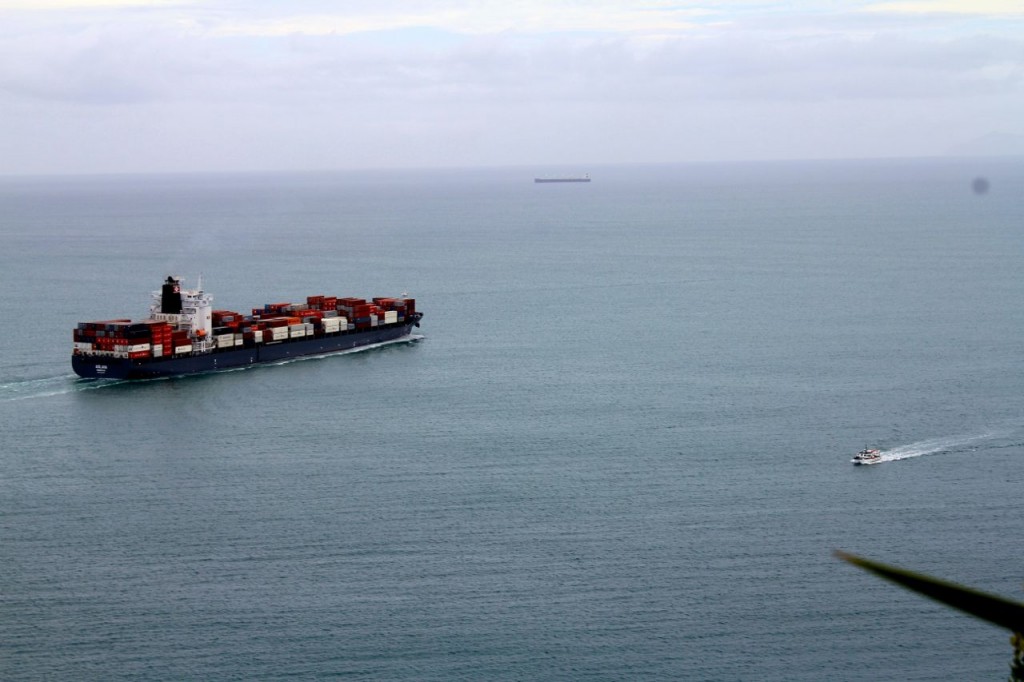 The kids and I stop and gape at this huge cargo ship passing by. Each one of those boxes is the size of a train car! To further illustrate the size–check out the pleasure boat to the right. It's a pretty good size boat, too.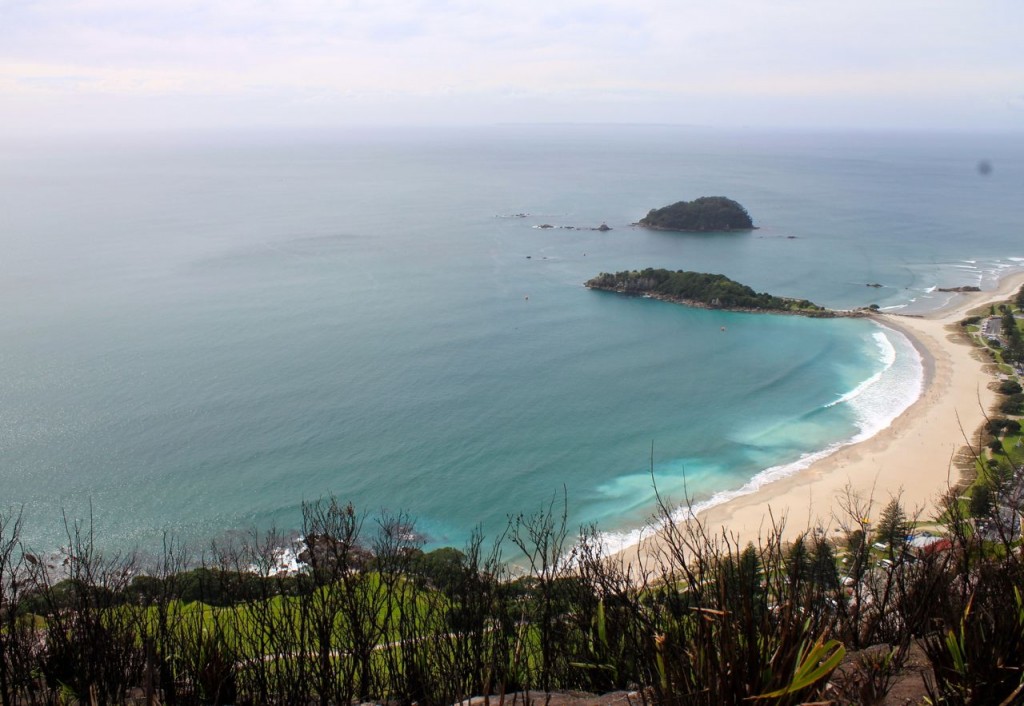 We are nearly to the top when we spot something going on below on the beach. Everybody has cleared out of the water and there's something–we are not sure what–swimming in the water down there. What is it? Sharks? Dolphins? Whales?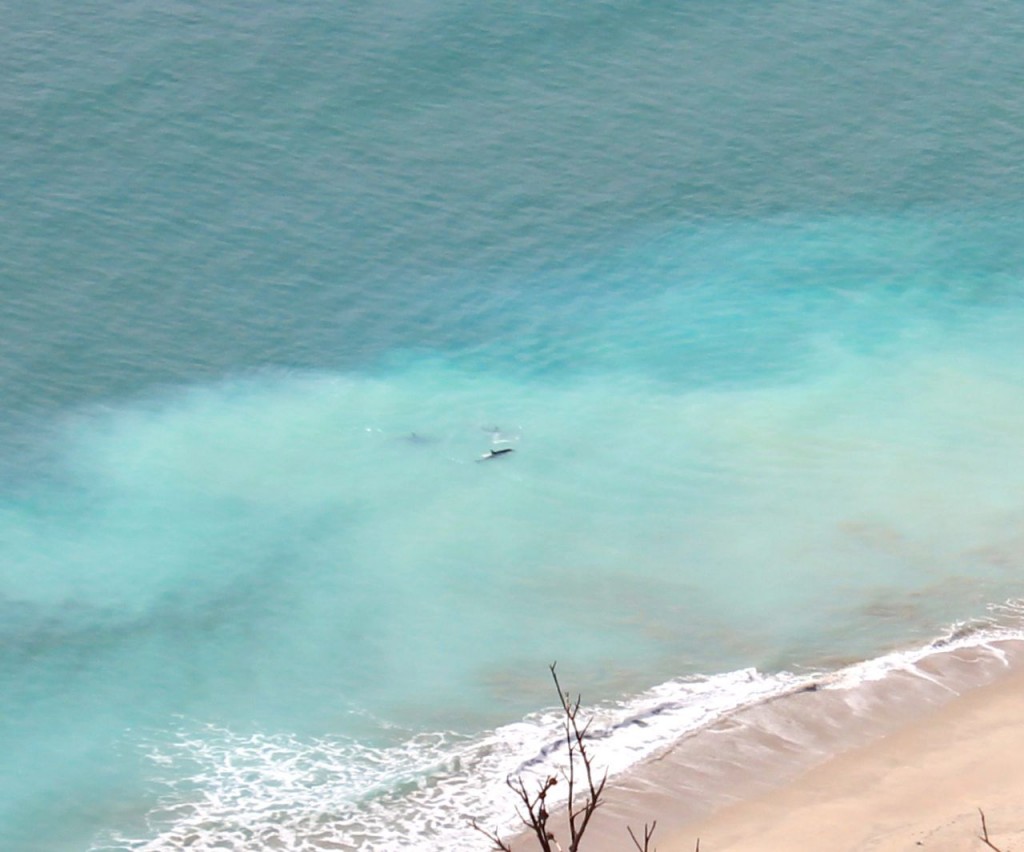 Amalia and I both have our cameras, but neither of us brought our zoom lenses (they are so much heavier to carry) and we are wishing we had one between us now. This is about as good a picture as I got. Later we found out that we were watching Orca whales passing by. Interesting thing about the Orcas in the New Zealand area: stingrays, to them, are like candy. So they hunt them by going deep and blowing up bubbles, which disturb the stingrays, sending them up to the surface, where the whales eat them. Smart whales.
I wish I had some chocolate (speaking of which). I hear music. It sounds like a saxophone. We hope that there's a folk music group at the top, tuning up and getting ready to entertain us when we get there. It seems too much to hope for. Also a water fountain would be nice (it's getting warm and we forgot our water bottles in the car). Also a masseuse. And possibly, a velvet sofa situated in some shade for a nap.
What didn't we forget, I wonder. Camera lens. Water. A couch.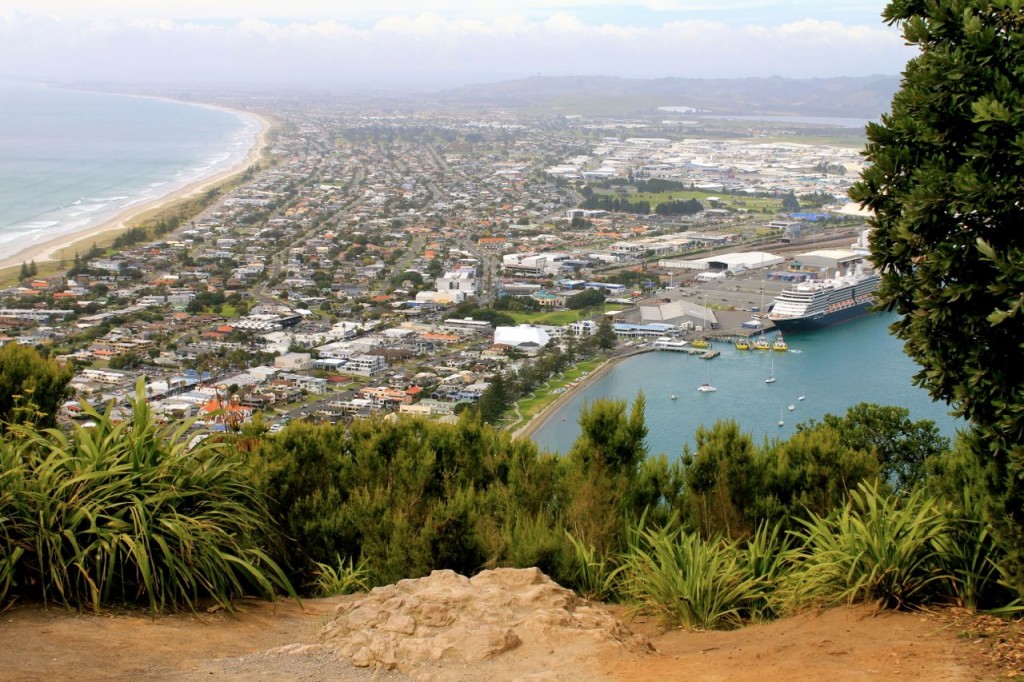 We watch the orcas for a long time, and then eventually the saxophone music from the top calls us all the way up there. And here's the view from the top. It was worth the climb, we all agree. Except for Mack. "Can we go down now?" he asks. No, we say. Not yet.
Not until we watch this guy for a bit. Don't you agree? He bears watching.
I promise I didn't photoshop this photo. Pinky promise.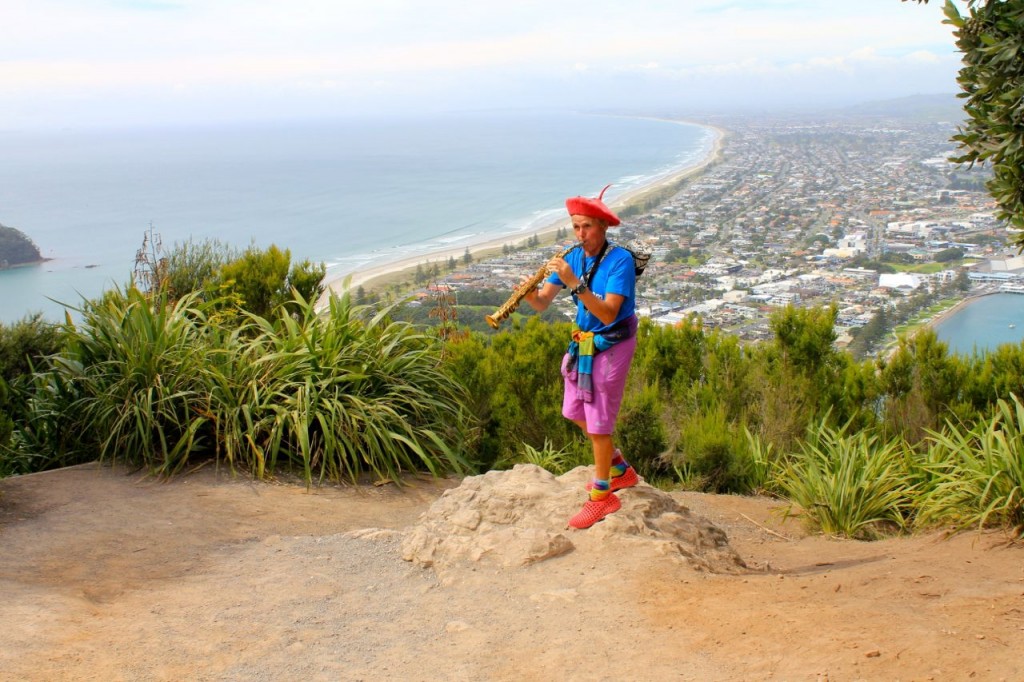 And I don't know, so don't ask. 😉 He was just up there, doing his thing. Strangely, a couple of hours later we saw the same guy in the downtown Tauranga area, juggling. What are the odds.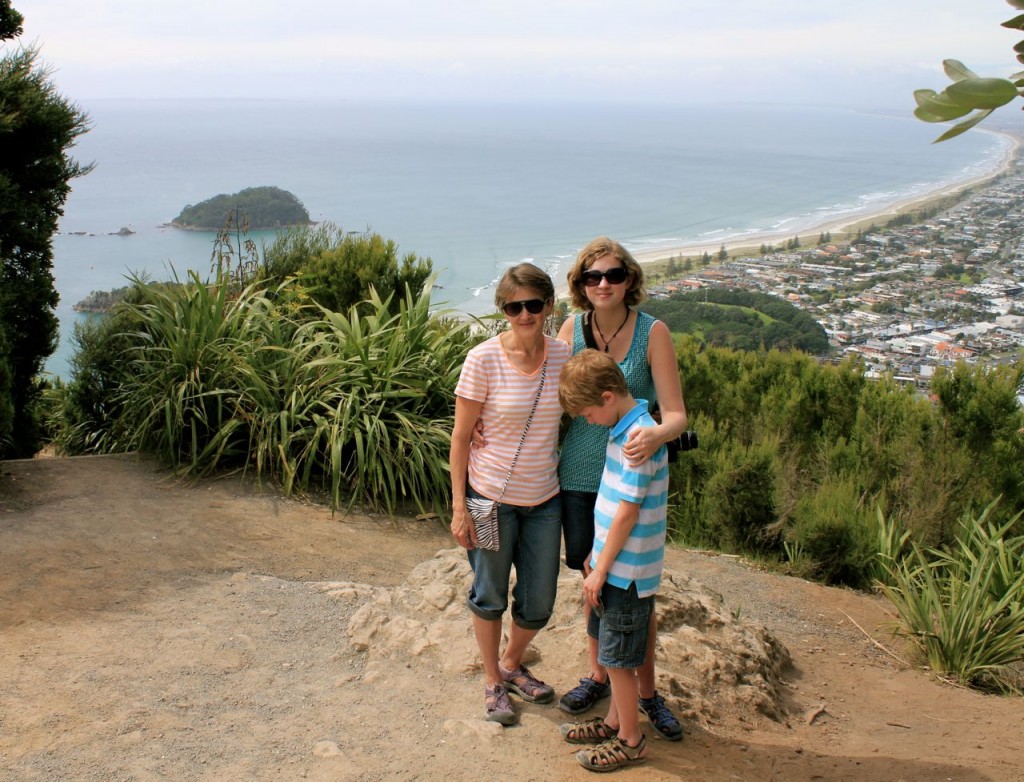 We make it to the top, and Mack is officially Glum and Taciturn. Nothing will change his mood. He just wanted to hunt for shells, anyway, from the first! He wasn't interested in climbing mountains today! Were we going to go swimming when we got back? What about shells?? Who was that strange man? Why was the air so thin up here?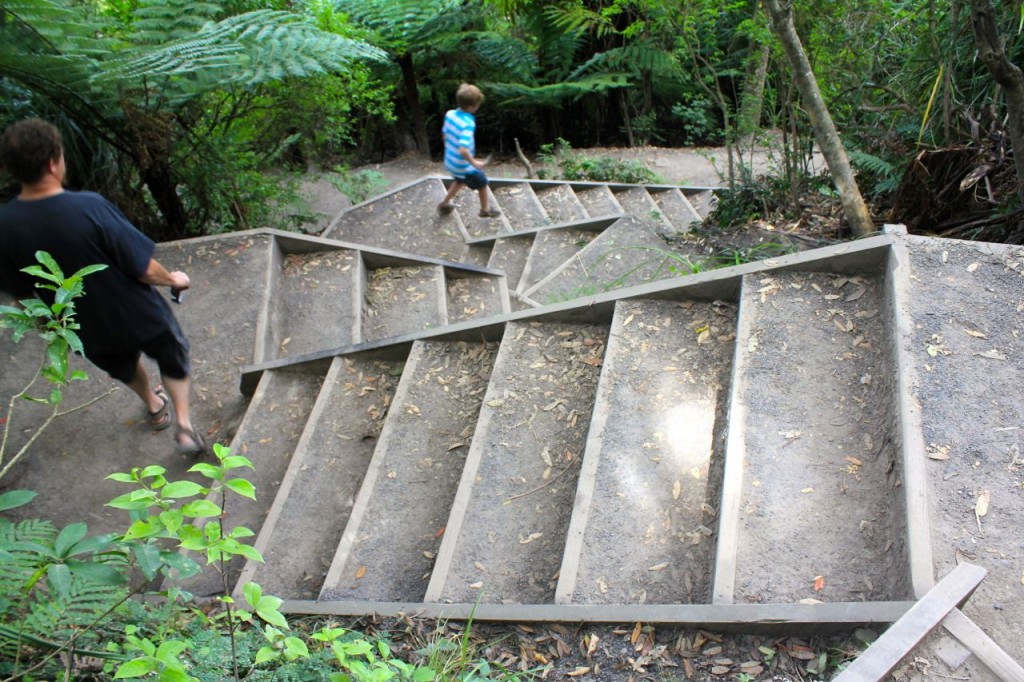 We take a 5-minute breather to admire the view, and then we head back down, only this time we take the "challenging route" instead of the easy one. We figure, going down, we can handle it. Now Mack is not tired or grumpy. He leads the way down. He is chattering. He smiles. He is Mr. Energetic. He is "Hurry up, Mom, let's gooo!" Brother.
As soon as we get back on the beach, he finds these: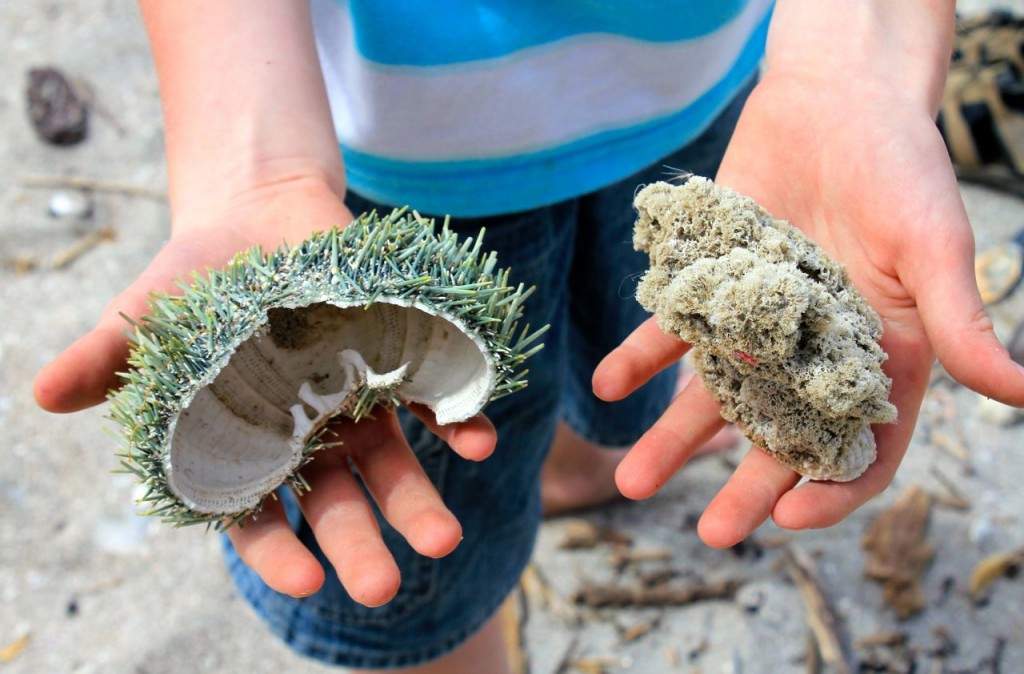 "There's treasure everywhere, Mom. Down here on the beach, that is."
We've done it. We've climbed the Mount, and so we bade it a fond good-bye.
Until next time. With any luck, there'll be a next time. 🙂