Until this afternoon I had a mama hen sitting on eggs in the nursery.  Did you catch the past-tense?  This afternoon when I was walking out to the chicken coop, I heard a loud peeping of a not-being-cared-for chick.  It always amazes me how loud the peeping of such a tiny creature can be! I wasn't aware that the chicks had begun to hatch.
I hurried to the nursery, to find a tiny just-hatched chick, but something was wrong.  He wasn't tucked under the hen staying warm and cozy, like he should have been.  Instead, he sat a good space away from the mama hen, and he had blood on the side of his head.  Oh, shoot, I said as I glared at the hen.  Not again. This had happened before with a different hen, and I chronicled it in the story about Ginger the Chick Killer.
Sometimes it happens:  a broody hen will sit for three weeks on eggs, and when they start to hatch, she will turn on the chicks viciously, regarding them as interlopers.  Ginger actually killed one chick and nearly killed a second before I caught her and rescued the remaining eggs, allowing my son Andrew to fling her out of the nursery. I never let her sit on eggs again, and indeed I think she ended up in the soup pot before her coop mates.  Chick killers don't last long at our place.
I was so disappointed in this hen, who, by all accounts, was as bland and relaxed as she could be.  I guess you just can't tell by looking at a hen if she's going to be a successful mother or not, eh? I removed the remaining eggs from her immediately, moving them into the incubator in the house, and brought the just-hatched chick into the house, too. Hopefully enough other eggs will hatch to provide this little chick with some company, within the next day or two.  We'll have to just wait and see.
Malachi immediately named the chick "Bilbo Baggins."  There is something so charming and sweet about watching a mama hen raise her chicks . . . I was really looking forward to watching this mama raise her chicks.  But she blew it, and so we're going to be raising a few chicks this fall, ourselves.
Little Mack doesn't mind one bit. He's very sympathetic to orphaned chickens.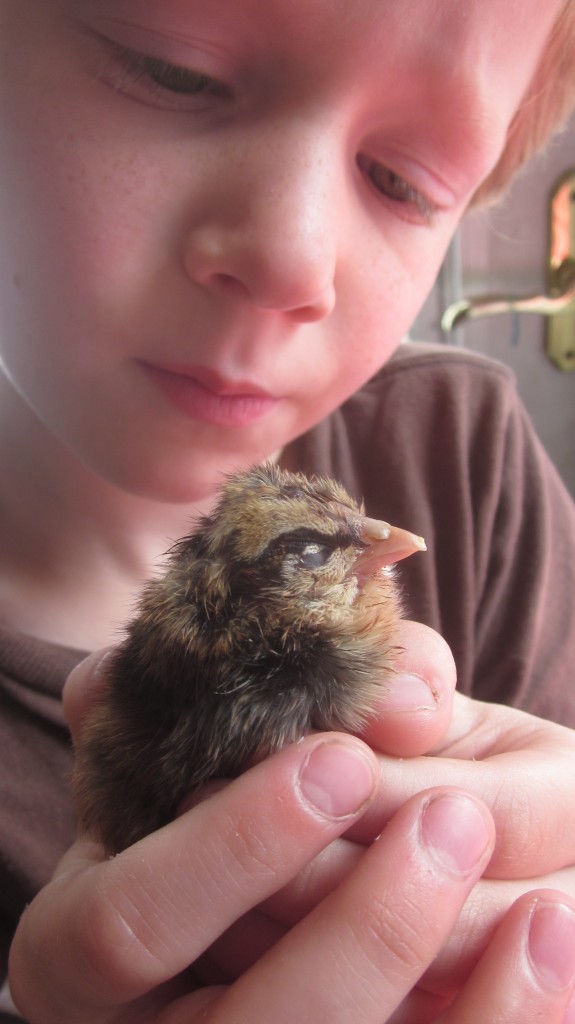 Here are the remaining eggs, which we put right into the incubator in the library. All from different mamas and papas, as you can tell.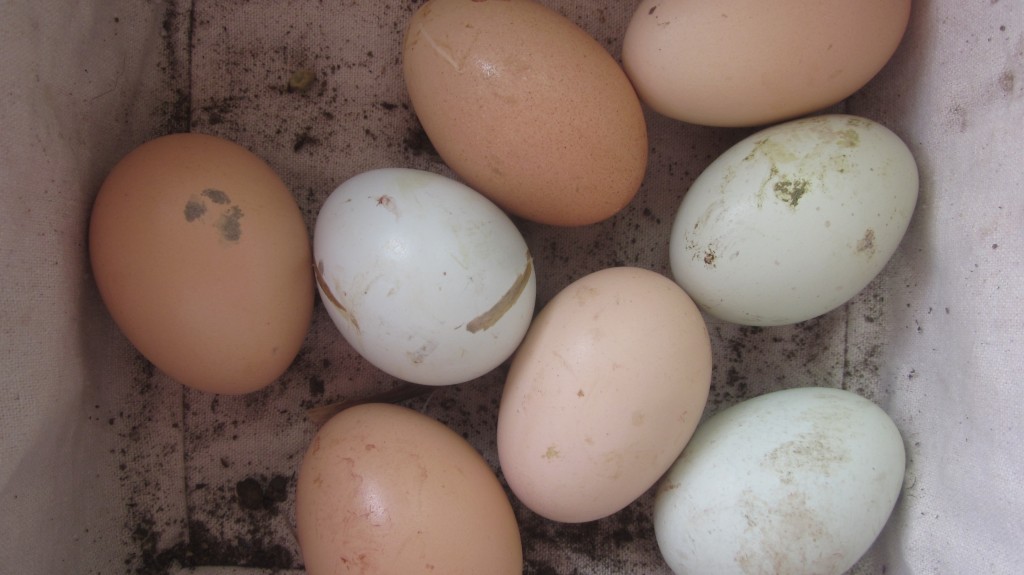 Here's Bilbo Baggins in his temporary home in a box in the library:  waiting for his friends to hatch. I really love those few yellow eyelashes on the underside of his eye, don't you?  Sweet!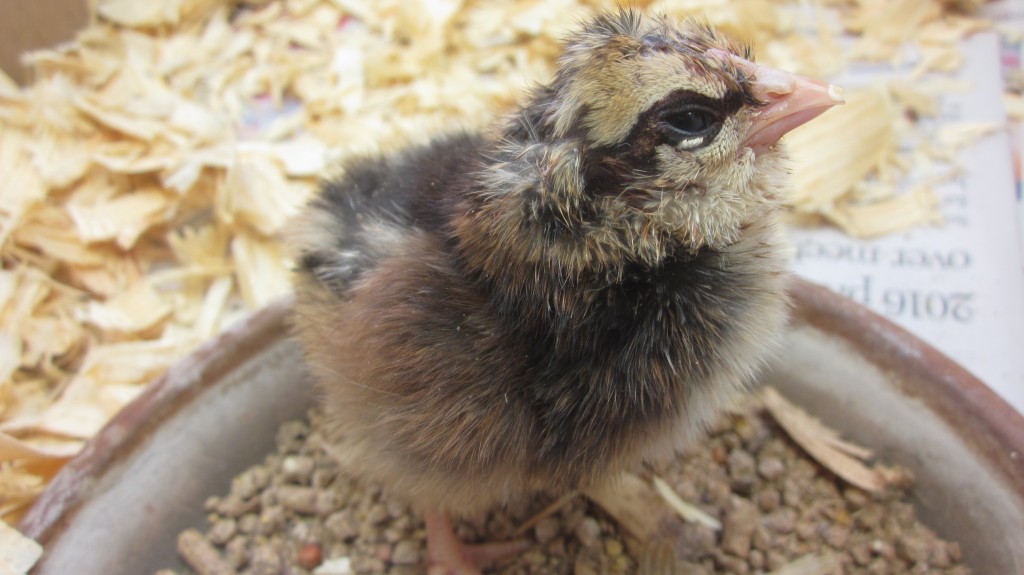 Do you know what I love? I love this little furrowed brow, as sympathy washes over my little boy's tender heart.  He feels strongly for this bitty wounded chick, and he will someday be a great big strong man who I hope will be tender and kind to creatures not as big and strong as him.  That's what I love.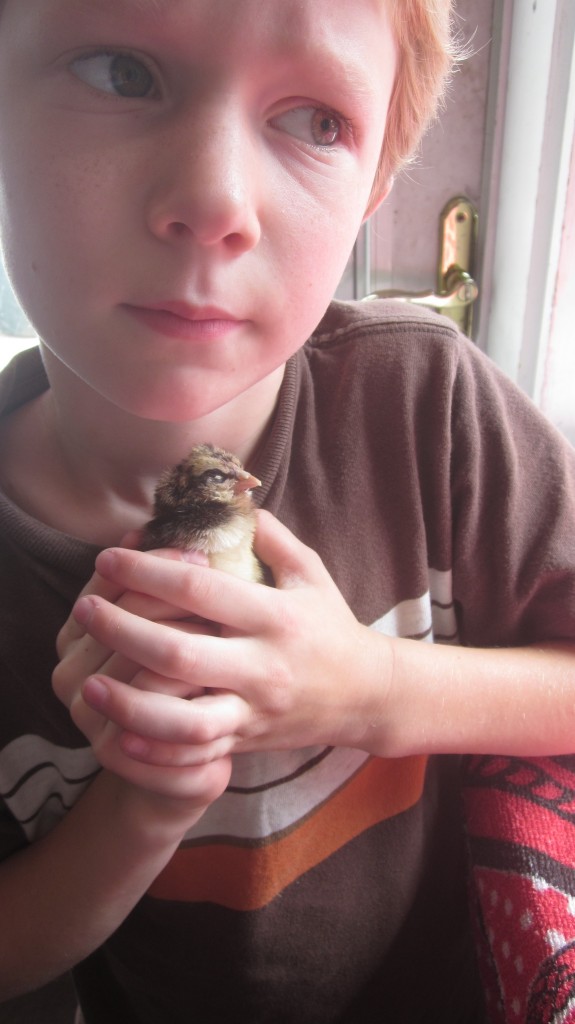 Perhaps during the night or tomorrow we'll add to our little flock.
Until then, Gentle Reader . . .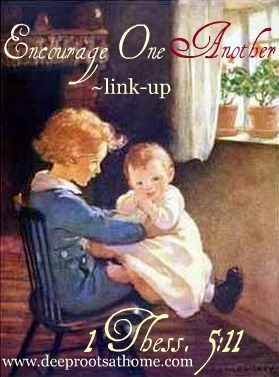 I'm linking up with an awesome, encouraging event over at DeepRootsatHome.Com.  It happens every Wednesday, and if you are so inclined, you might want to check it out!