How to make an Elderberry Winter Tonic: your virus-fighting tool!
Learn how to make a virus-killing, powerfully healthy elderberry winter tonic, from foraged elderberries and other nutrient-packed ingredients! 
(Originally published in August 2015, post updated in August 2022)

Bumper Crop!
It's a bumper crop year for elderberries here in Nebraska, it appears. That means I can make as many batches of elderberry winter tonic as I can find time to do it.
Just this morning, I was on my way home from dropping off my restaurant orders. I was tooling along on the gravel road toward home, enjoying the lovely morning and assembling the rest of my day's to-do list in my head.
Suddenly I saw the gleam of ripe clusters of elderberries in the ditches ahead of me. My mind racing, I glanced over my shoulder into the back seat to see if I had anything that I could put elderberries in. I was so excited.
Yeah, yeah, I need to get out more
As luck would have it, Mack and I had come home from Walmart just last night and–bone tired as we both were–agreed to put away all the non-perishable purchases tomorrow (which was today). Aaaand, as luck would have it, again, we hadn't done it: Huzzah for us and our boundless procrastination!

I had four plastic Wal-mart bags. I brought Douglas (our SUV) to a skidding stop in a cloud of dust and unceremoniously dumped the contents out of the Walmart bags and stuffed the empty bags into my pockets.
Twenty-five minutes later, I climbed back into Douglas, just a little scratched from my sojourn into the ditches and beaming. I had enough elderberries for several batches of winter tonic.
Frankly, it amazes me that folks aren't out tromping all over the countryside, fighting over the wild fruits like elderberries that are out there.
I guess folks don't know that elderberries are:
anti-viral
packed full of antioxidants
a tonic for the immune system
anti-rheumatic
anti-inflammatory
cardiovascular tonic
a diuretic
The elderflowers, which proceed the berries, are full of health benefits, too!
Fall is the perfect time to make elderberry winter tonic, falling, as it does, right before prime colds and flu season! Almost like the Creator of elderberries knew what he was doing . . . . *whistling* . . .
Speaking of school. (Weren't we?) Little Mack asked me yesterday when we were going to start up our home school. I looked at him blankly for a moment, thinking "School? Already? When there are so many elderberries to pick and process?"
That's not what I said, though. I said "School! School? Oh, yeah–school! Um. . . next week, how does that sound?"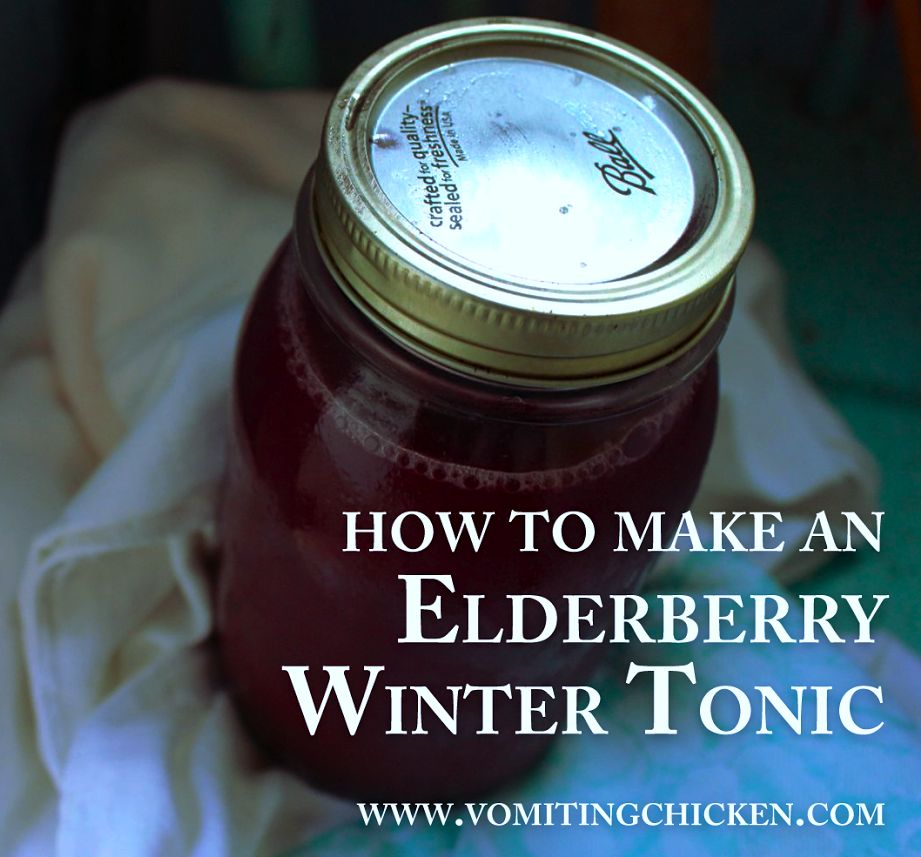 I'm not ready for school
I confessed to Amalia, quietly, later: "I'm not ready to start school yet!"
She laughed and said "Mom, you're never ready to start school!" Which. Is. True. Why, I ask you, does school have to start at the most delicious time of year, when the nights are becoming cool again, and are perfect for star-gazing? Even the bugs are beautiful and fascinating, harvest season in the garden and the fields and the wild areas is just beginning, and the days are sunny and pleasant. Who has time for sitting down inside at the table, staring at piles of books??
Two words: Not. Me.
* . . . after some reflection . . . *
Two more words: Outdoor School. That's what I'm thinking. 🙂 In the Woods School. At the Picnic Table School. Picking Elderberries School. 🙂 On the Bikes School. Yes, I think we can make this work. 🙂 School is a very broad term at our house.
Very Broad, indeed.
Learning happens everywhere.
Doesn't it? And with just the tiniest bit of forethought, little bits and pieces of learning can make for a great education. A good history reader, after all, can be tucked into a backpack and read in the waiting room, while Mom has her eye appointment (it will take longer than you think). Sketchbooks can be carried anywhere, those daily sketches done in the car or during church (it helps me listen, don't laugh). Math can be done outside, on the picnic table, as long as you can ignore the bluebird scouts that happen through one morning, the funny little Icelandic roos that are beginning to crow now and sound like dear rusty hinges, the dog that is whining plaintively for a walk, the bald eagles that soar overhead now and then . . .
Okay, kids, we'd better move inside to do math . . . *siiigh* .  . .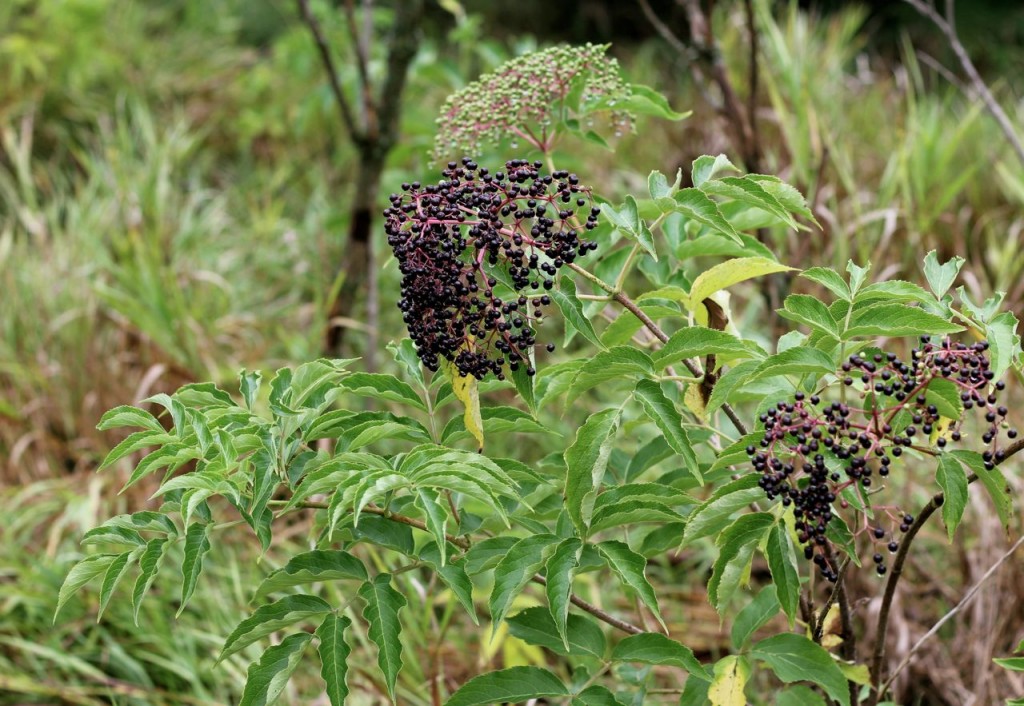 But anyway.
I'm scrambling here a bit this week, since we've been picking wild elderberries and wild plums and rose hips to make into our precious cache of wild foods for winter. I'm thankful for all this activity out and about, inside and out.
The weather is beginning to turn–it's getting almost cool at  night, and it's so pleasant to turn attention from a weedy, grasshopper-bopping garden to the wild areas around our home, and harvest the lovely jewels like these . . . .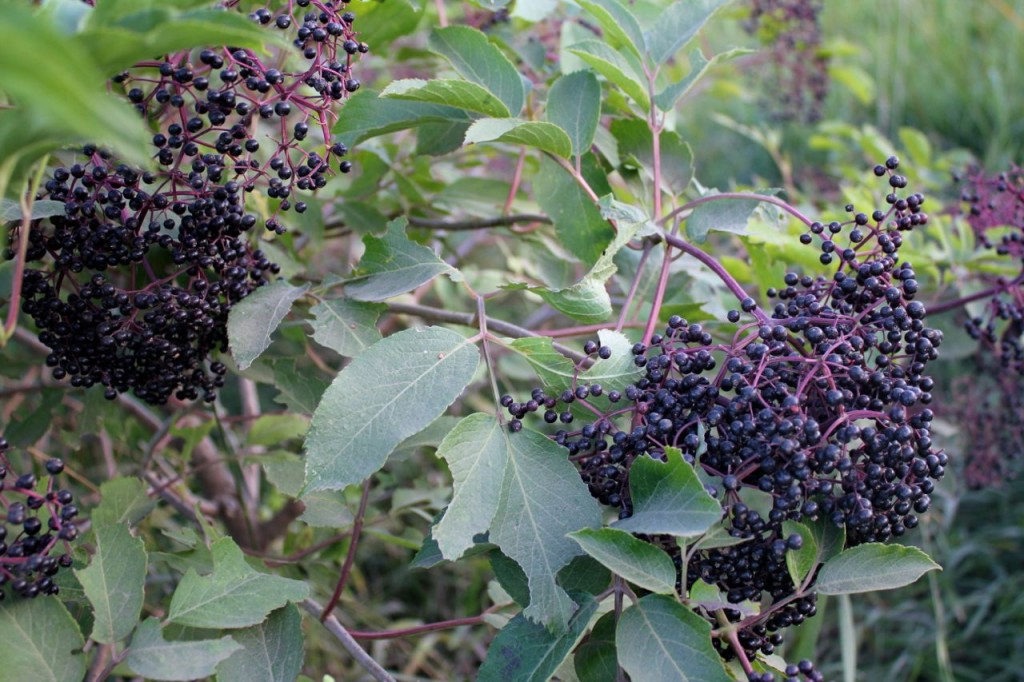 A few quick tips on foraging
Ask for permission
It's best to wear long pants, though it's summertime. (Two words: Nettle rash. Two more: Poison ivy. Two more: et al.)
I find that a simple plastic bag, like the ones that come from Walmart, are handiest to pick into. I loop the handles over my wrist, and have use of both hands that way.
Watch your step! Long grass can hide holes and ditches.
Take along a friend or a gangly teenage son if you are going to be out in the country.
Here's how to make my elderberry winter tonic
I promised you this recipe earlier this week. You can use fresh elderberries, or if it's not the right time of year for elderberry harvest or if they don't grow in your area, you can buy them at Mountain Rose Herbs (affiliate link). Be aware that the recipe is slightly different if you use the dried elderberries.
The only tedious thing about making this winter syrup is the stemming of the elderberries, but I have one handy tip for this task: mindless entertainment. The kids and I never turn on the t.v. during the day, unless we're working on a tedious task together that can be done with one eye on Sherlock. Or a Downtown Abbey rerun. Or a M*A*S*H, if we've only got 20 minutes or so. Yesterday both Amalia and Mack asked me if we were going to work on elderberries ("please, Mom? Can't we work on elderberries today?" 🙂
(Thank you, Mindless Entertainment.)
It almost feels like we're getting away with something, enjoying our elderberry stemming so, so much. 😉
I just love Sherlock. If Mack joins us, there are certain episodes that we don't watch, because they are a bit too grim. (What am I saying? Some episodes are too grim for me.)
This is something else we're re-watching. Fun, entertaining, weird, and David Tennant. What could be better?
This happened at our place yesterday:
Me: Oh, my, well, I need to vacuum the living room and finish up the dishes first before I can settle down to stem the elderberries-–" Little Mack: *sighs* Okay Mom, I can do the vacuuming and I'll ask Amalia to help do the dishes so we can do the elderberries quicker . . . " I am not making this up. It happened.
Cross my heart.

But, back to the winter tonic. This is a very strong syrup and can be taken every day as an immune booster (1 tsp per day for adults, half that for kiddos) or added to fizzy drinks or used in any way that you'd use other sweet syrups. On pancakes or yogurt or cottage cheese. It's just lovely to have in the 'fridge all winter long. It's a delightful taste of fall that will nourish you through the winter months, if you get on it and make it now, before the birds eat all the elderberries.
Those birds. They aren't out there worrying about viruses, I can tell you that.
If you don't have the time to make it right now, you can always stick the stemmed elderberries in the freezer and make it later, if you have the freezer space available. (I don't.)
Elderberry Winter Tonic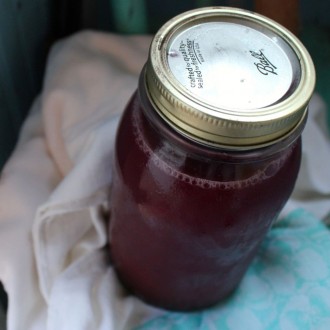 Elderberry Winter Tonic
This immune-boosting syrup is made of elderberries and raw honey, which are both anti-viral. Combined with fresh ginger and spices, it makes a delicious and nutrient-rich syrup for use in your healthy kitchen! This recipe can be doubled, tripledm quadrupled or whateverupled. Makes approximately one quart.
Ingredients
1

cup

fresh elderberries, washed thoroughly and most stems removed (or 2/3 cup dried)*

1

cup

water (or 3 cups of water if using dried berries)

2

Tb

fresh ginger, grated (or 1 tsp dry)

1

tsp

cinnamon

1/4

tsp

ground cloves

1/2

cup

honey (local and raw, if possible)
Instructions
Bring berries, spices, and water to a boil, then lower the heat to simmer. Cover and simmer for 20 minutes (or 45 minutes if using dried elderberries). (Word to the wise: don't go out to the garden while this is happening, because invariably it WILL boil over and your son will shriek and you will bolt back to the house, thinking that he has had a horrific accident. You will be relieved that he is not mangled in some way, but your stovetop will be, I'll warrant, a distressing mess.)

Strain out elderberries, pushing on them with a wooden spoon to get all the juice out.Let cool.

Decant into bottles or jars and keep in the refrigerator. Lasts for months.

Use in drinks, on ice cream, pancakes, etc., or just take 1 tsp per day as a health-building tonic.
Shop this post!
This is the type of stock pot I use nearly every day, especially during the harvest & putting-by season. I love it so. I actually wish I had two of them . . . . hmmm . . .
I buy my bulk spices, fresh ginger, canning jars, and many other lovely things from Azure Standard. The prices are great, and the quality of the products is excellent! It's easy to make an account and to discover where there's a nearby drop for you to participate in. Click over here and check out their articles for more info. (If you become a customer and refer a friend or relation, they will credit you $25!)
I love to share things with my gentle readers that I have discovered, and that have made my life BETTER. Redmond Real Salt has done that very thing. "Why, Amy, you surprise me! It's just salt!" Nope. It's not just salt, though their pink, mineral-rich salt has forever spoiled me. They also sell electrolyte beverages, healthy toothpastes and powders, and much more! Click through here to get a 15% discount on all your purchases just for being one of my people. (*blushing*)
Pin it for Later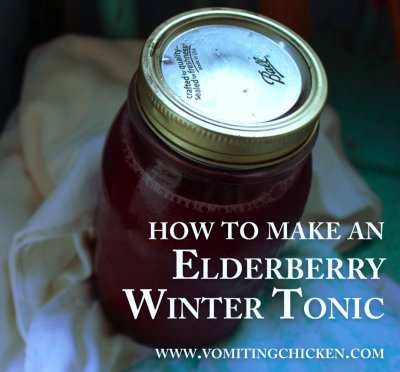 Make it! It'll take you an hour or two, and you'll have a powerful tool in your 'fridge for the winter colds and flus that will come your way. Be prepared. Take action! Use your agency. Action, action, action!
This winter tonic will help sustain you through the winter months, when you are recalling lovely days like this one with a sigh in your heart . . . <3
*hugs*
Stay healthy, friends. <3
I love ya, I mean it.