Farm Tour in May: the Sweetest Month
May is the sweetest month here in Nebraska. And I'm not saying that just because it's our birthday month: my Dad's, little Mack's, and mine.
My heart is full, just full, with the joys of spring, in May. YES, there are invasive locust trees to cut down, and ALWAYS there will be firewood to cut, split, and haul; GOSH! the Dock weeds need to be dug, one by one; and YIKES: the grass is growing so fast (already!).
No, doggonit! I won't let all the chores of country living rob me of the real joys in it. (Did you notice that I didn't mention that there are already weeds coming up in my garden? What self-control!)
I am Practicing Gratitude, Gentle Reader. Instead of being overwhelmed, I'll be grateful. (Sounds good, doesn't it?) This is my goal for May: every time (you can hold me to this, Amalia) my mouth opens and I am tempted to say "I am so overwhelmed . . . " I will say, instead "I am so . . . grateful . . . " (Note the thoughtful pause. The pause of deliberateness.)

I hope that a month of this discipline, this mind-turning, will ooze out into the other eleven months of the year. After all.
We are blessed to live in a free country, in an economy that allows the likes of us (a lowly artist with a fondness for children and critters, and a therapist) to own such a sweet, verdant bit of ground in the middle of America. I am grateful.
As Bryan and I (and to a lesser degree, Amalia and little Mack) face the challenges of keeping our place up during the growing season, we've focused, the last few years, on the fact that our grown-up kids have gone and (cough) grown up, leaving us stranded on an island of work and fatigue, surrounded by overgrown weeds, grass, weed trees, dandelions and the like. Sometimes it's easy to forget how blessed we were to have the kids home for so many years, and willing (mostly) helpers of all the projects and plantings that we immersed ourselves in.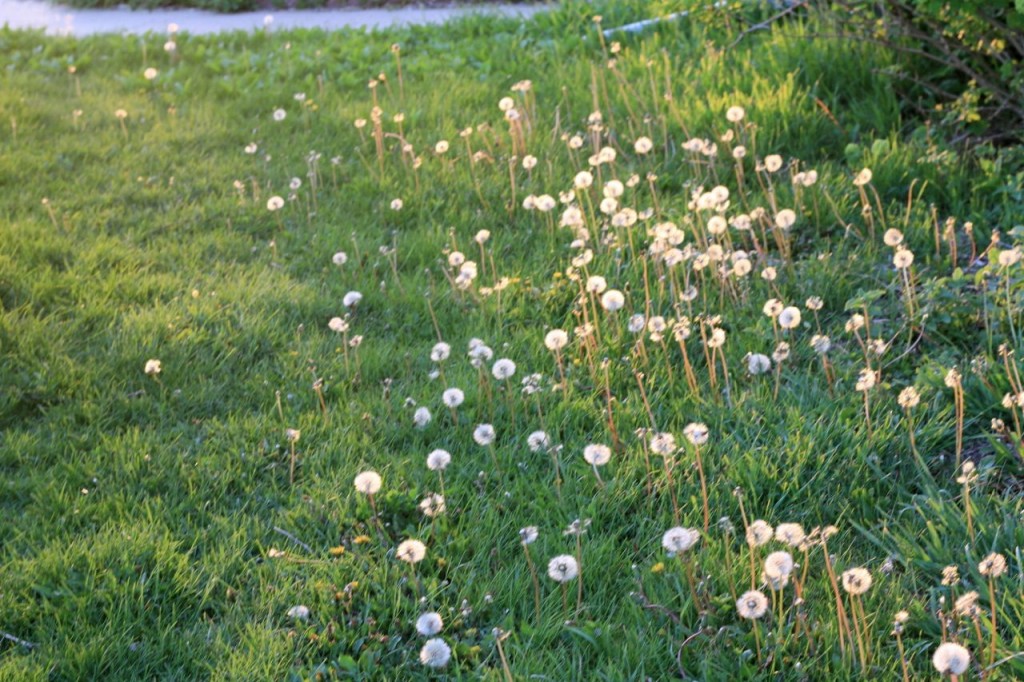 So, today, I'm writing this post with my delightful grown-up kids in mind: Matthew, Andrew, Bethany, and Timothy. These fine young folks are scattered hither and yon, but that doesn't keep me from thinking about them every day. Every moment. And being grateful for them.
So many things at our place remind me of you kids, and so I took this month's farm tour photos with you all in mind.
Flowers are blooming all over the place. In the front yard are iris, forget-me-not, periwinkle, and lots more. You'll remember planting these with me.
Our kitty Lolo has not only come back from her deathly experience (next month I'll write it all down, for those of you who like a good kitty story, I promise!) but has been to the vet for her "tutoring" and is able to go outside now. She is captivated by the outside, as am I. But she's a little frightened, too, so still does her laps inside (from one end of the house to the other–lippity lippity lippity--several times each day, as fast as she can run) where she is brave and comfortable.
Remember how your Grandma came and helped you kids haul out all the ugly lava rock that had been in the front flower bed, and replace it with flowers and this little dogwood tree? She put in little starts of miniature iris (pictured above), daylilies, vinca, and coral bells. I think I was busy unpacking boxes and watching the two-year-old Amalia at the time.
I don't think dogwood trees are supposed to do very well in Nebraska. Nevertheless, your Grandma (she doesn't listen to the experts, usually) planted this little dogwood tree with high hopes. It has been fourteen years now, and it's blooming like mad this year!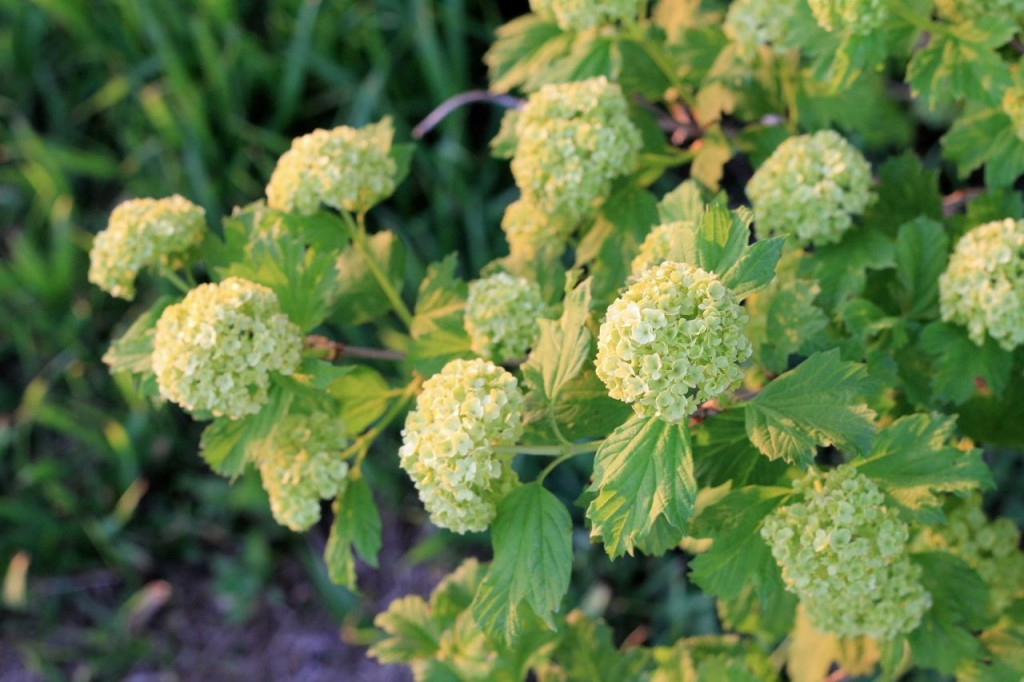 The snowball bush in front of the house looks like this: it is loaded with blossoms this year. What is it about perennials that your Aunt Mollie says: "First year, sleep. Second year, creep. Third year, leap. Fourth year, TAKE OVER THE WORLD!"
When you step outside, the first thing you smell now is the lilacs. The bushes near the house have gotten so big and they are just loaded with blossoms this year, too. Little Mack took it upon himself to string up two hammocks close to each other, and as close as possible to the lilacs. He has been doing his afternoon reading hour out in one or the other. I think it is fitting for me to do the same thing, since he went to so much trouble, after all. 🙂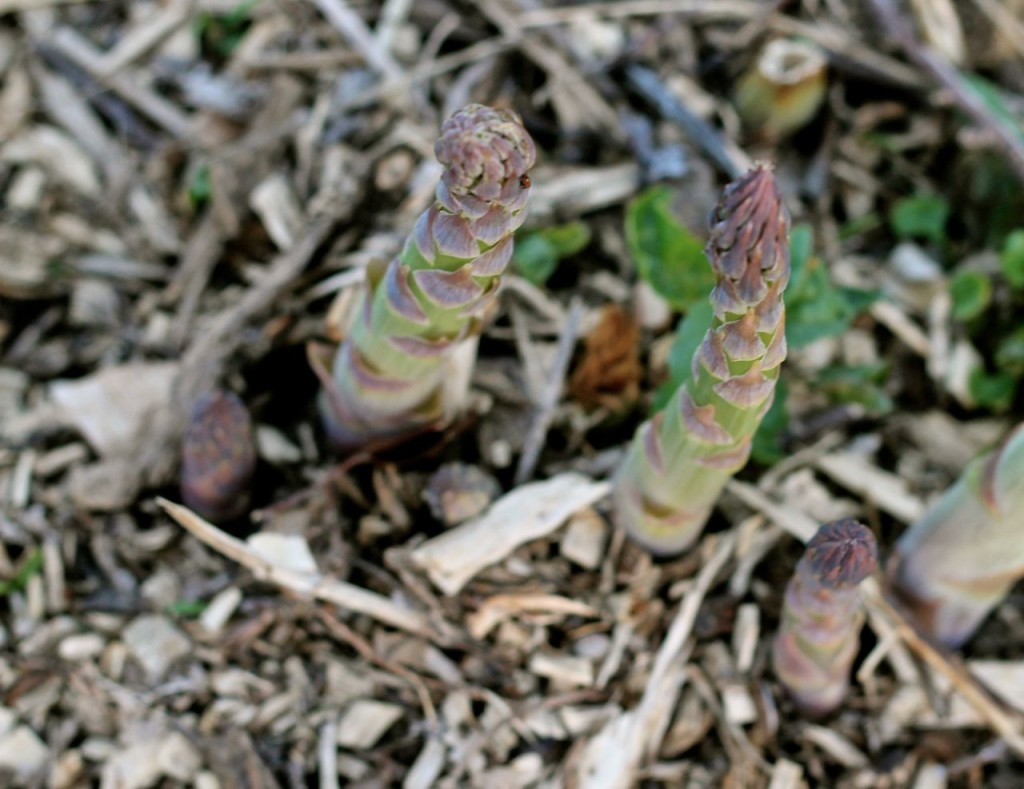 Ah, yes. It won't be long now before we can eat most of our meals from the goodies that our place provides again. I'm so happy about that. Asparagus tastes so good with fresh eggs. And nettles make such great smoothies. And lamb's quarters are exceptional in stir-fry. The rhubarb is nearly ready, too.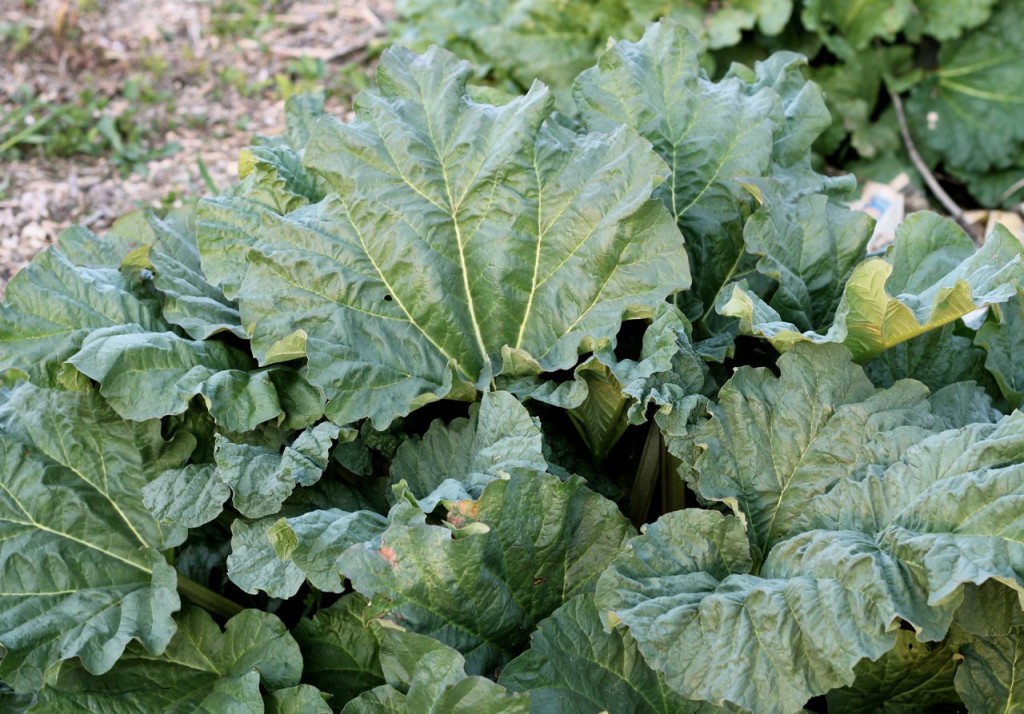 A lady at Mack's piano recital last evening was telling me rather shamefacedly that she made a panful of strawberry-rhubarb crisp the day before, and how she and her husband ate half the panful for lunch, and the other half for dinner! Mmmmm. . . I could totally do that right now, I'm so hungry for rhubarb!
Especially with a scoop of vanilla ice cream. 🙂 And a big mug of coffee, heavily laced with honey and cream.
We planted about fifty crabapple trees along the driveway a few years ago, remember? They've been barely visible–so small!–until the last year or two. This year, about half of them bloomed! And they are quite visible now. I've got to figure out a way to get out there and do a little pruning–I'm going to prune with my grandbabies in mind, opening up the centers of these little trees and leaving a low branch or two, so they'll be good for climbing. Well, you big kids can climb in them, too. 🙂 But fifty trees . . . oiy . . . that's a big project.
I think it was Timothy who named the English doves that hang around our place Gloria and Inexcelsius. Little Mack found their nest, in a cedar tree on the southwest corner of our property, and he dragged me, breathless, to look at their two dear little eggs.
I wish I could have bottled the giggles that came bubbling up out of little Mack as he watched me try to get this shot, above. Balanced on one too-small branch, holding the camera up as high as I could with one hand and holding another branch away with my other hand, it was quite a challenge.
May is just full of treasure, isn't it?
The cherry trees are loaded with blossoms, and so are the apple trees. And Bryan just installed two more boxes of bees just last night, so there oughta be lots of pollinating going on.
I'm a little behind on garden planting, but have got the usual suspects in the soil already. Cole crops, beets, turnips, carrots, and potatoes and peas are all peeping up.
I've got flats and flats of seedlings coming up inside: tomatoes (natch), peppers, collards, herbs, and the like. Sweet.
Little Mack and I have been taking one or the other of the dogs with us on our evening rambles. We don't go far, but we come up with something fascinating every night. Sometimes we don't get home until nearly dark. You don't have to go far from home to find delight.
Oh. I didn't mean that like it sounded, kids. 😉
Honest.