Fried Green Tomatoes: a healthy, cleaned-up recipe!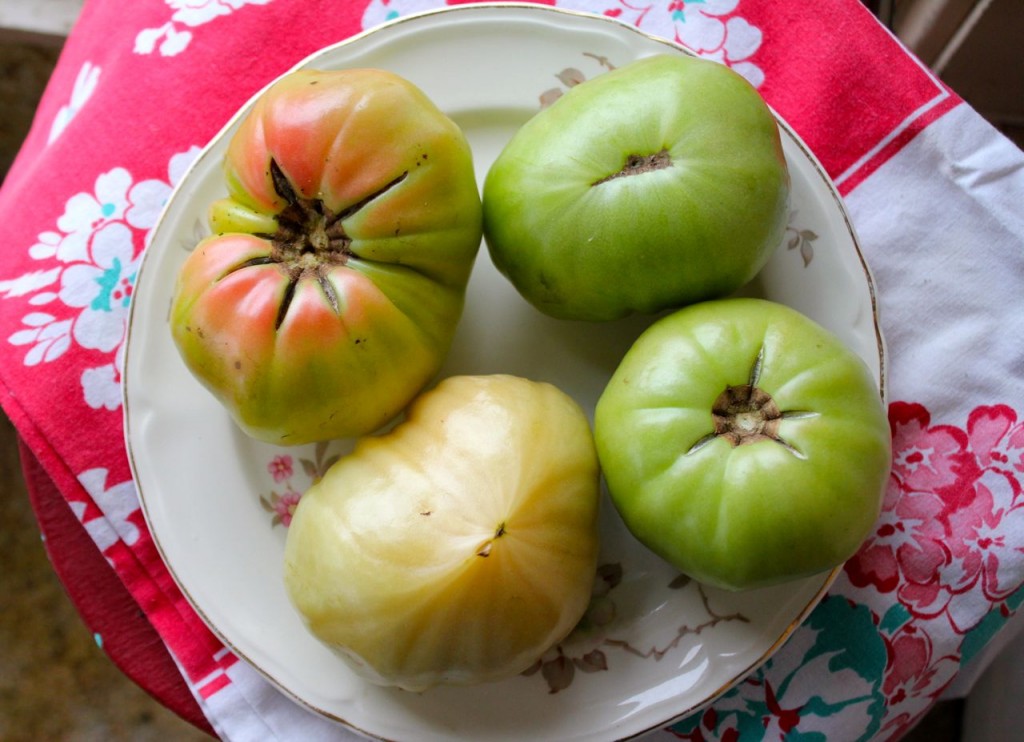 It's a very traditional sight at this time of year, boxes and crates of ripening green tomatoes on the back porch of gardeners you know. The night before a killing freeze, we gardeners all trudge out to our respective gardens and pick every green tomato that is worth its salt. The ones with insect damage, bruising or flaws I toss to my appreciative chooks.
The others I carry inside and delight in. They are not as tasty as the ones that ripen naturally on the vines, but hey, beggars–at this point in the season–can't be choosers.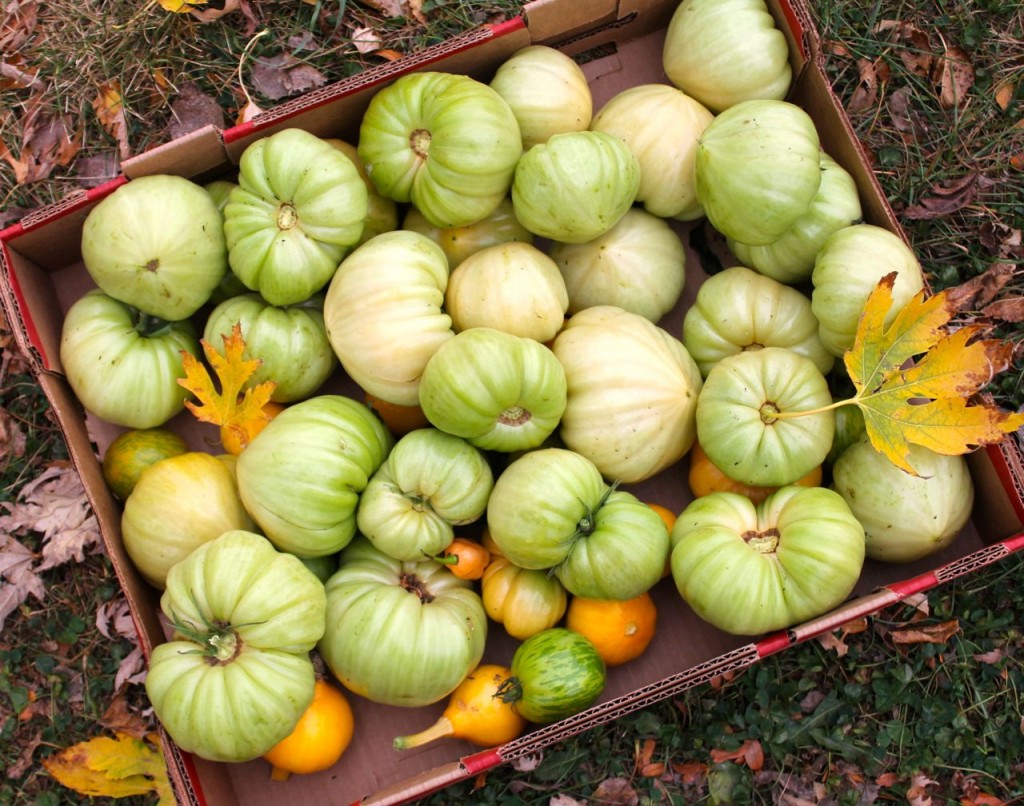 I love to make a batch or two of fried green tomatoes every fall and make a meal out of them. They are so tasty and satisfying, and I rarely make them any other time of the year, for obvious reasons.
This fall, Amalia is battling chronic headache and is on a restrictive diet, for the forseeable future: she is eating mainly meat, vegetables, and fruits, and is not eating corn, soy, wheat, sugar, or dairy. This has proven to be a challenge for us, but we are meeting it head-on! Oiy. She insists that I should cook whatever I want to cook, but I can't do that. I try as much as possible to only cook things that she can eat, too (with the exception of an occasional batch of scones or bread). Thus, I've "cleaned up" my fried green tomato recipe, adding some more nutritious (and non-inflammatory) ingredients, and guess what–they are just as good.
Possibly better.
And they've got to be better for you. 😉 Want to try them?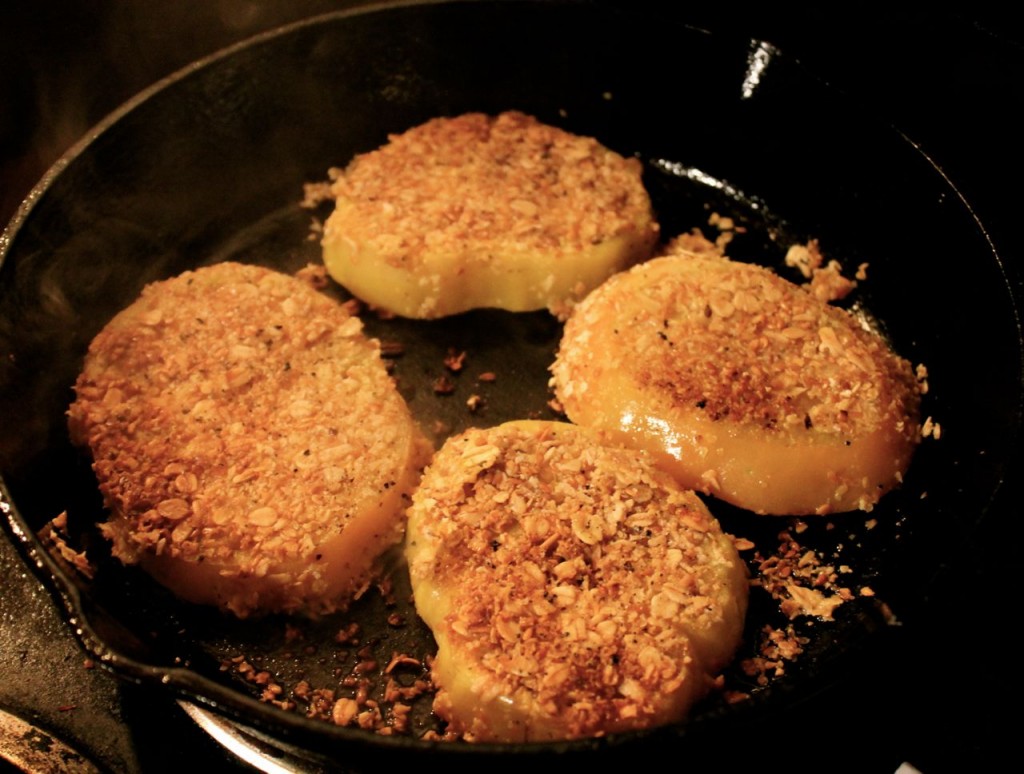 Ingredients:
1 large egg, lightly beaten
1/2 cup almond milk (or buttermilk, or whole milk)
1/2 cup ground flaxseeds (or flour)
1/2 cup ground oats (or cornmeal)
1/2 cup rolled oats (not ground up)
a sprinkling of parmesan cheese (optional)
3 medium-size, firm green tomatoes, cut into 1/2-thick slices (about 2 lbs.)
olive oil
a pinch of hot pepper flakes (optional, but nice if you like the heat)
1. Whisk together egg and milk. Combine dry ingredients  in a shallow dish. Dip tomato slices in egg mixture, and then dredge in mixture of dry ingredients.
2. Pour oil to a depth of 1/2 inch in a large cast-iron skillet; heat to 375° over medium-high heat. Drop tomatoes, in batches, into hot oil, and cook 2 minutes on each side or until golden. Drain on paper towels. Sprinkle hot tomatoes with salt, pepper, and parmesan cheese (and optional pepper flakes) to taste.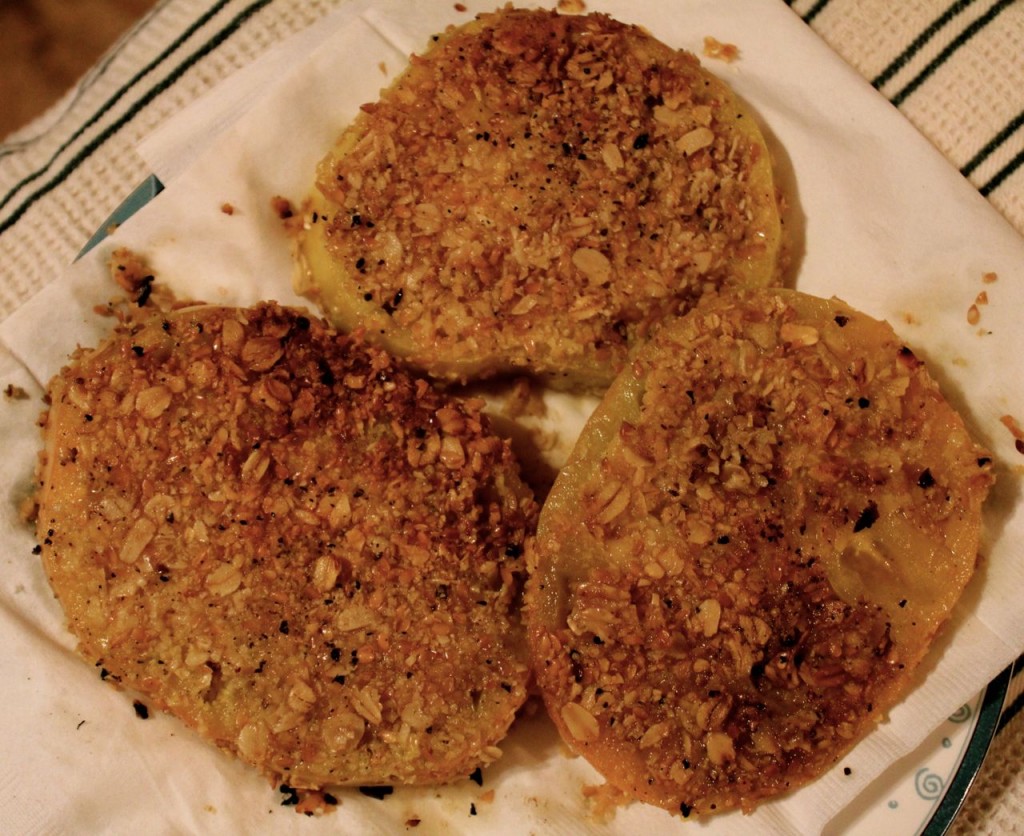 Thanks for stopping by, you. I hope you have a fabulous day!
*hugs*