Help me put the Chili & Cinnamon Rolls Controversy to rest!
It seems to be a hotbed of controversy: exactly where the splendid idea of eating cinnamon rolls with chili began. I've always believed that eating chili with cinnamon rolls was a Nebraska thing. I've assumed that it was our good Mennonite neighbors here in the Midwest who started this strangely self-indulgent combination. It was something my mom said that led me to believe this, as it seems that all her Mennonite friends automatically bake cinnamon rolls when they are having chili. My mom is not often wrong, either. Also, the community soup suppers hereabouts always include cinnamon rolls, if chili is to be served.
I heartily endorse this tradition. The Runza restaurants in Nebraska, as well, serve cinnamon rolls with their chili. But now as I peruse the internet, I see that unwitting folks in Kansas are claiming ownership for this amazing combination. Not to mention some well-meaning (but probably sweetly mistaken) types in Iowa. And some deluded individual (get this) in the state of New York is actually claiming that this is the way folks eat their chili in their area, too. A girl blogger in Washington state–obviously good at making things up, as well, writes that she ate this combination all the time, when she was growing up, but then she grew up in Iowa.
That just shows you one thing. We here in Nebraska are the only folks around who don't lie through our teeth, specifically about meal combinations.
😉

Hey, I have a splendid idea, albeit borne out of feelings of regional superiority, admittedly.
To wit: Let's end this controversy this very day, dear Gentle Reader, right here in our little corner of the interweb. Tell me this, if you will: at your house, when you cook up a big batch of chili, do you automatically make cinnamon roll dough, too? Do you smack your lips, as a general rule, whenever you smell chili simmering, knowing that you're also going to get to indulge in a bit of basically-dessertish-sugar-and-frosting-encrusted cinnamon roll goodness with your nourishing soup?
I think that's the real issue here: Can we get away with eating dessert with our meal? That is it. Better yet, can we fulfill our childish fantasies of eating the dessert first?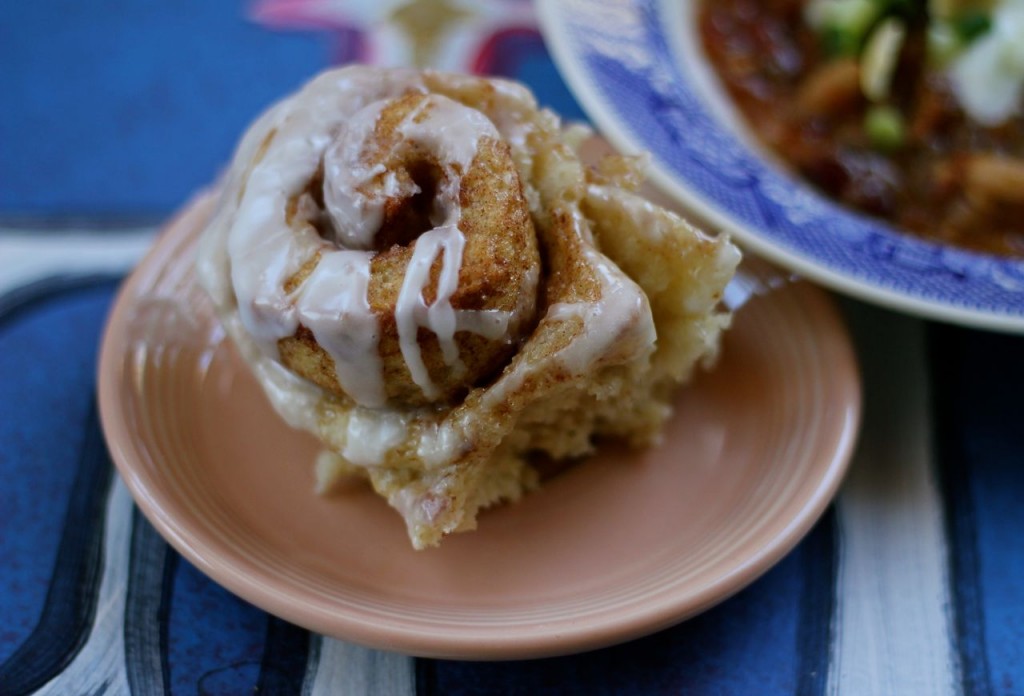 At our house, we make these lovely honey-cinnamon rolls with my favorite bucket dough, and I published the recipe right here.
I see it now: probably this is what happened: A Nebraska homesteading farm wife, lonely and workworn (you can picture her, right–cough), a hundred years ago or so, pulled ingredients out of her larder to make a big pot of chili soup. She had had a busy and punishing week, er, month, er, season, er few years, what with the locusts eating the crops that one year, and the Indians stopping by to scare her silly from time to time, existing on corn and only corn for months at a time, and then–the Mister getting lost in that blizzard and losing a few fingers and the–well, you get the idea.
As her chili simmered, she pulled out a crock of dough and started to form rolls to go with the soup. She reached for the butter–oops!–she dumped the sugar crock all over the mound of dough. She started to try to clean up the precious sugar, and in the process (she was a bit rattled) she upset the precious little jar of cinnamon that her good man had brought home from the trading post, after he had gone to trade their extra corn for a few precious non-essentials.
Like cinnamon. Blast.
Alas! The dough was ruined–or was it? In typical prairie woman style, the tired woman decided to make lemonade out of lemons: she rolled up the dough, cinnamon, sugar, and all, and sliced it into rounds, chucking the slices wearily into a pan, dotted it with butter (what the heck!), let it rise, and baked it. She didn't dare waste the dough, after all. Probably it wouldn't be edible–but . . . you never knew . . .
Life for this woman was never the same again. The combination of chili and cinnamon rolls was so delicious and different and heady and pleasing, that her husband raved to whomever would stand still long enough to hear him. This bold cooking move set her apart in her community, and she won acclaim no matter where she went from that day forward. She was given the key to the village, and from that day forward, she rode in the front of the 4th of July parade, in the most honored and cherished position.
She was univerally lauded. Respectful applause was directed toward her.
She flourished in all ways--socially, economically, and emotionally, and her husband built her a big house with more than one chest freezer (as soon a electricity was a thing), and encouraged her to raise a couple of homestead hogs, as she had long been dreaming of. 🙂 She could do no wrong, and it was all due–as so many blessings are–to that one little "oops," and being able to turn it around to something grand.
It happened, undoubtedly here on the plains of Nebraska, in the early days. Now it's time for our little survey, and then we'll move on to the recipes.
Just for fun:
First: what state do you live in? If you're not in the U.S., which country do you live in?
Secondly: Do you eat chili, and if you do, do you eat it (whenever possible) with cinnamon rolls?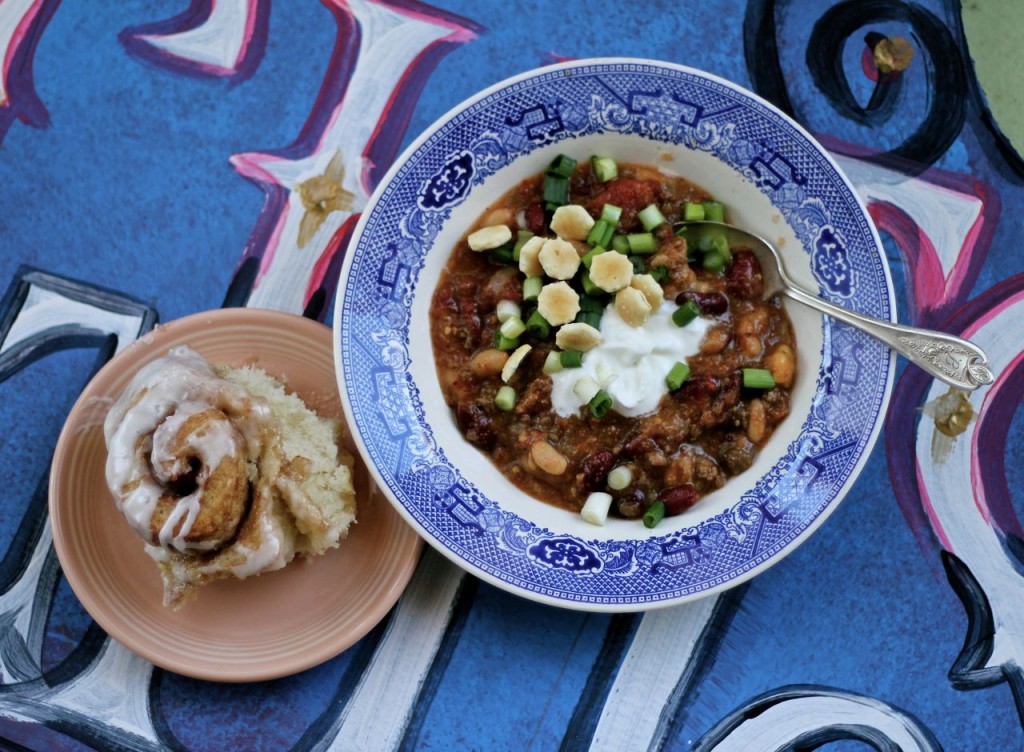 Oooh, I am rubbing my hands together in anticipation, as I can't wait to hear what you all have to say. We will prevail with The Last Word. IF you are of a mind to, I'd love it if you'd share this post (it's how you can say thank you to me, you know, if you wanna) with your friends and relations, so they can chime in, too.
Okay. Now to the recipe. From the time it gets cool in the fall, chili is one of our favorite meals to make and eat at our place. Basically it is an easy "dump" recipe: mostly you are dumping ingredients into the crock pot, and then giving them all some time to cook together. There's a bit more to it, but that's basically it. Since we are in "high melodrama" season, with lots of set-painting and designing and music-practicing and lines-memorizing, "dump" recipes are about the only ones that get prepared around here. So.
Oh, and "second-day chili," according to my kids, is always superior to first-day chili. So there you have it.
Chili with cinnamon rolls: kick it up a notch with a great spice blend!
Author:
Prep time:
Cook time:
Total time:
What could be tastier or more comforting than a big steaming bowl of chili for supper on a cold night? Nothing, that's what: and if it is accompanied by some fresh cinnamon rolls, all the better!
Ingredients
6 to 8 cloves of garlic, smashed, diced and set aside for 10 minutes
1 large onion, sliced and diced
2 Tb olive oil
1 lb hamburger
2 Tb (to taste) chili spice blend (see recipe below) or chili powder
2 quarts canned tomatoes (home-canned is nice)
1 pint water
1 Tb Worcestershire sauce
4 to 6 cans of beans: kidney beans, black beans, pinto beans (your favorites!)
1/4 cup corn meal
Instructions
First, saute onion and garlic in olive oil until soft and aromatic.
Add hamburger and brown. Drain fat, if necessary.
Drain cans of beans and add to the skillet and stir until hot.
Sprinkle with spice mix, and stir. Taste and adjust seasonings. (It should be a bit strong.)
Dump tomatoes, water, Worcestershire sauce and hamburger-bean mixture into a large crock pot.
Cook on low for 6 to 8 hours, or 3 to 4 hours on high.
minutes before serving, taste and adjust seasonings, and stir in corn meal.
Serve with an assortment of the following (optional): sour cream, shredded cheese, sliced jalapeno peppers, sliced green onions, crackers or corn chips, and so on.
Two things set this chili apart: my spice mixture, and the clever addition of a bit of cornmeal in the last half-hour. Try it. You'll see.
And you'll love to mix up a big batch of this spice mix, so it's handy for using in chili, tacos, or any Mexican-style foods.
Mix together:
1/4 cup garlic salt
1/4 cup chili powder
3 T each: onion powder, freshly ground pepper, cumin, curry, paprika, dried parsley flakes
1/2 tsp cayenne pepper (or more)
(optional) 1-2 tsp hot pepper flakes
Remember to chime in below in the comments, on the important issues that we discussed today: The Great Chili Question: where do you live, and do you eat cinnamon rolls with your chili?
Lives depend on this. Or at least, reputations of certain bloggers I know (cough).
Thank you, Gentle Reader. 🙂 And puh-leeze share with your friends if you have a moment to do so. 🙂
*hugs*