Sweet Rewards of Honey-Cinnamon Rolls, after poly-pulling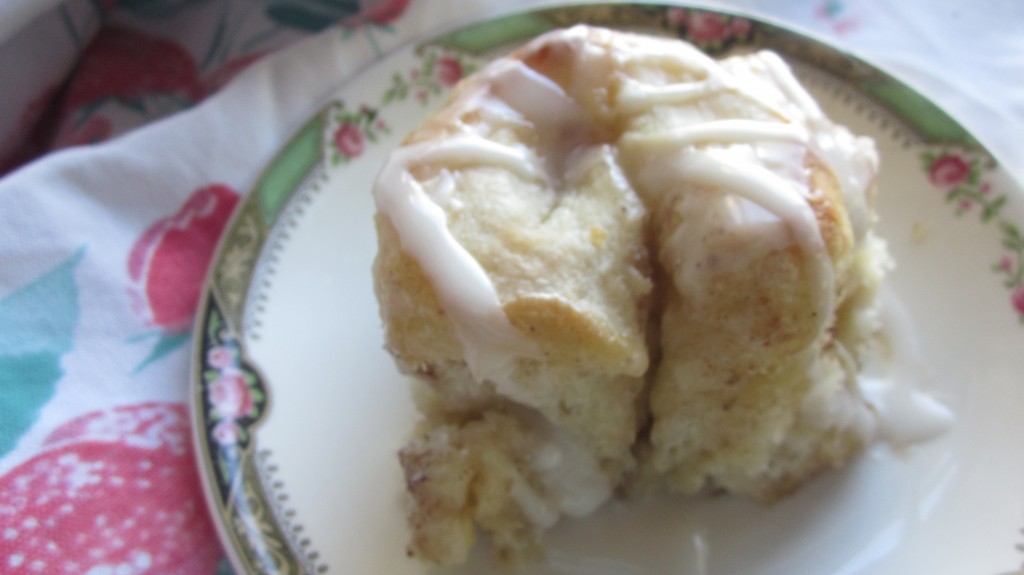 I wrote yesterday about spending time with our awesome team (or "village" as in, "it takes one . . .") pulling the humongous sheet of poly over our hoop house structure. And I teased you, my Gentle Reader, into checking back with me today to learn more about the honey-cinnamon rolls that I served the crew afterward. And you're back. (giddy giggle)
I believe in rewards for hard work, don't you? We don't "muzzle the ox" around here, no sir! And yet on a crazybusy (Yes, it's a word. Look it up! Wait, don't, just take my word for it) weekend like this last one was, I didn't have the time to make something for our crew (though they deserved it!) that would have taken me hours to prepare.
Five minutes, though? That much time I had . . . maybe even ten. And that's all the time it took for me to make these scrumptious honey-sweetened cinnamon rolls. Honest. (Can I say "Honest Injun"? I don't suppose I can. I really want to. It's right there on my tongue.)
That's what I like so much about the 5-minute Artisan bread that I've gone on and on about . . . if you have a few minutes in the beginning of your week (you know, when your optimism is at its peak and you still have a bit of energy and you're looking at your fresh to-do list with a mixture of excitement and trepidation) to mix up a few buckets of dough, then on Friday when your harried brain is trying to think of something toothsome and special to make for an impromptu work team that you've assembled for the very next day, you think–"Huzzah! I've got one bucket of dough left! I can, after all, do–this–thing!"
And you toddle, or ramble, or skip, or sashay, or limp to your refrigerator (we have an older, second refrig in the basement, where I keep things like 35-pound watermelons and big ole' pots of soup and overlarge cabbages, and leftover casseroles that I forgot about but am too cowardly to peek into and, of course, buckets of dough) and you pull out your last bucket of dough and in 5 minutes (or 10, tops) you've got a pan full of lovely honey-cinnamon rolls for your special morning event the next day. You know you're very clever, don't you?
So you can go to bed. But first, if you really are making these the night before, cover them and stick them in the freezer. That will stop them from rising and then when you get up in the morning, you need only leave them on the countertop for an hour or so to rise before you pop them into the oven. Maybe a bit longer. But they won't be frozen solid, so an hour might be just enough.
And you feel so clever and so virtuous and yet (really, you must admit) it took so little effort to pull this off. But you don't have to tell anybody this, lest they think that you are just a slacker, after all. Because, of course, you're not.
So here's how to make the dough, and the rolls. If you want to learn more about 5-minute Artisan bread, check out the website "Artisan Bread in 5 Minutes a Day." It's really amazing and a font of great tutorials and ideas. I make most of my bread this way. And by the way, if you prefer, you can just use sugar with the cinnamon instead of the honey. Either way, these are delicious. Make lots.

Celebratory honey-cinnamon rolls
Author:
Amy from vomitingchicken.com
Recipe type:
yeast rolls par excellence
Prep time:
Cook time:
Total time:
Isn't it fun to have special sweet rolls for a special sweet occasion ready at just a moment's notice? It's possible with this easy bucket-dough recipe!
Ingredients
1½ T dry yeast
1½ T kosher salt
3 cups warm water
1 cup whole wheat flour
5½ cups unbleached flour
soft butter
honey (raw and local is preferred, natch)
cinnamon
confectioner's sugar and milk to make a glaze
Instructions
First, mix the yeast, salt and water together. You can use a mixer or a whisk in a bowl or bucket. I like to use gallon ice-cream buckets with lids.
Then add the flours until well-mixed. Don't knead.
Cover with a loose lid and let rise until the dough reaches the top of the bucket or bowl, about 2 hours. Your dough is ready to use at this point, although it will be easier to shape if you refrigerate it for a couple hours, or overnight. It will stay good in your refrigerator for up to a week, though it will taste more "yeasty" the longer you keep it.
On baking day: roll out a rectangle of the dough, about 18" by 12" and about ¾" thick.
Spread with soft butter, then the raw honey, and then sprinkle with cinnamon. Roll up jelly-roll style, and cut into slices about ¾" thick.
Place in oiled 9" x 12" pan, and let rise for 60 minutes.
Bake at 350 degrees for 20 minutes, or until golden on top and not at all doughy (gak I hate that) inside.
If desired (and I always desire this) make a glaze out of confectioner's sugar and milk and drizzle on the top.
Eat while still hot! Smiles all around!
Ah, the cleverness of YOU!

Oh, you'd better print this off, and make these rolls. And if you like the looks of this recipe, I'd love it if you shared it with your friends. Push the "Share" button on Facebook, or send it Tweeting, or Google-Plussing, or whatever. I'll be your friend forever if you do a little bit of my shameless promotion for me. Truly BFF. <3

Thank you so much, Gentle Reader, for putting up with all this foolishness. Oh! And I just remembered what is niggling away at my brain . . . bulletproof coffee!  I nearly forgot that I promised to tell you all about it! But you'll have to come back tomorrow for that post.

After all that, I think I'm out of steam for today. 🙂

 

Save

Save