How to throw a small wedding: 11 tips to ensure magic!
How to throw a small wedding that is just as beautiful, magical and special as a larger, glitzier affair. (Note: All photos the work of Marissa Tyler; you can get in touch with her here.)
A Small Wedding
Very few brides dream of a small, modest wedding. Most dreams seems to be of large, flashy, "perfect" affairs, with Pinterest-inspired decor, catered food, dozens of attendants and all the spectacle that Dad's wallet can afford.
Sometimes, however, global affairs dictate that a small wedding is the way to go.
This summer I've learned that a small, tasteful wedding can be just as beautiful and magical as a large, expensive one. Read on to learn my top tips for how to throw a small wedding without sacrificing a thing.
Consider the dilemma . . .
. . . of my darling daughter Amalia, the blushing bride-to-be, earlier this year. (And so many other brides-to-be during this strange year of lockdowns, mandates, and confusion.) She and her fiancé Caleb started planning their June wedding during their Christmas break, long before Covid-19 became a household word.
An overburdened college student, Amalia was canny and proactive about organizing her wedding. She made her lists and checked them twice. She remembered how much her sister Bethany and I struggled over the planning of Bethie and Saia's wedding five years earlier. Not only was Amalia determined not to leave everything to the last few weeks before the ceremony itself, she was going to keep things as simple as possible. She also was struggling with migraines, so when she had a good day, she'd hit the ground running.
By the end of her Christmas vacation, she was proud of herself, for good reason. She had reserved a venue, purchased a dress and secured a seamstress to alter it, ordered invitations, contacted a photographer, had engagement photos taken, and had figured out who was going to be in the wedding, among other things. Caleb helped her send out "Save the date" cards, and they purchased thank-you cards. Amalia was ready to head back to college in January, ready to focus on a very demanding semester.
My girl: a woman of action!
She had done as much as she could over her break, and she could go back to finish out her senior year at college, at peace about her upcoming wedding. She knew that she had done everything possible to make sure there would be very little stress pulling it off in June.
Then: an ironic twist. Covid-19 hit the coasts, and everything changed overnight. She came home from college for spring break, but (like many other college students) didn't return to her college campus afterward. We moved her things home a week or two later, and she set up her classes online and finished out her semester in her basement bedroom at home, logged onto classes via Zoom.
Meanwhile: lockdown
Meanwhile the great 2020 government lockdown was happening. Here in Nebraska we were never told not to leave our homes, but the governor asked us in daily press conferences to stay home as much as we could, not to meet in groups of more than 10, and to take care of our elders who were housebound.
Amalia and Caleb talked at length about what to do about their wedding. Several of their friends were in the same boat. What to do: Rent a smaller venue and just know that everything would have to be very, very small, or trust that the worst would be over by the wedding date and keep everything in place? Or push the wedding back several months, or even to next summer? Perhaps they'd have to simplify and go forward.
A canny strategy
Amalia and Caleb came up with a smart strategy. They weren't going to put off their wedding. They were ready to begin their lives together. So they trimmed the guest list to just a few dozen family members, their wedding party and photographer, and they moved their date up a month. That's the short of it.
Though the kids were sad about not being able to include their large group of extended family and friends in their wedding, they seemed content to opt for a much smaller, simpler wedding. And we all learned from them; we figured out how to throw a small wedding without giving up the beauty or the magic.
As for me? Glad you asked, gentle reader. I've been the mother of the bride before, ya know, so I've learned the valuable gesture of keeping my mouth shut and my checkbook open, concurrently. But I had to wonder (secretly) in the weeks leading up to the wedding if the bride and groom might regret foregoing all the hoopla, the celebratory touches, the spectacle of a big wedding.
I didn't say it.
But I couldn't stop wondering. Your gentle blogger was the soul of discretion. You would have been so proud of me. Your heart would have been bursting with admiration (and probably surprise) at my poise and restraint. This certainly didn't come easy. Though our daughter Bethie's wedding was a lot of work and there was some stress involved, it was so beautiful and special. It was worth every sweat drop, every tiny wrinkle, every new strand of white hair.
I wanted the same for Amalia: something quite beautiful and . . . magical!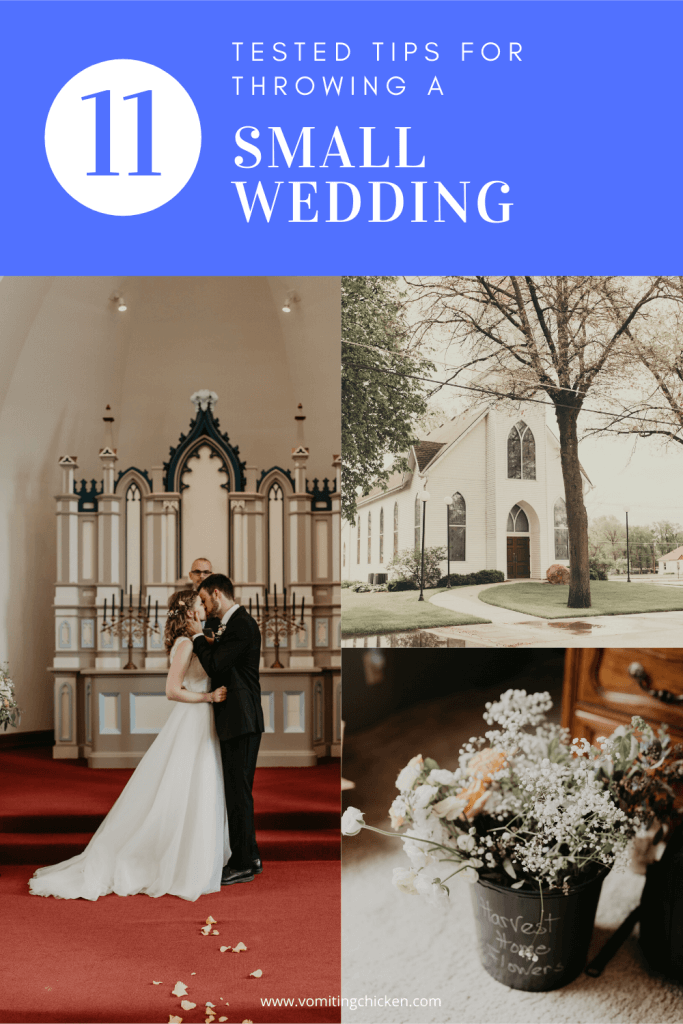 Bottom line:
I did not want a stupid pandemic, or the government's heavy-handed reaction to it, more accurately, to take that away from our daughter.
In the weeks before the ceremony, I kept asking Amalia if there were things I could be doing. I was quite subtle. Reticent. Demure. Yet with my hands out, offering.
Me: Do you want me to whip up something to decorate the aisle . . . some tulle . . . baby's breath . . candles? Amalia: mmm . . . . nope!
Me: How about homemade butter mints . . . fruit? Anything else you want me to make to go with the cake? Amalia:  mmm . . . nope!
Why did I feel uneasy?
During the week before the event, I felt uneasy . . . like I should have been stressing out over flowers (Amalia took care of them) or food (just cake and coffee, Mom, that's all) or tablecloths (at the last minute, Amalia did call and ask me to bring one–phew! I could do something!!) and chairs (they were at the chapel already) or music (Amalia: we took care of that, Mom).
So how did it turn out?
Well, you've probably already guessed that the wedding turned out just as beautiful and memorable as I could have hoped for. It was magical, gentle reader. And I was touched at how perfectly lovely it turned out to be, even without hundreds of guests, any additional decorations, or homemade mints.
It was absolutely perfect the way it was. It lacked for nothing. Nothing, gentle reader.
Lesson learned.
So. if you are the future mother-of-the-bride, or the bride yourself, and circumstances completely out of your control collide and you are forced to downsize the wedding you are planning, let me help. (My hands are out, very willing!) I draw on my recent experience to give you tips on how to do so. Yours won't have to lack for anything, either.
Here are my 11 tips for how to make the best out of this situation, and (let's be honest) also what you've been wading through all these words to get to in the first place: the photos. 🙂

Here we go: how to throw a small wedding, in 11 simple steps.
Tip #1. Pick a venue that's pretty to begin with.
Why? Because you're not going to feel pressured to come up with bushels and boatloads of decorations. You'll save oodles of time and money, and everything will still look lovely. Amalia and Caleb chose a beautiful little chapel, and it being a pandemic/government overreach summer, it was available. All the events there had been canceled. The outside is pretty, too!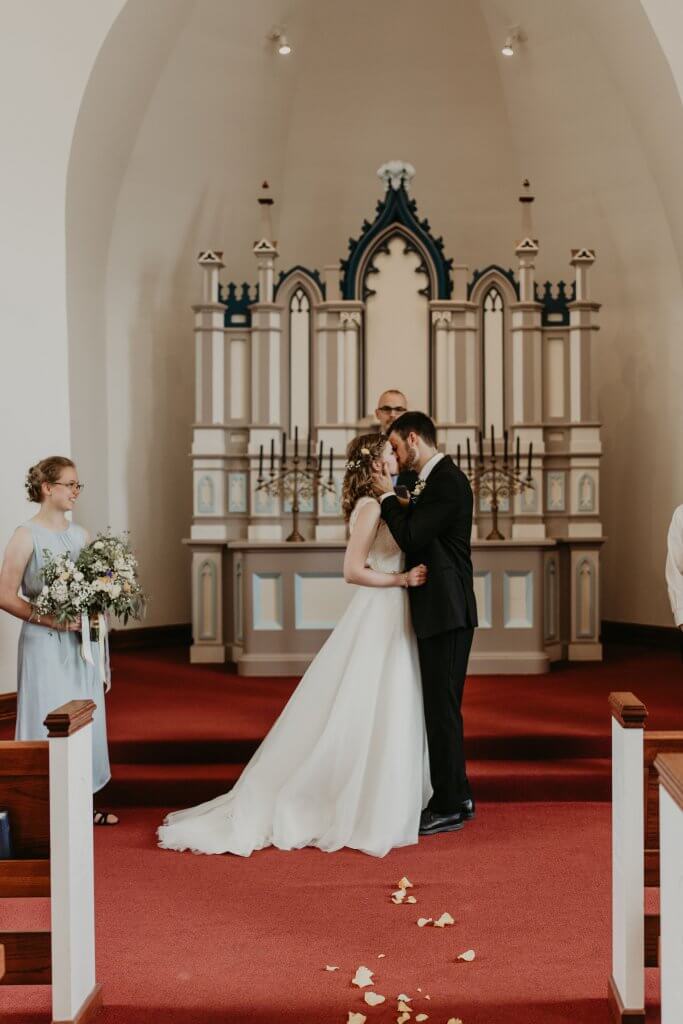 2. Mama: remember it's her wedding.
I'm assuming you had a wedding already, Mama, and you hopefully got to decide on how it was going to go. This one is hers. Let her make the decisions, with no pressure to change them. Bite. Your. Tongue. if need be. *ouch* Keep your strong hands out, willing to do whatever she needs you to do, but your mouth. shut.
3. Only offer your advice/help if you're asked to do so.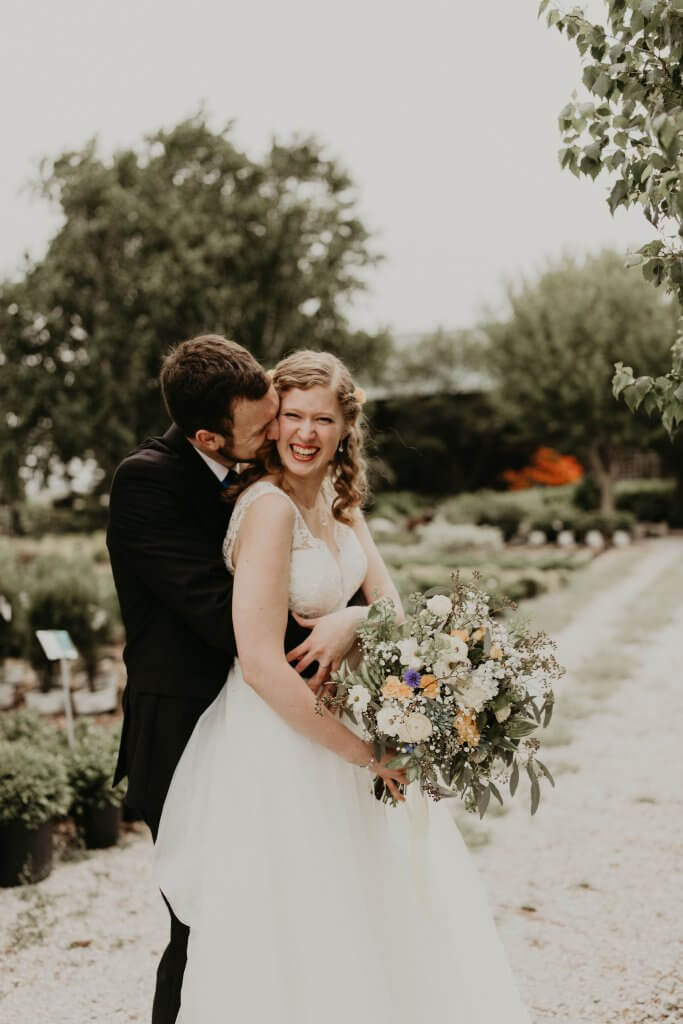 Duct tape works pretty well to cover your mouth over, if necessary. It comes in a lot of colors, too, in case you like to match your outfit.
4. Don't let anybody change your mind about what you want.
A note to the bride, along the same lines: if you have a clear idea of what you want, be brave and firm if others (even your mama, whose duct tape suddenly came loose for a moment) start suggesting things like homemade mints or pew decorations (cough). Smile. Cock your pretty head. Hold your ground. It's okay. It's your day. Don't forget it.
5. Get on Pinterest if you need ideas . . .
Sure, go ahead and do a little homework if you need to brainstorm ideas. Take notes. Determine what your style is, if you don't know already. Start your own file of images and links, until you see a theme emerging.
But once you've made your decisions . . .
6. Stay off Pinterest.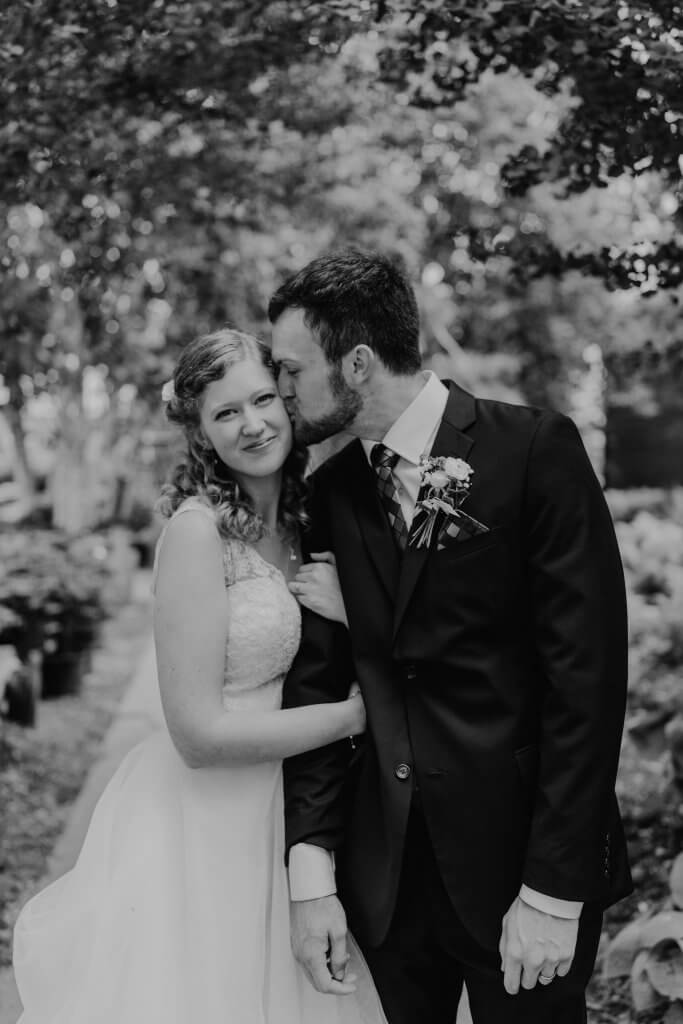 It'll only muddy the waters if you start second-guessing yourself. I've been there. Pinterest–never–ends. It is an infinite cache of links and blog posts and images and ideas. We don't want muddy waters, do we? Besides, you probably don't want your wedding to look like everybody else's, do you?
7. Remember the goal.
Praise God from Whom all blessings flow: you're getting married! Having a splashy, fancy "perfect" wedding? That's probably not your primary goal, if you're reading this post. Your goal is probably, simply, to get married. Celebrate with a few of your dearest friends and family and keep your sights on the prize: you'll be married to the love of your life.
8. Plan a party after the crisis has passed.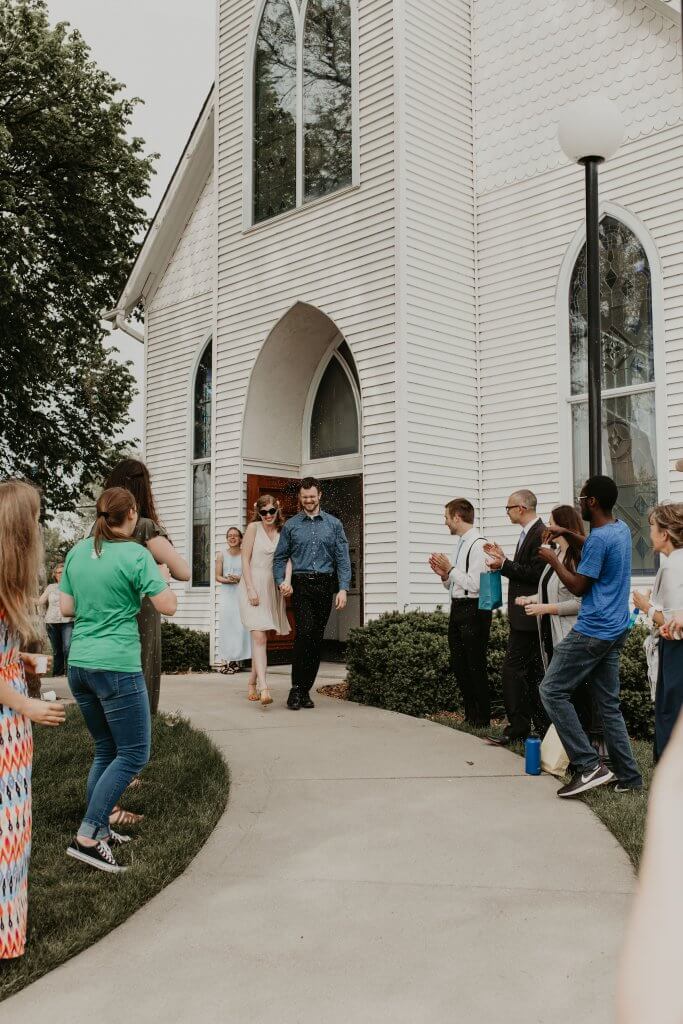 If part of you feels sad about having to downsize your big wedding to a small one, plan a party for all your friends and family in the not-too-distant future: in six months, or next year. A lot of brides that I know are doing just this. Amalia is planning (hoping that by next summer, Covid-19 will be mostly a distant, unpleasant memory) a big happy potluck party (at our place, I think?) so those who weren't able to come to the wedding will still be able to celebrate with the new couple.
p.s. Amalia and Caleb did have their big wedding reception party, a year later, and invited all the friends and family who weren't able to come to the wedding. They rented the same historic ballroom that Bethie and Saia got married in, five years before. They had a wedding dance, cake, snacks, everybody dressed up, there were flowers and pretty tablecloths, and gifts. So they didn't have to do without a thing. Amalia wore her wedding dress and they did a "first dance" that made me cry.
9. Start with what you already have.
Shocking, yet true fact: I wore the same formal dress to Amalia's wedding that I wore to Timothy's a few years ago. She didn't care. He surely didn't care. It fit with the color scheme. It saved me tons of time (and not a little stress!) shopping (when all the shops were closed, anyway!) and money.
10. Let others help.
Undoubtedly you've got talented folks in your midst who know how to sew, make a cake, decorate, whip up some salads, whatever you need. Let them help. It's a blessing to you, but it'll also be a blessing to them!
11. Have fun, you!
With hope, this will be the only wedding your daughter has. Be grateful for God's blessings, and don't let stress or other concerns steal your joy. Have fun and enjoy the day!
Soak it all up.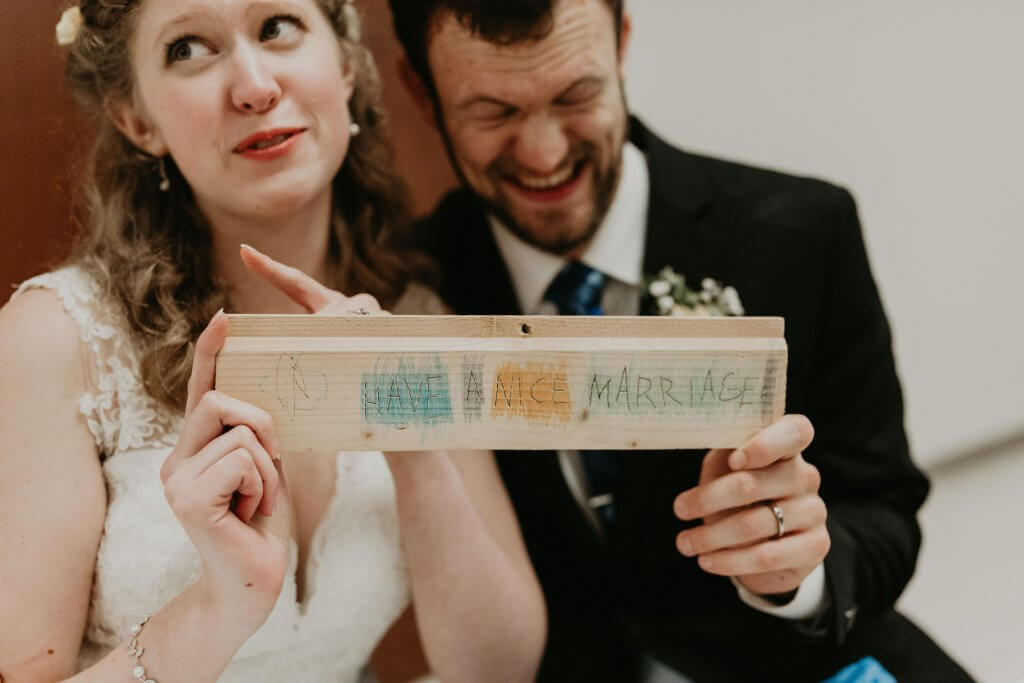 p.s.: A promise is a promise
Okay, here's the story I promised you: When Amalia was a little girl, her oldest brother, Matthew, married his love, Rachel. Amalia got busy and a made a present: a scrap of wood from her dad's shop, with the blessing (inscribed with a nail) "Have a Nice Marriage" on it. Somehow she also pounded a hole in the top of the board for hanging.
Matthew and Rachel have had this little gift displayed in every home they've lived in so far, and Matthew decided long ago to make a gift for Amalia on her wedding day, a twin of the plaque that she made him. So. There you go.
Thanks for popping in to see what's going on in my little corner of the world, gentle reader. I do hope you are doing well, and are finding many things to be grateful for, even during difficult and confusing times.
I love you, I really do. Take care.
*hugs*
More links to check out:
If you can't get enough of wedding material to read, or if you want to see what our older daughter's wedding looked like five years before this one, you can click over here.
These simple-to-make, delicate little cookies would be great to make for a wedding. You could coordinate the filling with the wedding colors!
Pin it for later
All photos used with permission by marissa tyler photo.