It's no-turning-back-awesome: a better way to plant onions!
I love to grow my own onions, but there's one thing I loathe about growing them. If you grow onions in your garden, you can well guess what it is, can't you? Are you guessing? Are you picturing it . . . there's your onion bed in your mind and you can see that neat little row of onions, marching proudly down the middle of your raised bed . . and, glory be, nary a weed do you see because it's just so doggone easy to keep the weeds out of the onion bed . . . it's child's play! It's a piece of proverbial cake!
Except that it's not. Weeding the onion bed, to me, is a frustrating and difficult task, fraught wish risk, peril, tears, and frustration. I just hate that chore, which means quite often it doesn't get done, and the onions don't do as well as they might have, because of the presence of too many weeds in their bed.
It's just so tricky to pull up the weeds in between the onions without pulling up the onions, themselves. It's practically impossible to do this successfully when they are small, and not much fun when they get bigger, either. Such a conundrum.
However. I experimented last summer in my onion-planting and discovered a new way to plant onions which really revolutionized onion growing for me! I'll even venture to assert that it is a better way.
I'll never go back, Gentle Reader, to the old, traditional way of planting onions. I'm serious.
I read about this different way to plant onions in one of Eliot Coleman's books. (I think it was in this one, although I would recommend every one of his books to you, if you are a serious gardener . . . or even a casual gardener. . . basically, any sort of gardener at all would learn lots from Coleman's books.)
I figured I really didn't have a lot to lose, since my onions beds, as they were, were never all that successful. It made a lot of sense to me, so I tried it. And I can say honestly that I'll never go back to the traditional way of planting onions. You can use this method with seeds or plants or bulblets. Versatile. Easy. Awesome.
Here's what you do. If you were going to plant single onion plants in rows, you would set them about 3 inches apart. Four plants in a clump every 12 inches in a row is the same average spacing as one plant every 3 inches. Each onion is allowed just as much total garden space,and the yield–surprisingly!–is the same. The onions, growing together, push each other aside gently and at harvest time are lying in a series of small circles rather than single rows.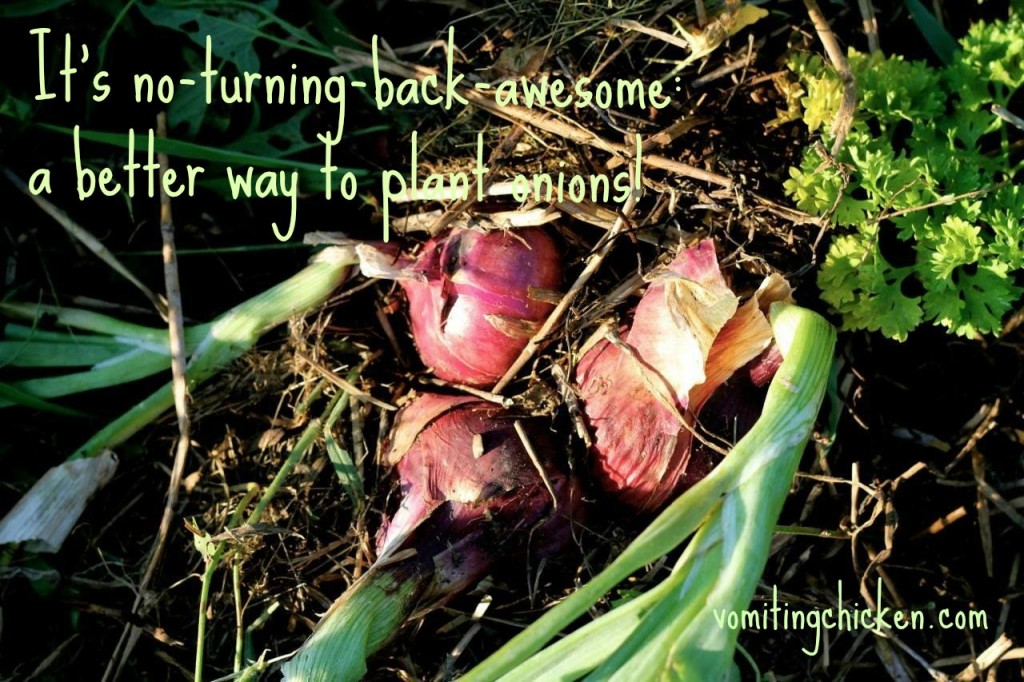 This allows you to grow transplants in groups rather than as singles, making planting and weeding much easier and quicker. If you start from seeds, you can do the same thing, sowing five seeds together (planning for four of the seeds to germinate). When the onion seedlings are large enough to go into your garden, you just set out the clumps of seedlings, rather than separate them.
Furthermore. When it comes time to harvest, you can gently pull up clumps of onions at one go, rather than individual onions. Brilliant, eh?
Yep. Never goin' back. 🙂