Marigolds: Common flower, uncommonly useful & a seed giveaway!
It has been a good while since I've done a giveaway, and I think as we move deeper into February, with all its emotional and physical challenges, a giveaway of marigold seeds from my garden, to you for yours (my gentle readers) is apt. 🙂 Before we get to that, though, I'm going to tell you some neat things I've learned about marigolds, perhaps the most common–but also one of the most cheerful–of annual flowers.
Anyhow. I have so many. Seeds, that is. I saved a lot of seeds from my gardens last year, and I have just begun to dream about what to do with all of them. Plant many of them, certainly. But giving some away makes me happy too, so that's what I'm going to do.
But first, let's commiserate together–just for a moment–about the trial that is February. In fact, driving home from drama practice last night, not-quite-so-little-anymore Mack was asking his dad and me: "What's the slogan for February?" Bryan and I were tiredly baffled.
"Slogan?" I asked. "What do you mean?"
We had called an early rehearsal that day because there was a winter storm blowing in. A winter storm that we were, in fact, creeping slowly through to get home, at that very moment. The wind was blowing snow directly from the North Pole (well, at least North Dakota) and the road–having received a nice layer of freezing drizzle first–was quite slick. The temperature was hovering around 3°F (that's -16°C) and dropping. I knew that I'd have a list of outdoor farm chores to attend to when I got home, as usual. Chickens don't stop eating and being thirsty when it's inconvenient to tend to them, ya know.
"Well, for instance," he continued, "September is 'Be Prepared Month,' and so on. What's February?"
Bryan and I started firing off "slogans" one after another, and none of them were very nice. "Frostbite and Depression Month," "Just You TRY to Hang on to Sanity Month"and "Sucky Cold and Darkness Month," and so on. "Blinded by the crazy blinking blue lights on the snow plow in front of you month," I added wryly, as a snowplow pulled out in front of us, necessitating our driving the rest of the way about thirty miles an hour, and shielding our retinas from damage from those crazy-bright blinking blue lights. (Must that be THAT bright?)
"It's a good thing they are so bright," Bryan mentioned, between winces, in a making-lemonade-out-of-lemons train of thought. "One time during a winter storm I nearly ran right into a snow plow because the snow was coming down so thick. If it weren't for those super-bright blinking lights, well . . ."
We pondered that for a good while, as we blew into our hands to get them warm. I was wondering which darling children I might have missed out on . . . was it before or after Malachi, for example, when he nearly rear-ended a snowplow?
These are dark thoughts that probably wouldn't even tickle the gray matter, if it were May. Or even March. But in February, they tend to crowd out many other more productive thoughts.
We never did come up with an appropriate–or positive–slogan for February. In the Midwest, at least, by February the charms of winter–having a big pot of soup bubbling on the stove, early sunsets so there's more reading time, an excuse to burn a wood fire 24/7, snuggling on the couch with a cat and a book–begin to lose their appeal. At least to me. By February, one longs for more sunshine–emotionally and physically. Being able to walk outside for more than ten minutes before one has to beat a hasty retreat to the warmth of the house. Green grass. Consistent sunshine.
One tires, one does, of pulling on 32 layers every morning, and then pulling 32 layers off again at night. Occasionally one toys with the idea of just wearing 32 layers to bed, just for a break in this tiresome routine. Other niggling physical concerns begin to nag. I wear band-aids on both thumbs because of the painful cracks that I get on them this time of year. "February–the Dry and Cracked Thumb Skin Month."
What has winter been like at your place? Here in Nebraska, it has been a tricksy critter, for sure. Even into the middle of December, we had mild, sweet days and cool nights. We Nebraskans were smug and happy: whattya know, winter has forgotten to show up this year! We laughed, so carefree. Smug. Contented. Warm. And "I could stand this sort of winter any ole' time!" 
And I heard this more than once during those halcyon non-winter days.
But I'm getting away from my original point . . . which was . . hmm . . .oh yes, this winter. THIS winter turned on a dime in the middle of December, and we've had windy, bone-chilling nights down to -20F here in our part of the state, during which a good share of my beautiful lettuces, flowers, and other greens in my hoop house perished.
This is not supposed to happen, of course. But it did. Growing crops in the hoop house is a blessing for me, and I've going on my fifth year of doing so. I learn something new every year. This year's lesson: sometimes everything freezes. It's an unheated space in Nebraska winter, duh. Of course sometimes it all freezes. Although this is the first time it has for me.
So, marigolds. I can think of a great number of flowers that are tricky to grow. Marigolds are not one of them. If you plant them once, in fact, you don't ever have to go to the trouble to plant them again. I planted marigolds one time in an outdoor bed, many years ago. The plants produced lots of seeds, which drop onto the soil and put up enough baby plants the next summer that I haven't had to plant them since. In fact, I dig up the extra baby plants and move them other places where they are needed.
Like in my garden.
Here's the really neat thing about marigolds, in your humble blogger's opinion, and the reason marigolds ought to be more prized than they are.
Not only are they cheery, friendly, beautiful, and abundant–once they start to bloom, they never stop–until a killing frost or freeze kills the plant, that is. But they also deter deer, rabbits, moles, and other animal pests from your garden spaces, AND there is some evidence of their detering nematodes, too (harmful worms that reside in the soil), and even attracting beneficial insects to the crops that need them the most.
And that, my friends, is why turning thoughts to planting marigolds, in February, is such a boon. Marigolds provide comfort. They provide balance. The sturdy little flowers provide never-ending cheer, with a minimum of fuss. They don't turn on a dime and suddenly blow you with arctic-quality winds. Or frostbite your toes. No.
Marigolds do their best for you, without asking for much–if anything–in return. Marigolds are the faithful hound dogs of the plant world–the gardener's best friend. I consider zinnias the lovely big sister of the marigolds, and I plant lots of them, too. Everywhere. Ask anyone.
So . . . question: are the heirloom tomatoes that I grow every year beautiful and abundant because of my supposed green thumb and my good soil, or is it because I insist on planting marigolds and zinnias in every nook and cranny of my tomato patch? Hmm. Good food for thought during this, the coldest and hardest month in the gardener's calendar year (in my humble etc., etc.). (February: "the I can't wait for spring month")
SO. Do you plant flowers in grand confusion er, ah, profusion in your garden? Mayhaps you should. Mayhaps you would, if you had some seeds?
Well, guess what, chickie, I'm giving away some seeds! I saved seeds from the Fireball zinnia that I grew last year in my hoop house. I love this variety! It has a handy low-to-the-ground growing habit, and beautiful dark burgundy and maroon flowers. The flowers are different because they start out one color and change slowly to another one. Color-changing zinnias: they are a thing. The Fireball is a classy, high-brow flower. It's the type of zinnia, if it were a person, that would eat at the fancy restaurants that I sell edible flowers to. It wouldn't be lunching at the hamburger joint on the way to the city, no. It would have a nice lunch in the city itself.
I wish I could find the photos that I took of my Fireball zinnias, but no. The February curse is on my organizational skills, which were scanty at best. But you can click over here if you are curious about the way they look.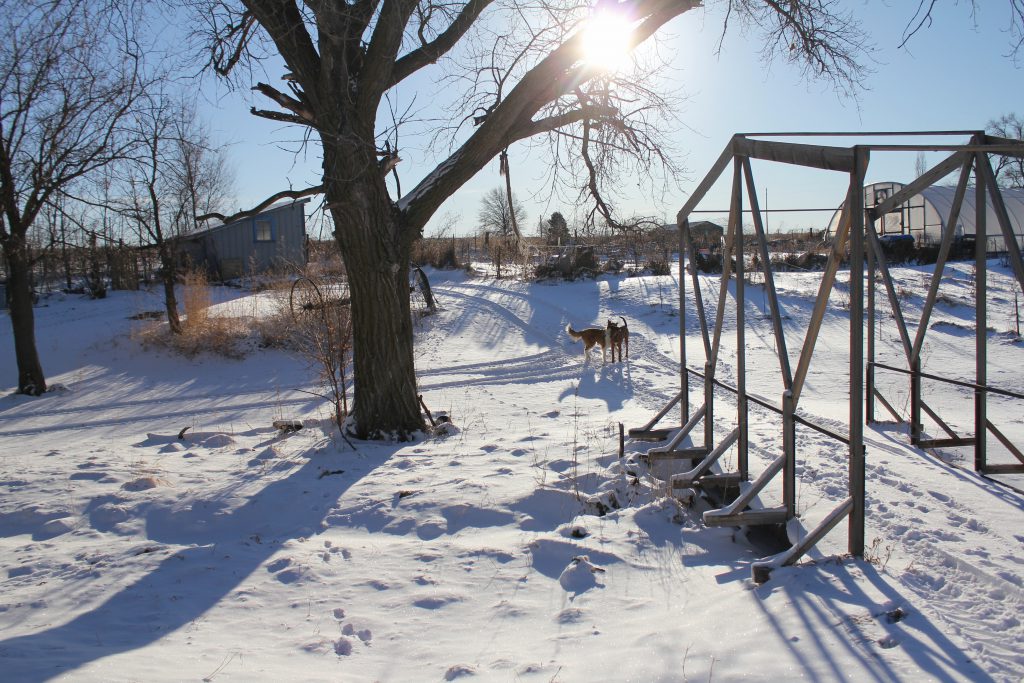 I'd like to send five gentle readers of my blog some Fireball zinnia seeds, just because it's February and I know that I can't be the only gardener in the room who could use some encouragement.
To sign up for the giveaway, just leave me a comment below. Something cheering. Something positive about February, in your neck of the woods. Something hopeful. For a second entry, share this post in your social channels, and then be sure to leave in your comment that you did so. (My sharing favorites: Instagram and Facebook! but anything works!) I'll put all the entries into a hat on the last day in February, and draw out five lucky winners and send your seeds to you that day.
Pinky promise!
Oh, and if you'd like to learn more about this virtuous, easy-to-grow annual, here's a good place that you can do so.
Have a good one! Stay WARM and positive. March is coming!
*hugs*