Dreams of mulch are giving me goosebumps
It's March, and we're expecting a snowstorm tomorrow night-–a bad enough snowstorm to perhaps keep us home from church on Sunday morning (and for my husband, a retired FedEx driver, it has to be pretty bad to keep us home on Sunday).  As we wait and watch to see if the snowstorm will happen, I'll look wistfully out my window to the east, to my garden.  It's lonesome and gray out there. 
Not a bit of green.  The garden fence is in need of repair, and my chickens pick and scratch in the soil.
My little canary must think it queer that I have been in my studio several times today, just to look out that window and dream about springtime and garden. Luciano presides over my studio, and his cage hangs in front of that window that looks out toward my garden.  Usually he has plenty of privacy in my studio, but not today.
I've been planting tomato seeds in flats in the house, and I've been reading garden books, and I've been trying to be patient about just getting out there, already. I'm officially Tired of Winter, annoyed with being cold, and irritated by having to pull on two or three sweaters every day.  Please excuse my complaints.  I know that we still have several weeks of cold ahead of us, but I'm ready for springtime now, thank you very much.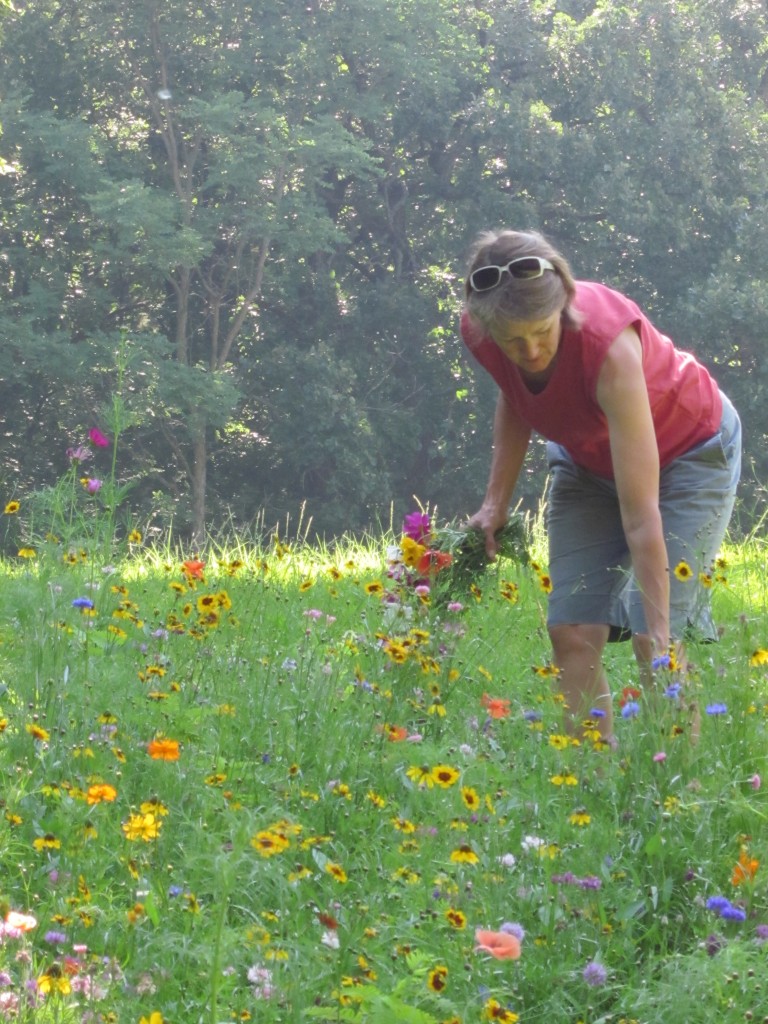 Remember this colour? It's GREEN, if you've perhaps forgotten.

The other day my friend Anne mentioned that she and her husband were going to do something entirely different this year in their garden.  I know that this friend grows a beautiful, big garden, so my curiosity was piqued.  We didn't have the chance to continue our conversation that evening, so I sent her an e-mail asking her to tell me what their plans were.
She e-mailed be back right away and told me about Paul Gautschi's "Back to Eden" method of gardening, which involves lots and lots of wood chips, and piles of newspapers.  Paul is a successful gardener in the Northwest, who takes the no-till method of gardening to an extreme, with beautiful results.  Basically he dumps piles of wood chips on his soil (on top of a layer of newspapers or cardboard), which eventually decompose and create a rich, moist habitat for his seeds to grow in. He never tills. He rarely waters. He has the most amazingly beautiful and fruitful garden.  And he lives out his growing faith through his life and through his garden.
The video is right here if you'd like to watch it.  It's a little long, but it's very enjoyable and if you (like me) are counting the hours until you can get out and dig your fingers into the soil, it may be just what you need to get through the next week or two.
Paul quotes scripture constantly in the video, which is partly why I like him so much.
Collecting newspapers, and piling wood chips on your garden space would be a small thing that could develop into a wonderfully big and fruitful thing. Maybe it is a good thing to start–today?
There is lots more information about Paul's method of gardening on his website, which you can find right here. 
Now the only question is: where am I going to find that many wood chips . . . ?
Happy garden dreaming, Gentle Reader!