Paintbrush Cookies: a sweet heritage Christmas cookie recipe
Ah, the loveliness of making cookies
I spent a pleasant afternoon this week making Christmas cookies with my grandies. These weren't ordinary cookies, but very special "Paintbrush Cookies" that my Mom made with my sibs and me when we were kids.
I've been desperately wanting to make these with some littles. Desperately. I've been embarrassingly nostalgic lately.
Why is it, gentle reader, that the older I get, the more goofy I get about my childhood memories, and the more I treasure all the things of my girlhood days?
A quick vocabulary lesson
(Gosh, is that a proper use of the word "goofy"? I'd better look it up. It wouldn't do for a blog of this caliber to have inaccurate word usage.)
          *foolish or harmlessly eccentric.
          *unreasonably nostalgic
proper noun   
formal
      2. Disney
           *name of enigmatical speaking cartoon dog, not to be confused with "Pluto", the non-speaking        
                 cartoon dog of the same origin
That discovery in the thrift store
To wit: Recently I spotted an old Better Homes and Gardens Cookbook in a thrift store. (Gosh, the treasures in thrift stores never end!) When my eyes lit on this old cookbook, I felt that familiar ache in my chest. My heart skipped a beat. It was that pain of nostalgia, a longing for my girlhood.

Through some mysterious jolt in my poor memory, as I picked up the old book, I remembered that the recipe for Paintbrush Cookies was in it. In a heartbeat. (How did I remember that fact, when I forget so quickly why I've walked into a different room? *ugh*)
Then, another minor miracle happened–I turned right to the page that had that recipe on it. There wasn't even a photo to catch my eye.
I wonder how many times I pulled Mom's copy of that same cookbook out of her kitchen bookshelf and turned to that page. Making cookies and then *gasp!* actually painting them before they went into the oven was something that delighted all my senses then, and does now, still. Sugar cookies were always a treat, but the creativity involved in mixing up the "paints" and then applying them, with paintbrushes, to the cookies was a delight.
the Best Mom in the world
Mom made these cookies with us, of course. What parent, after all, mixes up "paint," using a different custard cup for each color, rolls out cookie dough on the kitchen table, and then invites her littles to paint on cookies, for herself? And then, after the kids scatter, leaving the mess behind . . . spends the rest of the afternoon washing up the various cups and containers and paintbrushes? No parent, that's who.
Mom did that sort of thing purely for the love of us kids. Such a generous act.
I've noticed the growing tenderness of my heart toward anything that I had or did as a girl, the farther I get away *cough* from those girlish days. I've noticed this phenom in my siblings, as well. (Also no longer spring chicks.)
Case in point: My brother recently built these Christmas decorations and installed them in front of his house. Our Dad built the same display when Mark and I were very little. I've wanted to make one of these sets myself for years.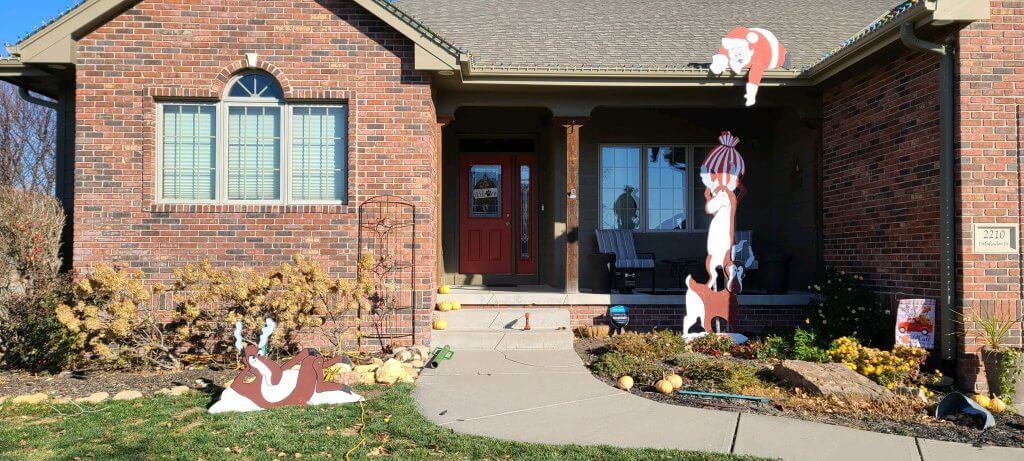 I'm desperately jealous now. Desperately.
Here's a photo of my Dad in his twenties, installing his set on the front of our house in Lincoln.
and the best Dad of course
Thank you, Mom and Dad, for raising us with such abundant love and care. And for going to the trouble to make Paintbrush Cookies.

And that brings us full circle to earlier this week, when I had the pleasure of making the same recipe, from the same cookbook, with my grandies.
The giddiness of making Christmas cookies
There's no better fun in Christmas cookie baking than the process of mixing food coloring with egg yolks, and then painting on the cookies before you slide them into the oven.
The colors may fade a little in the baking, and all the hues are on the golden side (because: egg yolks) but they gloss up during the baking and it is really a fun process.
The cookies taste pretty good, too.
Life is a gift, is it not?
Especially when you have the freedom to pursue your own happiness. But I don't have to tell you this, gentle reader. I think we're in accord on these matters.
Here's the recipe, based on the one in the old Better Homes and Gardens Cookbook. You may want to invite some littles over to help you make these, or you may be lucky enough to have some living with you right now.
Anyway . . . It's time to make Christmas cookies!
Paintbrush Cookies
What is more fun than making shaped cookies for Christmas? Mixing up paint and painting them too, before you bake them. Try this recipe and see!
Ingredients
1

cup

unsalted butter, softened

1.5

cups

confectioners' sugar

1

large

egg

1

tsp

vanilla

1/2

tsp

almond extract

2.5

cups

all-purpose flour

1

tsp

baking soda

1

tsp

cream of tartar

and for the cookie "paint"

1

egg yolk

1/4

tsp

water

food coloring, as desired
Instructions
Mix thoroughly butter, confectioners' sugar, egg, vanilla and almond extract.

Blend in flour, soda, and cream of tartar.

Cover; chill 2 to 3 hours.

Preheat oven to 375 degrees.

Roll each half about 1/4" thick on lightly floured board or countertop.

Cut into fun shapes.Place on lightly greased baking sheet.Paint designs with small paintbrushes and Cookie Paint.

Place on lightly greased baking sheet.

Paint designs with small paintbrushes and Cookie Paint.

Bake for 10-12 minutes or until firm and golden on the bottoms. Cool on wire racks. (Good with cold milk!)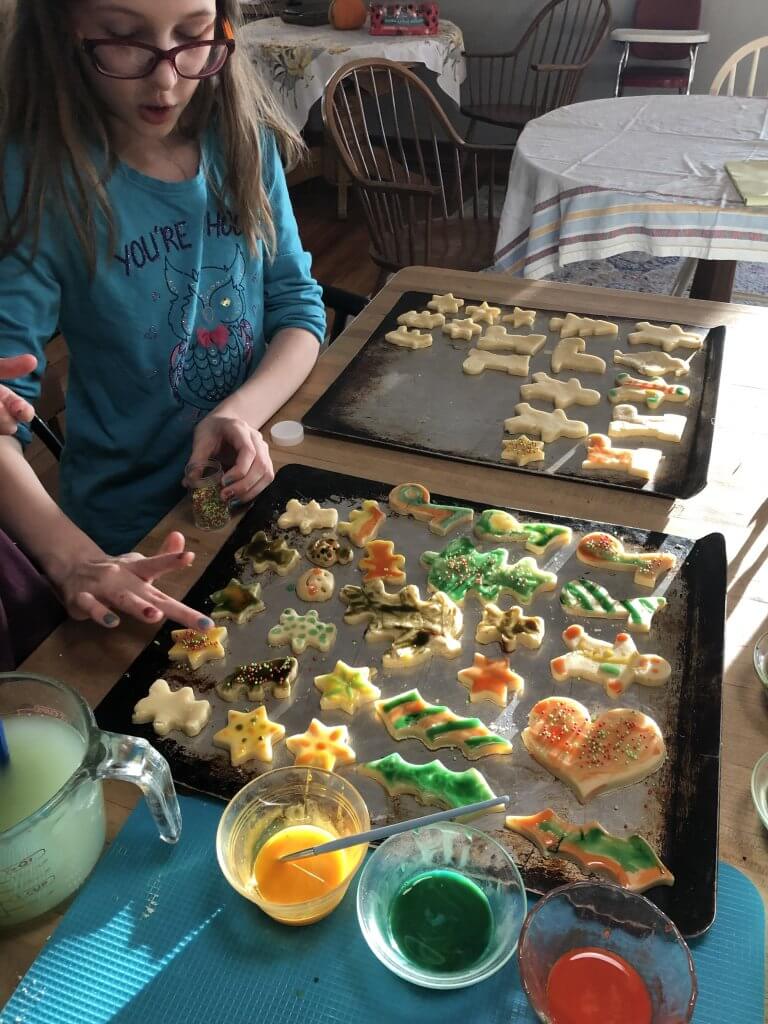 Oh, gosh, I nearly forgot to mention . . . It's just a few weeks until Christmas, and my Blog Shop is fully stocked with my Dad's lovely French rolling pins, including this winsome pair, the "Mommy and Me" set, in three different woods. There are full-sized rolling pins, as well, naturally.
Christmas will be here before you know it!
And with Christmas coming, you may want to do a little shopping in my blog shop!? Everything is made by my own Dad–right here in Nebraska, natch'–and if you shop with me, you won't have to worry about your purchases getting stuck someplace, like in a shipping container on a boat, say.  And you'll be supporting a congenial old geezer woodworker, and my blog too, of course. 
Dad added these pretty Colonial butter knives to my shop this fall, too. What do you think? Aren't they pretty?
I can ship any of these things out for another couple weeks, so jump in and do some shopping! I truly appreciate it.
Hooray! 'Tis the season for gift-giving, for making cookies, eating cookies, and making memories. I'm so glad!
*hugs*
Pin it for later!