Redmond Real Salt giveaway!
 a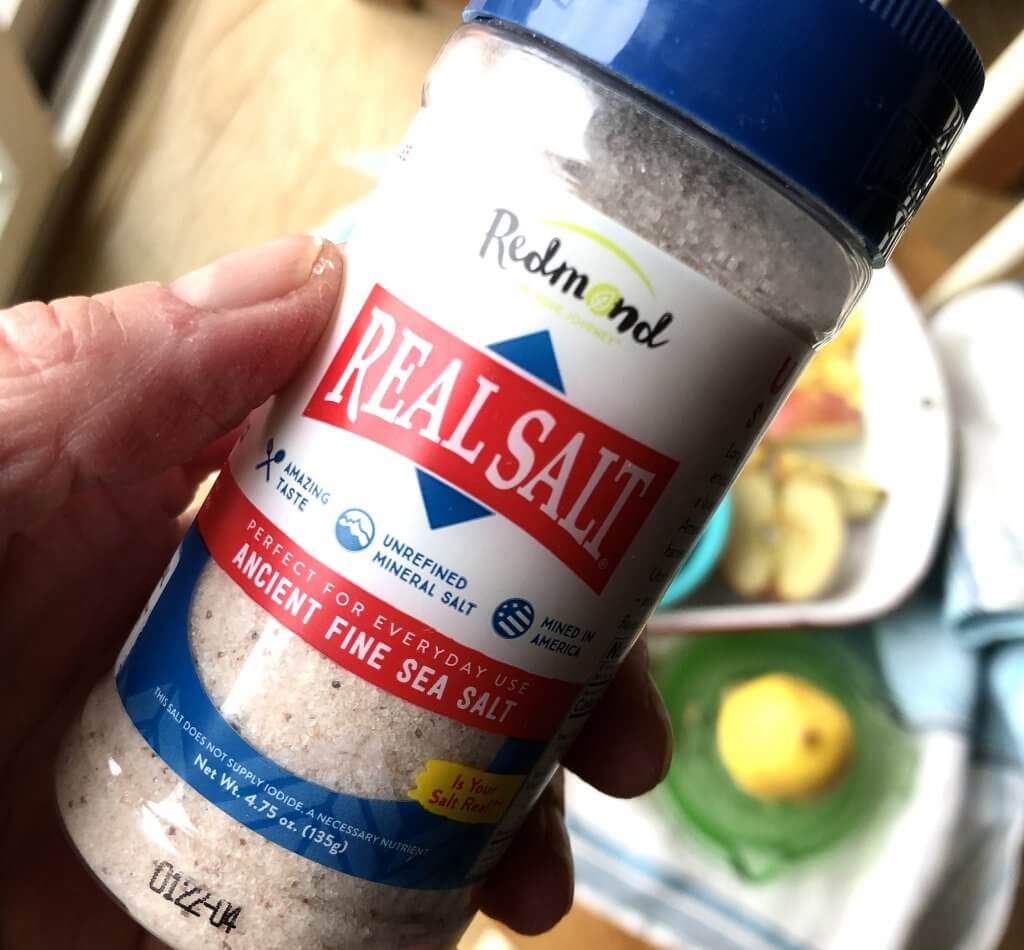 Occasionally, here in my little corner of the interwebs, I share new products that I've run across and have incorporated into my life for good reasons. I never share anything that I'm not personally a big fan of! My blog is now an affiliate with Redmond Real Salt. It is a new company (new to me, that is) and I want to share it with you, if you haven't heard of it yet.
Surprise! If you decide to order something through one of my links, I'll earn a small commission, with no extra cost to you, AND I've got a special link whereby you can score a 15% discount on anything you buy through my website! That's a great excuse for a celebration, and so I'm hosting a giveaway of . . . you guessed it . . . Redmond Salt products! But first . . .
Question: What is this Redmond Real Salt, anyhoo?
Redmond Real Salt is special.
Over the past couple of years, I've been working on developing better nutritional habits. I'm teaching myself how to feed my family (and myself!) in a healthier way. I want to bolster our immune systems and (hopefully) avoid some health problems for older folks that many in the Western world deem inevitable. Since–someday–Bryan and I will be in that older-folks category. (Someday!) Focusing on nutrient-dense whole foods in our diet is my primary strategy. Along with this, I'm reducing the amount of sugar and seed oils that we eat, in fact I'm cutting them out as much as possible.
And I'm searching out healthier choices in every area of my cooking and baking, which leads me to the point of this post: Redmond Real Salt!
One change I've made recently is to switch the cheap highly-processed salt I used to buy at the grocery store for Redmond Real Salt. Redmond is unrefined sea salt mined from a very old seabed in Utah. Because it's deep underground, it's (mercifully!) safe from modern pollutants. It's pure, unprocessed, and full of trace minerals that give it one-of-a-kind nutritional benefits and a subtly sweet flavor. 
I love it. I love it! And . . . it's so pretty. Take a gander.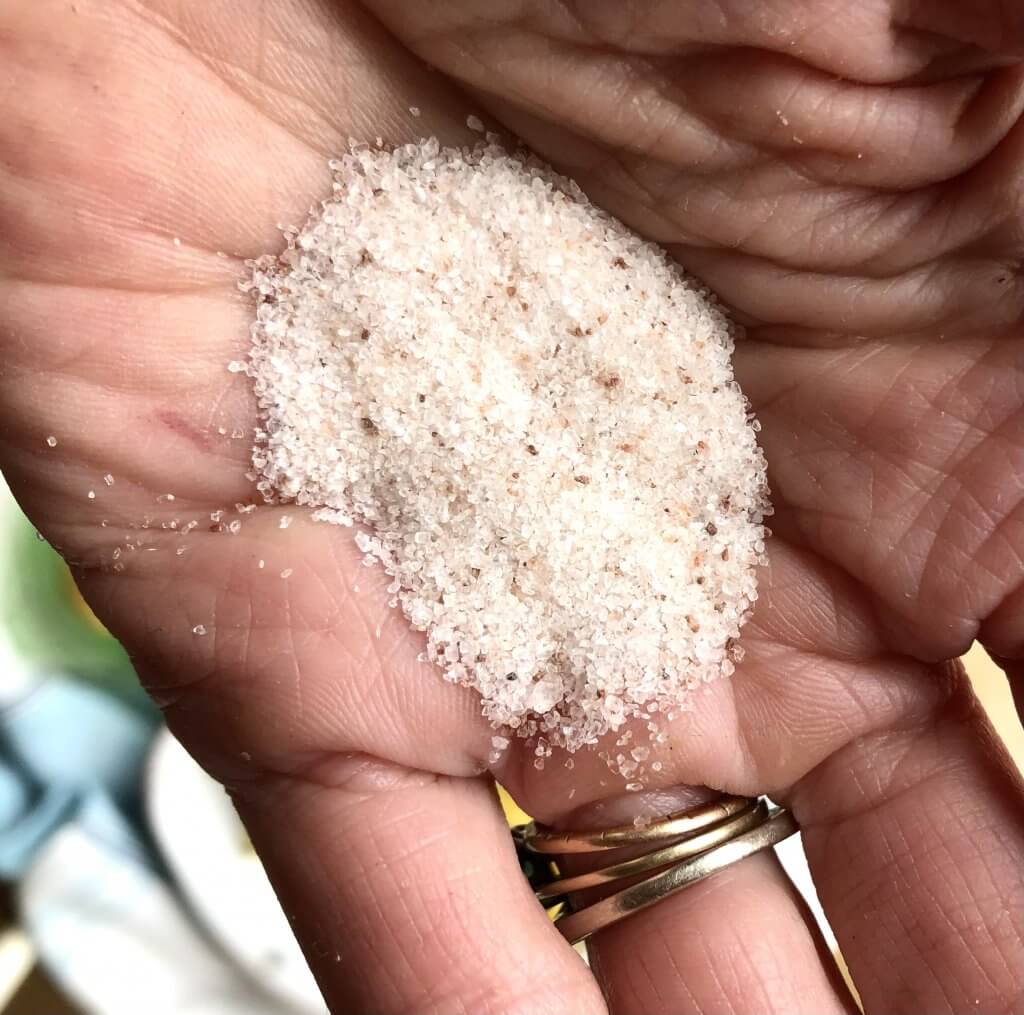 It's a beautiful blend of pink, brown, and other colors. It's a delight to the tongue and to the eyes.
So you have a couple of questions, right? Let's just dive in!
Why all the colors? What's in that salt?
A: Minerals! The minerals are not removed from Redmond Real Salt, so minerals that your body possibly (probably) is very hungry for are in this salt. Not all minerals dissolve in water, so you may see insoluble trace minerals in Redmond Real Salt if you sprinkle it into a glass of water. Some look like grains of sand and some look like grains of salt. Sometimes you may spot traces of red minerals too.
Your body is able to absorb the minerals in Real Salt–whether they're soluble or insoluble–and they are good for your health. Just a few examples, as a reminder:
Calcium supports healthy bones.
Potassium helps keep nerves and muscles healthy.
Magnesium provides energy to your cells.
Silica is necessary for bone health and can help stave off degenerative diseases like Alzheimer's, by preventing aluminum from building up in your body.
In fact, there are health benefits for each of the 60+ trace minerals in Real Salt.
Q: But wait. My doc says not to add too much salt . . .
That may be true, but when you do use salt, you ought to consider using natural, mineral-rich salt, like Redmond Real Salt . . . instead of the grocery store salt that has been intensely processed, and might possibly be laden with artificial additives or unhealthy pollutants.
In fact . . . if you cut out processed foods that are seasoned with cheap non-nutritional salt, maybe you could add in a little mineral-rich salt like Redmond's sprinkled on your healthy foods?
Q: Is Real Salt all that Redmond does?
No indeedy. They also make an electrolyte mix for energy drinks, tooth powders and pastes, and a few other healthful products, as well. Check out their website here. (Remember if you use my link, you'll be able to get a 15% discount on all your orders. If for some reason you lose that url, you can enter my personal code word–saltychicken–for the discount as well.
That's easy to remember, at least.
It's time for a Redmond Salt Giveaway!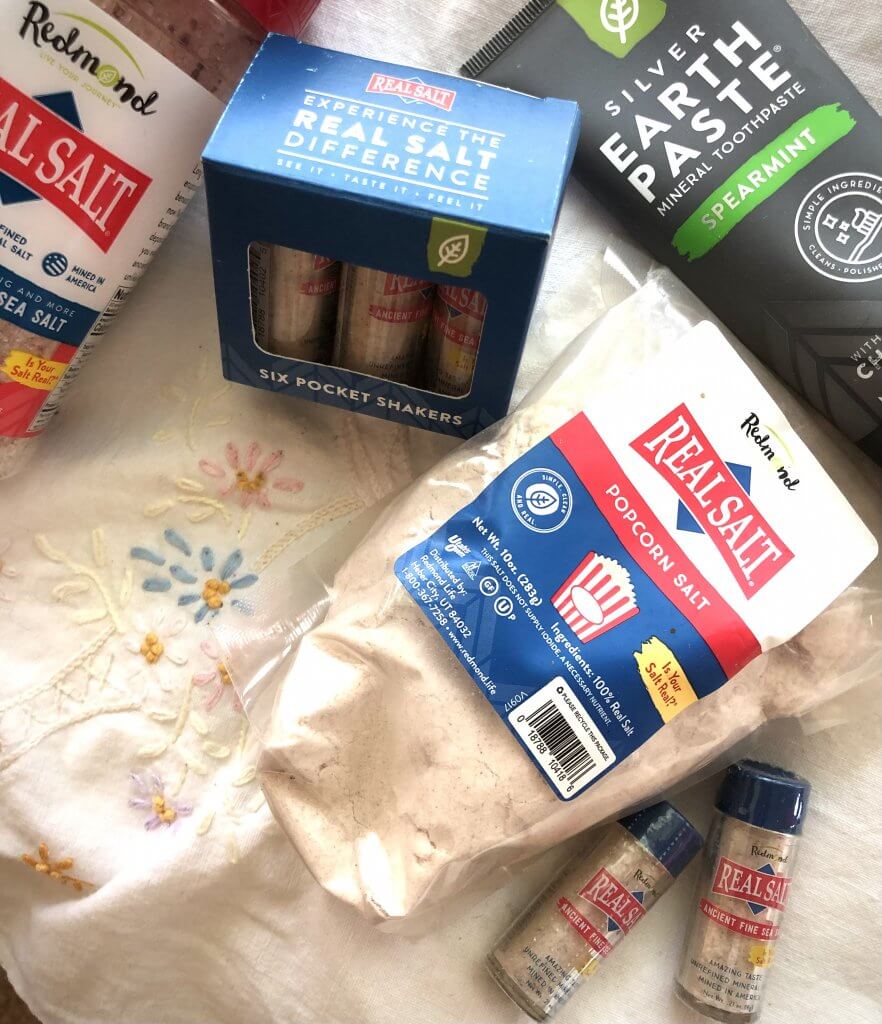 Redmond Salt has so generously agreed to do a giveaway with me, as sort of a celebration of my becoming their affiliate.
So . . . break out the bubbly, toss some pink salt over your shoulder and put on the music! Let's do this thing!
I'd actually been using this mineral-rich pink salt from the underground salt mines in Utah for years, without really realizing it. I bought some Redmond Salt that I'd ordered from Azure Standard years ago and used it just for special occasions. (You can tease me about that, but that's how I felt about this salt! I knew it was special!) Then I became intrigued and read up on it and I was impressed!
I approached Redmond Salt a few months ago about being an affiliate. They sent me a few samples (perk of being a blogger!), and I've got to admit I geeked out on this mineral-rich, lovely salt so much that I started carrying a little containers of salt in my purse.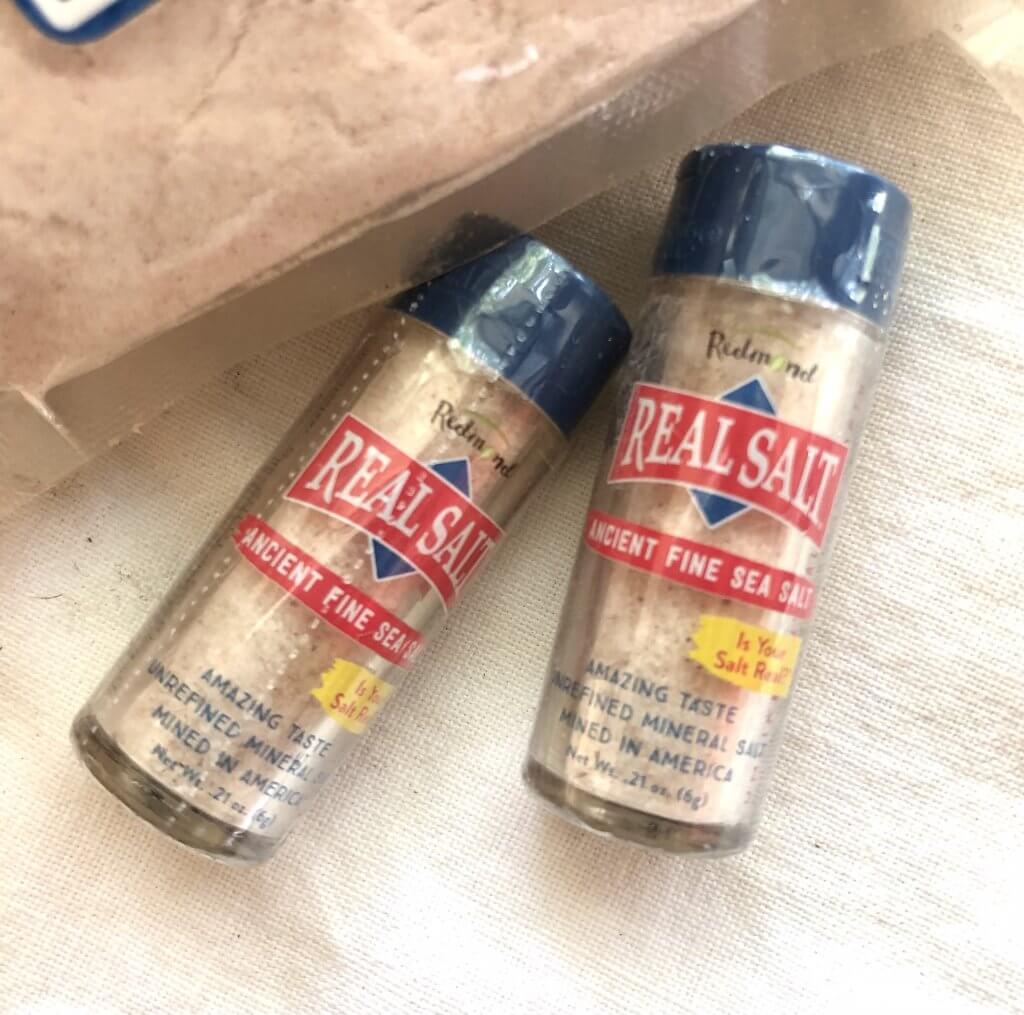 I also stashed a mini shaker in the car, for the occasions when we might zip through a drive-through for some hot fries. Mack was astonished at this, can you imagine?? When he saw me pull out my little Redmond vial of pink salt and apply it to my French fries one day, he laughed. He snorted. Actually he might have choked a little on a bite of his cheeseburger, even. (The little nerd.)
"Mom, you're becoming Niles Crane*," he said, when he had cleared his windpipe. (That stung, just a little, but I didn't care. And I did notice, another day, that he doesn't hesitate a second to dig around in my purse for my Redmond Real Salt when he needed salt  . . . ha!)
(*Devotees of the television show "Frasier" will appreciate this reference.)
I've used and sampled several of the products from the Redmond Salt company. Gosh. I like them all. I picked some of my favorites and with Redmond's help, I've put together a giveaway, from me and Redmond Salt to one lucky winner (maybe you!?).
It includes:
a tube of Earth paste toothpaste (devoid of icky additives, by the way,and tastes great)
a package of pocket shakers (so you can Niles-Crane your car and purse, just like me)
a package of popcorn salt (it's powdery fine and sticks to popcorn so well), and
a container of Redmond Real Salt kosher salt (I sprinkle it on my homemade bread, on salads, on everything)
You can look at these individual products on the Redmond Real Salt website, and if you just can't wait for the giveaway to come to a close, remember to use this link for your 15% discount on any order.
I don't think it's overstating it to say that Redmond Real Salt has made my life better. For example, the powdery pink popcorn salt is now a permanent fixture on my popcorn shelf in the pantry!
It sticks to the popcorn delightfully well, and of course it has such a great flavor!
Wait. Hang on.
"Powdery pink salt
Now a permanent fixture
On my popcorn shelf"
(a salt-inspired haiku)
I'm having a little too much fun here, methinks. I'd better wrap things up so you can jump in and enter this giveaway!
To enter, do these three super-simple things:
1. Pop on over to the Redmond Real Salt website to show them a little love by checking out their website. You'll be impressed!
2. Share this post with a friend or relation, via social media, text, or email or carrier pigeon. Your choice.
2. Leave me a comment below, telling me how you shared this post!
Enter now, while you're thinking about it; giveaway ends when I choose a winner (random process: my pet monkey will pick a name out of a hat!) on Friday, July 22th.
Thanks for popping in, gentle reader, and Good luck!