Baked Potatoes Nonpareil: 3 Secrets to raise your baked potato bar!
Today I'll share with you three super-simple secrets that I use every time I make baked potatoes. These are easy hacks that make potatoes fluffy and irresistible, with a chewy, well-seasoned skin. (YUM.)
Read on . . .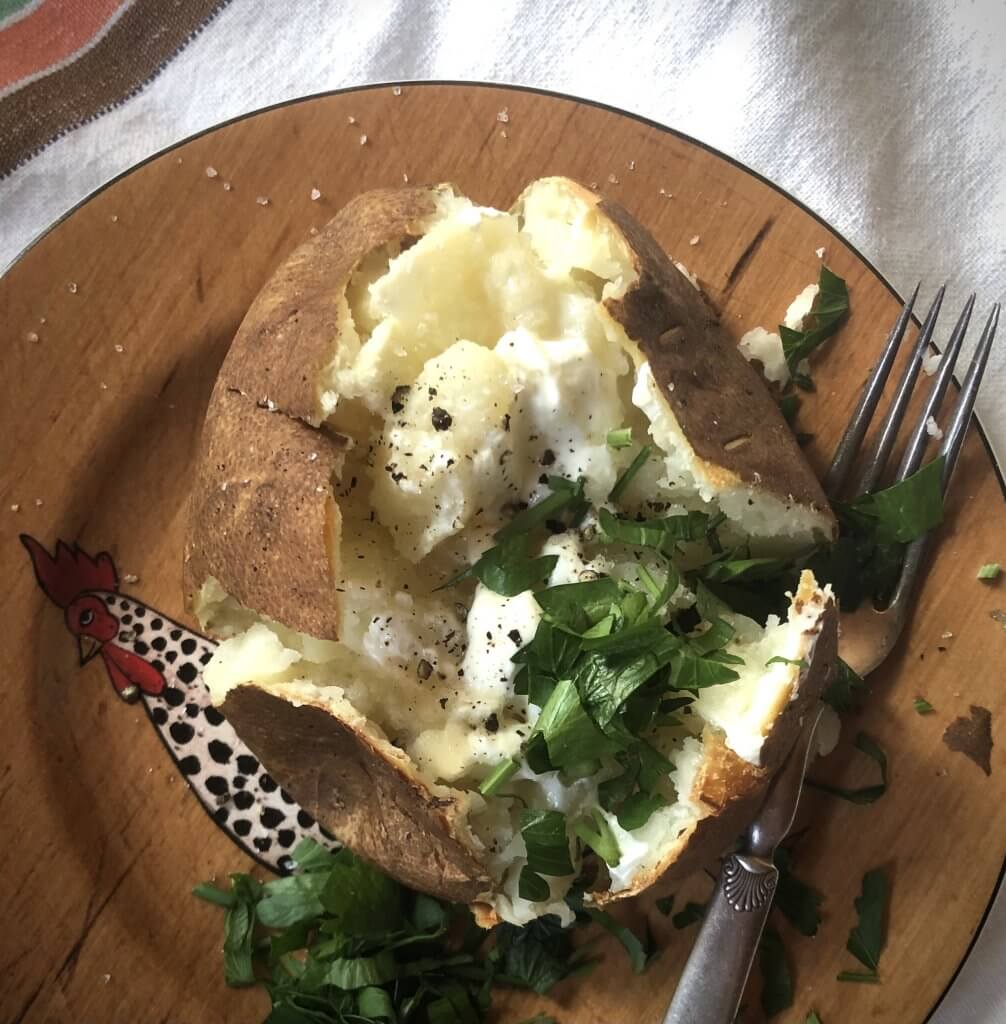 Baked Potatoes
They are ubiquitous in some cuisines, including the cuisine of that well-known and well-loved critter, the Universal Meat and Potatoes-Lovin' Man, two of whom I live with currently.
And if you're gonna be expected (subtly or otherwise) to serve meat and potatoes as often as I am, you might as well learn how to make the BEST meat and potatoes. And then, when you've discovered said method, of course you'll want to shout it from the rooftops to other family cooks who are in a similar situation.
Ergo this post.
I've learned, gentle reader, how to make the ultimate, the nonpareil, the very best baked potatoes one can possibly make. I don't believe it's an exaggeration! Follow along. It's not tricky at all and you're going to be amazed at how much better baked spuds are that are made with these super-simple hacks.
Ummm, buuut . . . Amy, best baked potatoes, really? Whyever (one might moan) might you think I'd not know how to make baked potatoes? You stick raw potatoes into the oven and turn it on, right? When they're done, you remove them, slather them with butter or sour cream, and chomp them down. What more is there?
Oh, my sweet gentle reader, your naivete is so cute. That is exactly what I used to think. The most inventive I ever got with my baked potatoes was to wrap them in aluminum foil. (I don't even know why I did that.)
But then!
Yes, one day I discovered these three little secrets to making a baked potato worthy of the name: BAKED POTATO NONPAREIL (which I just made up, thank you very much).

It is a revelation. My life will never, ever be the same, at least where baked potatoes are concerned. And listen. As I mentioned: potatoes are big stuff indeed at our house.

You need to know this: the men in my life (the two tall handsome drinks of water that I live with 24/7) could eat potatoes every single day and never get bored with them, as long as there was a big ole' chunk of meat on the plate, as well.
A tureen of steaming gravy will put them both over the blessed moon.

But . . . considering that fact, awkward indeed it is that I raise a (massive) garden, two hoop houses and an orchard full of fruits, veggies, herbs, heirloom tomatoes, various greens, nuts, weird and unusual peppers, squash–figs!–edible flowers and the like . . . well, it does cause me no little amount of consternation to primarily serve meat and potatoes.

con·ster·na·tion
/ˌkänstərˈnāSH(ə)n/

noun

feelings of anxiety or dismay, typically at something unexpected.
To wit: "I grew 328 different vegetables this summer, but to my consternation my men will only consume potatoes."
But I'm the cook of the fam
 . . . with no competition at all in the house, currently–so if I want to prepare sautéed summer squash with shallots and herbs, or fresh ditch turnip salad with slivered spring onions and rosemary, or whatnot, well, I do it. Bryan and Mack are good sports, for the most part, to eat whatever is put in front of them. Stalwart lads they are, though with resigned sighs and downcast glances, some nights.

But! When I make baked potatoes, that is, THESE baked potatoes, there are no resigned sighs. There is pure joy, sighing, big happy grins and "please pass the butter and sour cream"ing all over the place. 

It's a balance, certainly. If I keep the excellent baked potatoes coming, the occasional side of squash, sweet potatoes, or turnip fries doesn't upset them overmuch.
You do what you have to do.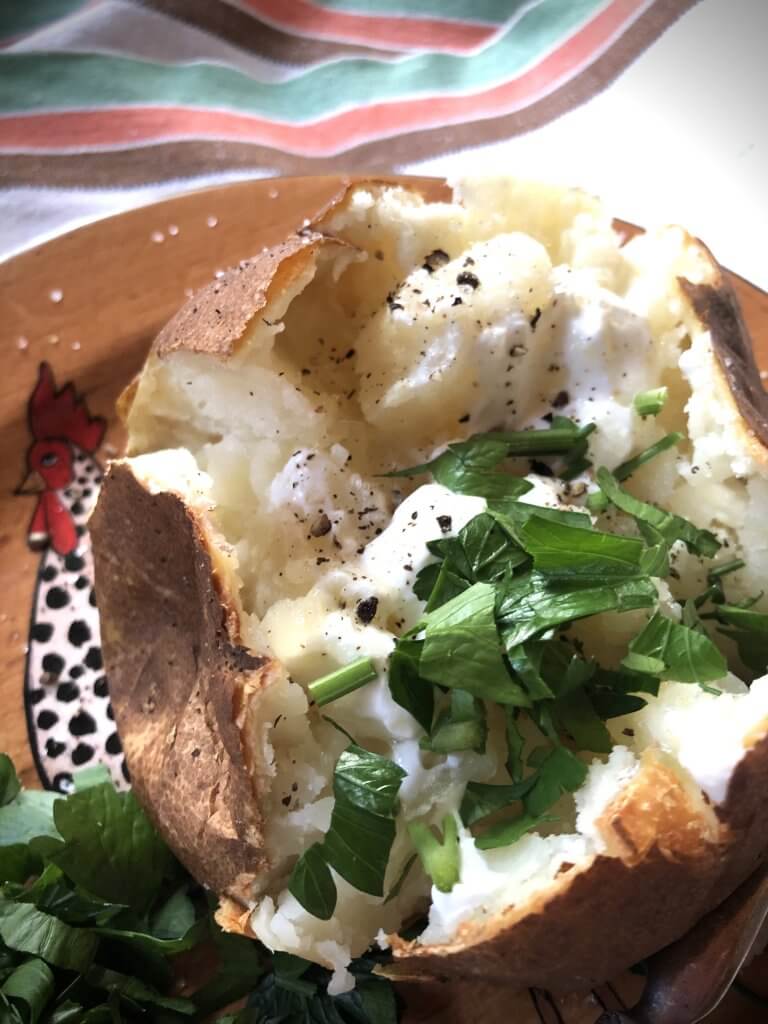 On to the 3 Secrets.
So. Here we go. A warning, though, gentle reader. Once you've made Baked Potatoes Nonpareil, your baked potato bar will be forever raised. That means you may not be able to eat baked potatoes in a restaurant, or made by somebody else, without feeling a bit of lingering sadness over them.
Because now you know what REALLY GREAT BAKED POTATOES taste like, dang it.
Now. Let's get on with it. These secrets are so simple, you will easily memorize them on sight.
It's pretty handy, too, when "life-changing" and "simple" come in the same post, eh?
Here we go:
Secret #1: Bake at a very very high temperature.
It's almost scary how high a temperature I bake these potatoes at. Honestly, I don't know the scientific reason for this (and you shouldn't care about it, anyway) but it makes the best, fluffiest baked potato texture.
I don't even have a word for that texture, except for, maybe, perfectly delightful. That's two words, I know. It's not, at least, insipid, which is the word I would appoint to some baked potato textures.
Secret #2: Fat
After you've scrubbed and dried your potatoes, rub them all over with olive oil or melted butter. Heck, if you have a good source of fresh lard, that would be great as well!
Secret #3: Seasoning
Liberally salt and pepper the skin, all sides, before you slip them into the oven. (I heartily recommend Redmond Real Salt, and for a 15% discount on it, use my special link here.)

If this sounds like funny advice, remember, if you will, that the most nutritious part of the potato is the SKIN. Now that you've learned these secrets, particularly the olive oil and the salt and pepper secrets, you're really gonna want to eat that skin.
It is simply going to bowl you over just how tasty and crunchy and chewy it is, AND there ya go: all the nutrients in the skin go into you instead of into the chicken bucket or the trash can.
(Me to Mack: what are you doing? Tossing your potato skin? Eat it! Eat it! It's so nutritious! And tasty! Mack: Okay, okay, Mom, get a hold of yourself!)

I serve my baked potatoes with a big hunk of meat, OBVIOUSLY, plenty of butter, sour cream, and chopped chives if I have them, or chopped parsley if I don't have chives. Or both, if I'm in the mood. 🙂

That's it.
Question: What kind of potatoes should I bake?
Answer: You can literally bake all kinds of potatoes–there is such freedom in this of course–but the classic (with the most fluffable interior) is a great big ole' Russet.
(Hmm. I like to make "Timmy potatoes" out of non-Russet potatoes, but you'll have to come back for that post. Speaking of which! Be sure to drop your email address into the little box above so you don't miss a single post!)
Thank you. Now you're part of The Club. The yay-sayers on perfect baked potatoes. Baked Potatoes Nonpareil*.
And since you asked:
 

an unrivaled or matchless person or thing.

"a great baked potato, it was the nonpareil in baked potatoes."
And here's a printable version of that recipe:
Best Baked Potatoes: 3 Secrets to making them
The perfect side to a big ole' hunk of roasted meat or a pile of roast chicken is this: the perfect baked potatoes, generously slathered with butter, sour cream and chives. Here's how you make them.
Ingredients
4

Russet potatoes

1/4

cup

olive oil extra virgin

salt and pepper, to taste

sour cream

salted butter
Instructions
Preheat the oven to 450 degrees F.

Scrub potatoes with a brush, blot dry.

Stab potatoes a few times with a sharp knife.

Rub potatoes with olive oil, fresh lard, or soft butter.

Sprinkle liberally with coarse salt and freshly-ground pepper.

Bake in preheated oven for 40 to 45 minutes, OR until done (i.e.: until you can squish the potato gently with hot pad-protected fingers).

Slice down the middle and add your favorite toppings: sour cream, chives, fresh parsley, butter, and plenty of salt and pepper are mine.
Shop this post:
1. I use a cast iron pan like this one for my potato-baking.
2. BEST SALT HANDS-Down. And if you use my link or enter the code SALTYCHICKEN at checkout, you will 15% off your order, yay! I love Redmond Salt! (Affiliate link)
3. I buy parchment sheets like these in bulk; I love them so.


Pin it for later!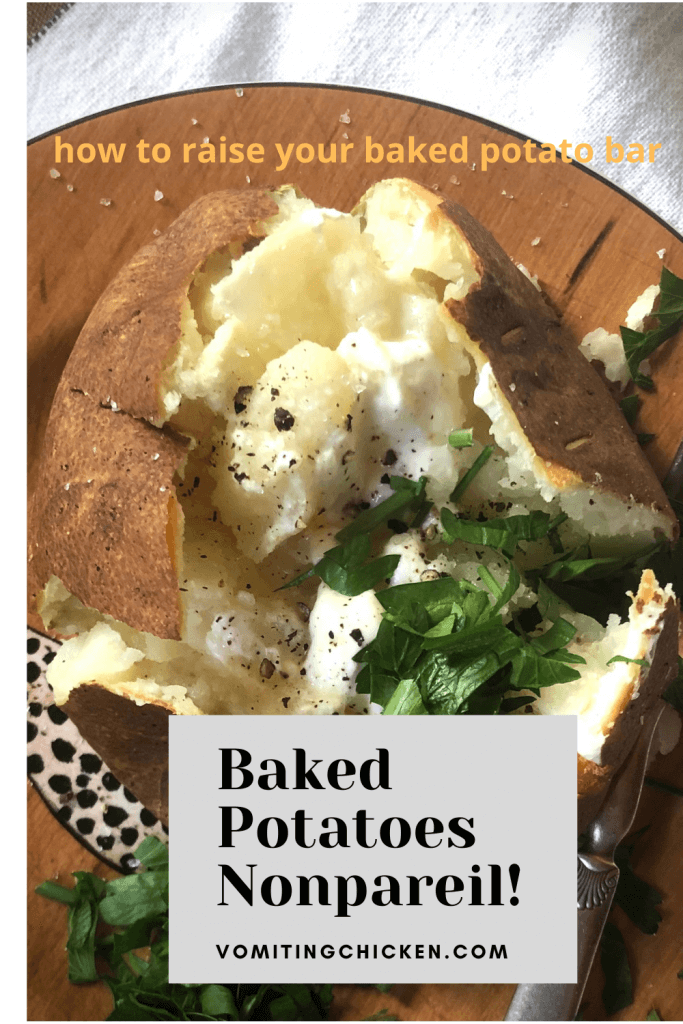 and by the way . . .
I'm running a giveaway of some very nice Redmond Real Salt products, so if you like the idea of having a nice selection of beautiful pink mineral-rich salt (and really, who wouldn't??) sent to your door, be sure to enter asap! Click here to see that post.
Thanks, ya'all. Come back, ya hear?
*hugs*