Rosemary Olive Artisan Bread recipe
Learn to make Rosemary Olive Artisan bread, using the super-simple bucket dough method, and fill your home with the sweet smells of Italy!
At one time, it was Amalia's favorite bread . . .

. . . a light whole wheat bread, the dough pressed flat and stuffed with olives, rolled up and then brushed with olive oil and sprinkled with rosemary. Oh, it's so delicious eaten hot with plenty of butter (or dipped in more olive oil) but it's equally good after it has cooled.
With a slice of white cheese and a good tomato . . . with some cream cheese and crumbled bacon. Honestly, it's good so many ways!
And here's the thing . . . when you bake this bread, your house will smell like olive oil and rosemary for days, and you will be transported back to those sweet days you spent in Florence when every bus, train, and shop smelled like olive oil. Remember? You were giddy with delight because you still couldn't believe that YOU WERE IN ITALY, of all places on the globe to be.
Remember those days?
Bryan and I spent a semester of our undergraduate college careers in Florence, and yes, that would be Florence, Italy. I was (ostensibly) studying art (okay, actually I was) and Bryan was along for the food and the breakfast cappuccinos. *sigh* It was all so, so good.
I'll forever be indebted to our friend RICK (Rick, do you see this??) who talked us into actually borrowing the money and going to Italy, when Bryan and I, newlyweds and undergrads, were at the precipice of Midwestern practicality and the modest cusp of frugality and were so close to NOT going. But Rick reminded us–very urgently indeed–that life went fast, and that it was important to grab opportunities to DO THINGS whenever possible. He was right on the nose. (He also lost Bryan's guitar, but that's another story entirely.)
How I'd love to go back someday.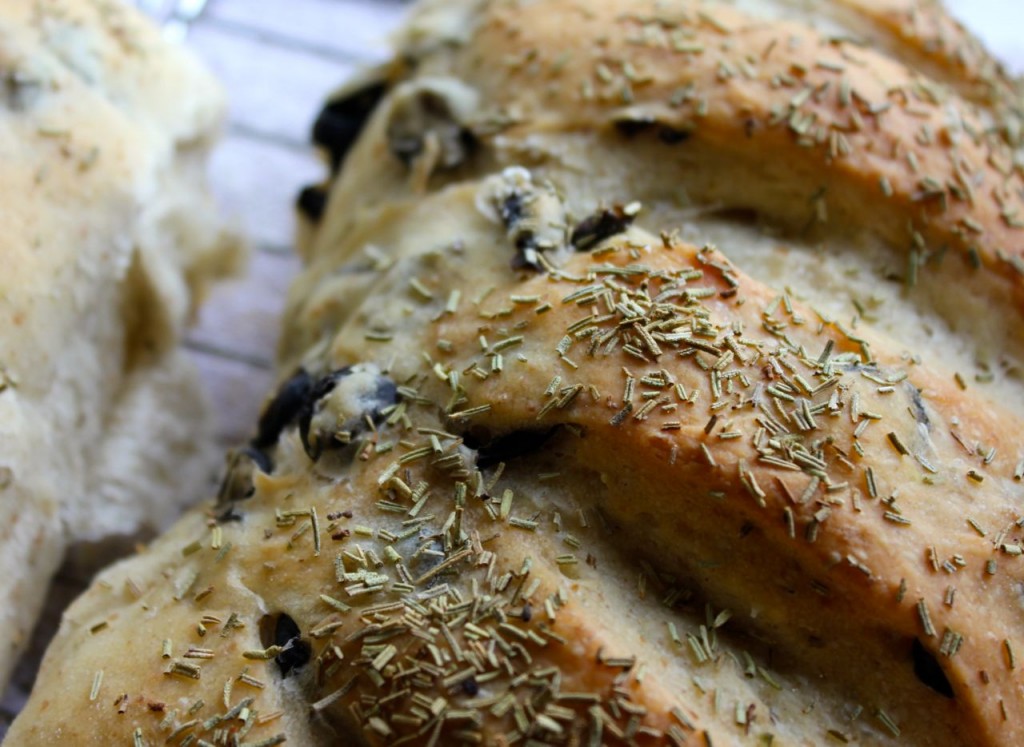 But until then, I can bake bread that makes the house, at least,  smell like Florence. It's something.
But back to this wondrous bread.
During our stint as our local farmer's market "bread ladies," a few years back, my daughters and I made a LOT of breads. I made the yeasty breads, while Bethie made quick breads, and Amalia cranked out the muffins (including this one that I still dream about!) and bars. It was a busy, creative time as we tried hard to keep our customers happy by bringing most of the old favorites to the Wednesday afternoon market, but also bringing something new every week.
That's not an easy feat, as you can imagine.
I loved to throw herbs, nuts, and other tasty things into my breads, and while sometimes I wouldn't repeat a recipe, other times the new effort would stay in the market list FOREVER.
Why this recipe is such a keeper
Rosemary olive bread was a keeper, from the first week. Everybody loved it. There was a line the next week, asking if I had made it again. I liked to shape the loaves into crescent moon shapes.
And because I like you so entirely, gentle reader, I'm sharing this original recipe with you today.
So mix yourself up some of this dough and prepare to astonish your friends and relations. Have some soft butter on hand to slather on it when it's fresh out of the oven, and maybe some white cheese. A bottle of wine would not, also, go amiss.
In fact–just spitballing it here, mind–a loaf of this bread, some good cheeses, a glass of wine, and a big bowlful of fruit would make a delightful cold supper out on your deck. (And then Mack thunders: AND A STEAK, MOM!) hehe
On to the recipe, after all, I promised:
Rosemary Olive Artisan Bread
Light wheat bread, rolled up with olives, brushed with olive oil and sprinkled with rosemary. What could be better?
Ingredients
5.5

cups

bread flour, or unbleached flour

1

cup

light whole wheat flour

3

cups

very warm water

1

Tb

kosher salt (heaping Tb)

1

Tb

yeast (heaping Tb)

1/2

cup

chopped black olives

2

Tb

dried rosemary

olive oil, for slathering

kosher salt, for sprinkling
Instructions
Mix together the warm water, yeast, and salt into a large bowl or bucket with a lid.

Add the flours and stir until well moistened. Add more water if it is not a wet dough. Prop a lid onto the bowl or bucket and let the dough rise for approximately 2 hours, or until the dough touches the lid.

You can use the dough now, but it will be MUCH easier to work with after a few hours in the fridge. So either shape it now, or stick into the 'fridge for 3-4 hours, or overnight.

Pull the dough out of the bucket and put on a well-floured cutting board or counter. Divide into 4 pieces, and add more flour if you can't handle it without it sticking to your hands.

Take one piece of dough and roll out into a circle. It ought to be around 8"--10" across.

Slather with olive oil, and spread 1/4 cup of chopped olives on top. Sprinkle with rosemary.

Roll up the dough as you would cinnamon roll dough, and curve gently on both ends to make a crescent. (It's the only way.)

Slather with olive oil, make a couple slashes across the loaf, and sprinkle with more dried rosemary.

Let rise for 40 minutes, meanwhile preheating your oven--with a pizza stone inside-- to 425 degrees.

Add 1 cup of hot water in a small pan, and put in the hot oven. Slide the loaf into the oven, onto the pizza stone.

Bake for 20-25 minutes, or until the bottom of the loaf is firm and golden.

Cool on wire racks, or dig into immediately. You know which one I'd do. Enjoy!
Thanks, gentle reader, for indulging me by continuing to follow my blog. If you haven't signed up for email updates, please do! Add your email address into the box below MY FACE up above.
And one more photo from Florence . . .
Ahhhhhh . . . .