All shopping should be this fun
Every spring at the proper time–that time being during the sweet and early halcyon days of the season, when at last it's warm enough to be outside without 22 layers of wool, and when our planting strategies are still fresh and something that wakes us up early every morning, frothing to get our hands into the fragrant dirt–yet the weeds and the mosquitoes and the heat and the occasional crop failure haven't yet begun to put a damper on our enthusiasm. Yup, that proper time–my mom, my sisters and I all meet together at a favorite nursery for a plant-buying frenzy excursion. And kolaches, afterward, if we're lucky and we make it to the bakery before it closes or runs out of kolaches.
It's a fun time, and we always buy lots more when we are together, so area nurseries have begun to send us invitations and gift cards and competitive offers to get us to their places of business. Not really. It'd be cool, though, wouldn't it? 
I mean, really. Bloggers get affiliate relationships with certain businesses, to promote their products or services. My sisters and mom and I are like walking billboards for gardening promotion. . . . which makes me wonder what our billboards would say . . .
Plant more! Pull weeds! Grow food! Indulge in flowers! Slop mulch about! Get up off that couch and grow a garden! It's for your own good, for pete's sake! I think that's what our billboards would say. We all grow lots--lots of veggies, lots of flowers, lots of herbs, lots of everything. Why? I guess it's just in our blood. And we love it. Mostly, we love it.
And when we shop together, we are enthusiastic enablers to each other, where buying plants is concerned. But there are worse things, right?
(And old gardeners, too, I'd like to add.) That quote, by the way, is from the book The Bountiful Container by McGee and Stuckey. My sister Anne is reading it. I hope to pester a borrow from her when she's done. 🙂
Area nurseries, take note! We are not above being bribed! We buy lots of plants, and we brag about them to everybody we see! Truly!
My people aren't really get-together-for-coffee sorts. Or go-to-the-mall-together types. Although once a year we do indulge in pedicures together–the girl people, that is. But buying plants, I think–second only to cooking and eating together–is probably our favorite thing to do together.
My sister Mollie lives enviously close to Bluebird Nursery, a vast 8 acres of greenhouses and gardens, built in 1958 by Harlan Hamernik and his wife Shirley. Neither had formal training in horticulture; they just loved to grow things. The company is now operated by the Hamernik's three sons Tom, Chuck and Mike, and the nursery's wholesale division ships millions of perennials, herbs, grasses and wildflowers to garden centers, landscapers, and other places throughout the US and Canada. Plant and seed exchanges also take place with plantsmen in China, Australia, New Zealand, the United Kingdom, to name just a few places.
It's an amazing place to us plant-lovers. We breathe the name "Bluebird" in reverent, hushed, ecstatic tones. We break out in goosebumps at the mere mention of this place. We know the blessings associated with Bluebird Nursery. It's so much fun to see such a large variety of  plants in one place, many of which I've never seen before. It's even more fun to bring a few goodies home with me. 🙂
If only all shopping was this much fun!
I'm so lucky. Amalia loves my new camera, and she wasn't buying plants, so I let her play with my camera, instead. Ahem. The girl has promise. She took nearly all the following pictures.
They had quite a few very unique hanging plants in the greenhouse. This one was so lovely:
And this was just a cluster of little succulents, poked into some peat moss that was wrapped with wire. Adorable!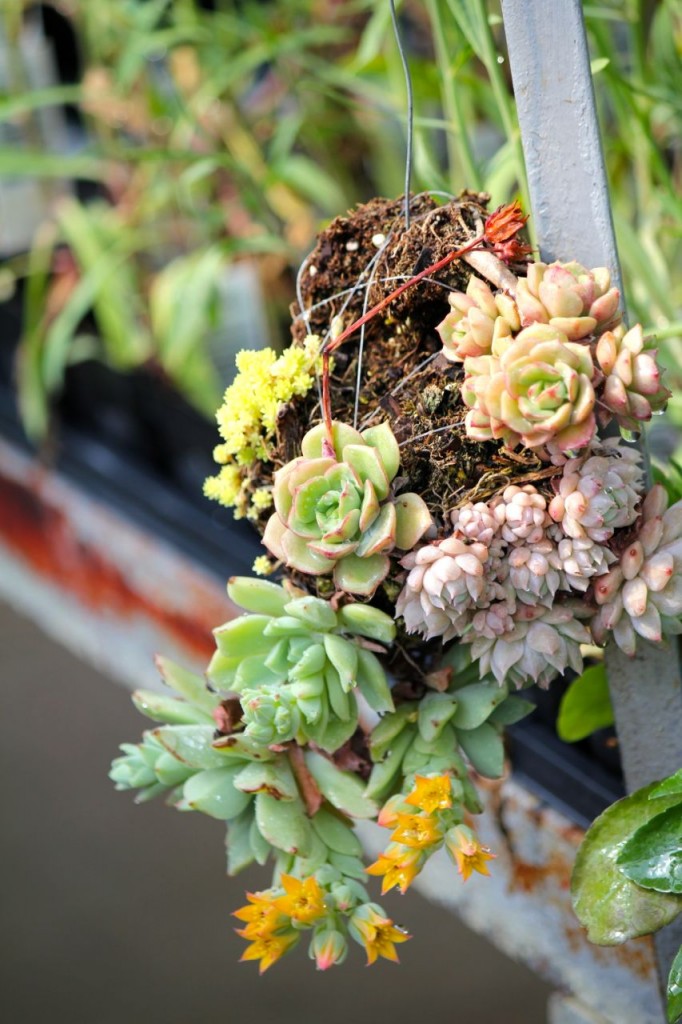 See that smile? I'm in heaven here. Just getting started, as you can tell from my nearly-empty shopping cart.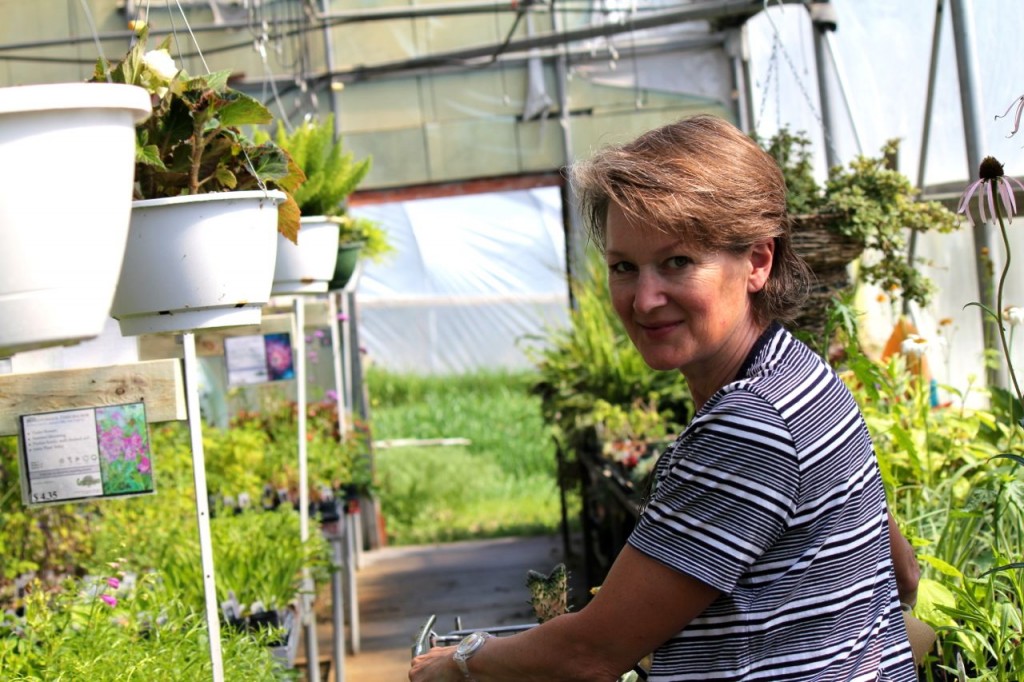 I keep tabs on my sisters, just in case they find something new and irresistible. Which, of course, they will. We are surrounded by irresistibleness here at Bluebird. They ought to call this place IrresistibleBird Nursery. Hmm. Maybe not.
Hey, Mollie, what do you have?
Suddenly we all need what the other one has. Some things never change, hmm, Mom?  Mom?

Hey, has anybody seen Mom? I haven't seen her in, like, forever. You don't suppose she went after a kolache without us?
Sometimes that bakery runs out of kolaches, you know, especially on a Saturday . . .
This place is so vast, she could be anywhere. We'd better start looking for her . . .
Now isn't that lovely . . . maybe I should take one home with me . . .?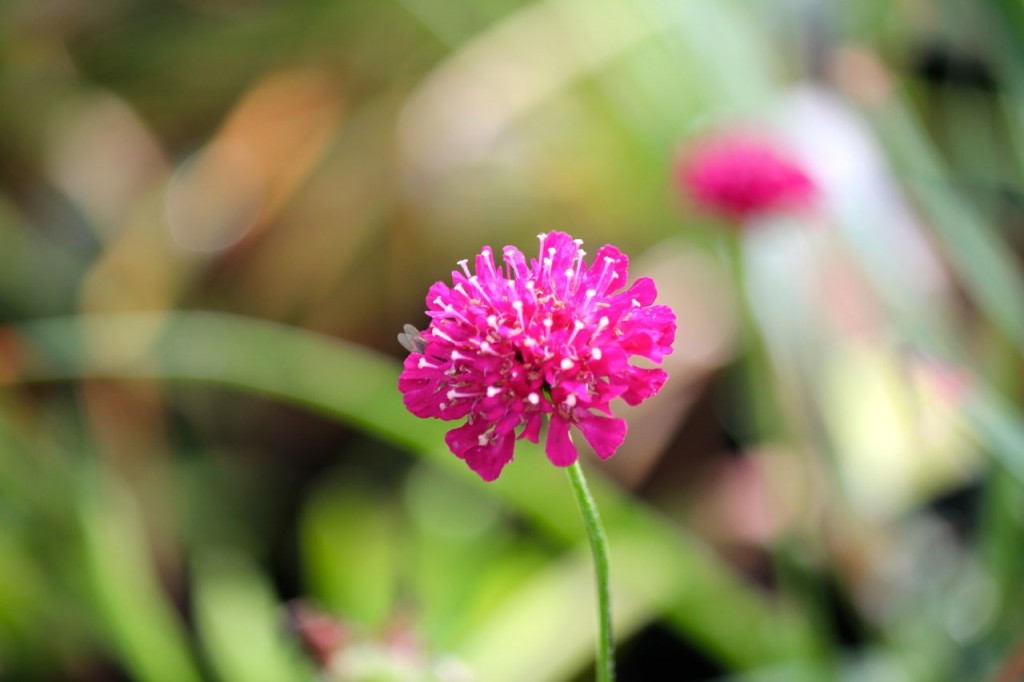 Oh, these blue delphiniums are my absolute favorite. What a delicious color! And the name is perfect: "Delphinium Bellamosum." Wonderful!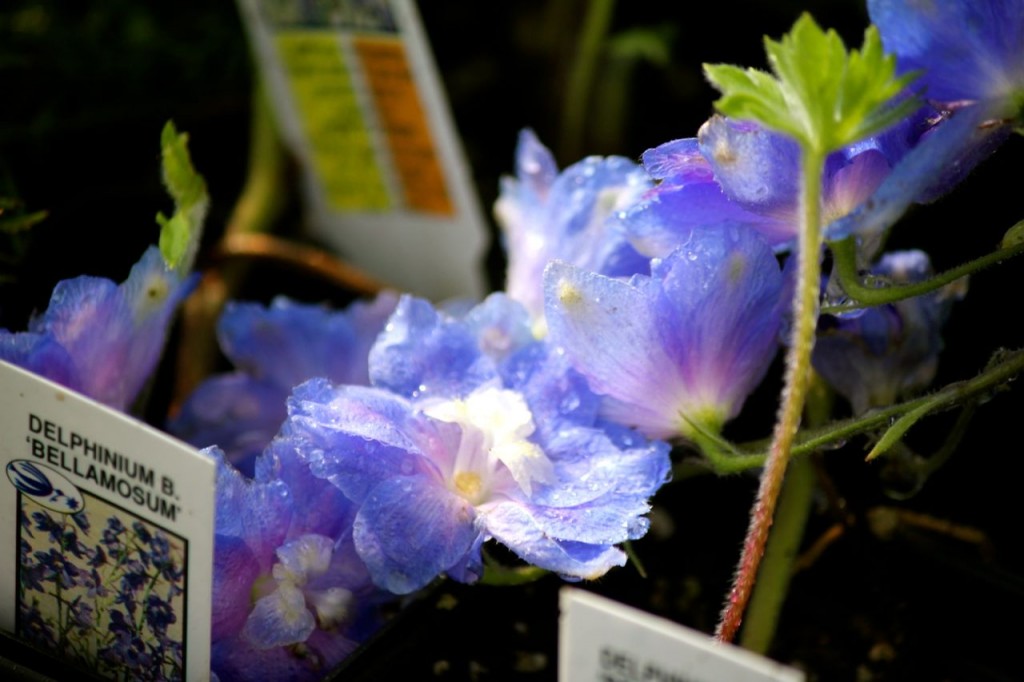 Wow–look at this! Wait. Wasn't I looking for something?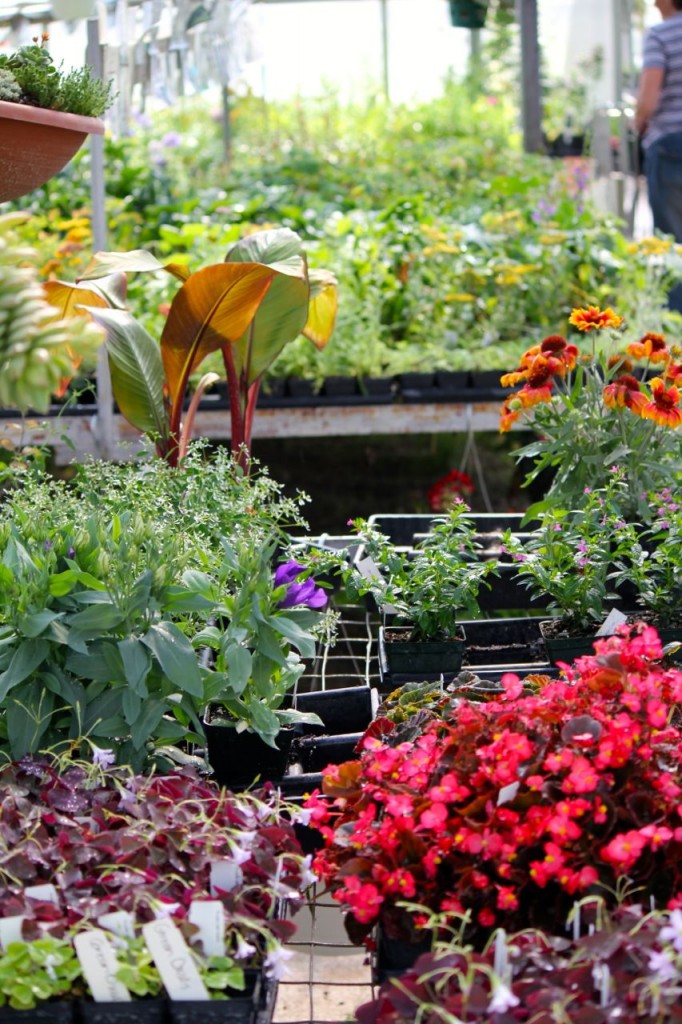 I'd be all over these gorgeous astilbes, if only I had a shade garden . . . maybe I should start one. I've never seen prettier shades . . .
Look–at–these–water plants! Maybe I should start a water garden! Remember when Mom had all those water plants in the tank in her backyard? Oh yeah--Mom! Where is she??
I've been looking for her, but it's so hard not to get distracted . . . look at this cactus!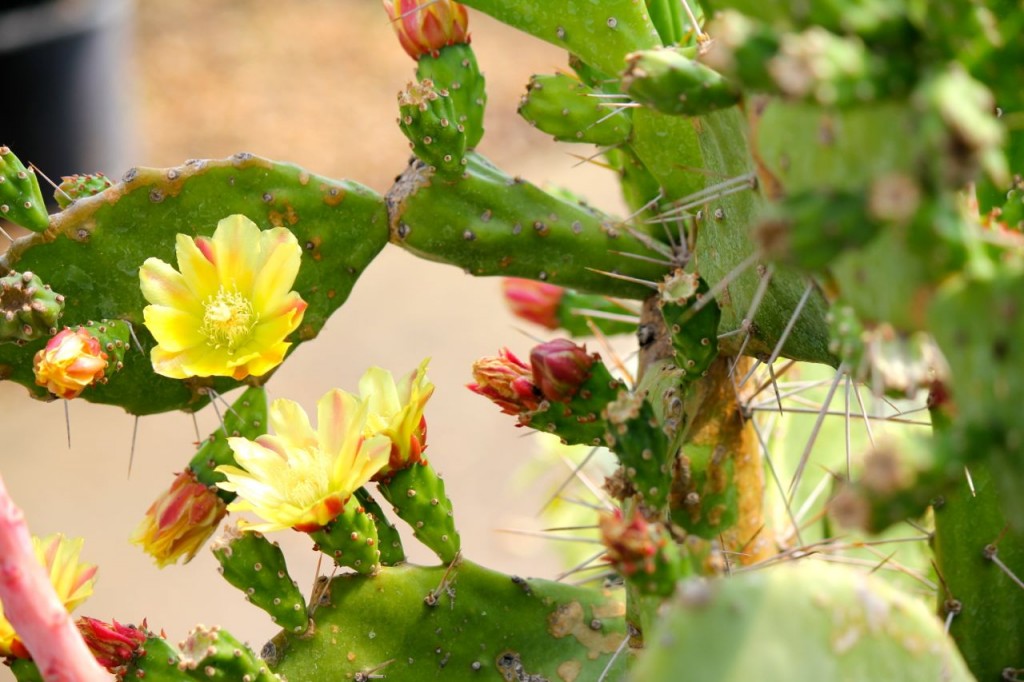 Look at these . . . look at those dainty flowers! . . . Hey! There's Mom! Clear over there!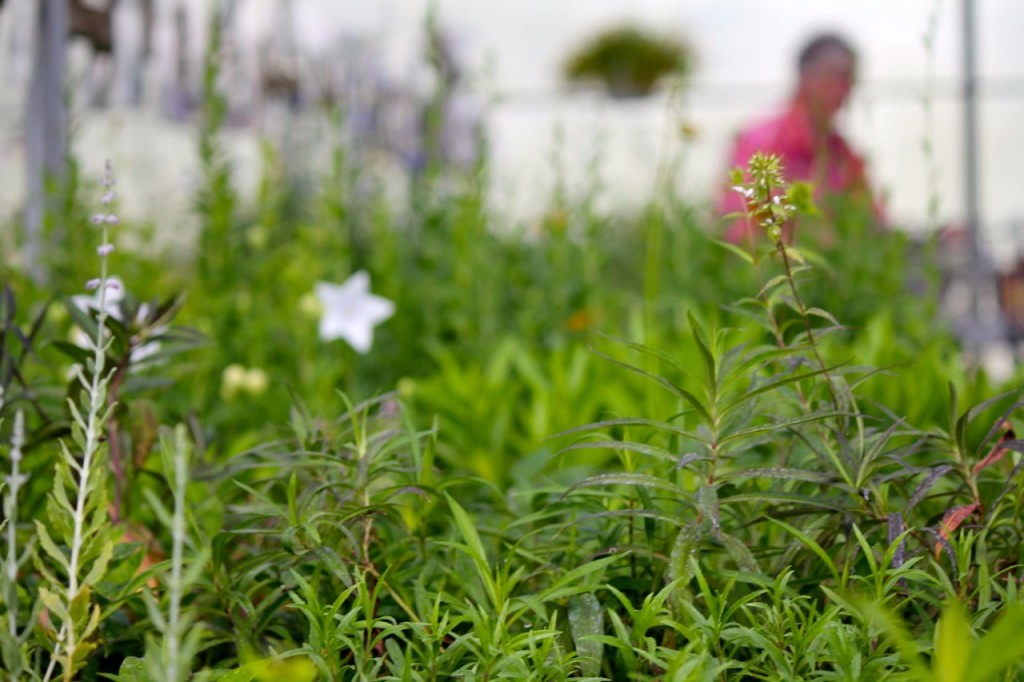 Ready to check out and go get a kolache, Mom? Oh, wait–we've got to take a group shot, first!
One more shot, in case somebody was blinking . . .
Thanks for stopping by again, Gentle Reader. I love you, I really do! *hugs*
I'll be linking this post with the nice folks over at The Prairie Homestead. Come on over and join the fun!