Snippets: while waiting for the Big Storm to arrive
Lots of things are happening at our house this week, and I'll share a few of them with you today, as I wait for the Big Snowstorm to arrive. I'm excited.  This will keep me out of trouble.
1.  Winter Storm "Q": I don't remember ever being more alarmed and excited and thrilled about a snowstorm as I am about this one.  Has it been a slow weather-news month, or what?  The weather men have been talking about this storm for days.  It just started snowing at mid-day today, and I was at Wal-Mart three days ago and people were already pushing carts around loaded with milk and eggs and bread.  Just in case. I didn't stock up, Gentle Reader, oh no!  I am not an alarmist!  Anyway, I remain in a fully-stocked state–my pantry is a picture of preparedness, always!–because that is who I am and it is the way I roll.  I start stocking up in July, when I can my first batch of tomatoes.  Er, maybe that's August.  I come from a long, long line women who wake up early each day dreaming of what they will make or preserve or can or dehydrate or pickle that day, for the freezer or the pantry.
I personally adore snow.  But the troubling aspect of this storm is that my sweet little daughter-in-law Rachel and her husband, my oldest son Matthew, are expecting their first baby any day now.  They are in St. Louis, and are receiving ice today instead of snow.  I very much do not want them to lose their electricity during this storm!  That is my prayer.  "God, you can take away my electricity and plunge me into darkness for three days and give me a taste of true deprivation, but please–please let the lights stay on in St. Louis!"
The air has been so dry around here in recent days that I can't seem to drink enough, and everybody in our house is struggling with dry skin and flyaway hair, and morning sore throats.  As you can see in the photo above, the earth is cracking again, which is unusual during wintertime.  So snow is welcome at my house. What am I saying?  Snow is always welcome at my house.  (Yes, I'm . . . "one of those.")
2. I took extra care this morning as I did my chores, giving the chickens fresh straw, in the hopes that during their confinement (chickens do not like snow) of the next few days, they'll scratch and pick and peck at the straw, not at each other (chickens do like fresh straw).
I also moved a feeder inside, fully loaded, and plugged in the chickens' electric water bucket.  I love these electric buckets!  They are a little pricey, but completely worth it. In fair weather, I present the chickens with their feed and water out in their yard, so they'll have to get a little exercise to get it.  I heartily promote exercise at our place, even for the chickens.  I'm sure the are the better for it.
It started snowing as I was taking care of the dogs.  So pretty. Good thing I had my camera on me.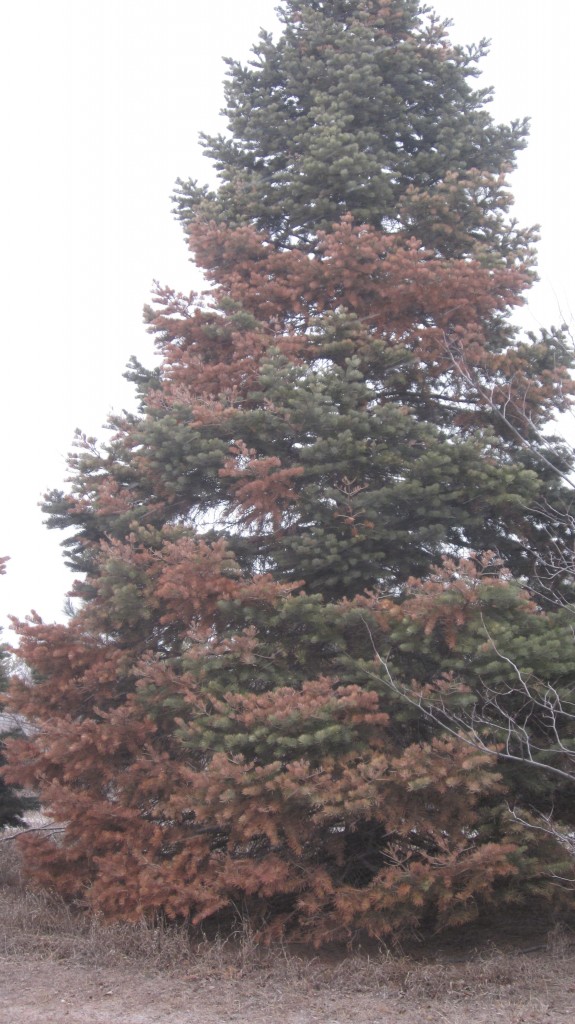 3. Drought damage makes me so sad.
We have a ring of blue spruce trees around our house that must be over forty years old, and they appear to be dying.  The tree expert whom I called said it was because of last summer's drought.  Another reason to welcome the snow.
4. Snow-day requirements for little Mack:  hot chocolate, toast with jelly, and something fun to read. And a chore list that "not too long today, please, Mom."
5. My hens are laying more eggs these days, with the days getting longer, even though it's still winter.  How well they lay is tied to the length of the days, how cold it is, how hot is is, what kind of goodies I'm throwing to them every day. . . so many things.  But their eggs certainly are beautiful, aren't they?
6. Here's my snow-day project:  I need to paint eight of these crumbling brick wall flats for the melodrama.  I love doing it.  Splashing paint around is my idea of playtime.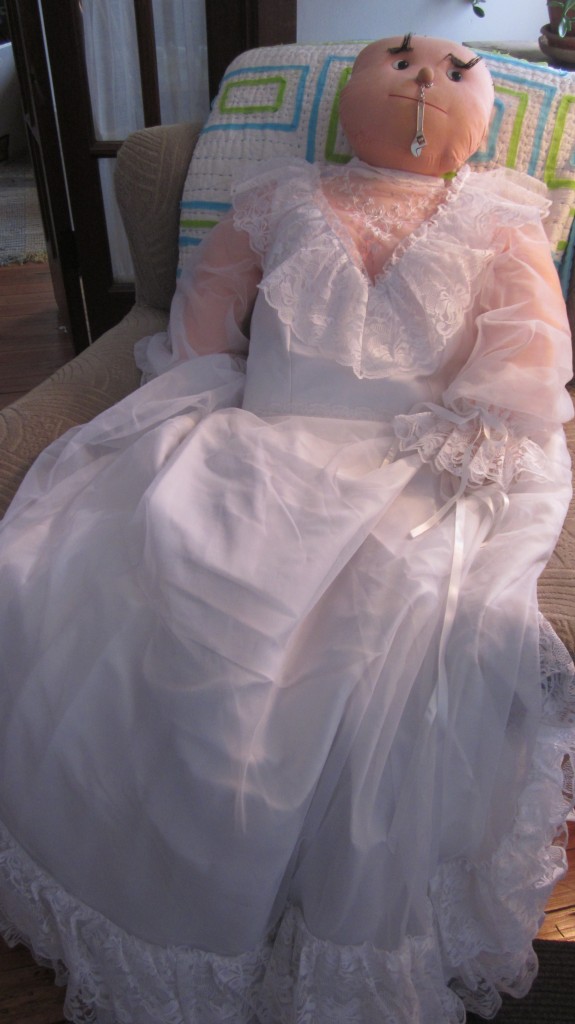 This is Prunella. Patiently awaiting some hair, and enduring strange nose piercings.  And possibly some new false eyelashes.
7. And then there's this.  We put on a Melodrama every spring, and this year's show is only two weeks away now. And so our house is beginning to fill up with strange things:  a fake piano sits in the living room, waiting for paint.  The sun porch is full of black chairs and flats which are painted to look like peeling brick walls; Bryan's shop is cluttered with pieces of a large staircase.  There are props sitting around everywhere–guns, holsters, chaps and spurs, hatchets, whisky bottles–and we're receiving amusing items in the mail, including fake moustaches and wigs.  We're doing a western this year and I can't wait! Prunella sits in the living room, waiting for a wig that we ordered just for her.  She will be starring in one of my favorite scenes of the Melodrama, but I won't say much more about that.  I don't want to spoil the surprise.  But I'm giggling, just thinking about it.  You really ought to come, if you can manage it.  You know what they say–Giggling is the best medicine.  Or something like that.
That's all the Snippets for now.  Thanks for hanging on 'til the end, Gentle Reader.  Have a blessed day and a wonderful weekend!