Tuscan Poached Eggs with Heirloom Tomatoes: the perfect recipe
It's the perfect recipe to make during a busy garden summer; and it's easy and fast, fast, fast. Tuscan poached eggs, cooked in an herb-filled sauce made with fresh seasonal heirloom tomatoes: this is it! Whether you've grown them the tomatoes and herbs yourself or have brought them home from the farmer's market, you're going to want to try making them into this lovely, delicious, quick meal!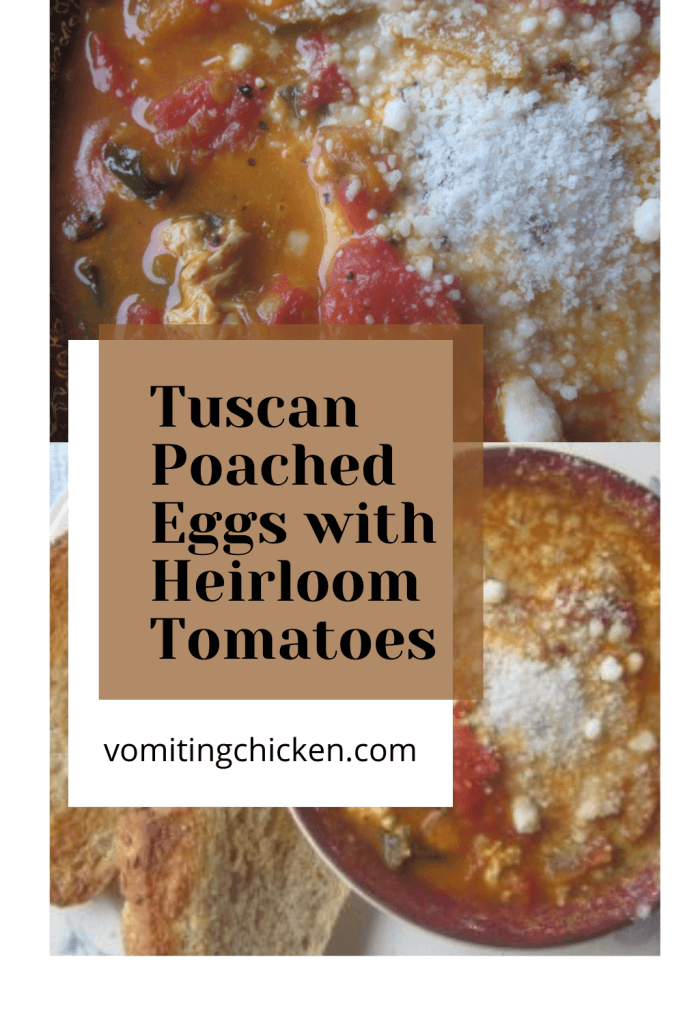 Tuscan Poached Eggs, the perfect recipe: origin story
Years ago, my daughter-in-law Rachel gave me a cooking magazine that she had brought home from the store where she was working at the time. The manager had to toss out-of-date magazines, and Rachel hated to see them go to waste.
It was high summer, and I was up to my ears in the fruits of my garden, especially heirloom tomatoes, onions, garlic, basil and peppers. The farmer's markets are bursting with colorful and fresh veggies and fruit that is just picked and dewy fresh, as well. You don't want to let a single tomato or a stem of basil go to waste.
Then I saw It.
Leafing through the magazine, I spotted a recipe for Tuscan Poached Eggs with heirloom tomatoes that looked interesting, and I fell onto my daily harvest and made it that night for dinner. It was a winner. Not only did it use up many of the goodies from my garden, it also incorporated good eggs from my hens and it made brilliant use of leftover bread from our farmer's market stand.
And get this: everybody (including our particular little Mack) loved it. #score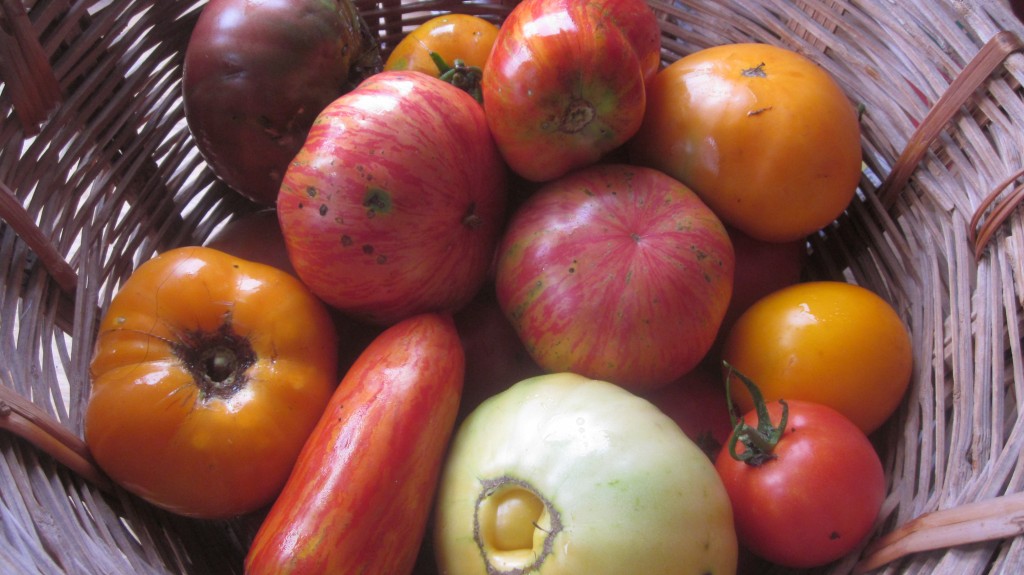 Tuscan Poached Eggs with heirloom tomatoes: it really was the perfect recipe. Can you fall in love with a recipe? I definitely fell in love with this one that day.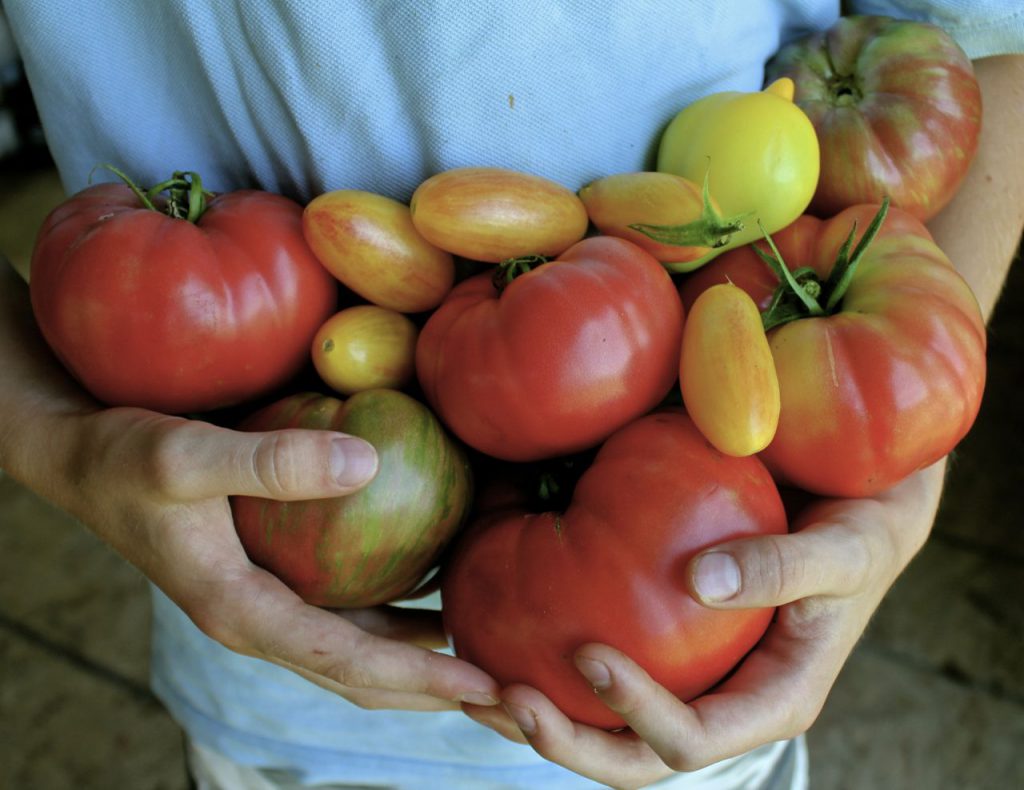 And then: disaster.
I lost the magazine. I panicked a bit, at first, when I couldn't find it and wanted to make the perfect recipe for dinner one night. But then I realized that I probably remembered it in its entirety, anyway, so I sat down, joggled my memory for a minute, and jotted it down. I made it for supper that night, and everybody proclaimed it a wonderful success, as always.
Crisis averted.
And now it's your lucky day . . .
. . . because I'm sharing the perfect recipe with you, and I don't mind if you share it with your friends, either. Please mention my website (ahem!) when you do!
It's so good, and so easy, honestly, you're gonna want to share it! Here 'tis:
Tuscan Poached Eggs with Heirloom Tomatoes: the perfect meal
Author:
Prep time:
Cook time:
Total time:
This is The Perfect Recipe to make in high summer, when the garden is bursting with fresh heirloom tomatoes, onions, garlic, and basil!
Ingredients
2 Tbs olive oil
2 cloves garlic, squashed and then minced
1/2 cup sweet onion, diced
4 cups diced and cored fresh tomatoes, preferably heirloom (or canned)
1/2 cups fresh basil leaves, sliced
kosher salt and freshly ground black pepper, to taste
6 large good eggs
2 Tb chopped fresh chives or parsley for garnish
1/4 cup freshly grated Parmigiano Reggiano
thick slices of good crusty bread, drizzled with oil and toasted
Instructions
First, set a rack in the upper part of your oven and heat the broiler to high.
Meanwhile, on the stovetop, heat an ovenproof skillet over medium heat, add oil and garlic and onion and cook, stirring until it all begins to turn light golden brown, just a minute or two. (Don't ever burn garlic, by the way, or you'll want to throw away the pan–phew!).
Add tomatoes and basil and simmer, stirring occasionally, until the sauce thickens, about 8 to 10 minutes. Be sure to breathe in this scent. It's the scent of high summer, and garden abundance, and joy. Mmmmm. Sweeeet!
Reserve about one-third of the sauce in a bowl and spread the remaining sauce evenly around the skillet. Reduce the heat to medium low, and crack the eggs into the tomato sauce. Lightly spoon the reserved tomato sauce over the whites of the eggs (not the yolks). Cover the pan and cook for about 3 minutes so eggs set slightly. Uncover the skillet and set it under the broiler until the yolks firm up slightly (according to your preferences, natch!) but are still soft.
Remove from oven.
Sprinkle with chives and cheese. Serve immediately with the toasted bread.
I like to dish sauce and one egg per person into small gratin dishes to serve.
By the way, have some extra crusty bread available for juice-sopping purposes!
By the way, if you have no fresh tomatoes available, you can use good canned ones, instead.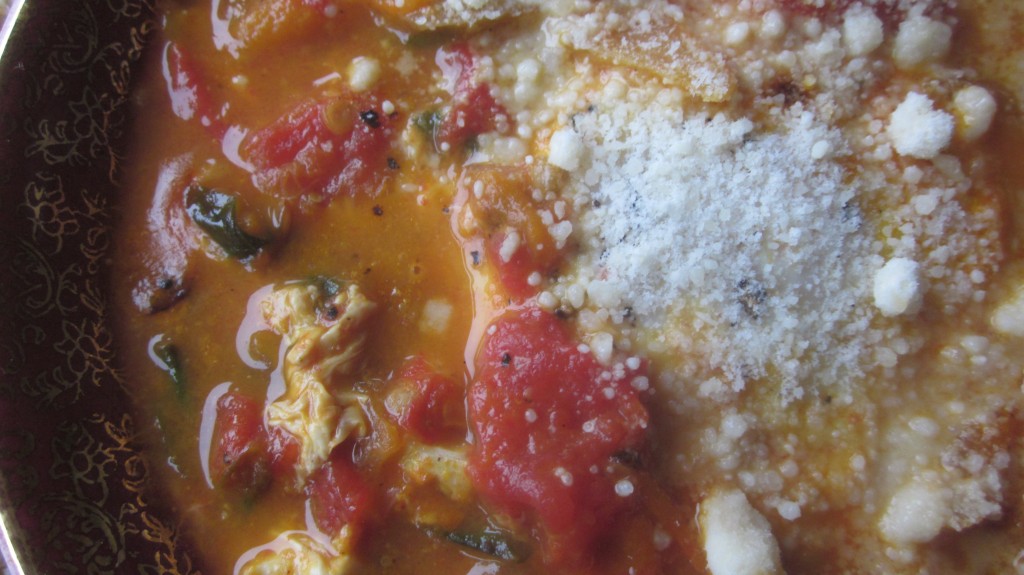 Shop this post
(Affiliate information right here.)
A good cast iron pan
This is my everyday skillet. I will probably use it every day of my life. And, with any hope, beyond!
(Oh, and if you're not sure how to take care of your cast iron pans. . . check out this post. It's really soo easy.)
Now I'd better get busy working on dinner . . . it's high tomato season as I check in here, so you know what I'm gonna make . . . ! 🙂
*hugs*
Pin it for later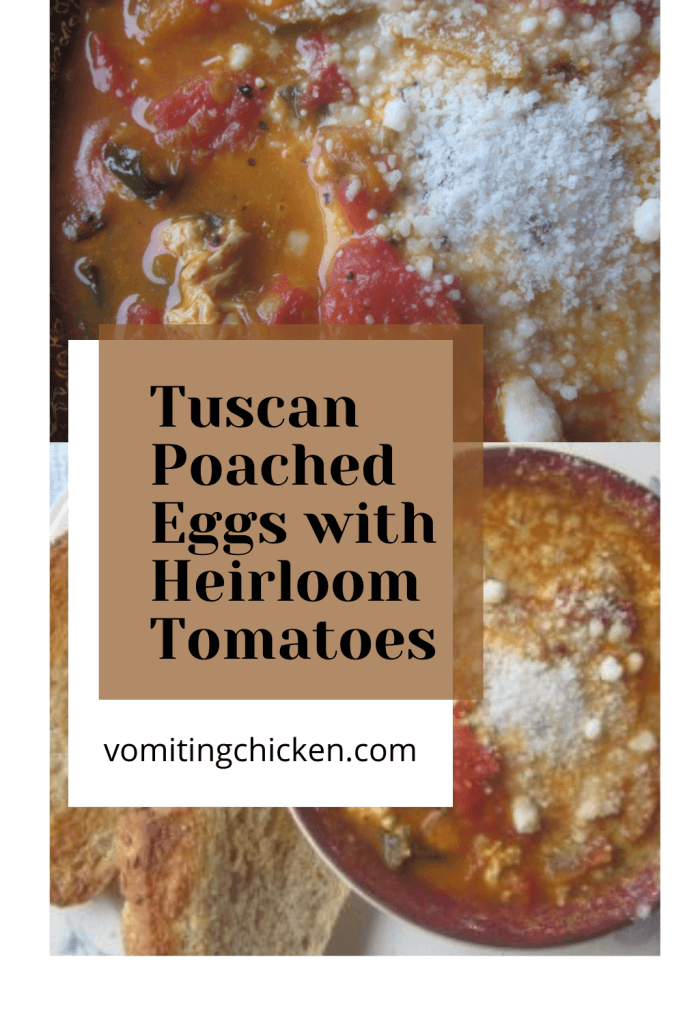 Thanks for popping in, gentle reader.
I love ya, I mean it!
*hugs*