It's a mystery: which of your hens are laying eggs? Here's how to tell!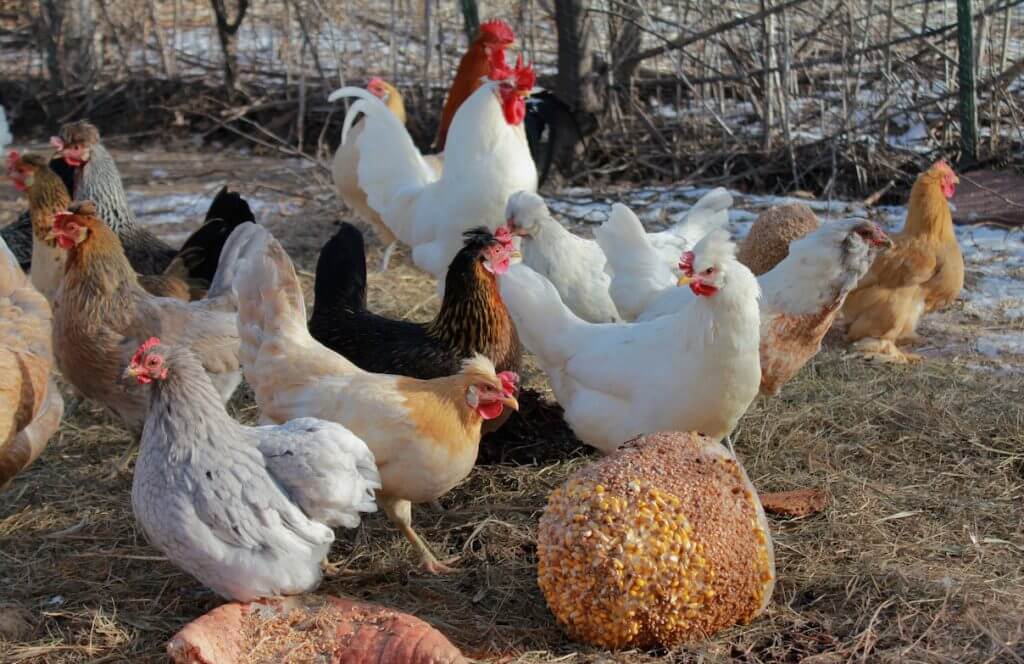 Updated in September 2017, gentle reader, just for you:

I have two important tasks that I need to accomplish today:
I need to make some peach pies, and–
I need to figure out which of my old hens are going to live, and which are going to die. 🙁
I'm looking forward to the pie-making. Not so much the hen-culling decision.
It's an anxious week or two that I spend every year about this time. A good share of my faithful old laying hens are heading for the freezer, and a few will be privileged to live another year *sigh*.

If I had my 'druthers, and if money grew on trees . . . I'd have a chicken house with much different dimensions from the one that I have: it would be vast, with a high ceiling and several rooms. Big windows would let in lots of light, and mice would not be allowed inside, under no circumstances! 
In this dream chicken mansion, there would be many rooms: one room would serve as the nursery whenever there were baby chicks, or mamas with babies, and the main room would be fitted with so many nesting boxes that no hen would even consider laying eggs on the floor or under the perches. Also, there would be a nice tidy room big enough for a goodly supply of hay, straw, and plenty of feed.
As long as I'm dreaming . . . there would be a hydrant inside the coop, and a big sliding barn door that would make the periodic cleaning out of the used bedding as effortless as it possibly can be. Every few months, a kindly farmer (with a sparkle when he smiles–*ding*!) would drive out and give me a gift of several months' worth of feed, just because he's nice and he likes me (hey–I could make him pies–peach pies!), and I'd keep just as many chickens as I like, regardless of whether they were producing eggs or not.
That's the dream. The reality is this . . . we built our own little coop many years ago, when we first moved out onto our acreage, when my dreams (and my savings account!) were much, much smaller. All I hoped for at that time (having just moved to the country from town, where chickens weren't allowed at all) was a coop big enough for a few hens.
That's it.  Incidentally, that's all we could afford to build at the time, anyway, so my good husband and stalwart sons built for me a nice little concrete-floored coop with one main room, and a teensy room for garden tools. Bryan built it sturdy and well-insulated, with windows and a screen door. I'm thankful for it, still, though it is very small, and very difficult to clean out, due to the complicated (I won't go into it now) door situation. But anyway. I'm grateful.
As it is, the "tool room" quickly became the "nursery" where I could sequester new chicks or a broody hen wanting to sit on eggs, or even an ill or injured hen, when the need arose. (If you're planning to build a chicken coop, keep in mind that you're going to need two rooms at times. Trust me on this.)
Since Year One, I've had too many hens for that space. Always. I try not to read the "suggested space requirements per hen" always mentioned in chicken books, because it only serves to make me feel guilty.
I keep a lot of chickens in this small space, and a very sweet old goose. Several ducks, usually, as well. Many of the hens are older (two or three or even four years old) and then there are this year's pullets, and a few roosters. At least they spill out of there the first thing in the morning and don't go back in until the last thing in the evening, with an occasional foray inside to lay an egg, or take a nap.
That lengthy, possibly-unnecessary and probably-tedious introduction is to explain the problem of the old hens. I've made a date in a few days to take my Cornish Cross chickens (which are outside in a temporary shelter, as pictured in this post) and probably about twenty of my old hens to the butcher.
Butchering the old hens–which range in ages from two to four or even five years old–is what causes me no little bit of anxiety and guilt each year, but it's got to be done. I'm getting 8 or 9 eggs every day from those 30 hens, which (as you might guess) is not a great ratio. It could be worse, and it would be, if I let these old hens get any older.
Once this year's batch of pullets begins to lay eggs (in about a month) I'll get approximately 25 or more eggs a day from those 30 pullets. I like that ratio much better. A typical hen lays an egg nearly every day for the first year, and then the number of eggs she lays go markedly downward.
So this is the tough part to figure out: which old hens are still laying eggs, and which are not? Some hens naturally are not as ambitious and will stop laying early, and some will continue to be productive layers through their second or even their third year. I loathe the idea of butchering a good layer, and I don't have enough space or cash to keep the hens who have given up laying for good.
Feed is expensive stuff these days, as you know, Gentle Reader.
So I've studied up on this matter through the years, and I've come to this conclusion: if you really want to tell if your old hen is laying or not, her bottom will tell the tale. Now the following information (not to mention the photos!) are not for the squeamish, but I'm figuring that if you've read this far that you're really interested in the subject matter, ergo, my mentioning the parts of a chicken's bottom will not shock you. Are you ready to proceed? Yes? Okay, here goes.
First, there are things to look for when you cull your non-productive hens, and I'll list those things here, before we get to the bottom of the issue.

😉
Feathers. The feathers of a productive laying hen generally are dirty, worn, and raggedy looking, since this hen is concentrating her energy on producing eggs and not on preening and replacing her dirty feathers. She is not spending much time in front of the mirror, per se.
Combs and wattles. A non-producing hen will have a scaly, pale, and shriveled comb and wattle, while a good layer will have waxy, full, bright red ones.
Carriage. A good layer will be alert to her surroundings and not be listless and lazy. Her eyes will be bright and she should be relatively active (such as scratching in the litter, running around with her companions, etc.).
Skin. Depending on when you check, and what breed of chicken you are looking at, a hen's skin should be bleached, while non-layers will have darker-pigmented skin.
Those four signs are good indicators, but you'll find that each one has its exceptions and oftentimes is vague or non-conclusive.
That's why I insist that the bottom of the hen tells no lies.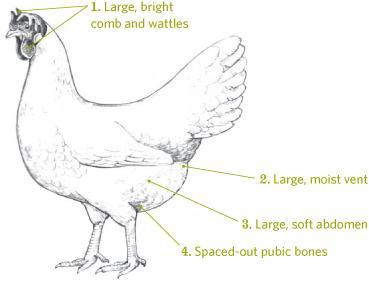 The bottom of a hen that is in production (in other words, she's laying eggs) is quite different from the bottom of a hen who has decided to retire from egg production, or who is going through a molt.
I spent a cozy hour in the chicken yard with my daughter Amalia, showing her how to tell which hens were laying and which were not.
The drawing of the hen at the right shows a typical productive hen:  she has a good looking comb and wattle, her vent (where the egg comes out, and also her droppings) is large and moist; her abdomen is large and soft, and the pubic bones are wide apart.
Now for comparison's sake, I started with one of my young pullets, because I knew for a fact that this young chicken hadn't laid a single egg yet.
We'll call her Pullet #1: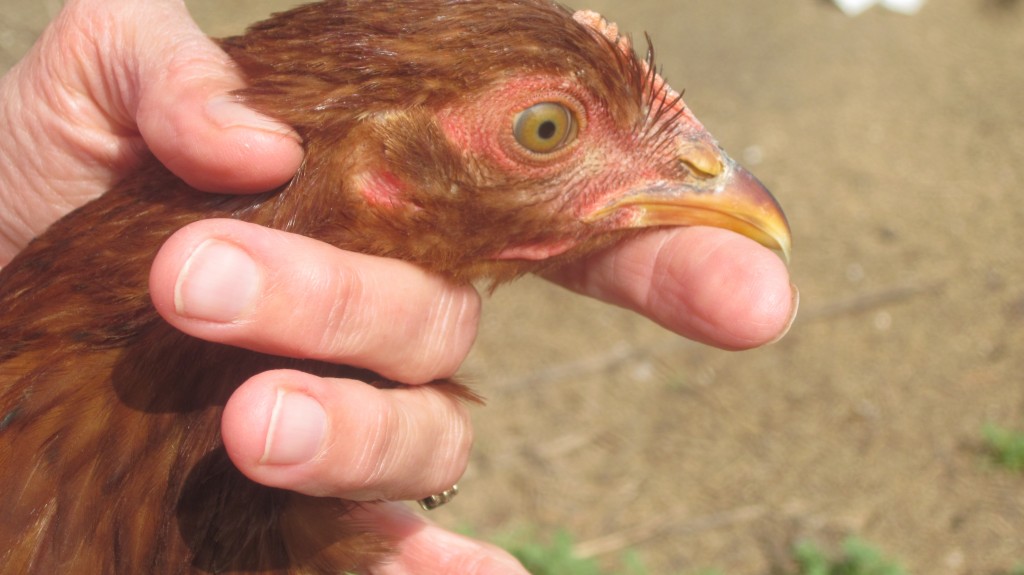 You will notice, along with the usual rather startled and vacant expression on this pullet's face, that her beak and the skin around her eye has lots of yellow coloration. Once she begins to lay eggs, it will quickly fade to white.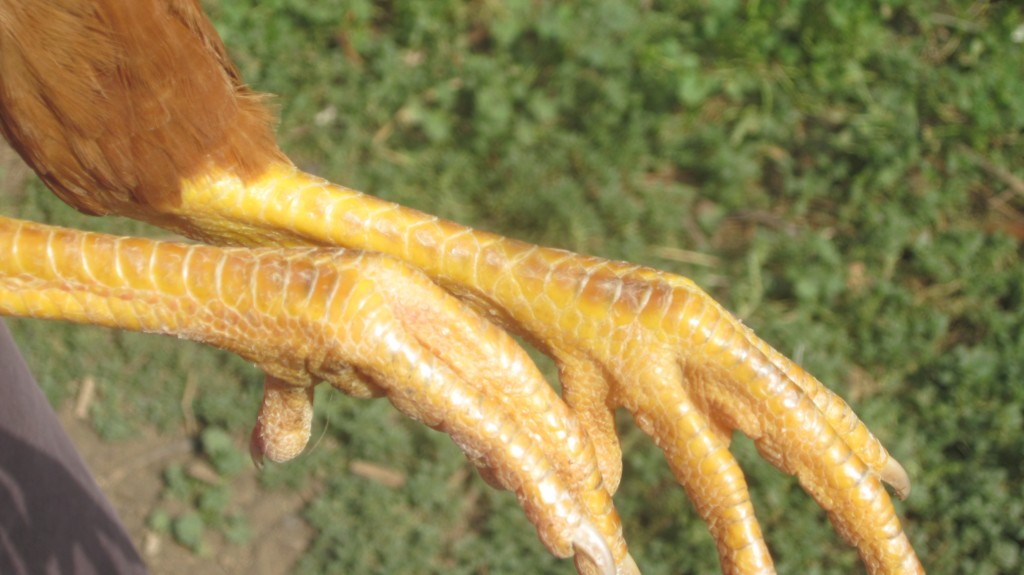 Her feet are also quite glossy, thick-skinned and yellow. This yellow coloration will quickly begin to fade when she begins to lay, and then will be replaced when she stops laying.  Pretty cool, eh?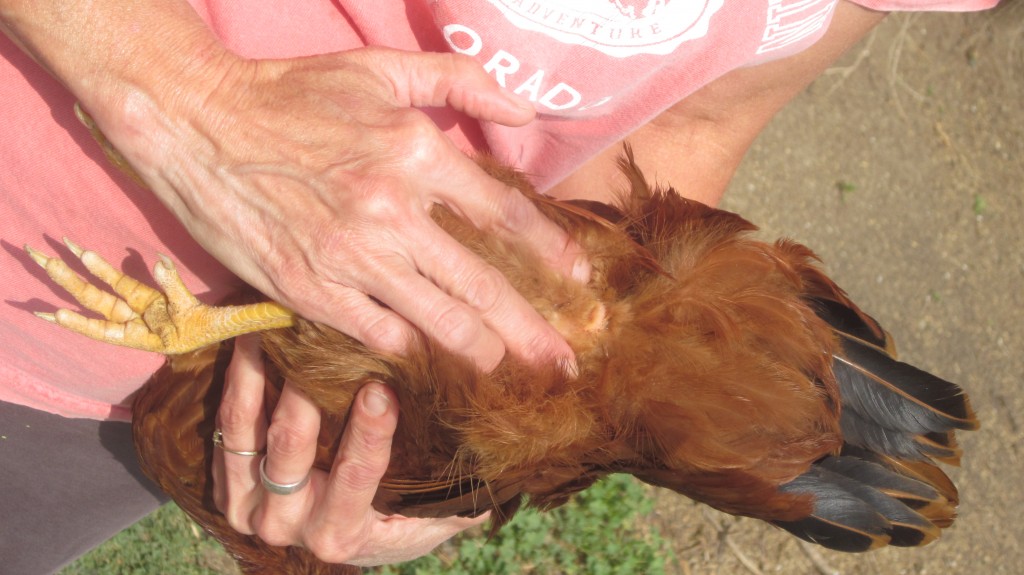 I ruffle her soft bottom fluff and find the vent, with some difficulty, I might add. It is very small (about the size of a dime), hidden, tight, and dry. She has never laid an egg, it's pretty obvious.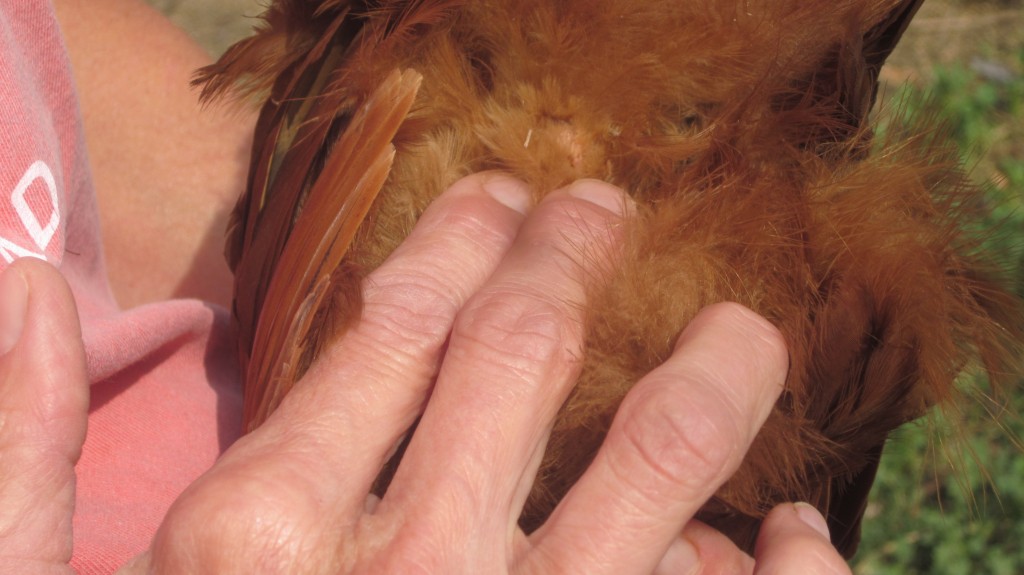 Now I locate the pubic bones, on either side of the vent.  They are so close together that I have my index finger on one pubic bone, and my third finger on the other.  Bless her heart. Amalia murmurs sympathetically with the pullet, and apologizes to her that this picture will be on the World Wide Web within a few days. We let the pullet go.
We proceed to Hen #2: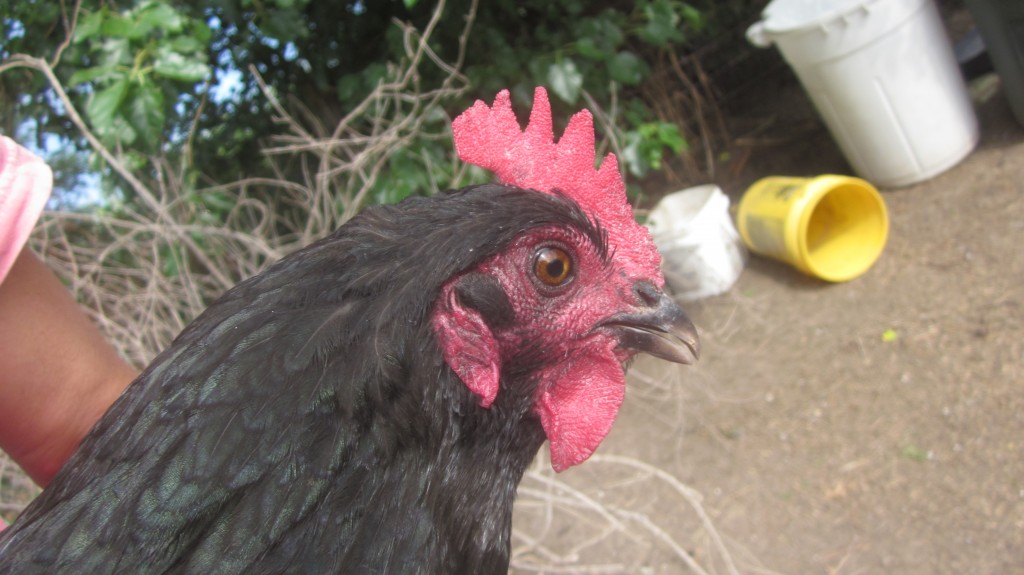 She is a different breed, of course, but the basic principles apply to all breeds. You can see that the tip of her beak is faded and white.  I suspect right away that she is a productive layer.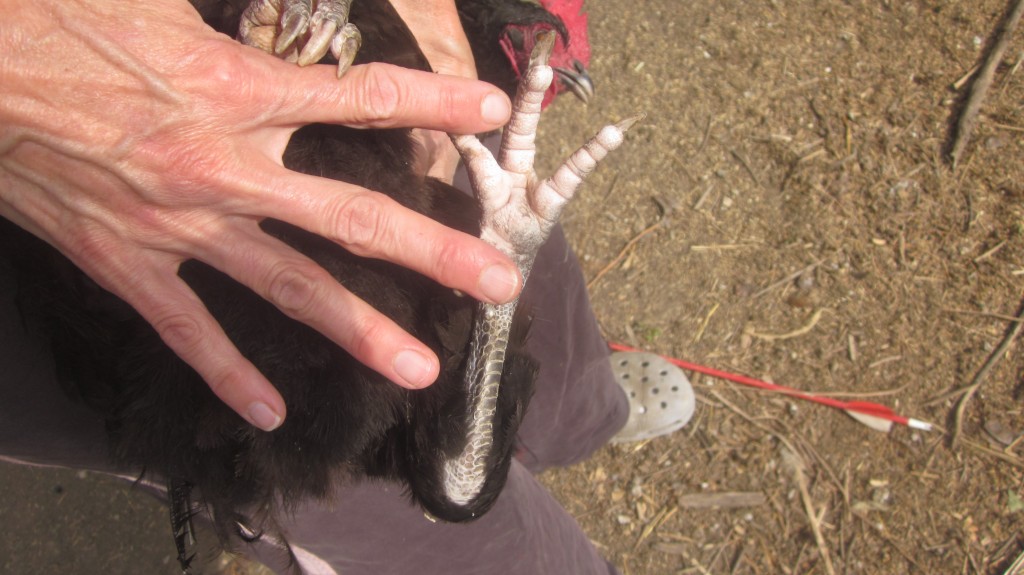 The bottom of her feet also indicate a productive hen:  they are faded and a pale white.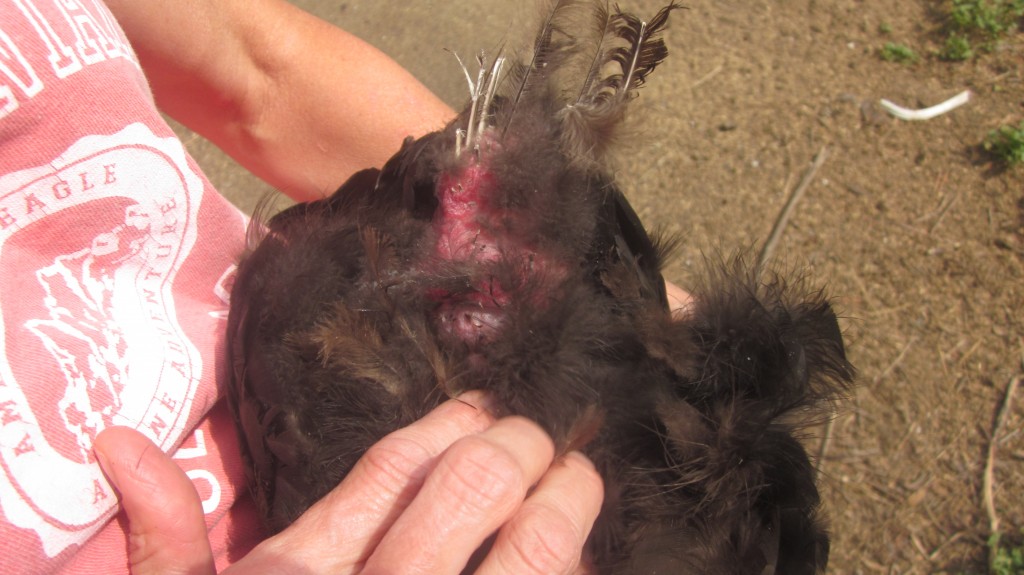 You can't tell it very well from this photo (sweet Amalia, who took these photos, is squeamish about the bottoms of chickens) but this hen's vent was large (nearly the size of a silver dollar) and moist.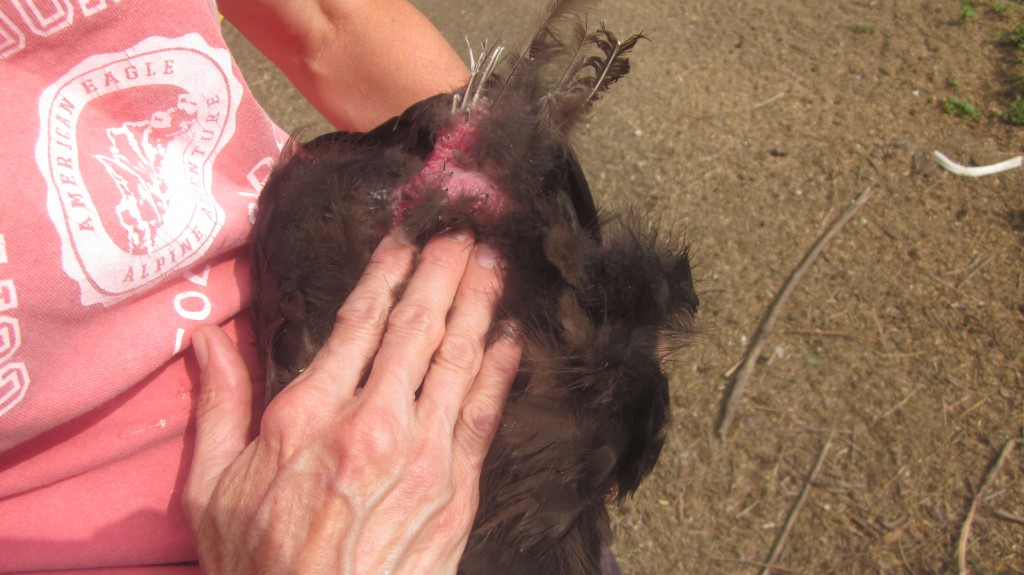 I can get three of my fingers between the pubic bones! I've found a productive laying hen! Hooray! She also has a sweet, docile nature, and I'll tag her to live another year. We bond.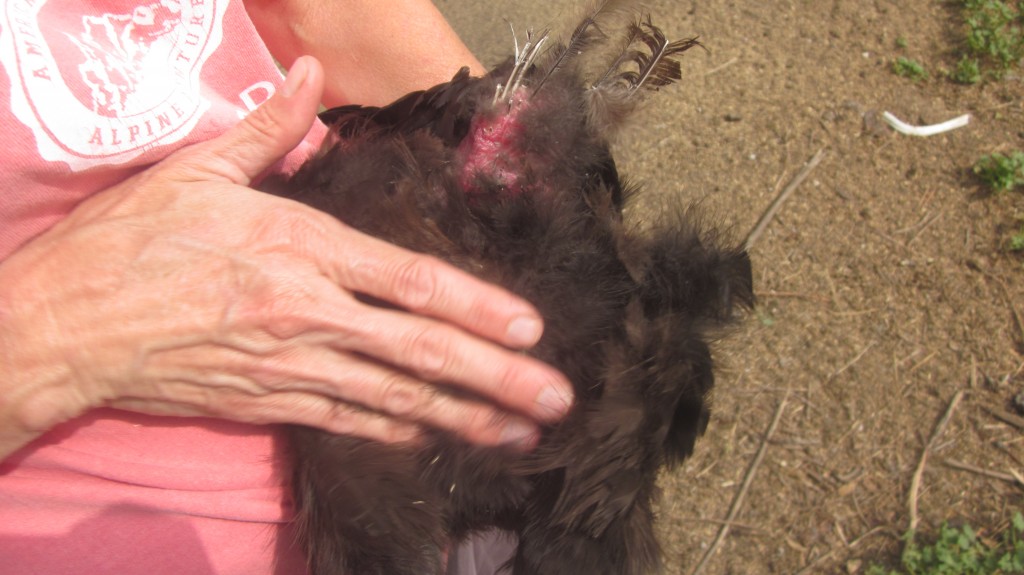 To confirm my suspicions, I find that four of my fingers easily fit between the vent and the keel. She has a broad, large, soft bottom. (No human parallel here: is not my self-control admirable today?)
Okay, we'll go to one more hen, and I'll let you be the judge this time, Gentle Reader. She is the same breed as Hen #2, so they should be quite similar in build and coloration. This is a friendly quiz, and you'll find the answer at the bottom of this post.
So this is Hen #3: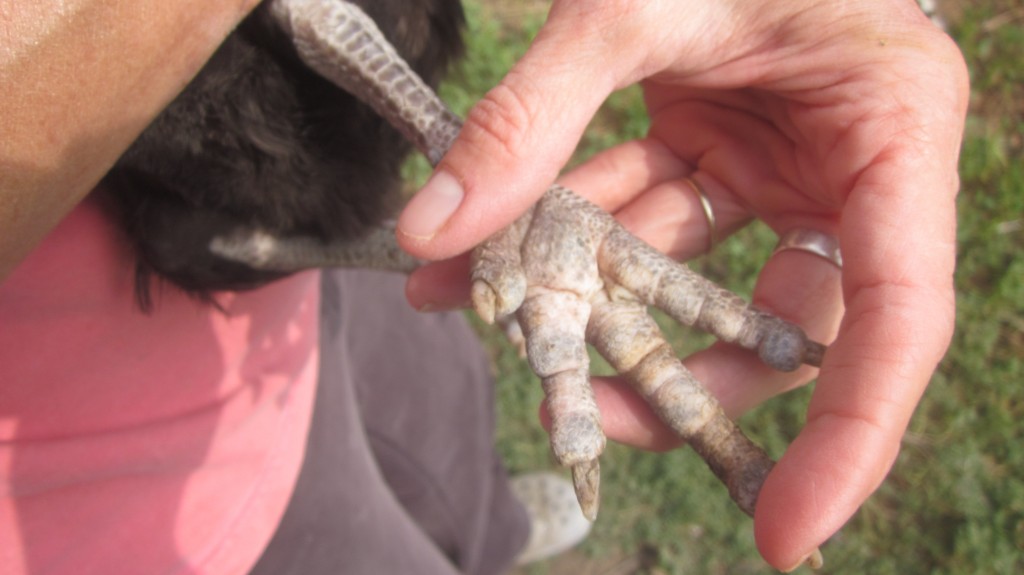 First, we'll look at the color of the feet. What do you think? Are they as bleached as the feet of the productive Hen #2? Or not? (Check the photo above.)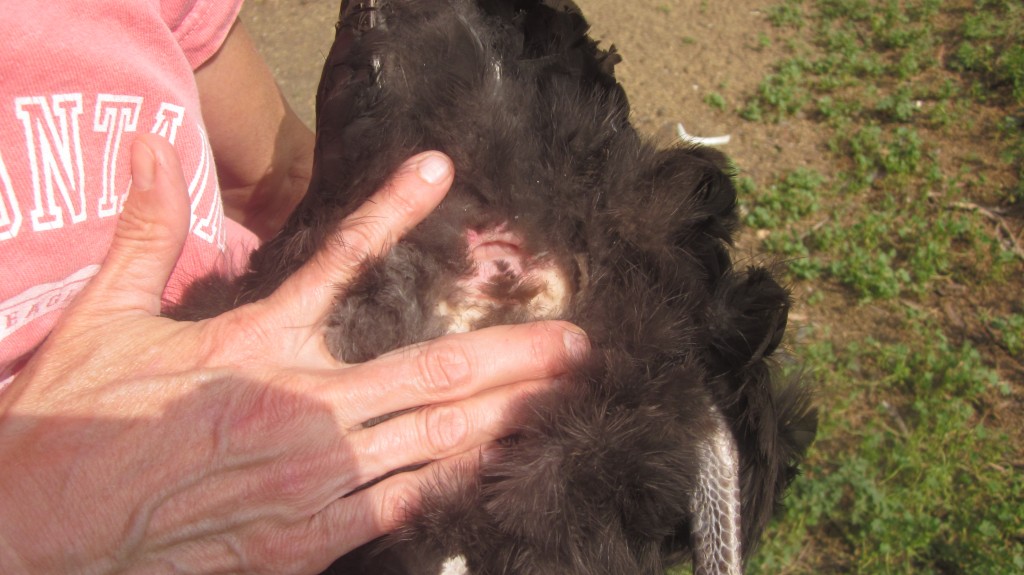 Here's her vent, which is smaller than a quarter, and is dry, and tight–not as tight as the pullet's, however. What do you say, Gentle Reader? Is she in production, or not?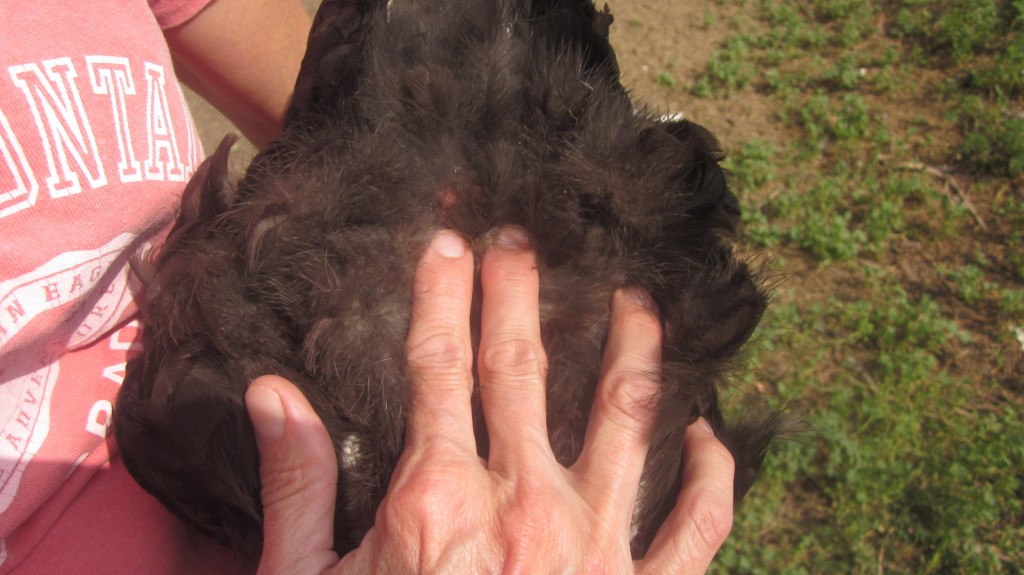 My fingers are resting on the pubic bones.  See how close together they are? I think you've probably come to the same conclusion that I have, but there's one more test: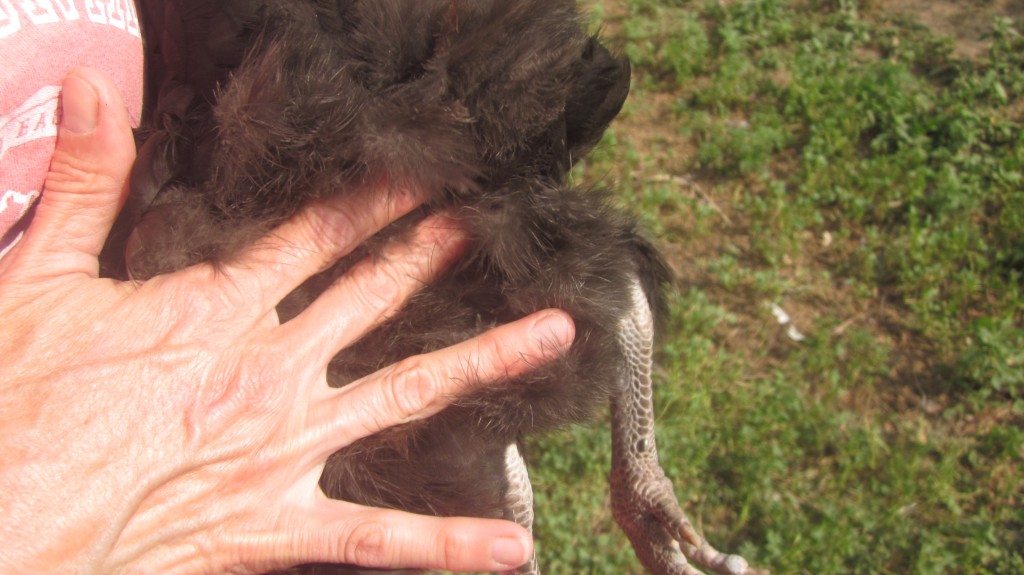 I can fit only two fingers between the vent and the keel. What do you think?
Okay, I'll tell you.  I chose this hen for comparisons' sake because I knew for a fact that she hasn't been laying all summer long. She has been broody and has been trying to sit on eggs for months. Once a hen goes broody (bless her, I know the feeling, I do) she loses interest in laying eggs and goes into a trance of sorts, sitting on anything or nothing, for weeks. So if you guessed that Hen #3 is not productive, then you're a pretty sharp cookie, Gentle Reader, and you've been paying attention, also.
(By the way, I didn't send this hen to the butcher. She was just two years old, and so I encouraged her to go outside every day, by removing her from her nest and sending her out at breakfast time, and within a few weeks she was no longer broody, and was laying again.)
Now after all that, one more bit of advice: take your time on this decision.
Watch when you go in to the coop to pick up eggs. Which hens are busy in the laying boxes and which are not? If you take the time to observe the behavior of your chooks, you'll figure this one out. You've got this one, Gentle Reader. And so, when you've made your final decision and you're getting ready to butcher your old hens (or take them to the butcher shop) you'll have no regrets.
(By the way, at our house, if a hen gains the popularity where she is named, she stays on our place forever, never mind if she is laying or not. So beware the naming of hens!) 😉
Also, one more thing: if you don't keep lights burning in your coop during the winter time (read more about this in this post) to urge your chooks not to go into molt, you might mis-identify a younger hen who has just gone into molt and is thus taking a break from laying for a month or two. Yup. That's a tricky one.
Molting, and whether or not to allow a hen to go into molt, and how to tell if she is in molt, is another issue entirely, and is pretty controversial in the chicken world. I try very hard not to let my hens go into a molt, but this is a personal decision.
Here's my simple secret: for my laying hen flock, I vary which breeds I buy every year. For example: last year I bought Rhode Island Reds and Barred Rocks for my fresh laying flock. The year before, I bought Buff Orpingtons and Araucaunas. Since all these breeds are easy to identify from each other, I know which ladies are older, so the younger ones I'll give a pass, even if their bottoms might indicate that they're not particularly productive.
It's not as complicated as all this might sound. If you have any questions, please do make a comment below. I try very hard to answer all questions.
Now! I've got to get busy examining all of my hens, since the sun is sinking and they are all half-asleep on their perches at the moment, or should be. It's much easier when they aren't darting away from me with shrieks of alarm. It may be a trick to get Amalia to help me again, though . . .
Of course since I made the peach pies, I'll have a bribe to offer my daught, and maybe I'll have more than one helper . . . ah, the persuasive power of a fresh peach pie!
By the way . . . usually when I'm doing tasks like this one, these are the gloves that I use. I love them. They are thick enough to protect the hands, but they feel like a second skin. Honestly. I'm not a glove person, but I wear these all the time during garden season!
Thanks for reading, and for commenting, and for sharing. Perhaps you'd like to join the fun over on my Facebook page or put your email address in the box to the right, above, to get more helpful posts like this one in your email box right away when I post them?
And if I could ask you a special favor, if this post was helpful at all to you . . . would you please share it with your other chicken-loving friends? Because who knows–they may be in a puzzlement about this issue, too! 🙂
And, hey, guess what? I've written an ebook that reveals over a hundred of my best chicken-raising tips and tricks, borne from raising and nurturing my homestead flock for over a decade and a half. Snatch it up here for a song!
Thank you so much!
*hugs*
Save