Watching the sunset with Anya
Every now and then my son and  his wife trust us with their Most Precious Jewel, that is, our granddaughter Anya Genese, and we get to enjoy a few hours playing with this sweet dolly.
What a blessing!
This week was the first time Anya didn't cry when her beloved Mama and Papa left, although her lower lip came out for a brief pout.  But she adores her Uncle Mack and her Aunt Amalia, so her eyes began to sparkle almost right away.
After supper, we decided to go outside.  Anya observed wisely that there was so much more scope for the imagination outside, Amma, what with the chickens and the dogs and the cats and the lovely spring flowers and the songbirds and the vast Nebraska sky.  She said something like that.  We all agreed, naturally.
So we all headed outside.  I've been so busy with spring planting and pre-graduation-party housecleaning and whatnot, that I haven't settled down to watch a sunset in quite awhile.  And that, Gentle Reader, is a shame. We may not have mountains (or, for that matter, valleys) or ocean views here in Nebraska, but we do have some pretty glorious sunsets.  And we are blessed to have not a lot to obstruct the view out our back door, to boot.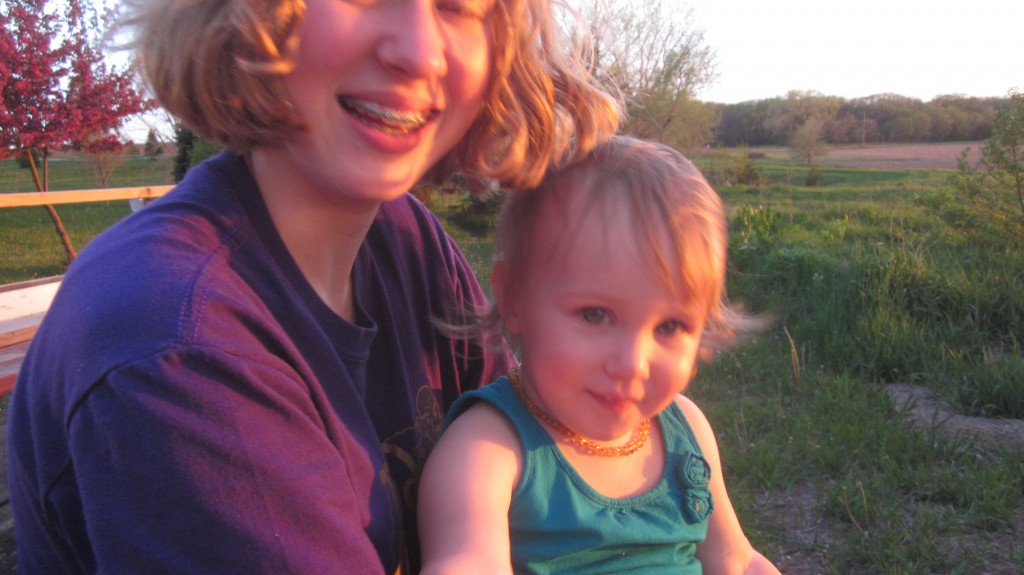 It's the perfect time to watch those sunsets, isn't it, with the hint of coolness in the evening and the mosquitoes not quite with the program yet?  Grab somebody you love and find a good place to just watch that giant ball of fire sink in the sky.  You'll be glad you did.