Wyoming Vacay Photos, Tales, & new life slogan: "Just hang on and pray"
My brother Matt and his lovely wife Paula moved to Wyoming a few years ago. Ever since, I've longed to go visit them. We made weekend travel plans several times, in fact, but illness or other family circumstances pulled the rug out from under us each time, and we had to cancel. Again and again.
I was beginning to wonder if there were mysterious and vagarious forces at work, keeping us from ever making the trip to Wyoming. I don't know about you, gentle reader, but when forces–vagarious or otherwise–try to keep me from doing what I wanna do, I become mighty determined to foil them.
And anyway, what awful relations we were! I was feeling not a little guilt over the fact that my baby brother lived so many hours away, and I hadn't been to visit him in his new place yet.
It's Wyoming. Not Timbuktu. Shoot, the two states touch. Right?
Moreover. Nearly everybody else in the family had been out to Wyoming for at least one visit. I heard fanciful tales of moose sightings, lovely tame deer by the scores, breathtaking scenery, mountain trails, cool mornings and evenings, beauty beyond compare, trout streams brimming, you know, heaven on earthishness, pretty much. Awkward, tearful guilt and a frantic studying of the calendar always ensued, after hearing yet another ecstatic travel report from other family members.
Then it happened. We finally found a weekend that worked for Matt and Paula and that worked for us too; it obviously worked for the scores of gentle tame deer in the area, and nobody in the family came down with a mysterious illness. Huzzah! The jinx: it was foiled. Forever and anon, hopefully.
So much for mysterious, vagarious forces. *sticking my tongue out at them*
So I figured, since we actually did some pretty amazing things out there, that you might enjoy browsing a few travel snaps ("travel snaps": old lady terminology for "images"). We were only there for three days. Believe it or don't. And we did all the following: (And no, you can't have my little brother Matt or his lovely wife Paula. I am quite selfish with my relations.)
We went to a delightful small-town festival.
We shopped at a library book sale.
We ate popcorn and watched a parade.
We went to a quilt show.
We learned how to ride ATVs up a mountainside, and back down again, too. (No, we didn't tip over, either.)
We went flying over the mountains, to Montana (in an airplane).
We hiked up a mountain and back down again.
We rode horses up a mountain.
We rode horses back down the mountain.
None of us fell off our horses, although we were doing the "Man from Snowy River" thing, basically.
We (Mack and I) waded across a mountain stream so cold that we left our feet behind in it, frozen quite blue. (We're being fitted for prosthetics as I write.)
We toured a fish hatchery and saw some gigantic and picturesque trout. I'm still doubting that they were real, they were so pretty.
We went to an art museum with some fantastic western art in it and ate lunch at a rooftop Bistro (Rooftop Bistro: French phrase for "quite expensive").
We ate brats as big as your leg. On a deck. Overlooking heaven. Watching the sunset.
We played Andrew's game The Cloud Dungeon with Matt and Paula.
We shot deer with paintballs (hehee), by flashlight. This may be illegal here, but not in Wyoming.
Now you'll need to see some photos, of course!
First, an explanation of the photo above. The rock formation in back of us will be familiar to most Midwesterners, westward explorers, native Americans, and Mormons: it's Chimney Rock, a prominent rock formation in western Nebraska. During the middle 19th century it served as a landmark along the Oregon Trail, the California Trail, and the Mormon Trail. You can see if for a long ways away. On a clear day, you almost could see it from our place, probably.
Now a personal note about the photo: my husband Bryan is the sort who would never risk passing this sign (below) and sitting on a rattlesnake in order to get a photo like the one above. He plays by the rules. He obeys the signs.
I'm the sort, however, who would stick her tongue out at the sign, toss her jacket over it, march out promptly to sit for a photo, and then get bitten by a rattlesnake.
But nobody got bit this time.
This photo, also, we took in Nebraska. So many little towns are dying. It's very sad. But it does afford photographers many wonderful, quirky photo-ops. Look at this adorable little motel. Amalia and I were entranced by it: each room had its own little entryway rooflet, its own color, its own little yellow-tiled bathroom. Heck. I'd totally stay here. Can't you imagine the check-in?
"Welcome to the Rainbow Inn. I put you in the Pink Room, ma'am. Care for an evening cocktail?"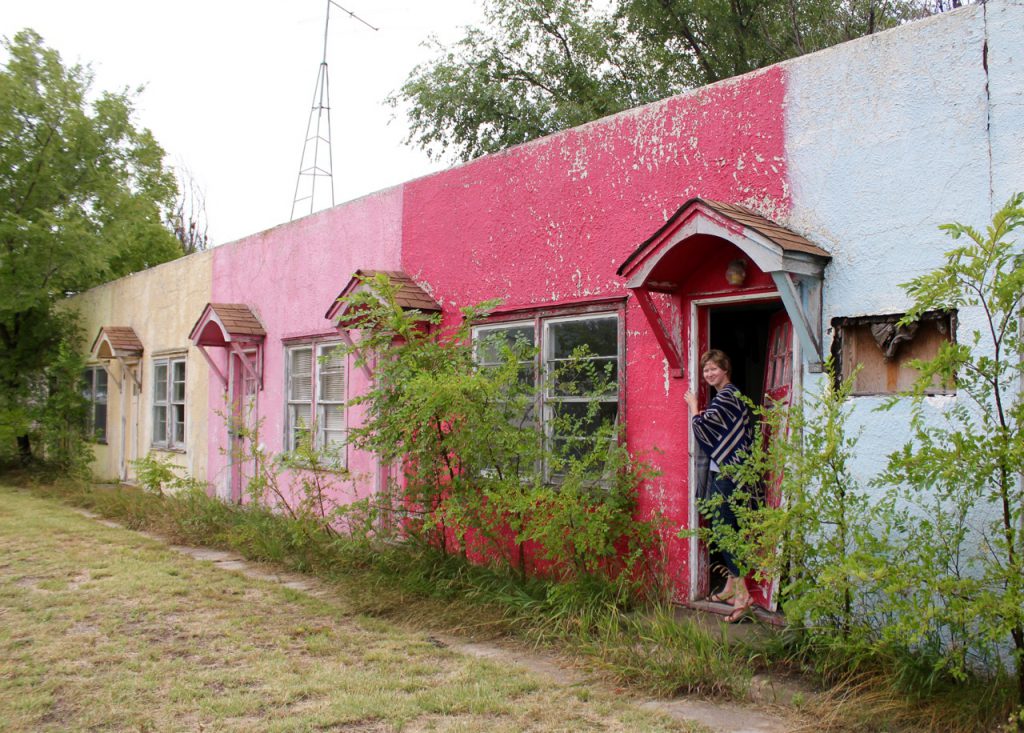 Matt and Paula live in Story, Wyoming. Story has a delightful festival every year, called Story Days. I love these small-town festivals, especially when you can look at quilts like these in the open air. After eating a large pile of pancakes and sausages at the fireman's breakfast.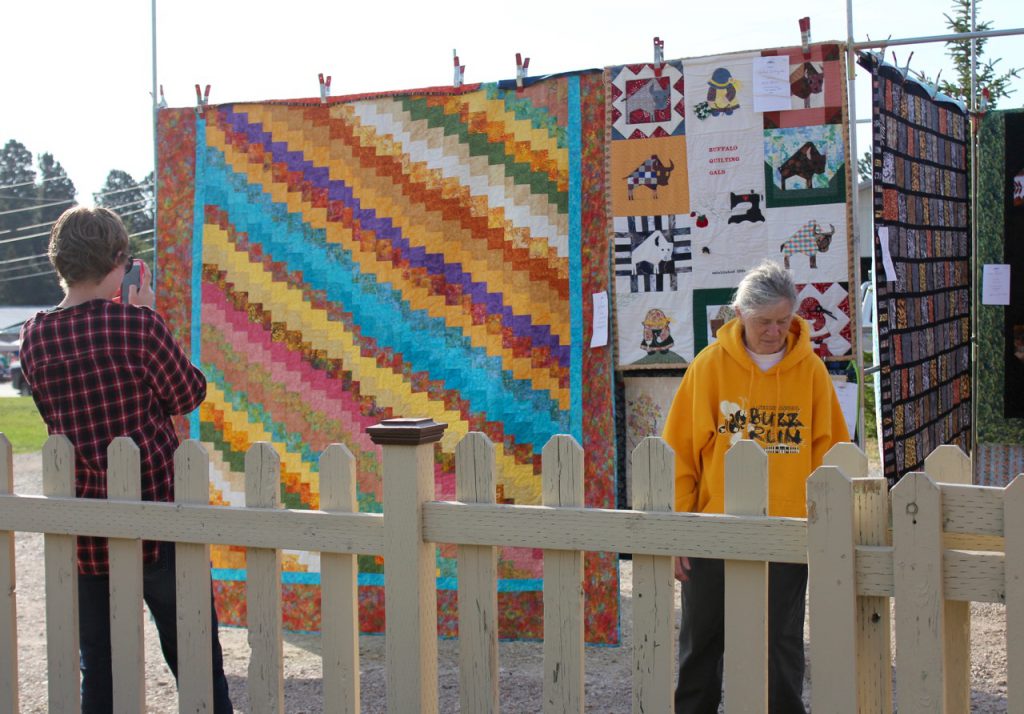 And then, you can watch your dad and your little brother drive your dad's old Model A in the parade. Mom and Mack rode in the back. It doesn't get much better than that.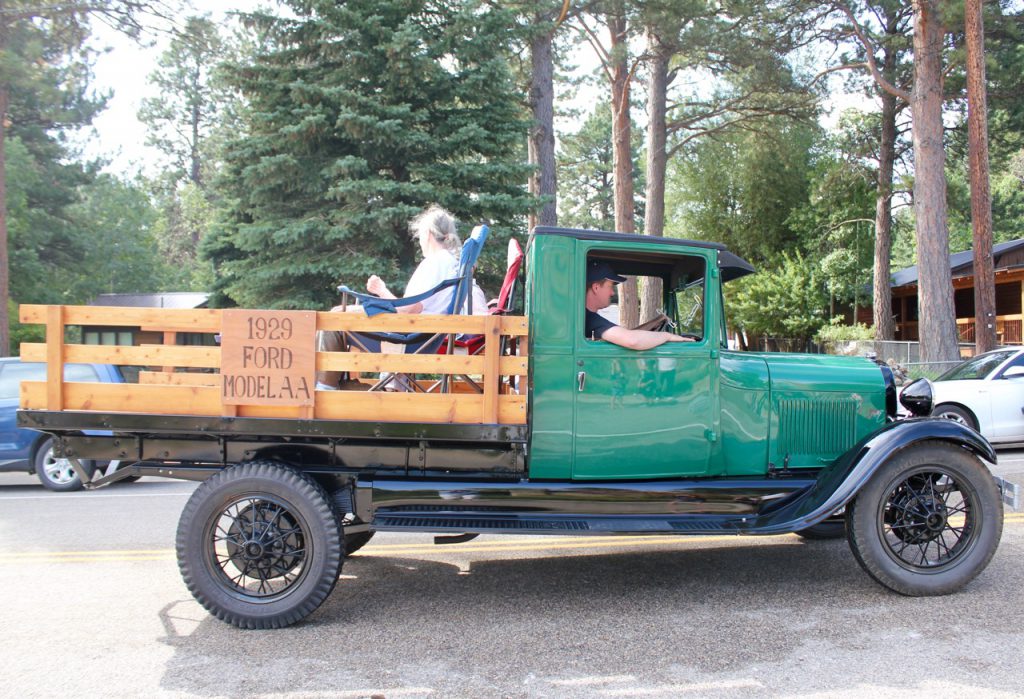 My brother recently had Dad's fine old truck restored. Isn't it a beaut? My Dad used to drive it in parades when we lived in Nelson, Nebraska, a hundred years ago. Back then, I believe he'd put a sign on the back that said "Young's Pharmacy." That was the name of Dad's drugstore.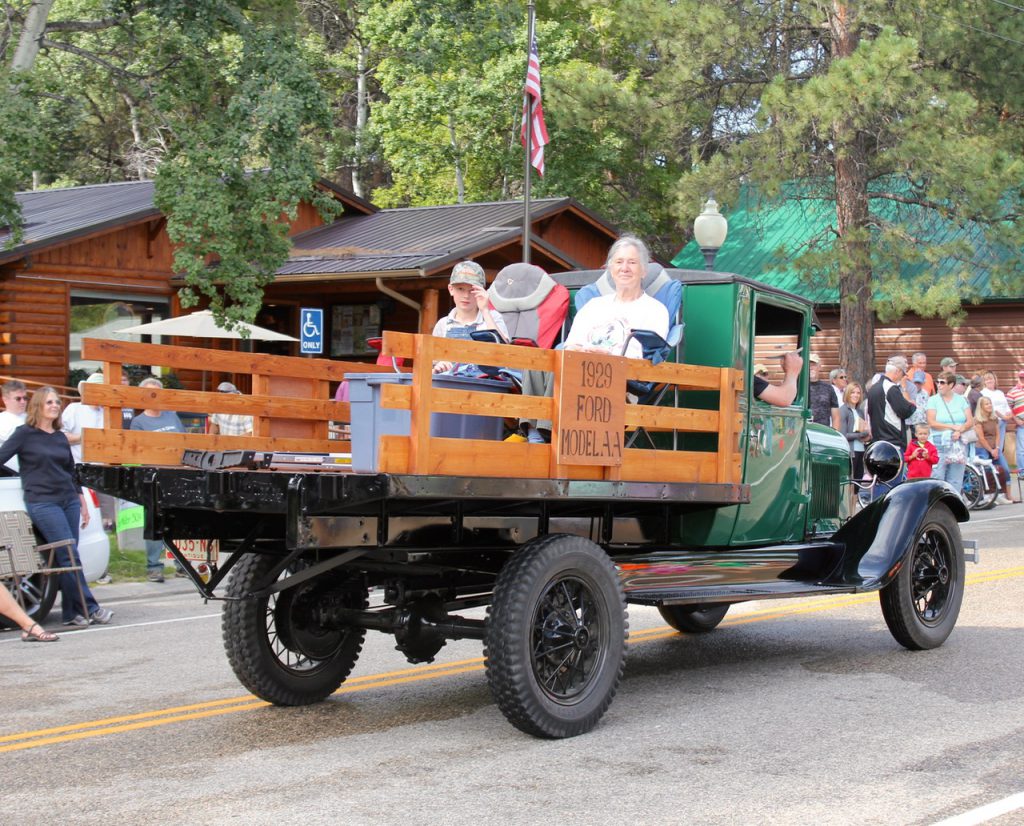 Just in back of the truck, on the other side of the street, you'll see the Story Library, where Amalia and I happily filled a couple (cough, a few) boxes with books at the annual Story Library Book Sale. This is bliss for my kids and me, folks. "Take all you want for a donation to the library!" What a great idea! Our library does this, too.
Scout got so thirsty.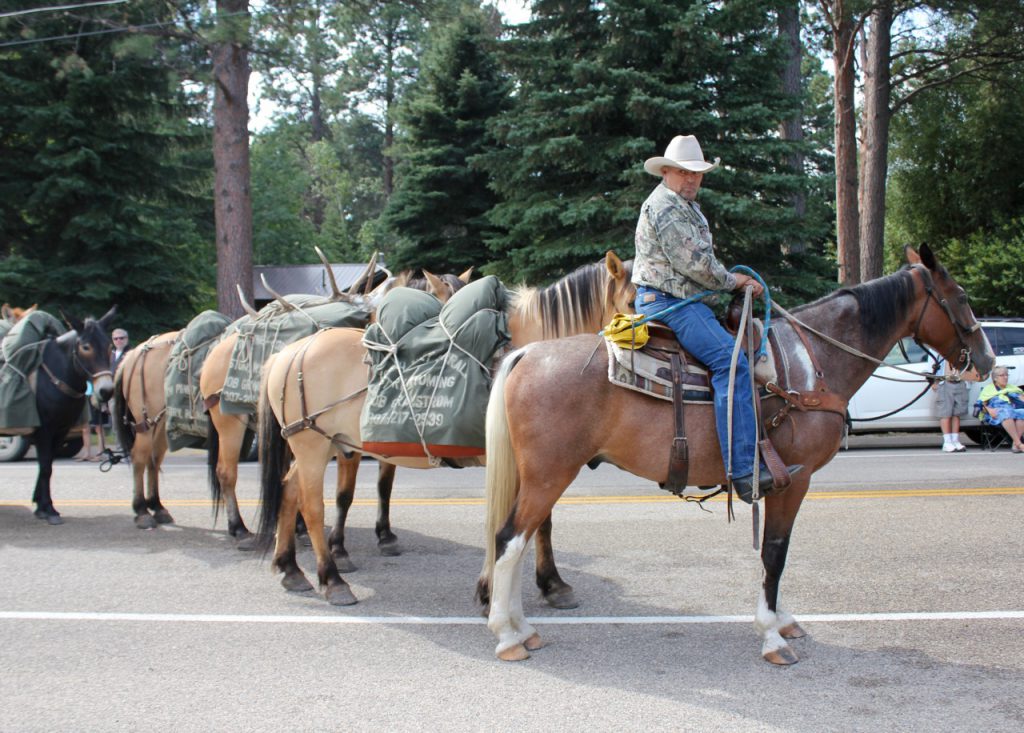 We were impressed enough by this man's horsemanship to take plenty of pictures of him leading this row of pack horses (and mule) through various routines, never dreaming that we'd be following him up the mountain on horseback in just a couple of days!
His name is Bob, and if you ever get the chance to ride his trail rides in Story, Wyoming, don't think twice. Just do it. Don't let common sense or fear deter you.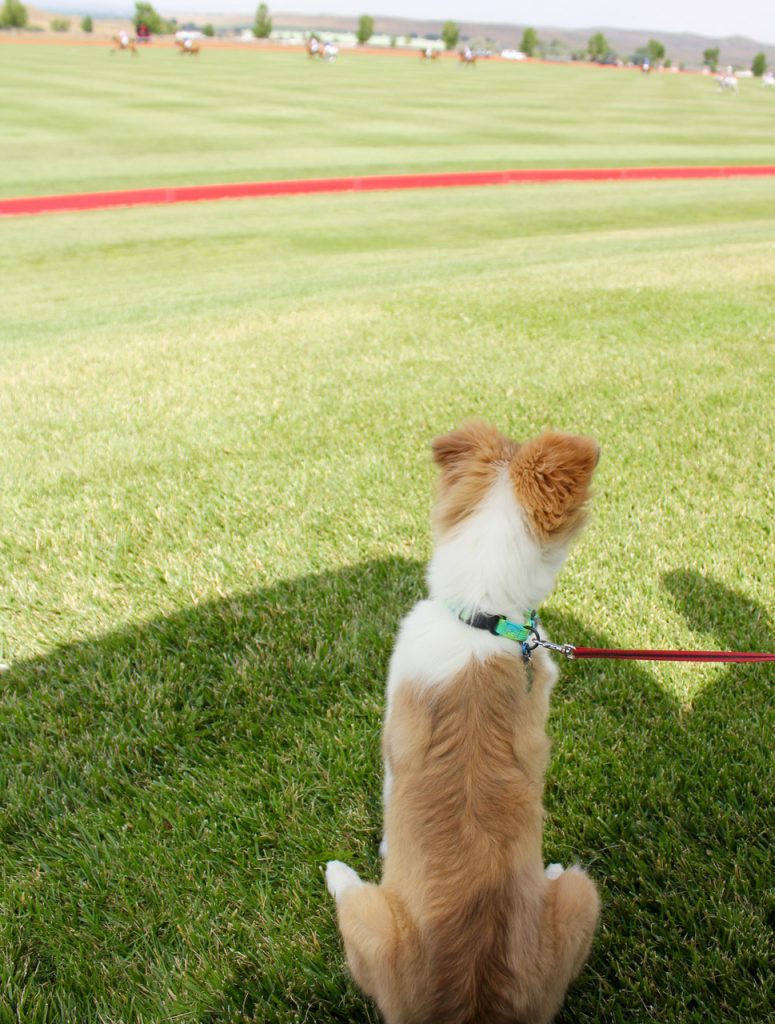 We went to a polo match, where mostly (since I don't understand polo, and the horses were, after all, quite a long ways off, as you can see) I watched Scout being all cute about wanting to charge out and chase those horses and/or that white ball, and imagining what would happen if she did, in fact, get off her leash.
I'm still imagining it. It would have been incredible. 🙂
It would have been The Most Amazing Day of Her Life!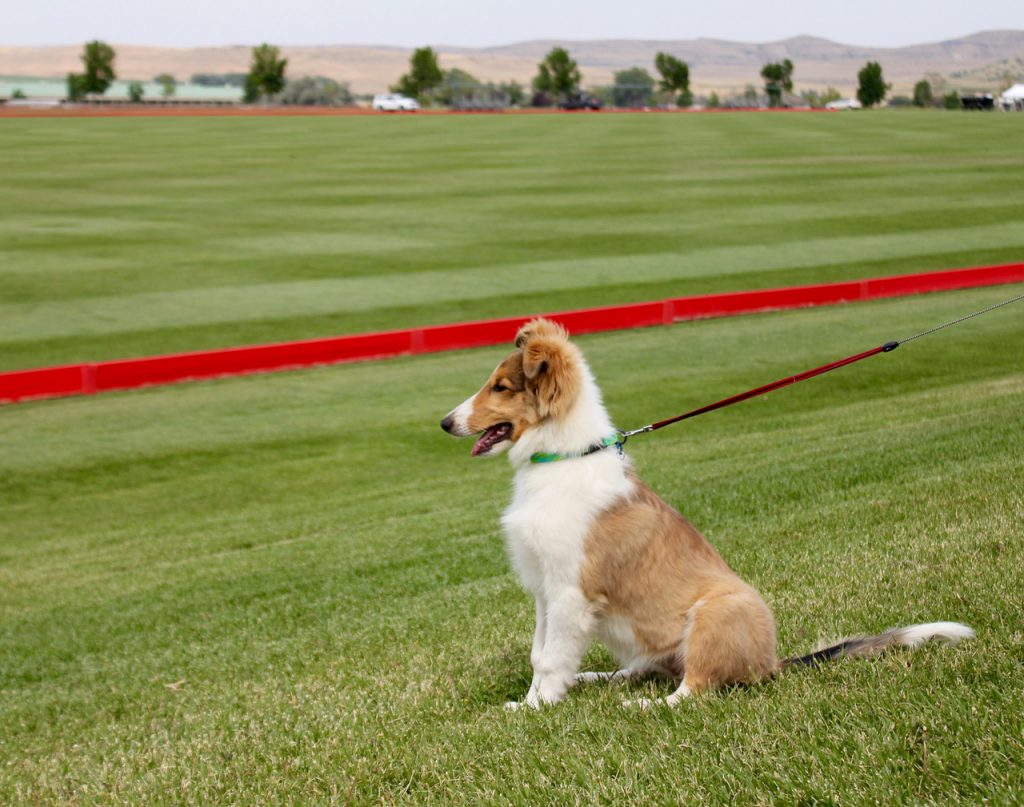 But Bryan had the leash, so she was safe.
It was a gorgeous setting. Miles and miles of delightful emptiness, flanked by faraway mountains, with these lush green painstakingly manicured polo fields dropped right into the middle. Perfectly lovely.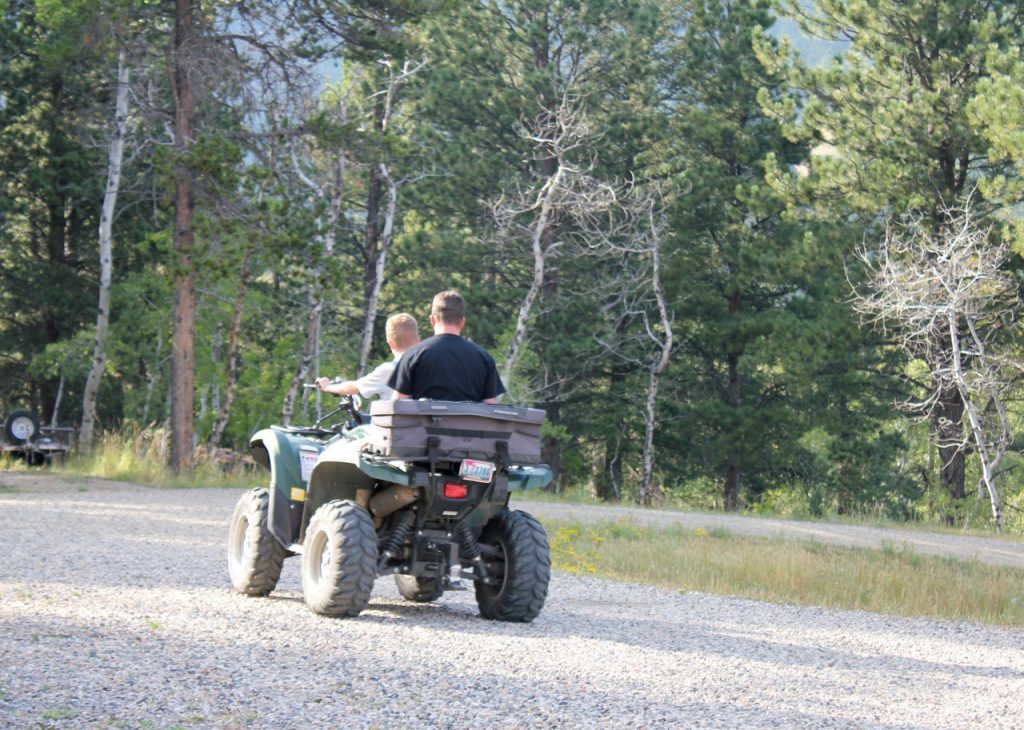 Matt and Paula gave us the 3-minute lesson on how to drive their ATVs, and then (Wyoming-ish) they set us loose on them. I was terrified. I'm not sharing pictures of myself on them, although Amalia took several. I realized, studying the pictures with dismay, that the five pounds that I'd gained this summer is not hidden, after all, when I suck in my gut and pay especial attention to my posture. At least, not when I'm driving an ATV. Siiiiiigh.
So you'll not see those pictures. I am approaching old-ladyhood, but I am not totally devoid of pride.
We had a thrilling time riding those ATVs up the mountain, down the road, and so forth. At first, Mack wasn't comfortable riding one by himself (Note from Mack: I was comfortable riding one by myself, Uncle Matt was the one that was not…um, that was from my son) (plus, it's illegal, hello, even in Wyoming) but he felt a little frighteningly too comfortable driving one if I was perched on behind him. "I'm going 16 mph, Mom!" he'd yell back to me. "17. . . 18  . . .19!! MOM I AM GOING 20 MILES PER HOUR!" he'd shriek.
I just hung on and prayed.
That was a theme for much of our stay there. "Just hang on and pray."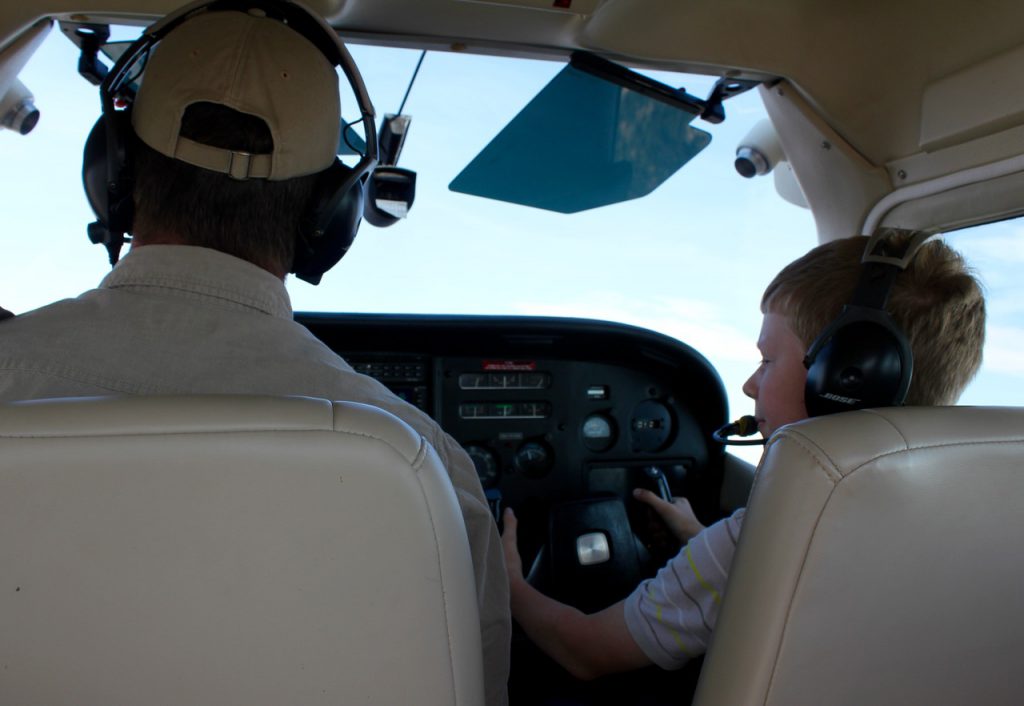 Matt took us flying in his plane. I'm an artist. How could I not absolutely LOVE flying? At least when there's a window seat. Amalia thoughtfully put the plane's one barf bag prominently in front of ME. And we took off. There's so much to see from the air, is there not? It fills my heart with joy to look down and see sights like these (as long as I'm not barfing, which does take the joy out of it).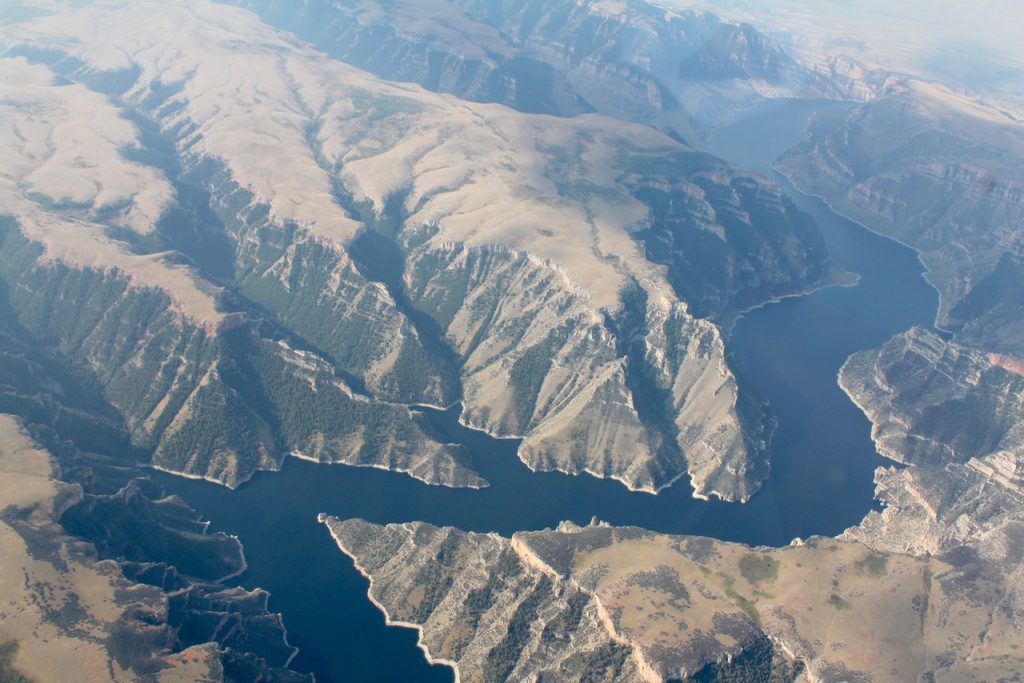 Breathtaking.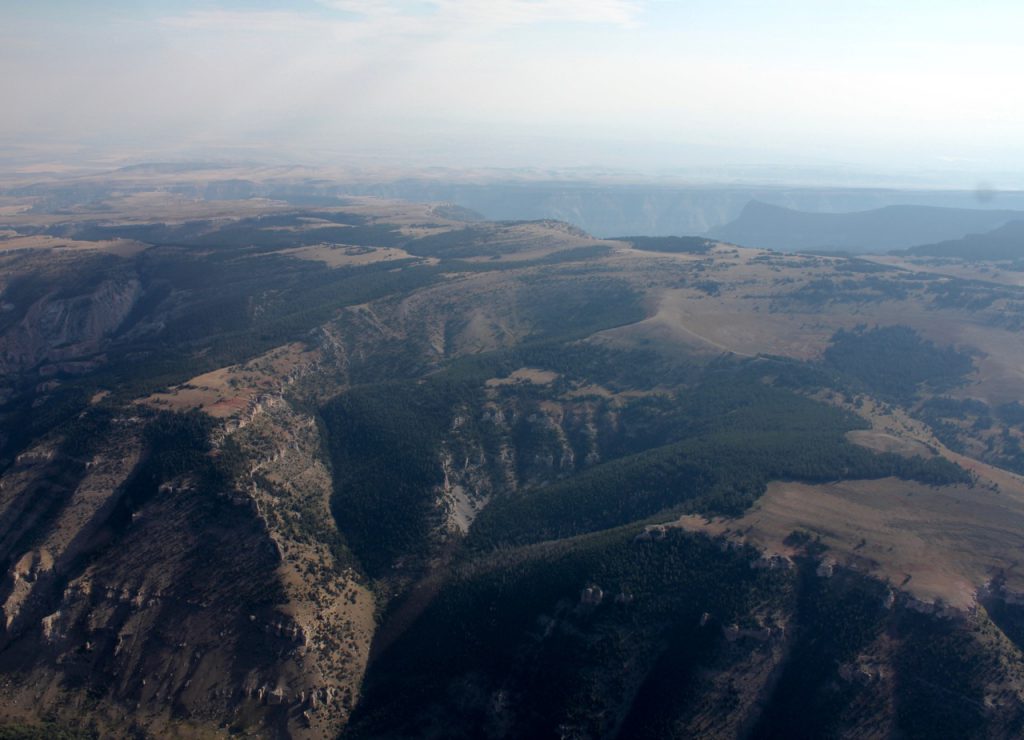 At one point, Matt let Malachi take the controls. I turned to Amalia. "You realize that we are entrusting our very lives to our little brothers?" I asked her.
"Hush, Mom, just hang on and pray," she said.
We clasped hands and gazed out our respective tiny windows.
One thing that Matt and Paula really wanted to do, was to play Andrew's Cloud Dungeon game with us. You might have read about this game before in my blog, and (as a matter of fact!) AndHeDrew is running a cool new addition promotion pre-order thingamabob that you need to check out right now, honestly, it's cool!
It was fun. Matt and Paula were great at it, though they are both convinced that they are firmly in the left-brain camp.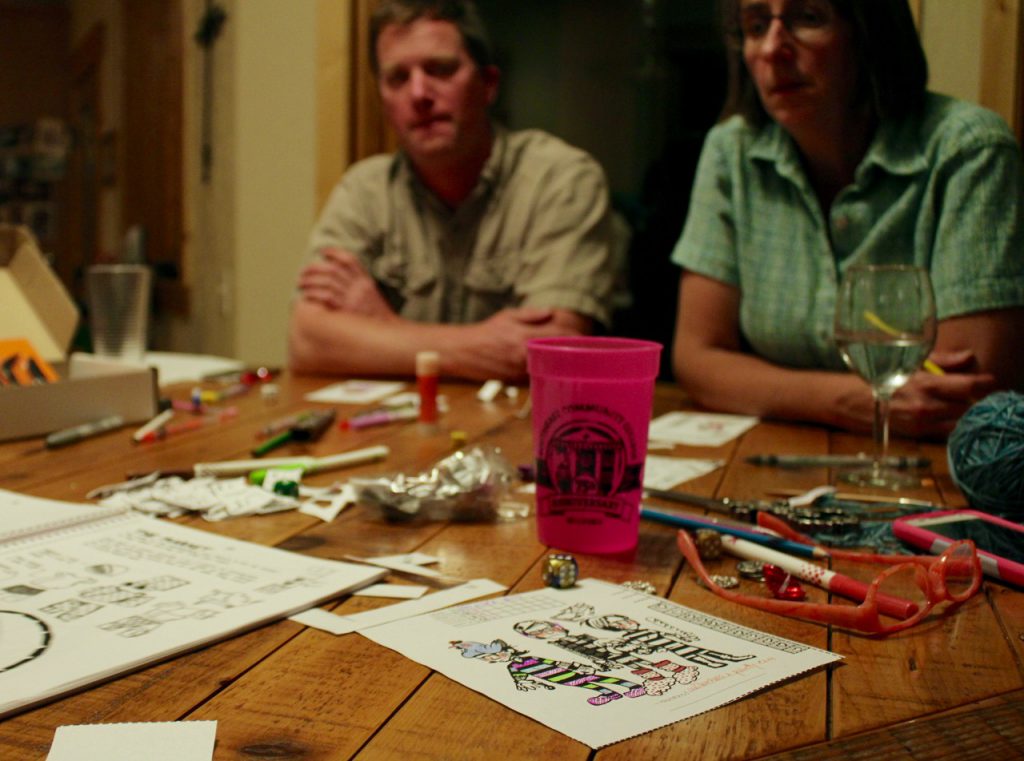 We went hiking on one of the garden-variety mountain trails in the area and saw wondrous sights like this (below) little dreaming that the next day we'd be riding mountain horses across this very river. Hanging on and praying.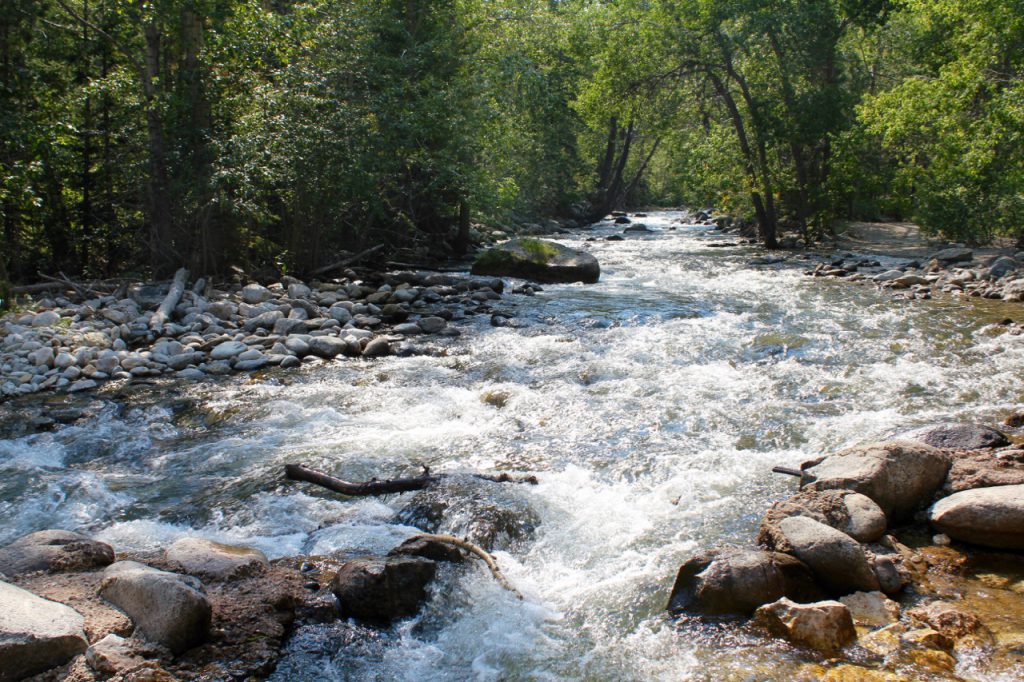 We thrilled over Paula's beautiful garden. More about this later, so please watch my blog for updates on Matt's dandy anti-deer strategies. The gist: the deer population and pressure in Wyoming is astonishing, but my brother has figured out a way to keep them from decimating their garden, so Paula can grow such beautiful things like this.
When you first drive into the area, you have to slow down because there are deer everywhere: grazing in people's yards, eating up their gardens, sashaying slowly across the road. Wyoming folks are very patient with these beautiful creatures. You drive slowly everywhere because you don't want one to step out in front of your vehicle!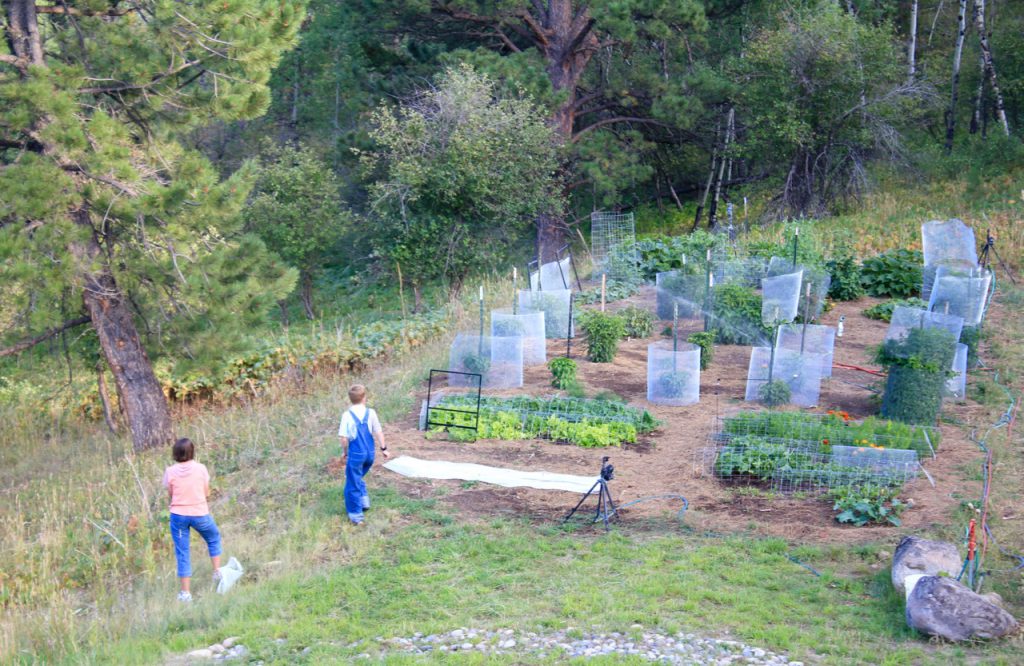 Mack was mightily entertained by the deer and their attempts to eat Paula's garden.
So we decided to stay a third day (our original plan was to stay two days only) and you'd think that we'd have a lazy unplanned day at home, but Matt and Paula came up with a quick plan for another thrilling day for us. We went to a new art museum nearby that had some really beautiful western art, and we went on a trail ride.
The art was wonderful. The trail ride? You got it: "Just hang on and pray" was the order of the day. At first I didn't know where we were going, so I just followed the trail guide and we meandered along the road, on a path that the horses obviously knew well. Then we got to a trail head at the bottom of the mountain. The trail guide, Matt, turned and grinned at me and gestured toward the top of the mountain. "Think you can make it all the way up there?" he grinned.
I choked. "You mean . . . on this horse?" I stammered.
"Yup," he said with a laugh.
"I thought this was the trail ride," I continued, gazing down at the grassy path we were on.
"Ma'am," he said with a proud tip of his cowboy hat. "This ain't Nebraska. This is Wyoming, remember."
Yikes! And so it was.
So we went up, and up, and up. And then we took a 10-minute break (for the horses, not for us!) and then, even scarier and much faster–we went down, and down, and down. I just hung on and prayed, gentle readers. It has been years since I've been on a horse, and that was (of course) here in Nebraska, where the land is mostly flat and predictable. In Wyoming, when you are riding a horse up a mountain, the land is not flat nor predictable. There are big rocks that your horse clackety-clatters over, and a rushing stream (above) that he will trot through, and very steep grades that he must struggle up.
On the way down, Bob casually gave us instructions for how to sit in our saddles so we didn't "go flying over the horses' heads." He said it with absolutely no alarm, like it was just an everyday event, to go flying over a horse's head and careening down a rocky mountainside, body parts flying off at will. I swallowed and prayed. And hung on, natch. And leaned like Bob had instructed. I leaned like crazy, gentle readers.
Gentle readers. IT WAS THE MOST FANTASTIC THING EVER to ride that horse up the mountain and then back down. I loooved it. When we got to the bottom (the ride was over 4 hours long) I gushed to Bryan (through, let's be honest, teeth clenched by pain, the result of riding a horse for 4 hours) that I wanted to do this again before I was too old to, you know, do it again!
I could go on. (You know me!) I could share more pictures, but the day is getting away from me here at home and I'd better get out into the garden and see how much catch-up I can do today! Thanks always for reading in this silly corner of the internet; I just love ya to the moon and back for checking in with me!
And thanks to Matt and Paula for a simply wonderful time in Wyoming.
It was unforgettable!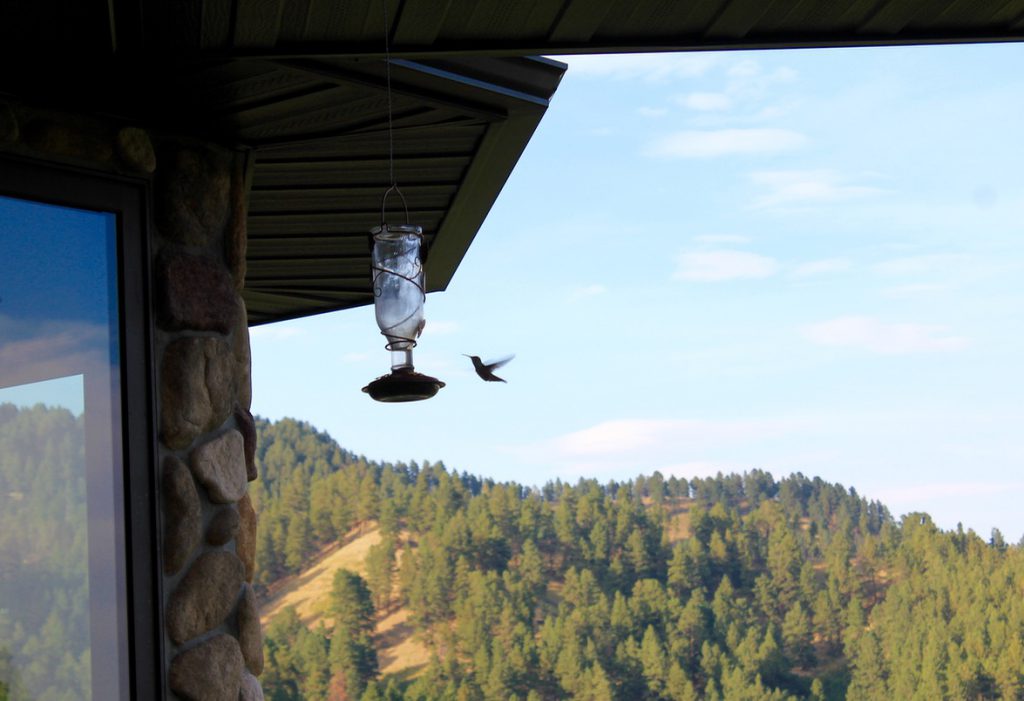 One last photo . . . !! 🙂
*hugs*
Save
Save
Save
Save
Save