You win some, you lose some: an afternoon hailstorm
It was a humid and overcast afternoon last week–it wasn't out of the ordinary in any way, really.  The kids and I were doing our usual late-afternoon stuff, preparing dinner, cleaning off the table, tidying up a bit.  Amalia was getting a cello practice in.  The laundry was on the line.  All my flats of seedlings were outside.  Timothy's pick-up truck was in the driveway, as was our Suburban.
Suddenly it started raining, big fat drops, lots and lots of them. Mack and I stopped what we were doing to gaze out the window for a moment. We love rain. Since last summer especially, we adore rain.
"I didn't know it was even supposed to rain today," said Mack.
"I think there was a 20% chance, is all," I remarked.  "We could use a little moisture, I guess."
As we stood and watched, the rain picked up until it was in the "deluge" category.  I caught my breath. I was feeling a little frightened.  A little "Where's the Ark?"-ish feeling.  Our mouths hung open as we backed away from the windows a bit.  I grabbed little Mack's hand.  The rain hit the roof and gushed out of the downspouts and overflowed from the gutters.  It was coming down too quickly now for the gutters and downspouts to handle it.
And then just as quickly, the rain changed to hail.  It took me just a moment to push my hanging mouth closed, and to rush out to get the vehicles into the garage. Timothy raced out to get his truck under cover.  The hailstones got larger and larger, and I abandoned the idea of getting my trays of seedlings in.  Soon the ground was completely white, and hailstones were still coming down, landing with hundreds of little thuds against the windows and the roof, and bouncing up like rubber balls when they hit the ground.
And then, just as soon as it all started, the hail tapered off and was done, and then the rain stopped, too. The whole thing took less than twenty minutes.
The kids and I stumbled out, now that it was safe, to look at the sight of all that hail, and to take stock of the damage.  It didn't really occur to me until I went outside, but I discovered that my garden was a wreck.  It's been some time since we've had a storm exactly like this one, and it was quite a surprising and destructive thing.
Furthermore, my parents who live in town (a little over a mile away) had a few hailstones and about a third of an inch of rain, while we had nearly an inch of rain out here.
Of course you know it's my policy never to complain about rain.  Never. 
But I've never said that I wouldn't  complain about hail.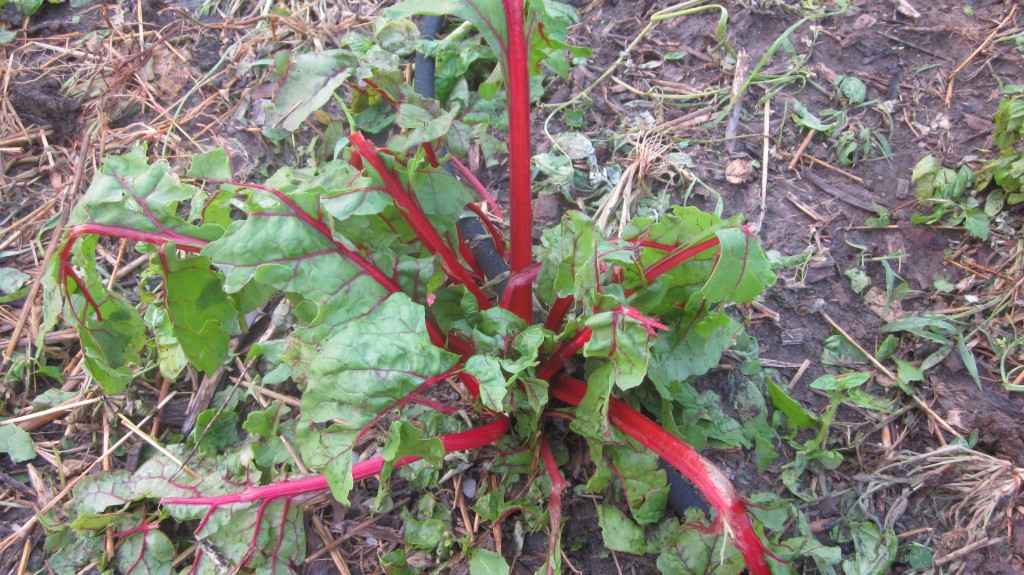 Oh, my poor Swiss chard! ("Bright Lights," by the way, is the variety.)
My ancestors, the settlers who took a great chance to move here to the Midwest and stake a claim of land, sight-unseen, were so brave.  I'm so thankful that this tough-it-out legacy is part of my heritage.  For me, a sudden hailstorm is a bit of a disappointment:  I was going to harvest kale, dill, and rhubarb to take to farmer's market the next day, and the hailstorm took care of that.  My garden was so battered and bruised that there was nothing I could have taken to market, not last week and possibly not this week, either, but I know that my garden will recover.
I'll throw the battered tomatoes to the chickens, but there are plenty of new blossoms setting on and there'll be new tomatoes to look forward to. My great-grandparents might have lost their year's harvest from such a storm, and might have had to subsist on much less for the winter.
You can still hear this stoic attitude among people who live in our area, who have grown up hearing it from their farming neighbors and family.
"Oh well, these things happen."
"It is what it is."
"You win some, you lose some."
"It'll come back."
It has been nearly a week now since that freak storm, and most of my garden plants are starting to rally.  New curly leaves are sprouting out of the crowns of the kale plants, and my rhubarb plants are beginning to perk up a bit, though nothing will heal those big broken leaves.  I've studied the tiny apples and young peaches, and they are certainly damaged, but I'm hopeful that they'll recover, too.
We're not losing sleep over it, in any case.  After all, "These things happen."