A Few Things: A New Baby, Heirlooms, Cloud Dungeon, Icelandic chicks
Hey there! I have just a few things to tell you and I've got to do it all in just a few minutes. Gosh. Wish me luck!
1. First! I am in St. Louis with Amalia and little Mack, staying in a fabulous hotel near the Arch at night (thank you, hotwire!), and during the day bringing laundry service, toddler-watching, baby-bouncing, and hot comfort food to Matthew and Rachel in their postpartum days. Rachel gave birth to their second child, Wesley Russell, and he is the most beautiful baby you can imagine. Natch. I am so happy to be here.

Wesley is soft and silky and cuddly and smart and sweet and just what you would expect from Matthew and Rachel. His brother Emmett is very happy to have us here, trailing his "craaazy Uncle Mack" from room to room, sitting for endless readings of "King Jack and the Dragon" with his beloved Auntie Amalia. He always, always has a small car clutched in his hand.
I watch these two young parents juggle the constant needs of two very little ones, 24 hours a day, and also keep up with everything else that is going on in their lives–work, laundry, bills, meals, family, et al–and I wonder how they do it without just collapsing in a heap from exhaustion, regularly and often. But then I remember that we did it–Bryan and I–and that we coped with a newborn six times, five of those times with ornery older children in the mix.
And I remember that we did it because we loved each child so much that there was just no question about how we would do it. It is an overwhelming, bewildering type of love that you have for your own children, isn't it? How utterly marvelous that God instills in parents that strong, crazy type of love . . . how else could we–selfish beings that we are–love a tiny needy being so, so much that we would give up everything in the world for him?
In truth, I'd give up my life for each one of my children, and that fills me with wonder, because I also know how selfish I am. Giving up sleep, or personal hygiene, hobbies, time, money, anything, really–there's no question about all that. Of course we do it.
And then I recall that the Author of Life, and the Inventor of Babies and goodness and beauty and sweetness planned it all this way: this love guarantees the perpetuation of us. And it makes our lives on earth so much richer. And of course He has intimate knowledge of what it's like to give up all for His children. So grateful.
2. I left behind my sweet Icelandic chicks for the week, but my very capable mother is caring for them, so I know that they'll probably be happier and better cared for when I get back than when I left. She'll probably knit each one of them a jaunty cap, or something, in my absence. Teach them to do the polka, perhaps, Mom?
 3. Also my heirloom tomatoes were just starting to bear, so I'll be anxious to see how they are when we get back. I planted an absurd amount of cherry tomatoes (just because) in every color and shape and I found a market for them, so that makes me happy. 🙂 I can't eat every one of them, after all, no matter how good they are.
Although I think maybe Emmett and I could, together. 🙂
I brought down two pints of them for Matthew and Rachel, and 2-year-old Emmett ate nearly every one in a 24-hour-period! I wish I would have brought more of them.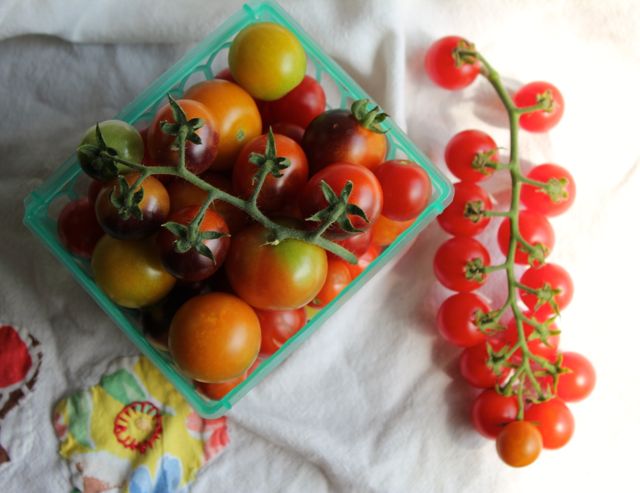 4. One more thing, if you'll indulge me in a bit more shameless promotion about my kids, and I know that I test your patience on this matter. Andrew has been working on an amazing family game for months, and he is nearly ready to release it to the public, and he's going to start a Kickstarter campaign (I believe this will happen next month) to raise the necessary funds to make it a reality. I'd love to see him succeed at getting this game produced! Andrew is a natural-born story teller and artist and has an imagination that I envy. You can see it all in this game.
We played the game, "DIY Cloud Dungeon" while Andrew and his family were home for the wedding, and it really is great fun, for the entire family.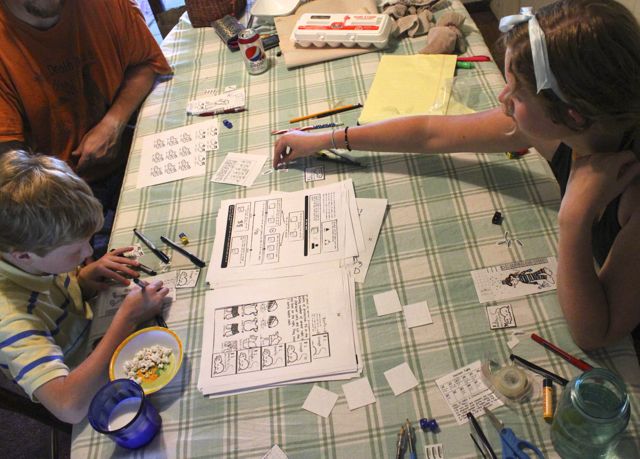 I can recommend it without hesitation!
What can you do to learn more? Click on the link here for more Cloud Dungeon information, and enter your email address, and you will be on the mailing list for further updates. When Andrew launches his Kickstarter campaign, you'll be able to participate! It's just that easy.
That's all for now, Gentle Reader. Thanks for hanging in there with me, and for checking back regularly. I'm loving this sweet time that I have with my grandsons, but when I get home, I'll be doing a lot of catching-up posts. Have a great week!
*hugs*