Bunches of reasons to grow Calendula, not least of which: delight!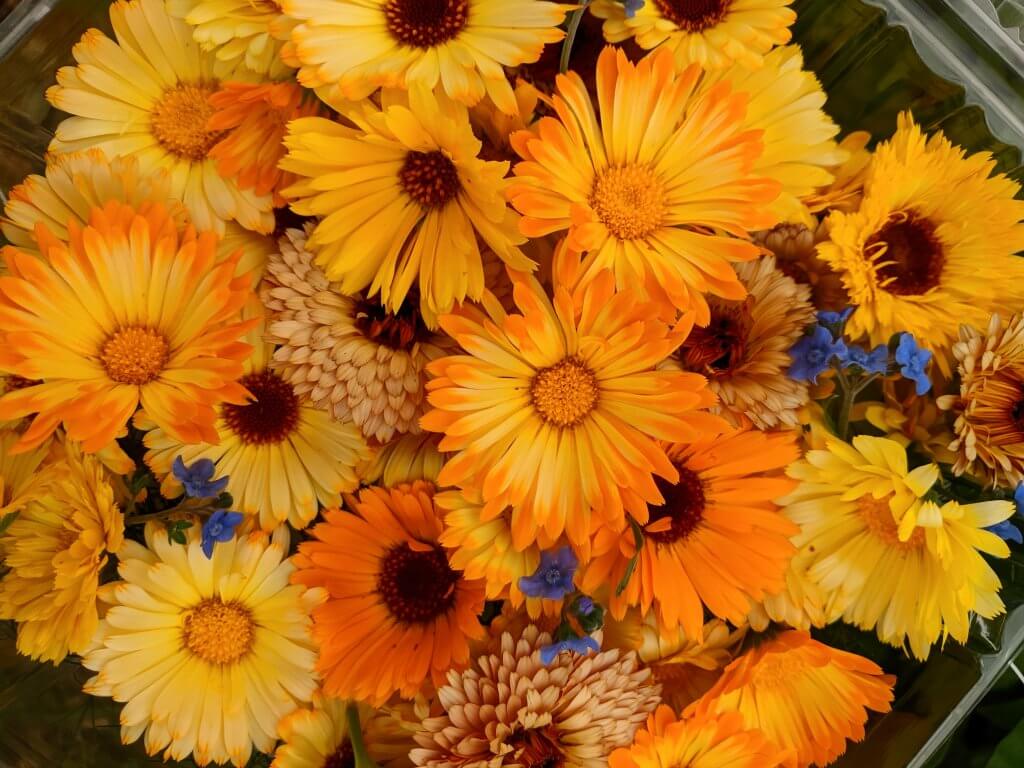 It started with 3.
There are–I tapped out early one recent morning–3 stellar reasons to grow Calendula in your garden, to wit:
They are lovely edible flowers, and pulling the petals and scattering them will elevate any salad or dessert.
They boast many medicinal uses, including the making of healing oils, creams and salves.
They are beautiful and enduring cut flowers (see below).
(I've had the following little bouquet on my island for a week. The sweet peas, actually, are beginning to fade but the Calendula looks just as pretty as the day I cut it. Take a gander. Sweet, eh?)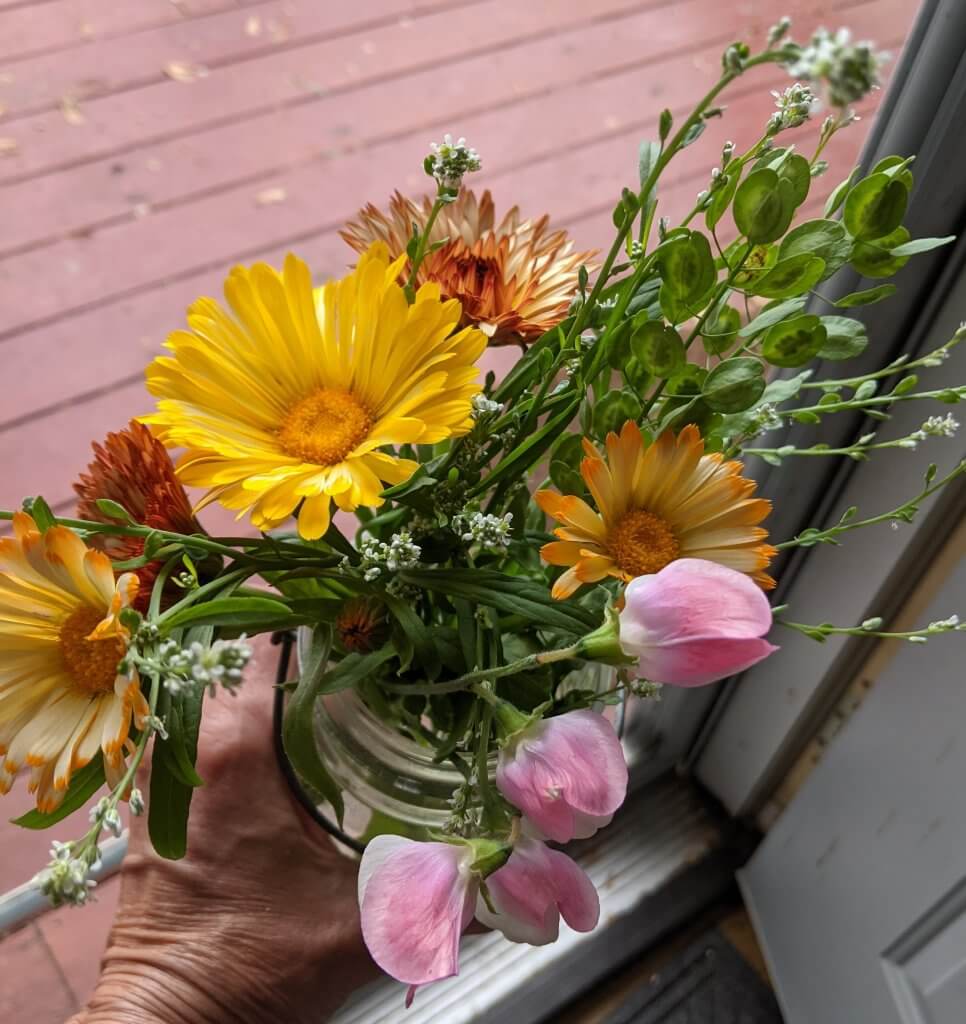 So. My list of three points for this blog post was complete. Yay. Three is a nice tidy number. It's just as many as are needed, many times. It holds up a milking stool well. It's the number of the Trinity, the number of blind mice that it takes to make a decent rhyme about them, and the proper number of Little Pigs for a decent story about pigs and wolf. An absolutely adequate number.
But then. Something happened. A shifty voice, almost too faint to hear, whispered in my ear: There's more. You know there are more reasons. You are holding back, in your bone-idle way. I don't like it. You can do better.
Sheesh. I huffed and sighed, but also cocked my head and listened, as the voice persisted:
What about beauty for beauty's sake? That's a good reason to grow this flower. Simply because they are beautiful. That ought to be included in your list. Surely.

They are super duperly easy to grow. I mean, a monkey could grow them. An infant. An amoeba. Heck. Now that's easy.
They seed so generously that you and all yours, forever and a day, will never ever have to purchase calendula seed ever again, if you just collect seeds through the growing season. Further: let them drop and you'll probably be picking calendula next year too, from the same spot, without your having to plant it. It happens all the time.
Okay, fine. 6 reasons to grow Calendula–I hear you, little bossy voice!–six!
Are ya happy?? Can I just write the blog post now, already?
The small, insistent voice wouldn't stop, however. It only paused, briefly, presumably to take a breath. Dang it. Turns out, it was just getting started. On it went! I began to tire of it, but I listened.
Hey. I'm a mother of six children. I know how to be patient. I know how to bear through irritations, as well.
Calendula bloom in the garden for months!–even longer if you actually care for them, and deadhead them occasionally. They are a long-season addition to any flower garden, outlasting many much fussier flowers.
These cheerful yellow flowers will attract aphids from other more valuable plants, so they are an excellent companion plant. Plant them around your roses! Your nasturtiums. Your tomatoes, peppers, and whatnot. Your cabbages, for goodness sake! The aphids–on their way to the plants that they desire so ardently–will be distracted by the merry yellow calendulas and will veer, detour, latch on to the yellowness and your more valuable plants will remain unaphided. (YES. I made that word up.)
Did I mention that the calendula blossoms taste slightly like saffron? Well, they do. So if you don't have the budget for saffron but you love it (guilty!) then grow Calendula. It's a great substitute!
Okay, 9 reasons are probably enough for anybody, don't you think? Are you gasping now with delight at the notion of such a valuable flower, in so many respects? Are you searching even now for that packet of Calendula seeds that you squirreled away at some point? Hang on. I hear something (sigh).
The petals can be used for dyeing!
Homemade soap can be prettified by calendula petals.
Calendula blossoms, dried, can be used in crafts.
Good grief! There are so many more reasons to grow calendula. I may have to make this Calendula Month on my blog.
And. If you don't have space or time to grow calendula yourself, you can find it at Mountain Rose Herbs, in petal form, oils, salve, powder, and many other products. They sell seeds, too.
Oh! Yes, and I did intend to share with you that Mountain Rose Herbs, for the rest of this month (June) has a fantastic sale going on for their herbal tinctures, which includes (yay!) Calendula extract. (affiliate link) What sets Mountain Rose Herbs' tinctures apart from others is that not only do they make all their extracts in-house, but almost all of them are made with fresh plant material. And if you grow herbs, as I do, you'll know how much more vibrant herbs are when they are fresh!
In an unusual nod to brevity (for me) I'm going to bring this post to a close, and will continue to elaborate on just one of these nine valuable aspects of calendula flowers–the medicinal aspect–in my next blog post.
Boom, baby. So I'd love it if you came back!
Drop your email address in the little box up to the right, underneath my face. You'll receive my next blog post, which will about my adventures in making Calendula oil, which is supposed to be so great for your skin and (though there is very little research on this, which is unfortunate!) is beneficial for
eczema
sunburn
poison ivy
wrinkles!
and more
So, do come back. And thanks for popping in!
*hugs*