Buttermilk Biscuits using cultured buttermilk: "better than cheesecake"?
I'm so excited about this post.
Not only do I have a lovely biscuit recipe to share with you today, I've also discovered a secret shortcut that makes it the simplest biscuit recipe ever. And I've got some thoughts to share, for a change (kidding). So, prepare yourself, gentle reader, for
thoughts
a secret shortcut
a recipe you'll want to memorize and make over and over again because it's so dang scrumptious!
We are loaded for bear this week!
Simple Wonders
Recently I've discovered the simple wonders that are buttermilk biscuits, made with my own homemade cultured buttermilk, and–folks!–they are superior to . . . well, lots of things.
Before we get to that, though . . . a bit about potluck dinners (the afore-mentioned thoughts), which have been uppermost on my mind lately. (This is connected to my buttermilk recipe, no worries of non-relevant rabbit trails happenin' on my watch, ha!)
We've been having a potluck dinner at our house on Sundays for some time now, after church.
Remember potlucks? I've missed them, as they have grown out of fashion in our church groups, except for special occasions. I can remember two churches we were a part of that had potluck dinners every Sunday. Not coincidentally, probably, I had closer relationships with the folks in those churches than in any others I've belonged to over the years.
There was so much sharing at church potlucks–of food, time, and lives. While we ladies busied ourselves in the kitchen, slathering whipped cream on fresh strawberry pies, slicing huge pans of brownies, finding serving spoons for the green bean casseroles and three-bean salads, and pulling hot biscuits out of the oven in the church kitchen (see how easily I got the biscuit connection in there), we also shared parenting quandaries, recipes, encouragement, and whatever was on our hearts. It was multi-tasking in the very best way.
Moreover, it was something we looked forward to all the livelong week.
The men kept a collective eye on the kids, who were whipped into a frenzy of excitement (the kids) (like whipped cream) over playing with their friends, combined with the sweet anticipation of being allowed to pick and choose from a smorgasbord of homemade dishes at the potluck. The men solved the world's problems–tidily–before lunch, which was handy indeed, as well.
Once the men had set up enough folding chairs and long gray tables, and the dishes were all presented in their glorious excess, one would bow his head while kids fidgeted and twisted, and intone the Longest Prayer Ever to be Intoned in the Entire Universe. Bar none. And then, at last, Hallelujah: somebody uttered "Amen," and an electric charge would run through the children. They would leap into action, grabbing plates, brushing past their mothers, and the meal would commence.
My own ornery little spuds, plates in hand–gripped with a weird kind of feverish joy–assembled fantastical combinations that never would have been possible–or even allowed!–at our home dinner table.
After all, dinner at home usually consisted of a main course, a side or two, something green (and mandated!) and possibly a cookie (if you were lucky) for dessert. Potluck dinner–on the other hand–was anything goes, and as long as you kept your squirrelly little body turned just-so, Mom was none the wiser that you were getting away with a plate filled with:
Fried chicken, tater tot casserole, jello "salad," a mountain of Connie's homemade pickles and two cinnamon rolls, or . . .
Macaroni and cheese, lasagna, potato chips (Ruffles!) with dip, garlic bread and two cupcakes. Make it three cupcakes (one in the pocket).
Pepperoni pizza, a skyscraper stack of brownies, one slab of rhubarb pie with whipped cream, and a big handful of Cheetos.
The combinations of favored foods on each plate was enough to make a parent laugh into her plate of Meatloaf, frog eye salad, mashed potatoes, French fries, fried chicken, and strawberry pie.
It was lovely. It was heaven.
What on earth is so dreadfully important–by the way–that we no longer have time for such fun, nourishing and relationship-building events? Another Walmart run? Another hour of work? The Sunday afternoon nap? In any case, I miss potlucks. We need to start a potluck revolution. Bring 'em back, say I!
Such a healthy obsession could save us all.
I find, in the community-starved life we are currently enduring–where even going to the grocery store these days is a lonely, discouraging experience–I look forward to our weekly potluck like a drowning person waits for the life buoy. I'm embarrassingly hungry for hugs, smiles, commiseration, and comfort. I desperately need the community that this potluck dinner provides.
This has been a very long year. 2020–the year–was the new decade. So. Long.
How are you doing, gentle reader? Is your cup being filled, somehow, every week? Do you have a pocket of community that keeps you from dwelling too hard on the sadder/harder aspects of life?
I think this is true: that each one of us has a deep sadness about something that has changed in our lives since last year. Maybe you've lost somebody dear to you. Possibly your job changed or was eliminated, or you no longer see somebody very special to you. Maybe there have been conflicts that have driven wedges between you and a friend or dear relation.
Maybe even all of the above. It has been that kind of a year.
When our son Andrew was a high school student, he started disappearing for hours every afternoon. Usually a quiet, introspective young man, he would just take off, away from the house, in one direction or another, on his gleaming orange bicycle. I didn't know where he went. But when he came back, coasting down the long driveway, he showed up happy, sweaty and exhausted.
When I asked him about it, he would admit that he just needed to get away for a bit. From home. From us. "I'm chafing, Mom," he said, gently. "I just need some time away." Away . . . from lovable us? Are you daft?
We are chafing right now. We all need some time away. From the masks, the social distancing, the mandates, the friction, from disturbing news events, from everything. My hubby–a marriage and family therapist–continues to see most of his patients via Zoom, as many haven't left their homes in over a year. All they want to talk about is masks, the shot, the virus, and disturbing world events. Confusion. Disappointment. Fear.
So I try very hard not to talk about the same topics with my exhausted husband when he gets home. It's hard not to want to make sense of it all through conversation, though. I'll admit it. I wake up at night and think about it all. I grieve over the relationships that have been hurt. Over many freedoms that we've lost, seemingly overnight. Over the grandchildren that I haven't seen in over a year. We won't get that time back.
There are signs of optimism out there, though. I hope the tide is turning where you are. I hope you're busy, happy, and making the best of things.
The Eternal Question
What does all this have to do with Buttermilk Biscuits made with your own cultured buttermilk?
Great question. (Breaking the rules of what is expected of me right now–even the rules of proper blog-writing–seems to be important to me right now.)
I made these buttermilk biscuits–using my own cultured buttermilk–a few weeks ago, for our potluck dinner. In a frenzy to get them into the oven quickly, quickly, as I knew some folks had to leave fairly soon after lunch, I patted them out and put them on cookie sheets in just a few minutes' time. Somehow I had a feeling that they–the biscuits–would be special . . .
I was right. They were special: flaky, buttery on the outsides and fluffy and tangy on the insides. I had also made a simple honey-butter spread that melted on those biscuits and shot them up into the "heavenly" realm.
I was pumped up with pleasure as I watched each person bite into a hot biscuit, as the eyebrows shot up and the smiles spread. Oh my. I wouldn't say it myself, but my friends say that I certainly do know how to make a delicious buttermilk biscuit, and the key is in using your own homemade cultured buttermilk (though you certainly may try this recipe with grocery store buttermilk and see what happens. My belief is that your biscuits will still be quite yummy.)
These biscuits melt in your mouth and are a perfect vehicle for jam, peanut butter, butter, or the honey butter I mentioned.
And these days, we need nothing less than more especially wonderful things in our lives. Do you concur?
There was an exceptionally delicious cheesecake at potluck that day, and one dear young lady texted me on her way home with this message: "Those biscuits were even better than the cheesecake."
I think she was just being sweet, but it made me smile, just the same.
And the secret?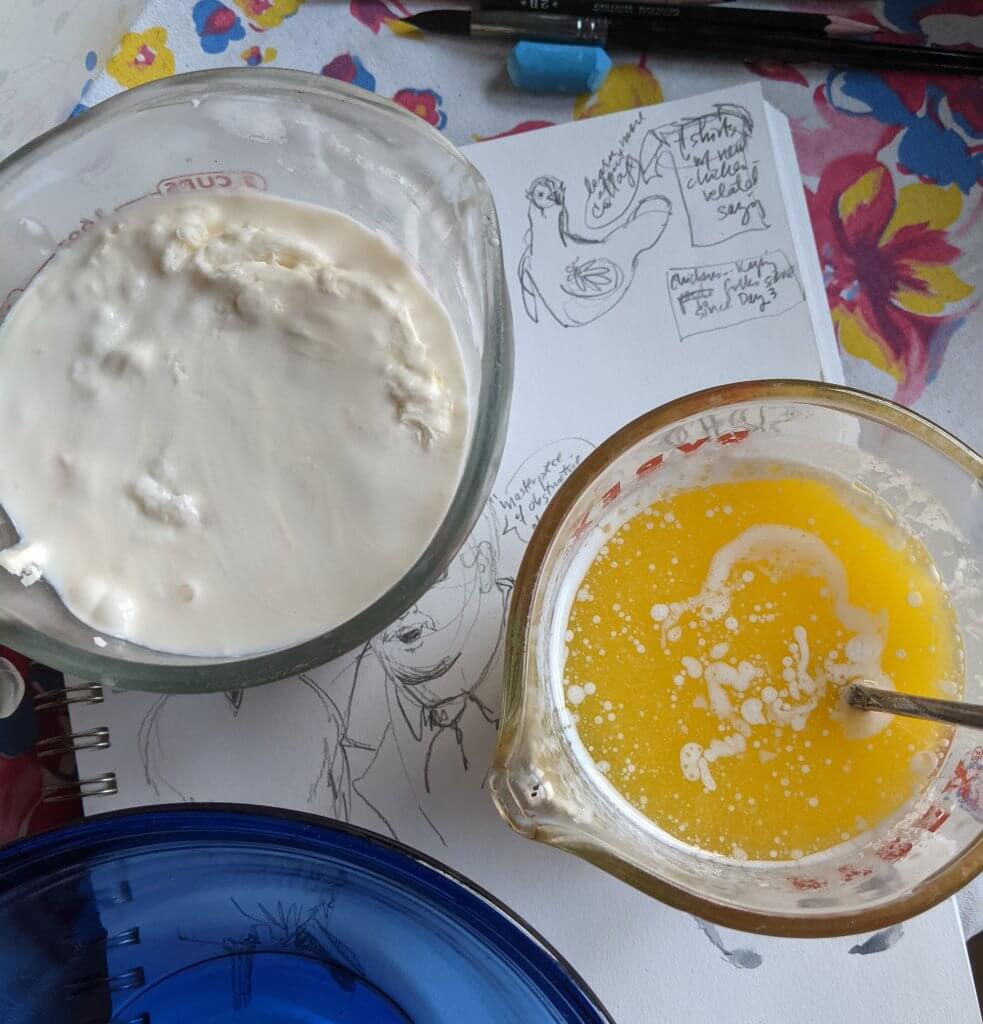 Oh, thank you for reminding me.
If you make biscuits fairly often, you'll know that there's a tedious step inwhich you must chop the cold butter into the dry ingredients. It always feels like it takes too long, and one is tempted (speaking from experience) to be careless, which results in dough that it not mixed properly, and disappointing results.
Enter . . . the secret which makes the difference. Not only does this secret make mixing up the biscuits so much faster and easier, you never are tempted to skip this step = perfect results every time
It's a threefold secret, but it's super super simple:
When you start to pull out your ingredients for the biscuits, measure out your buttermilk first thing, and put it into the freezer. It'll take you around ten minutes to do the next couple of steps, during which the buttermilk will get very cold and just begin to get icy.
You then measure out your butter and microwave it until it's nicely melted.
When you mix the butter and icy cold buttermilk together, the butter freezes up in little shards that look almost as if you just spent the appropriate amount of time (i.e. lots) mixing the cold butter into the dough. But you didn't. You did something much easier and quicker instead. (cymbal crash!)
I read about this shortcut technique in this blog and the writer gave the credit to the fine folks at Cook's Illustrated but I couldn't find that recipe since there's a paywall (drat!). So you'll just have to take their word for it.
Ready to make some biscuits?
Here's the recipe (especially for Dave and Kay and Hannah and Anne and Lukie … but for all the rest of you, too.)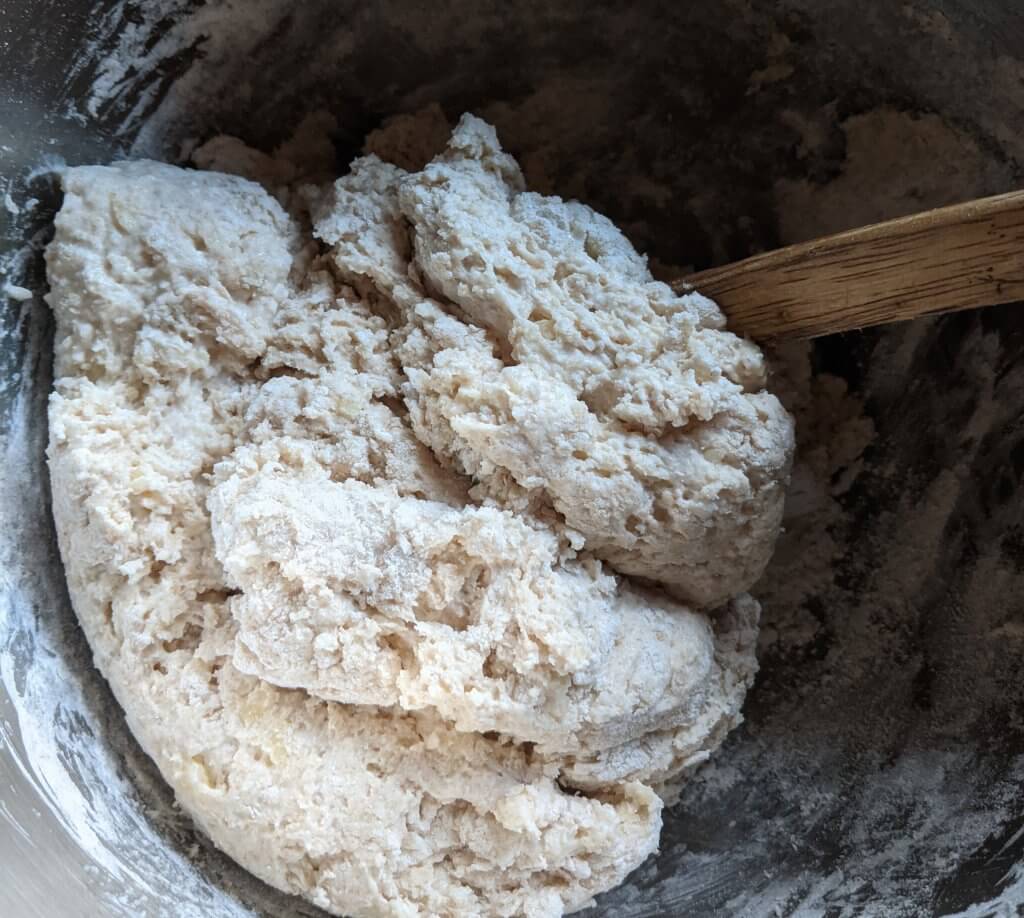 Buttermilk Biscuits using homemade cultured buttermilk: "better than cheesecake"??
Author:
Prep time:
Cook time:
Total time:
These biscuits, though they can be made with commercial buttermilk, are lovely made with cultured buttermilk, tangy, buttery, and mouth-wateringly delicious. They only take a few minutes to mix up, and a secret threefold step cuts your time in half.
Ingredients
2 cups buttermilk
18 tablespoons unsalted butter, divided
2 cups all purpose flour (plus more for the counter)
2 cups white whole wheat flour
2 tablespoons sugar
1 teaspoon baking soda
4 teaspoons baking powder
1 teaspoon table salt
Instructions
Preheat the oven to 450 degrees, and with a flourish, measure your buttermilk and place it into the freezer. Take a little curtsy. You're on the way to Biscuit Magic.
Place 16 Tb of butter into the microwave, and melt (all microwaves being not the same, you'll have to judge how long it takes). When it's melted, set aside to cool a bit.
Mix all the dry ingredients together with a wooden spoon.
Pull the buttermilk out of the freezer.
Mix buttermilk and butter together. Smile at the ease and cleverness of this step.
Mix the buttermilk/butter mixture together with the dry ingredients, until just mixed. Don't overmix!
If the dough seems too dry (i.e. there's a lot of flour in the bottom of your bowl) stir in a little more buttermilk.
Turn the dough onto a lightly floured surface and knead 4 or 5 times, briefly.
Gently PAT the dough out to 3/4-inch thickness. (Patting instead of rolling will result in lighter biscuits.)
Use a round cutter to cut out your biscuits, and place on a cookie sheet. If you want biscuits with soft edges (and a higher rise), place the rounds touching each other. If you want biscuits with crusty sides, place the rounds about 1 inch apart.
Bake 10-12 minutes or until golden brown.
Remove from sheet onto cooling racks. Best eaten hot with butter melting into the sweet crumbliness!
Now, dear gentle reader, if you appreciate this post, you have only two things you must do, in payment (smile).
Share with your friends and relations! All good things must be shared.
Please share your email address with me in the box underneath my face, in the upper right. And if you do that, you'll get polite notifications every time I post something new, including . . . (but not limited to!) . . .
The amazing cheesecake recipe which uses only three ingredients, and for which there is one important secret that I'm going to share with you and . . .
The easy peasey recipe for the honey-butter spread which you simply must make when you make these biscuits. Or any other breadstuffs, frankly.
Take care, you, and thanks again for popping in.
*hugs*
Amy