Day of Panic Sauteed Cherry Tomatoes in Butter & Herbs
This is truly a Sad State of Affairs*, in my humble opinion: when certain folks I know are so busy growing produce to sell that they don't have time to prepare and eat it themselves (and . . no, snacking on it during harvest doesn't count!!).
Don't you agree?
I was musing on this very fact on the recent Day of Panic, when the weatherman (bless his changeable heart!) waffled about that night's forecast, but not until around 3:30 in the afternoon.
I hate it when that happens.
The weather forecast (and this time of year, I study those suckers every day!) for several days, for the night in question, was this:
For Tuesday night, expect a low of 39, with clear conditions. Great for star-gazing!
The weatherman assured us that this was the way it was going to be. Many, many times.
But then! This is what I heard through my MP3 earbuds, as I went about my outdoors chores in an–until then!–casual manner. Without so much as a by-your-leave:
Tonight's freeze warning with a low of 29 degrees, even lower in some areas . . .
What?!? 29 degrees . . . freeze warning . . . whaaa??? My casual outdoors work took on a life-or-death mien. I looked around wildly–I had approximately three hours before sundown. What did I have time to save?
I went into action. The first plants I grabbed were all the tender herbs and lavenders that I had growing in pots in the garden outside the hoop house. Gifts from my marvelous mentor, I had been fussing over them along all summer, and they would be extremely difficult to replace. Of course I couldn't get my little hauling tractor to start (Melville freezes up if he senses stress, alas) so I hoofed it, making trip after trip from the garden to the house with my little yellow wagon.
However! Ever since I got a Fitbit knockoff, I haven't minded these kinds of days. (All those steps look so good in my stats!)
I lugged approximately two hundred million kajillion big potted plants from my hoop house, across the draw (we have a draw) to the house and into the basement, where I will hopefully keep them alive through the winter. Also, I picked and gathered approximately three hundred million tomatoes and peppers and lugged them to the house, too.
I was not alone. No, I wasn't, so don't pity me. I had three puppies and Scout, regularly leaping up joyfully at me, getting tangled between my legs, romping joyfully beside me. Take note: my puppies don't wear fitbit-knockoffs, and yet they are so happy to be out and about and moving, moving, moving! We can learn a great deal from the humble beasts in our lives, can we not?
For that matter, I didn't call in help from Mack, as he was working on his schoolwork, and I reckoned I had time to get it done myself. And again: only one little yellow wagon.
When Mack had finished with his school work and his piano practice and his all-important wool-gathering, I did call him out, but not until then.
He does this a lot. Woolgathering. I don't mind it. I would love to know what goes through his handsome little head, though. He is creating something important in there, I know. He finishes his chores, and his schoolwork, and then I will see him outside, usually with a couple of dogs and a cat or two, just wandering, sometimes walking precariously across the woodpiles, talking to his critters and maybe also to himself. Woolgathering.
I do think that's a word that is not used enough these days, don't you? To refresh your memory (and mine!):
wool-gathering
noun
indulgence in aimless thought or dreamy imagining; absentmindedness.

"he wanted to be free to indulge his woolgathering"

. . . daydreaming, reverie, dreaming, musing, abstraction, preoccupation
Isn't that a useful word? And a useful practice, too, in these days. I reckon a lot of creative projects get started during woolgathering projects. The Brooklyn Bridge probably got started this way, in John Augustus Roebling's imagination. I love the story of that bridge! In fact, I'm planning to read a great-looking book about the building of that bridge very soon.
Back to my sad tale.

So . . . the hauling and the sorting and the panic-driven socking away of plants couldn't stop. I could not pause for a moment, lest I not make it before the temperature dropped to plant-freezing levels. And as I worked, I got hungrier and hungrier. I could have run into the kitchen to grab an apple and a chunk of cheese, or a piece of toast with peanut butter (my go-to snacks) but I didn't want anything like that. I really wanted something really tasty, and nourishing, and starchy, and stick-to-your-ribsy.
I think I mentioned that one of my must-do chores was to pick tomatoes and peppers. Lest, of course, they freeze and whatnot. I was snacking on them, too, but I was also cooking them. In my mind, that is. I was developing the best dinner I could conjure up, yet one that I could make in less than thirty minutes. And it all centered around those beautiful and tasty cherry tomatoes.
Did you know this: when you sauté cherry tomatoes, they become simmering little orbs of intense, delicious flavor? Well, they do. Make no mistake: I love cherry tomatoes tossed with gay abandonment on top of salads. Heck, I love cherry tomatoes when they are the salad, themselves. But actually roasting or sautéing cherry tomatoes? Best. Thing. EVER.
And I knew that, though I hadn't taken the time to sauté cherry tomatoes for a long, long time.
But anyway. That day. The day of Reckoning for my plants. It was incredible, the sauteed cherry tomato meal that I dreamed up in my hungry head, and as soon as the sun had dipped below the horizon, and as soon as I had as many plants as possible into the house, I went to work.
Garlic simmering in butter. Some herbs. Lots of cherry tomatoes. Pasta. A silky, simple sauce. Oh yes. Maybe a few peppers tossed in (because they deserve a bit of attention, too!). The recipe that I developed that hungry day was loosely based on a recipe that I had read in Bon Appetit magazine. Of course it was very quick to cook up, taking not much more time than it takes to boil a big potful of spaghetti noodles.
And.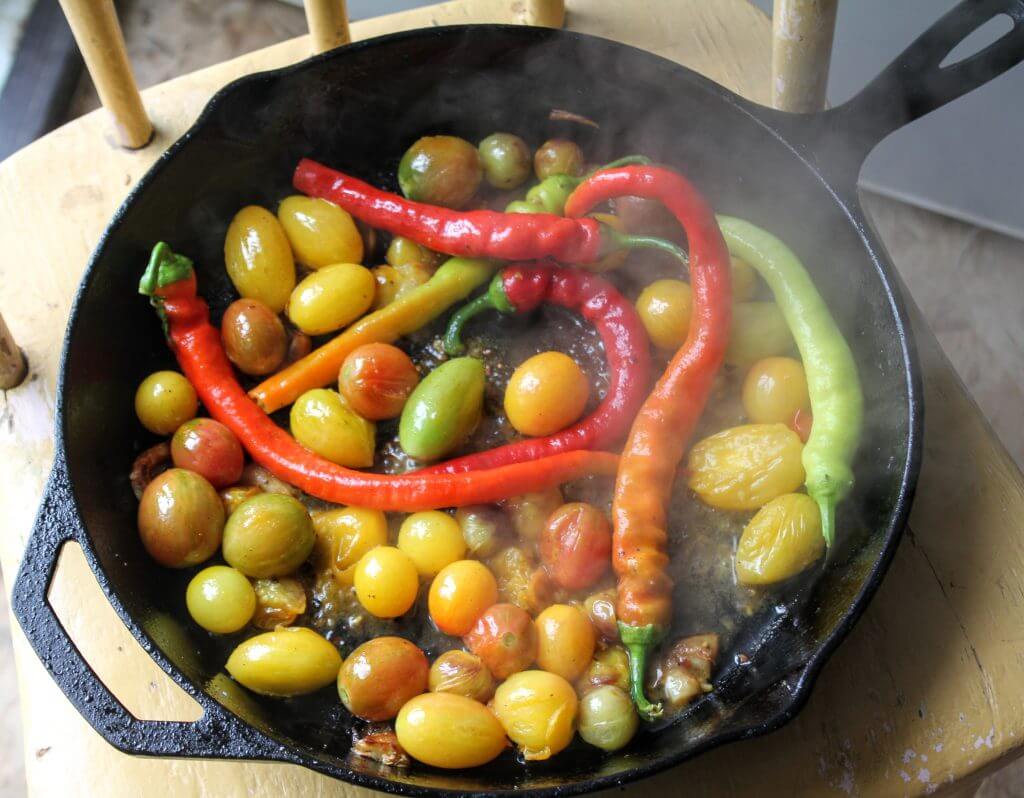 It did not–not even for a moment!–disappoint. It was everything I wanted and needed it to be. It was garlicky, saucy, just a little spicy, and total yum.
I ate a small mountain of it that evening. It was so delicious. I photographed it. And. I enjoyed it so much that I made it two more times that week. No kidding. Once more for Mack and me ("this is just so good!" he said) and once for the girls when they came over for an evening.
And here it is. I'm sharing it with you, as I aspire to share good things from my life. So, gentle reader. Gather up some cherry tomatoes out of your own tomato patch, or just buy a pint or two from the market or grocery store. Pull out a package of pasta. Boom.
Time's a-wastin'!
Day of Panic Sauteed Cherry Tomatoes in Butter and Herbs
Recipe Type
:
easy veggie and pasta meal
Author:
Prep time:
Cook time:
Total time:
Butter, herbs, cherry tomatoes, garlic, and heat: voila! Deliciousness you won't even believe! Add a potful of hot pasta or rice and you've got a meal!
Ingredients
Stick of butter (you won't use all of it. Maybe you will.)
1 lb of spaghetti, cooked al dente, cooking water reserved!
2 pints of cherry tomatoes, washed and stemmed
Sweet frying peppers, or strips of sweet bell peppers (optional)
3 cloves of garlic, smashed into submission
flat parsley, big handful, chopped
salt and pepper, freshly ground
red pepper flakes, just a sprinkle
parmesan cheese, as much as you like
toasted baguette slices or English muffins
Instructions
POUR yourself a cup of hot tea, or a small glass of wine, to enjoy while you're cooking. (Julia did it. So do I! So, gentle cook, can you.)
BRING a large pot of water, salted, to a boil and add your spaghetti noodles*.
TOAST your baguette slices or English muffins, and tear into pieces.
DUMP your pound of spaghetti into the big pot of salted water, and cook to al dente, according to package directions.
DIP out a cup of the hot pasta water and reserve, and have a spaghetti tongs at the ready.
SLAP 3 to 4 Tb of butter into a heavy skillet, and melt over medium heat (the butter, not the skillet). Add smashed garlic cloves, and cook until sizzling and soft (BUT NOT BLACK!!) (It's very hard for me–always in a hurry–not to burn the garlic. But that doesn't mean you have to do it, too!).
DUMP (carefully, so they don't splatter!) the cherry tomatoes and the (optional) peppers into the hot skillet, and do a happy dance. You're almost there! Stir the tomatoes around leisurely, while you enjoy your glass of wine. Call the kids to set the table. Only a few more minutes.
When the tomatoes are very hot, softened, and partially browned, smash some of them with your wooden spoon. Add another Tb or two of butter, if the skillet is getting dry. While the butter is melting, pour in a cup of the hot reserved pasta water, and stir vigorously! That melting butter will emulsify with the hot pasta water and the tomato juices and make a lovely, simple, silky sauce that will glom all over your noodles. Like magic. Truly.
Use your tongs to dip the hot cooked spaghetti into the skillet full of sauce, and stir until the sauce is coating the noodles.
SPRINKLE with parsley, parmesan cheese, and hot pepper flakes. Also toss in the crumbled toast and give a quick stir.
Dinner is served!
*I used spaghetti noodles because that's what I had. Any of your favorite noodles can be used, and rice is a valid option, as well!
What do you think? Do you have friends who might enjoy this post and recipe, too? Then could I ask you a favor? Share this post with them. Sharing is saying THANKS! to your humble neighborhood blogger. Oh, I do love comments, too. 🙂
*hugs*