Don't miss the boat on Mason Jar Salads!
Amalia and I started making salads in mason jars a few months ago, determined to a. eat more salads! and b. to have quick lunches ready to grab, on days that we were too busy for anything but a quickly-grabbed slice of bread and cheese, say. Or a quickly-snarfed boiled egg. Or an apple with peanut butter. Or a handful of spaghetti.
Which is to say, most days. (And the handful of spaghetti was no joke, sadly.)
Just yesterday, at dinnertime, Amalia turned to me and asked, curiously, "What did we have for lunch, Mom?"
me: *blank stare*
me, again: "I think we skipped lunch!" Faltering. "Again! (afterthought) I think I ate an apple?"
Amalia: "I had a handful of nuts."
Mack: (moan) "No luuuuunch? No wonder I'm so grumpy hungry!"
Of course had we had a nice supply of mason jar salads in the 'fridge, we would have made the time to sit down, dump those babies into big bowls, and we would have filled up on leafy greens. And crunchy veg. And some protein–chicken chunks or boiled eggs, say. And there would have been no self-pity later in the day, about our missing lunch that day.
Possibly we might have avoided the late-afternoon meltdown. My late-afternoon meltdown. 🙁
You know those days when you wake up and you think "I feel like cleaning house today!" and you get into a mad cleaning frenzy and clean for hours upon hours, and just can't stop—haha! Just joking about that–that never happens–all kidding aside–when I'm out gardening, or mowing, or possibly on a bike ride with little Mack and I come home and we are both starving I'll tell you what–having something so good and fresh and easy to grab as one of these jarred salads is such a blessing.
Tip: The wide-mouthed quart jars are the best for these. And I love, love, love these plastic caps:
Mason jar salads–made up in quantity, and then socked into the 'fridge–can change your life, no kidding. As much, possibly, as cleaning your house can—but probably more. Much, much more.
(I wouldn't know–cough.)
Do you know, for example, what the #1 dietary recommendation by the Group o' Better Eating and Nutritional Awareness* is (that would be the *Go'BEANA, just kidding, I just made that up, also the following): that we need to eat more fresh veg, for better health and well-being. And happiness.

But, we do. Gosh, Gentle Reader, during the growing garden season it's a no-brainer: it's easy to eat more fresh veg then, when the kids and I are out daily pulling weeds and harvesting. We just bring a load of goodness into the house with us at lunchtime, make salad out of it, and call it good.
I won't insult your intelligence by telling you why eating more salads is a good thing.
Okay, never mind, I will remind you of why eating more salads is so good for you, but in bullet points because: la-de-da, my blog, my rules, okay? 😉
lotsa fiber, baby!
micronutrients can prevent disease!
vitamins, nutrients, minerals, et al!
antioxidants!
a big salad crowds out the Pop-tarts/Crunch'n'Munch/Snickers cravings, which is a good thing
it makes your cheeks rosy (that's what my Mom always told us and I still believe it)
I hadn't written about our new mason jar salad habit yet, because I figured everybody and their dog already was making them, until . . . until one night when Amalia whipped out jarred salads for supper (we had just enough left to go around, and no energy at the end of the day, go figure, to make a good supper, so . . . ).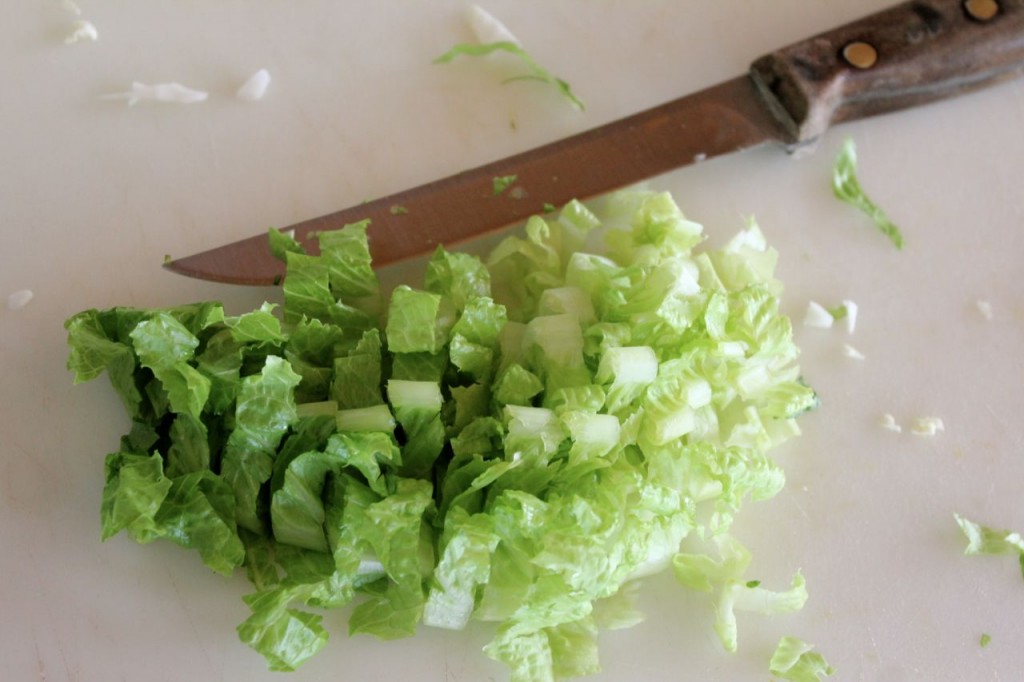 And that's when Timothy walked in. "Do I get one of these?" he asked, holding up a beautiful quart jar full of layers of freshness, cleverness, and goodness.
"Absolutely. It's what's for dinner, bro," I said, slicing the last loaf of bread in the house, and pulling out butter to soften. "Salad–bread and butter–help yourself!"
"I'm surprised you haven't written about these on your blog!" he mused, admiring his jar. "They are really cool."
So that cinched it. Everybody and their dog had not heard of jarred salads, after all, because here, standing in my kitchen, was a good-looking young man who knows of the interwebs and actually had never heard of jarred salads.
Boom, baby.
Ergo. To wit. And consequently.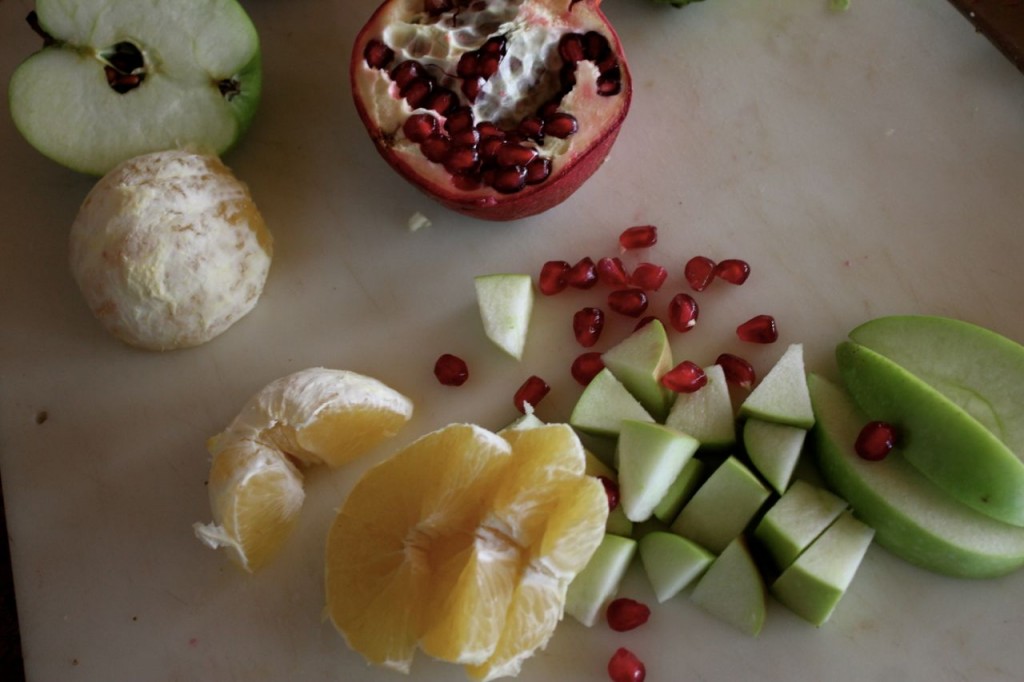 Now, Gentle Reader, I'm not going to insult your intelligence by listing a recipe or a step-by-step tutorial about how to make a salad in a mason jar. Every blogger I know of and their proverbial dog has already done this.
But I will tell you how we make our mason jar salads: in bullet points because–it's that kind of day.
Tip: You can use any sort of jar, but we prefer the wide-mouth quart mason jars.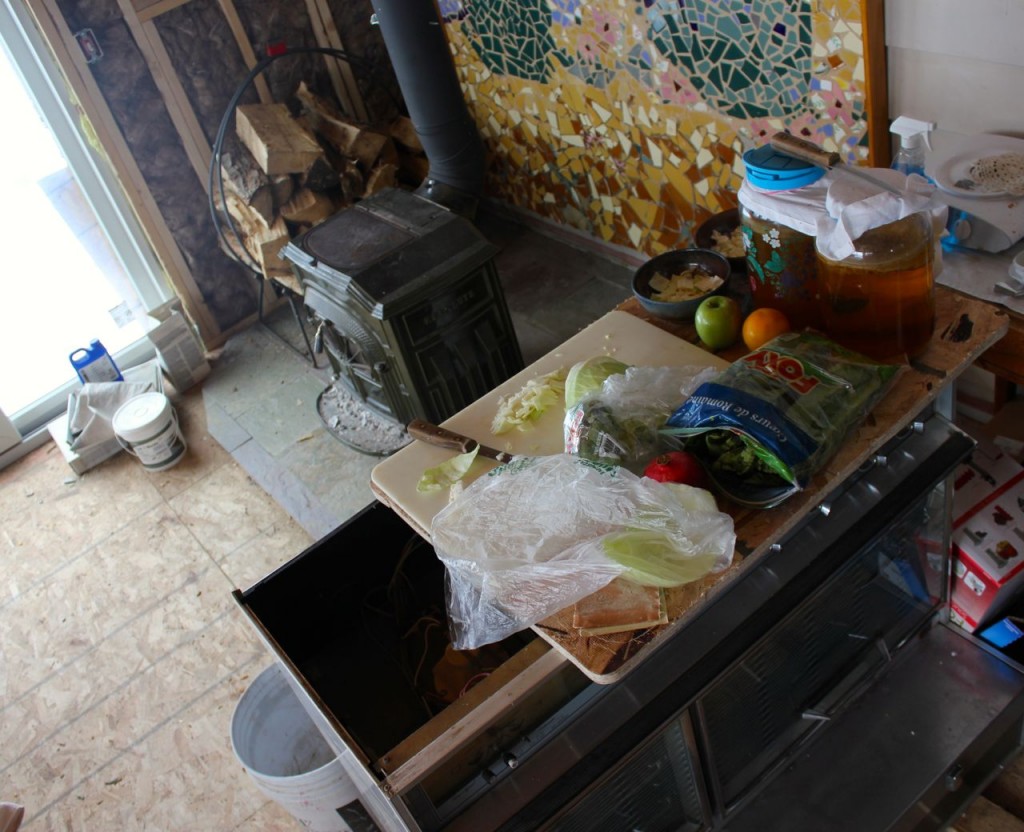 First, we drag everything out of the 'fridge that looks good to us—fruit, veg, leftover meat, cheese, etc.
Next we set up a chopping station: with sharp knives, cutting boards, paring knives, and whatnot.
Also while we're already in there, deep in the bowels of Steve (our 'fridge), we pull out our favorite salad dressings (or we make up some fresh, which is always better, natch').
We look around rahther grumpily at anybody else in the kitchen, so we'll be left alone. 🙂 Possibly a pointed comment is also apt. Like: "I could use some help here." That clears them all out, pronto.
We put on some good music. Good, loud music that nobody else is particularly fond of. Opera is always good.
https://www.youtube.com/watch?v=D_A1cwTsBmc
Then, we proceed to chop and layer and mix and whatnot. When we are finished, we have 10 or 12 quarts (depending on how much room is available in Steve, our refrigerator, which isn't usually that much) of salad. It lasts for days in the 'fridge: we usually eat them all by the end of 4 or 5 days, actually.
Tip: Put a puddle of your favorite salad dressing in the very bottom of the jar, and then layer your stoutest veggies on top: think cherry tomatoes, carrot slices, broccoli bits: something that won't soak up the dressing.
There are so many variations on this theme, but I won't insult your intelligence by pointing them all out. You know what your favorite salads are, right? Anything you eat as a salad can be socked into a mason jar in layers, and refrigerated for later. Okay, okay, if you insist, here are a few ideas to get your creative juices flowing:
Cobb salad (yum, blue cheese and avocado!)
Caesar salad (put the croutons on when you actually eat the salad, lest they become sog-o-rama)
Chef's salad (for the meat and cheese lover!)
Taco salad (again, the chips must be kept separate)
Fruit salad (with coconut, toasted nuts, and raisins!)
et al!
Use your imagination!
Tip: Give your mason jar salad a good shaking before you dump it out into a bowl. Or, shake it like crazy and then just eat it out of the jar. It's a free country, man. At least where eating salads is concerned.
There ya go, Gentle Reader. A bit of advice: make some of these today. You'll be glad you did! Then: don't forget to eat them!
Tip: dried cranberries and raisins and seeds and nuts never go amiss.
*hugs*