Photos from Show Week: "Say Uncle, Auntie Sylvia . . . " by the numbers
Our fourteenth annual melodrama, "Say Uncle, Auntie Sylvia . . . or Trapped in a House of Fiends!" based on the script by Tim Kelly, is now one for the books. Our group of thespians, twenty in number, performed the show four times over the weekend.
We were delighted with how it turned out. The kids performed well to two sold-out audiences, and two nearly sold-out. Here are a few photos and a few numbers from our drama year, for those of you who are curious about such things. 🙂
ONE
The number of trips the kids and I made to the super little drama shop in Lincoln, The Fringe and Tassel. Kinda disappointed about this one. It's a fun place to poke around and the folks there are interested and helpful. And interesting. (Next year, Amalia, more than one trip will be warranted, I'm sure!)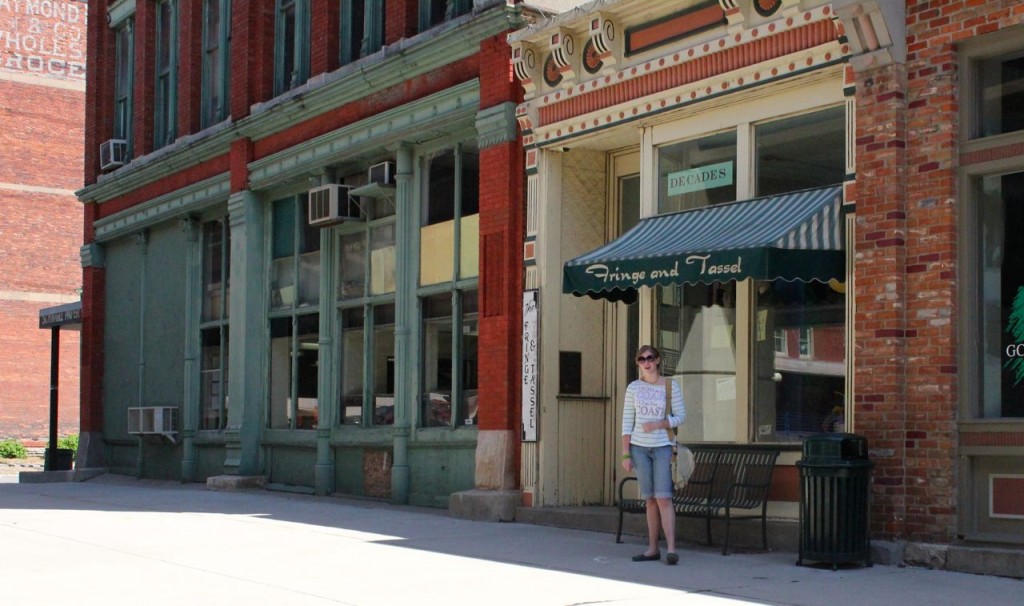 TWO
The number of audition nights we held. We could have used more, but more auditions would have probably served to have made us even–more–confused. "Too many talented kids!" Bryan and I cried into the sparkling night sky, after the second night of auditions.
Well, I did. I think Bryan just waited quietly for me in the car, studying his watch pointedly. (Sorry, honey, I'll be right there, as soon as I'm finished wailing into the night  . . . )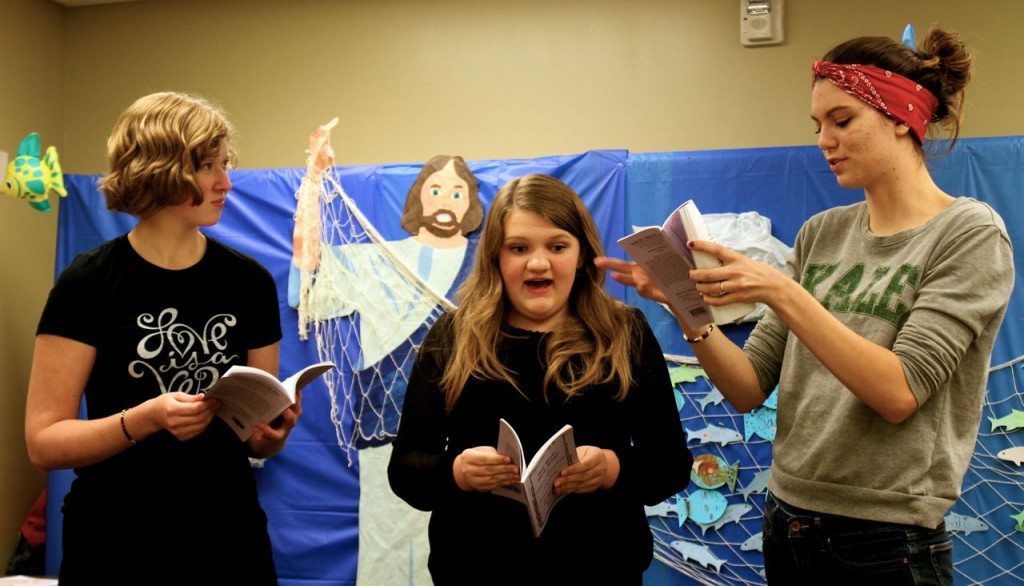 THREE
The number of olio songs that we taught the kids. I taught the girls "Death is Just Around the Corner" and a mixed group "My Mother Had No Girl to Do the Dishes," and Bryan taught the boys "I Want A Girl" (not as sketchy as it sounds).
FOUR
The cans of paint that we bought this year. This is a healthy change! Usually we'll buy a dozen or more, but we have quite a stash now of cans of leftover paint, and usually have to just buy the colors that we use up every year: white, black, gray, brown. PLUS most of the set we assembled out of (gulp) junk  treasures from our shed and attic: trunks, old suitcases, crates, and old wooden bins. We did very little painting this year.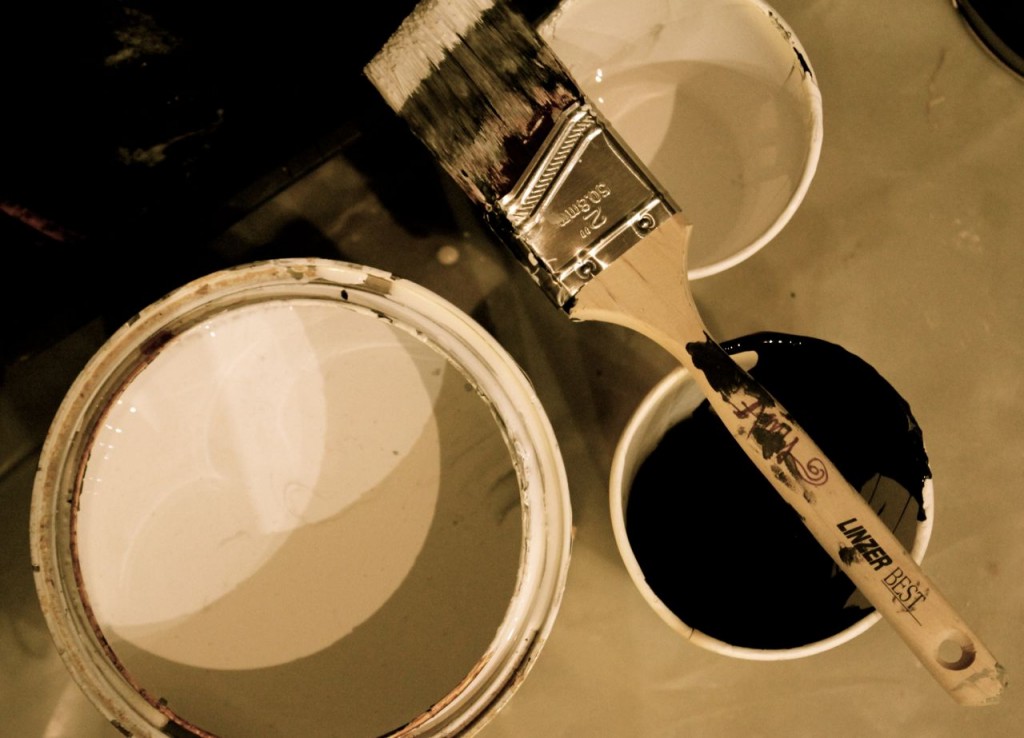 FIVE
The number of times we made pancakes for dinner, during our rehearsal run. Pancakes played an important part in this play, as the villainess harbored an unfortunate and ill-fated obsession, er, addiction, enthusiastic regard for pancakes.
SIX
The number of parts I added to the play. We started with only fourteen speaking parts, but we had 20 kiddos who wanted to be in the play, so I added six parts. I cautioned the kids at auditions that the "extras" wouldn't have a lot of lines, but would have some fun stage time, and of course would participate in the olios and all the fun.
Also SIX is the number of seniors that we had in this play. These kids will go on to college and other plans next year, and WE WILL MISS THEM!
SEVEN
The number of hours of our first work day over at the theatre. Also, the approximate temperature of the theatre when we first entered it every day. The theatre management has the same type of tightwaddery ideas, I think, about not spending the money to heat unused rooms as I do, so I didn't mind the blue lips and the numb toes a bit. Well. Not too much.
EIGHT
The number of rehearsals where we had somebody read Milly's part, or Ginny's part, or Maudie's part, or somebody else's part. Funny thing is: nobody ever minds grabbing a script and reading a part, even if it's not a part they'd ever (in a million years) play.
Ah, theatre kids (shaking my head): wouldn't change a thing about them.
NINE
The number of folks who helped with crew duties: Matt and Bryan did lights, Mack and Timothy did Foley sound (matching live sound effects with the action of the show, as viewed from backstage–specifically through the fireplace), Bethany was the stage manager and taught choreography, Abigail and Daniel and Jason did filming, Joel and Abigail took photos.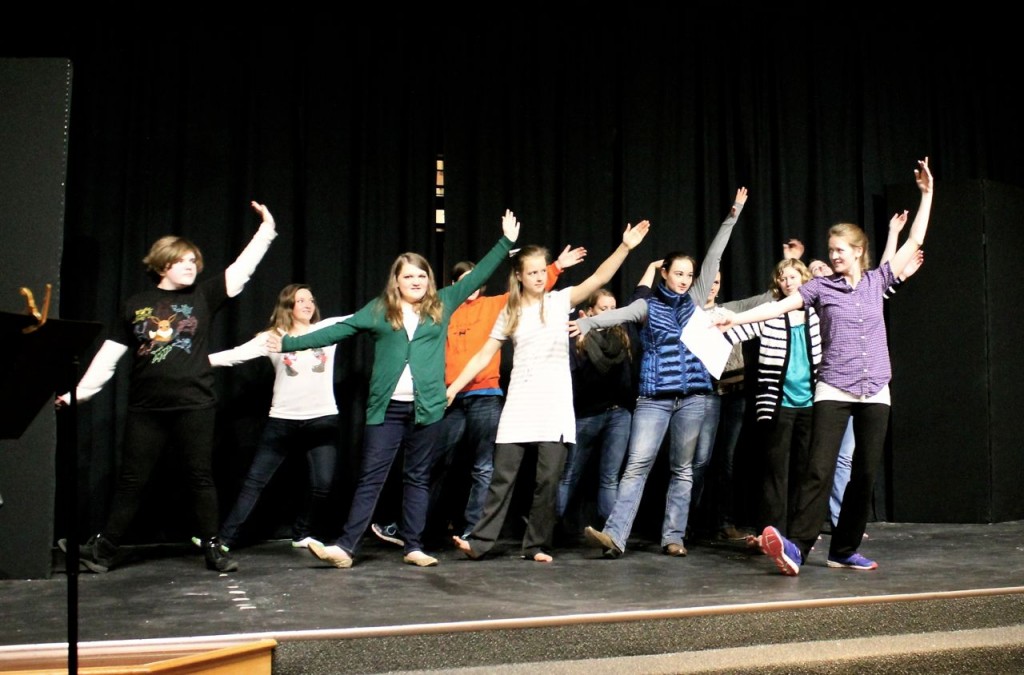 TEN
The number of fingernails I bit off, pretty regularly, during rehearsals. It's a lovely thing to work with these excellent young folks, but that doesn't mean it's always a proverbial piece of cake. Not complaining! Just saying.

 ELEVEN
Pieces of lath that Timothy busted up to make the lath-sticking-out-of-the-walls effect. We wanted our Gothic mansion to be as run-down and trashy as we could possibly make it. I really liked the way this turned out. Timothy dubbed himself the lathmaster.

Here's another shot of Timothy's lathwork:
TWELVE
The number of tulips that one of our dramamamas gave us on Opening Night. Fresh flowers in January = the perfect gift.

THIRTEEN
The number of times we changed the scene pictured below, before we were happy with it.
Flexibility, folks!!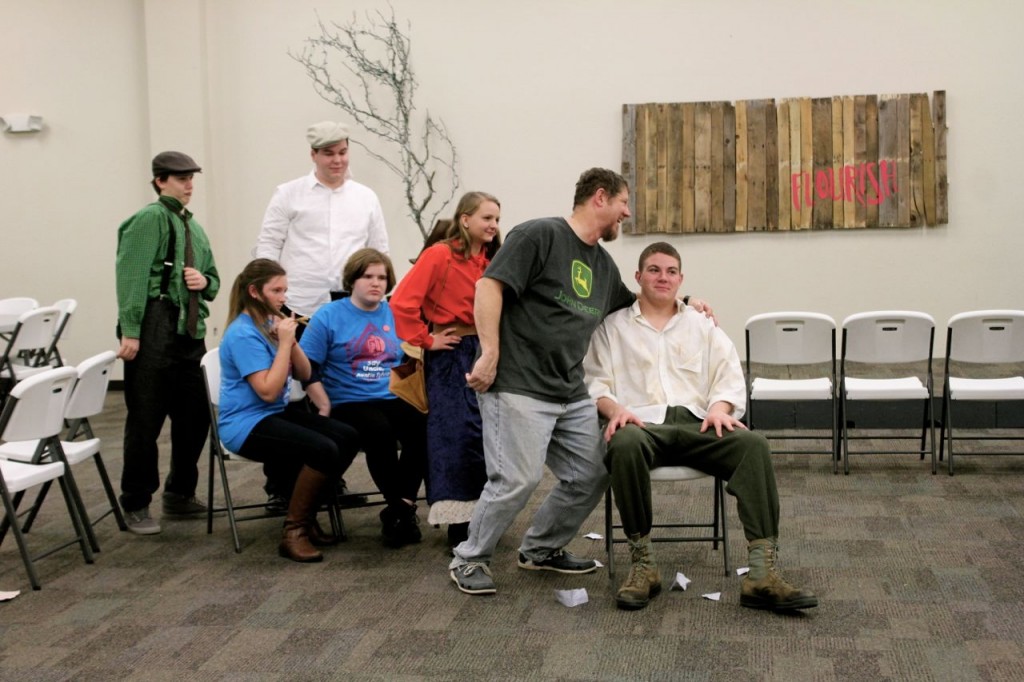 Our kids are better at being flexible than we are. "We have ANOTHER change for you—" I'll call out, wincing, to be asking the kids to make one more change. The kids don't miss a beat.
"Sure, let's do it—"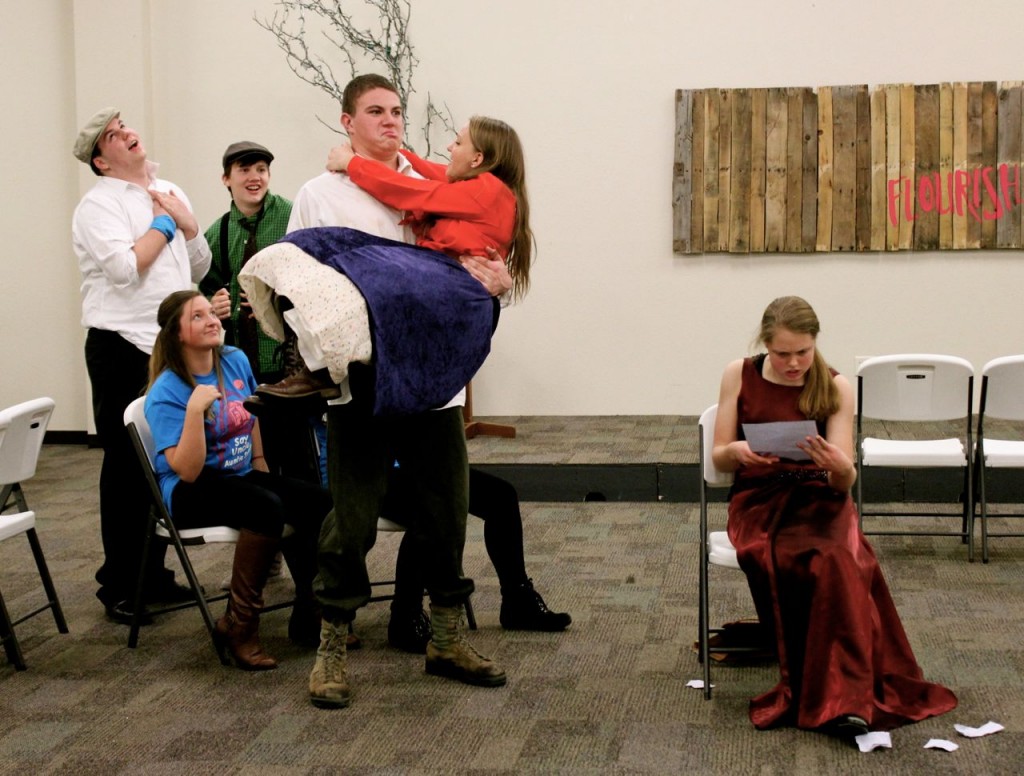 FOURTEEN
(ish) The number of washcloths and dish towels that the girls flung at Adam and Quinn at the end of their olio.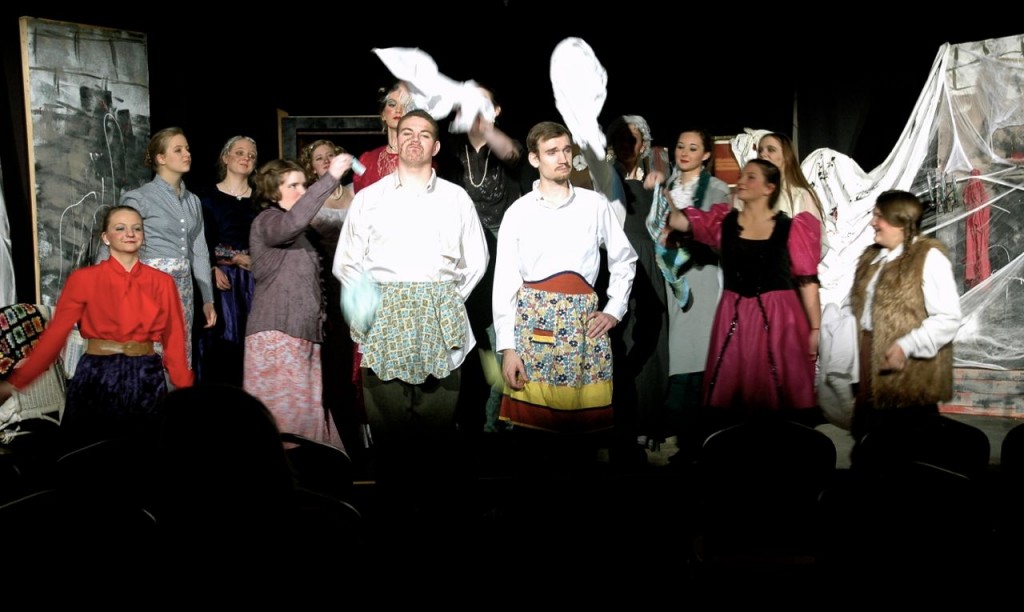 FIFTEEN
The number of chocolate bars that the kids brought me. Years ago, I started this joke (kind of a joke), 🙂 (maybe not) that they needed to bring me chocolate to keep me happily toiling along, through the weeks and weeks of drama. It stuck and I still receive lots more chocolate than anybody could ever deserve or need. You really need to stop, kids—it's just not good for my girlish figure (not).
Thanks, kids. Chocolate = hugs in wrappers. (And your dramamama can always use a hug.)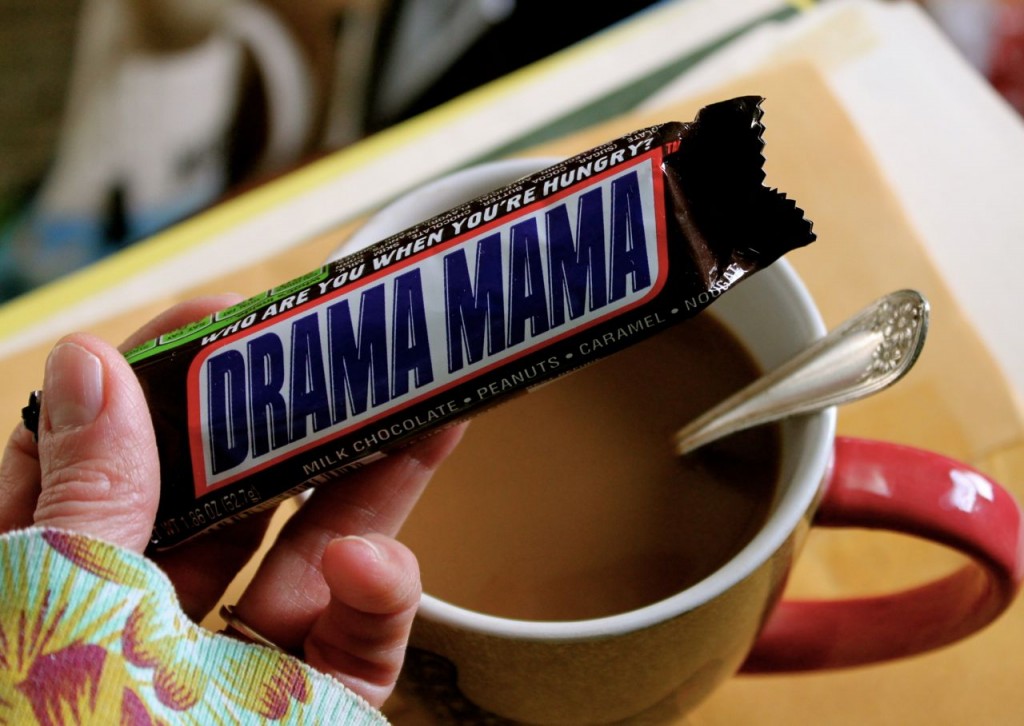 SIXTEEN
The number of times that Amalia and Sarah lost their hats for this scene. (Just joking, girls . . . I think it was more like 20.) (In their defense, the backstage area is very, very, very dark, indeed.) 😉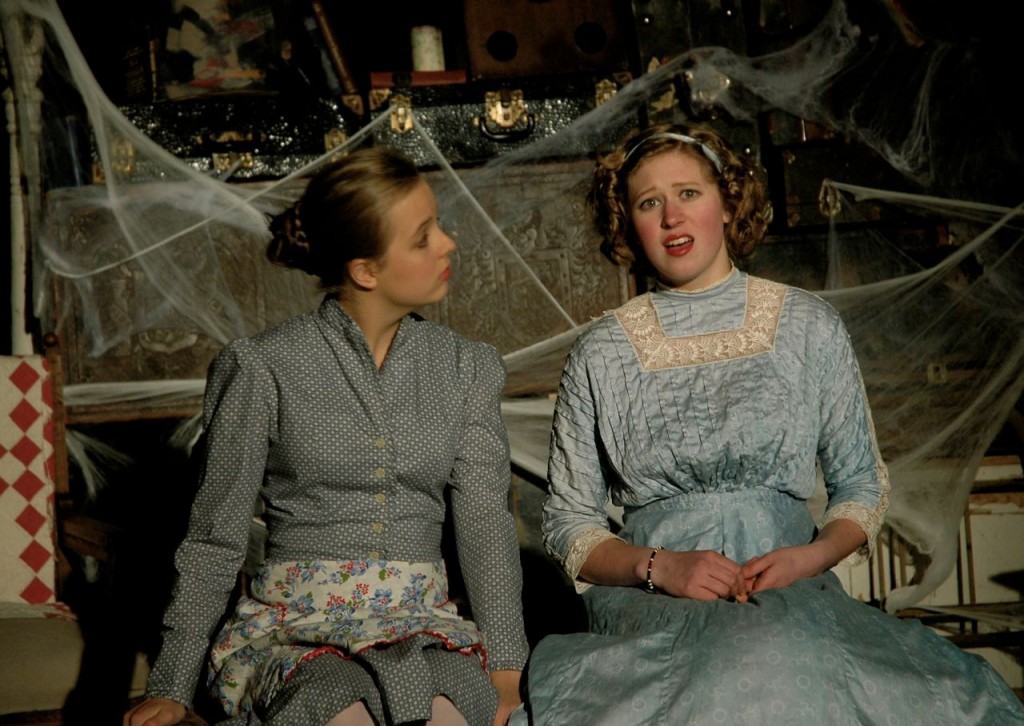 SEVENTEEN
I got nothin'. Anybody?
EIGHTEEN
The age of our oldest dramakids this year. Our youngest, I think, were 13.
NINETEEN
The number of regular rehearsals that we had scheduled this year. We aim for twenty, but nineteen was pretty good. We had two rehearsal dates that we had to cancel because of snow, and another two that we probably should have cancelled (wince). Then we had two that we re-scheduled during the last two weeks.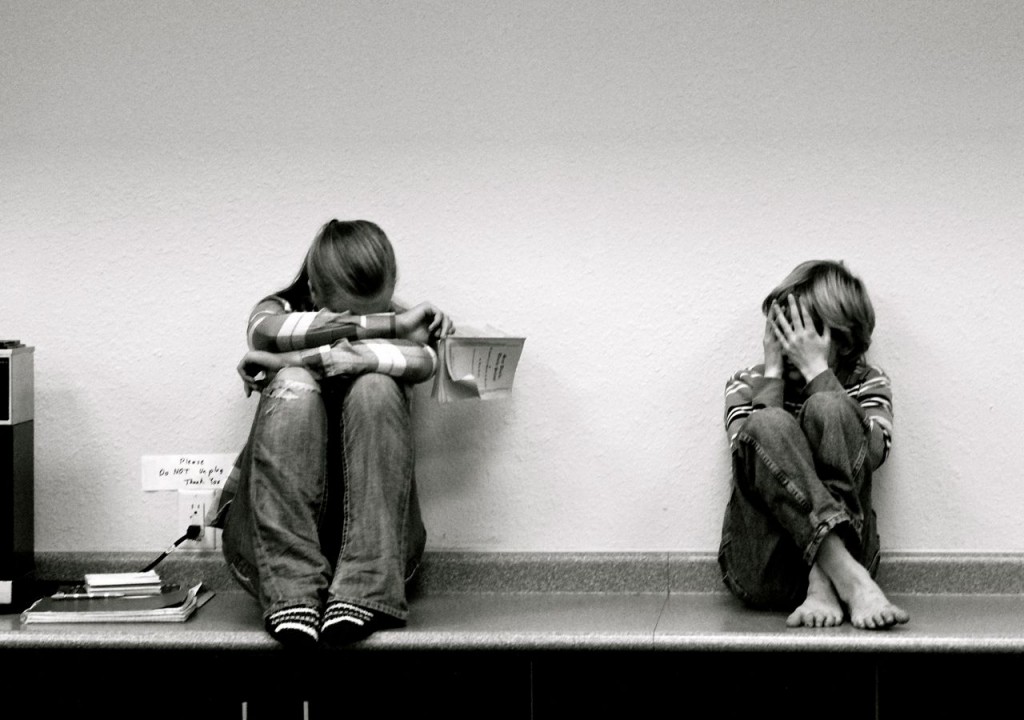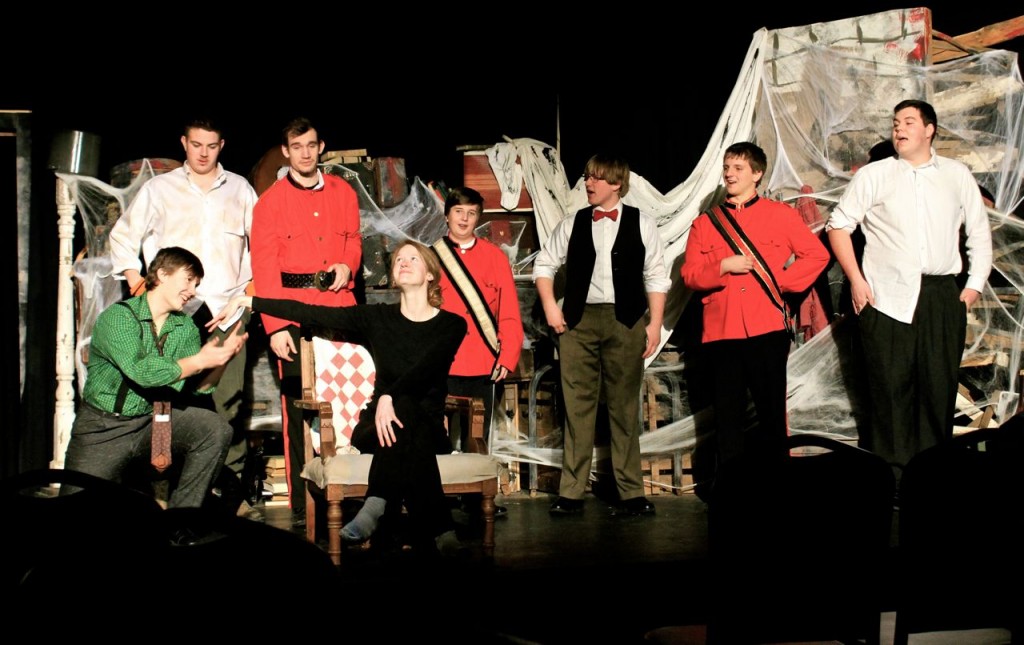 TWENTY

The number of dramakids we had in our group this year.
TWENTY-FOUR
The number of King's Players alumni who came back for our show (at least that we could remember seeing!). Thanks guys: Timothy, Bethany, Josh, Josh, Cattie, Mary Leah, Nathan, James, Anna, Ellie, Samantha, Kate, Joel, Abigail, Simon, Ainsley, Sarah, Daniel, Alisha, Aaron, Emma, Davey, Delainey, Matthew, . . . and I know I've forgotten somebody, heeelp!
Oooooh. One more.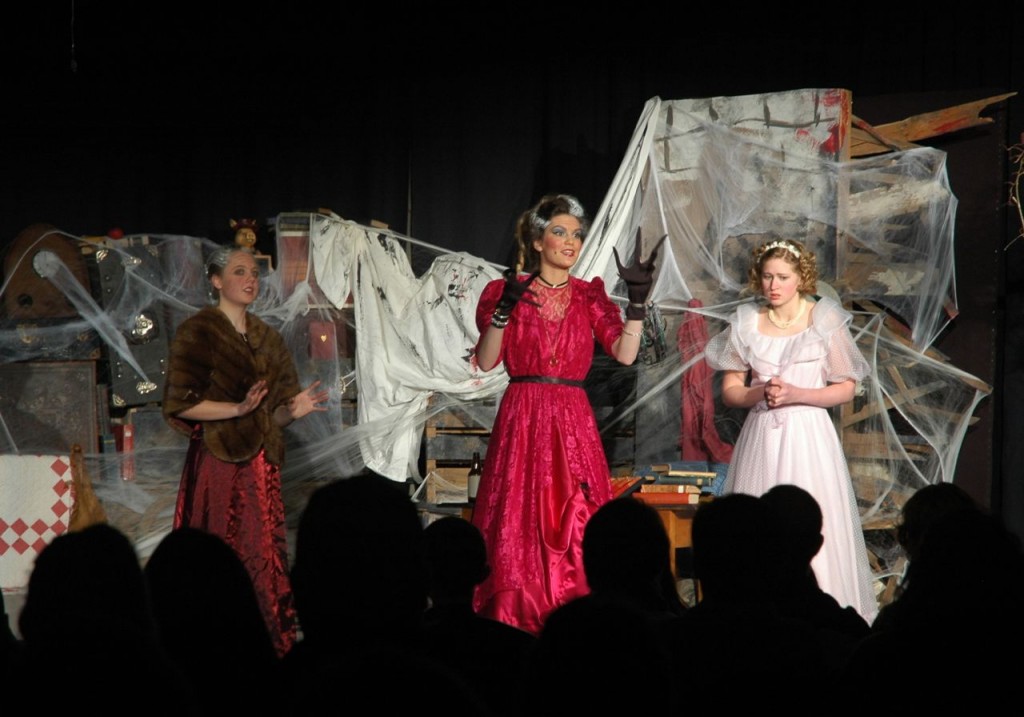 And now–one last curtsy and I'm done.
*curtsy*
Thanks for popping in and sharing my pictures with my, Gentle Reader. We will resume good food recipes and chicken stuff and gardening updates and remodeling matters, very soon!
*hugs*