Easiest. Cranberry Sauce. Ever.
I love it when I find an easier way to make something that I love. Cranberry sauce, for example.
I also love it when I find out that I ought to be eating more of something that I love. Cranberries, for example.
I haven't bought the disturbing, jiggly stuff in the cans (that actually, let's be honest, tastes like the cans) for years and years. Probably not since I was a college student who didn't know a thing about cooking (there are good things about getting older, make no mistake about that!) and labored under the assumtion that if you wanted cranberry sauce, you bought a can of the stuff.
But now that I'm older and (ahem) wiser, I know that you snatch up the bags of cranberries that show up in the stores this time of year because a) they won't be there very long, since cranberries are seasonal, and b) cranberries taste great in muffins, cookies, breads, and of course all kinds of salads and sauces, and c) cranberries are absolute super-heroes of nutrition. They are more than little jewel-like fruits that spice up the Thanksgiving table. They're packed full of nutrients and are worthy of showing up often on your breakfast tray, in your quick lunch, and your afternoon snack, as well!
Maybe I should just admit it: I'm nuts about cranberries!
Here are just a few healthy facts about what cranberries can do for you, before we get to the super-easy sauce recipe:
Urinary tract and stomach support: Cranberries and cranberry juice have long been prescribed as effective treatments for urinary tract infections, because compounds in the berries prevent the bad bacteria from attaching itself to the lining of the urinary tract wall. Now researchers are finding out that in the same way, eating cranberries can prevent bacteria that causes stomach ulcers from attaching itself to the walls of the stomach lining. Pretty cool, eh?
Liver and cardiovascular benefits: Researchers have recently discovered that consuming the whole cranberry (as opposed to drinking juice or taking extracts) gives your liver and your cardiovascular system many benefits. Apparently the synergy among all the cranberry nutrients is what does the trick of providing antioxidant benefits, anti-inflammatory benefits, and anti-cancer benefits of cranberries. This synergy is only found in the whole berry.
Anti-cancer benefits: Over the past 5 years, scientists have identified an increasing number of mechanisms that help explain the anti-cancer properties of cranberries.  The cancer-preventive benefits of cranberries are now known to extend to cancers of the breast, colon, lung, and prostate.
Digestive tract benefits: eating the humble little cranberry will protect every part of your digestive tract, from your mouth and gums, to your esophagus to your stomach, as well as the cancer-prone colon, from disease. Every category of phytonutrient known to be provided by the cranberry is also known to play a role in digestive tract support. Isn't that cool? Isn't that awesome? Isn't that worth remembering? I think it is!
Cranberries are a major commercial crop in the U.S. states of Massachusetts, New Jersey, Oregon, Washington, and Wisconsin, as well as in many Canadian provinces.
I must confess, when I learned that you could grow cranberries in Wisconsin, my brain started racing: if in Wisconsin, why not here in Nebraska? Hmmm . . . although growing cranberries, apparently, isn't as easy as, say, making this new cranberry sauce. But it bears thinking about, anyway (don't worry, Bryan, no holes to dig, you just push the plants into the ground). 🙂
Historically, cranberry beds were built in wetlands. But today, cranberry beds are constructed in upland areas with a shallow water table. The topsoil is scraped off to form dykes around the bed perimeter. Clean sand is hauled into a depth of four to eight inches, and then the surface is laser leveled flat to provide even drainage.
Yes, I'm thinking that this might take some doing.
The cranberry beds are frequently drained with socked tile in addition to the perimeter ditch. In addition to making it possible to hold water, the dykes allow equipment to get in and tend to the beds without driving on the vines. Irrigation equipment is installed in the bed to provide plenty of water for vine growth and for spring and autumn frost protection.
Most cranberries are harvested like this: the beds are flooded with six to eight inches of water above the vines. A harvester is then driven through the beds to remove the fruit from the vines. Harvested cranberries float in the water and can be corralled into a corner of the bed and moved or pumped from the bed.
Okay, so now we know that making this sauce is a lot easier than growing the berries, right? I'll get to this easy-peasy sauce, because now you're ready to get some of that goodness into your own self, and I'm here to help you with that!
But first (I guess, secondly): take a look at this picture. Don't the cooked cranberries look like little jewels of goodness? That's because . . . they are little jewels of goodness.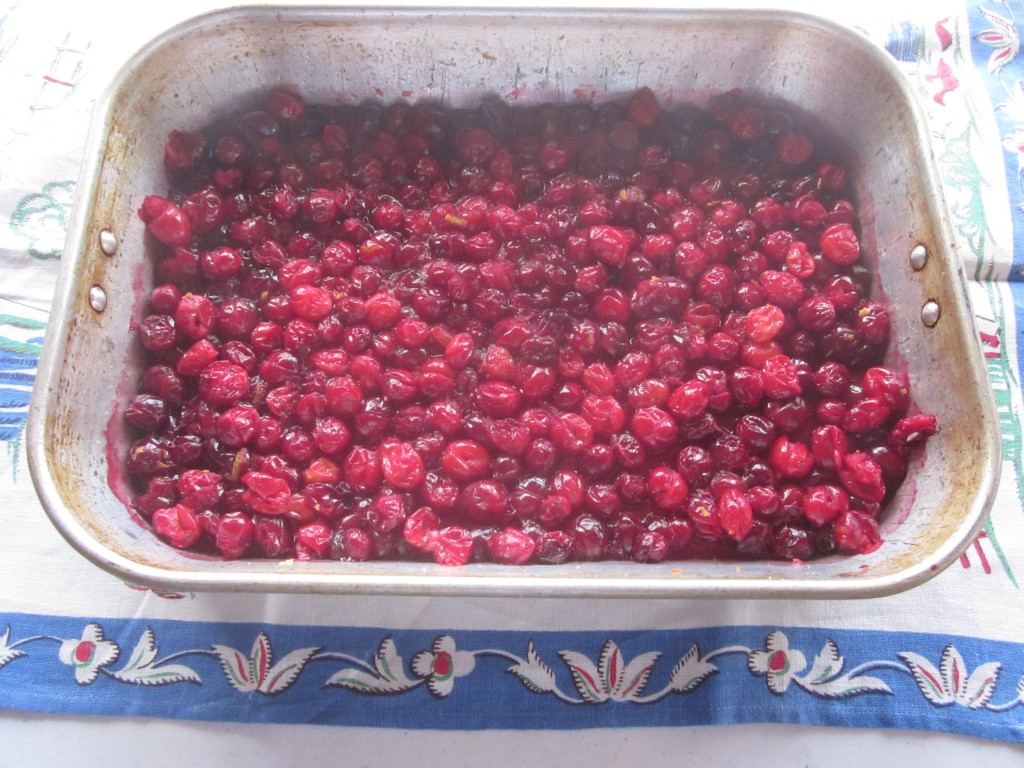 Easiest. Cranberry Sauce. Ever.
Recipe Type
:
cranberry sauce
Author:
Prep time:
Cook time:
Total time:
This sauce is the easiest that you'll ever make, and oven-roasting brings out the most intense flavor with the least amount of effort! This sauce is a wonderful accompaniment to your turkey dinner, or your breakfast toast!
Ingredients
4 cups fresh or frozen cranberries
3/4 cup sugar
zest and juice of 1 orange
1/2 cup water
Instructions
Preheat oven to 425.
Toss all ingredients in a flat pan.
Roast 15 to 20 minutes.
That's it! Pour into a bowl and let cool, or enjoy hot! Yum!!
Now don't you just want to make some of this for yourself? I must confess, I walked into my mom's kitchen a few days ago and she was making this, so it was her experimenting in the kitchen which turned me on to this recipe. Thanks, Mom!!
I'm sharing this post with the linky-link parties over at The Prairie Homestead and also at Frugally Sustainable. Come on over and have some fun and learn a few new things, too!