10 Things I Took Away from Thanksgiving Dinner
A few things I learned from hosting our Thanksgiving dinner last week:
1. We need a bigger buffet table. My mom trash-picked our buffet table, a wonderful bit of furniture, out of a dumpster many years ago. I love it. It is so . . . um. . . different, and shabby (I like shabby), and it just fits the space out on our sun porch, our "party room," but it is definitely too short to hold all the lovely dishes that everybody brings to share for  Thanksgiving.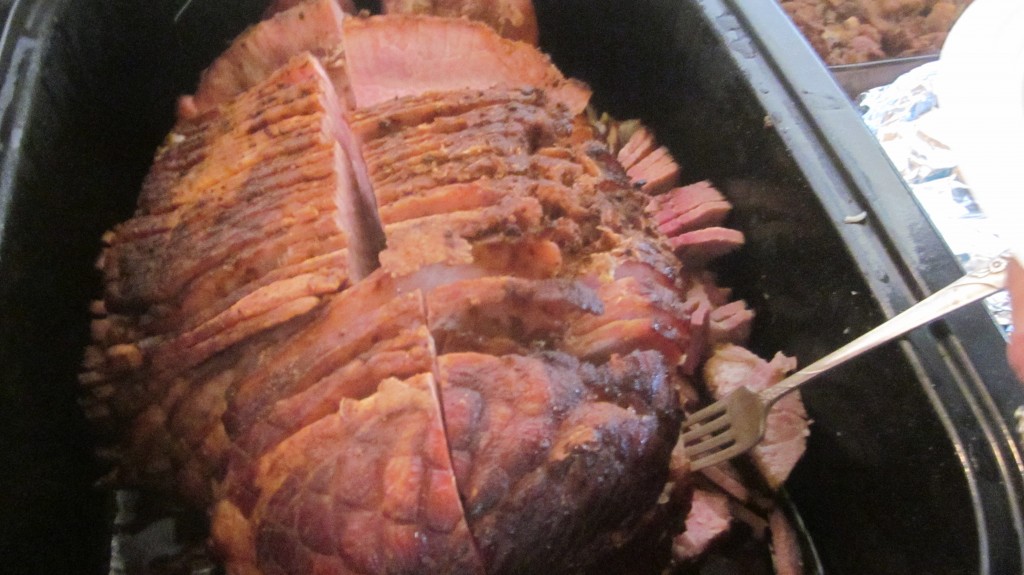 Here's the beautiful ham that Dad made.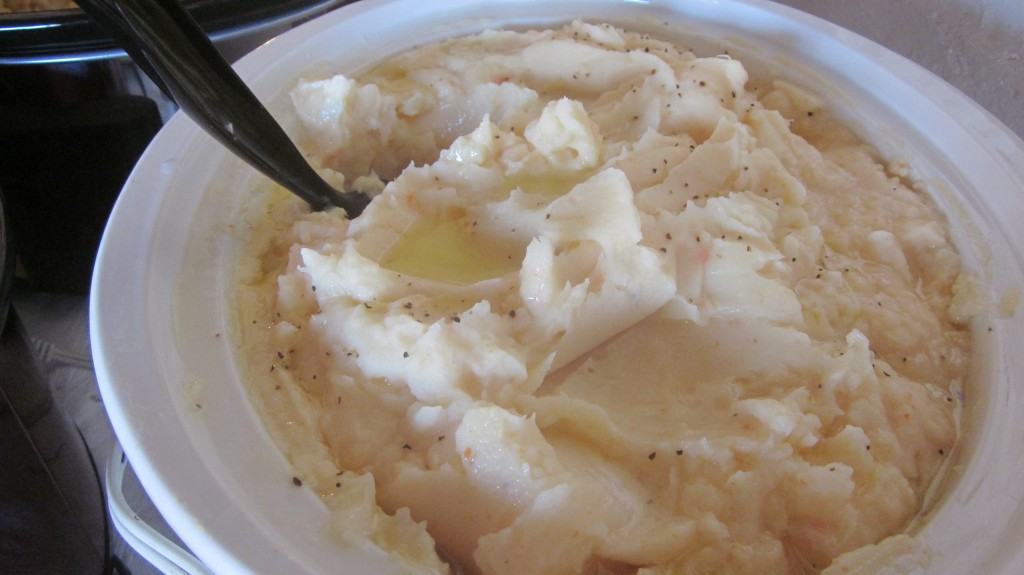 Anne brought some absolutely luscious mashed potatoes.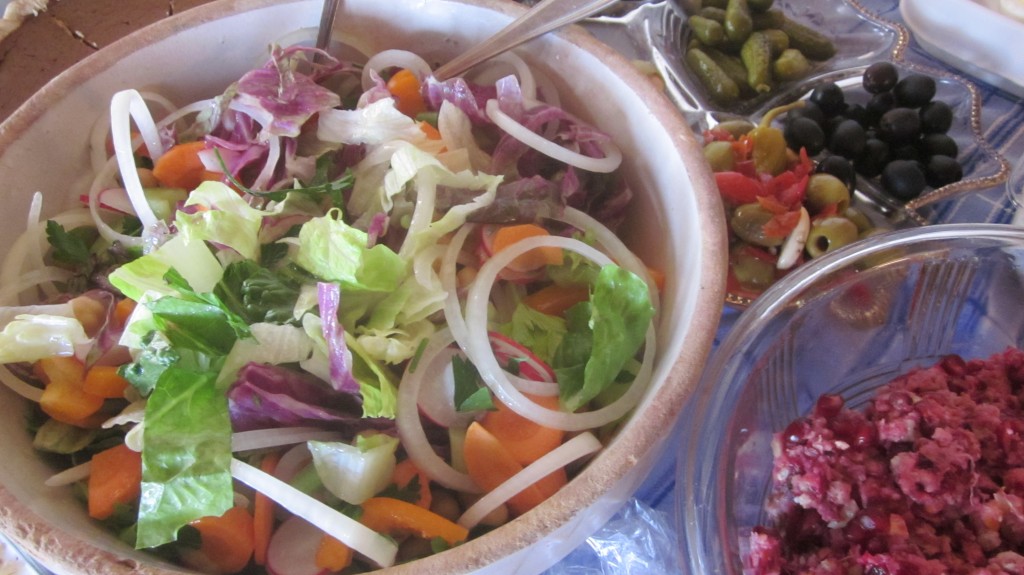 2. Note for next year: do we really need a green salad? The green salad, I noticed, was a beautiful visual accent but not many people even touched it. Perhaps the crudite tray is enough, and choosing a celery stick or a couple of olives to nestle in next to the turkey, ham, potatoes and gravy and stuffing is enough green for this special meal?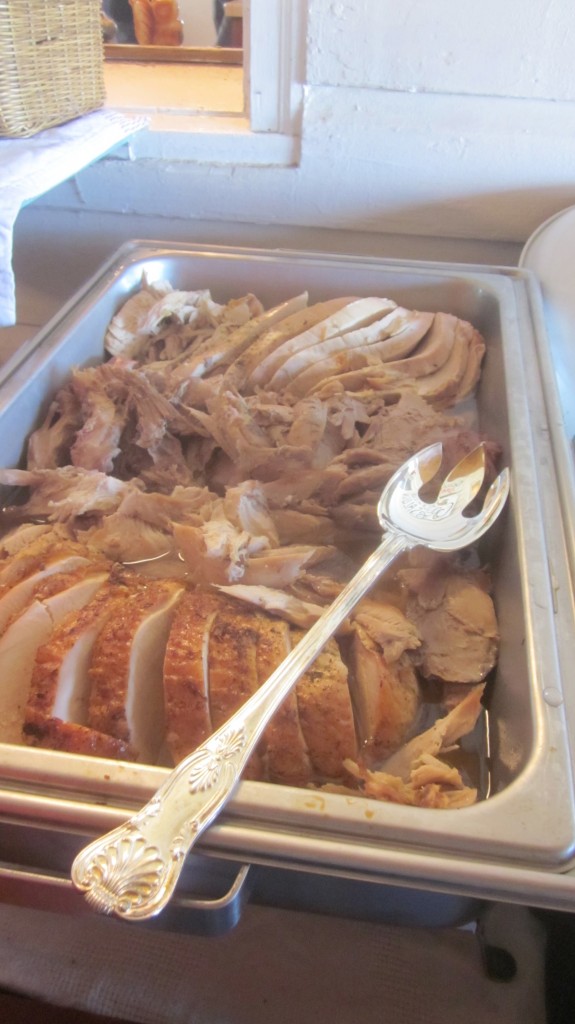 3. Mom and Dad did something different with the turkey this year: they roasted it the day before, and then they brought it all sliced and hot in this chafing dish, with plenty of juices to keep it moist. It was–in a word–perfect, in my opinion. (Don't change a thing for next year, guys!)
4. When you have three little baby boys, all about the same size, crawling around on the floor together, it's difficult to not just sit and watch them. They were a bit dangerous to each other, with one wanting to "taste" the other one's head, and grabbing fistfuls of hair . . . very slowly . . . reaching . . .
5. Red leggings make a very cute baby irresistible.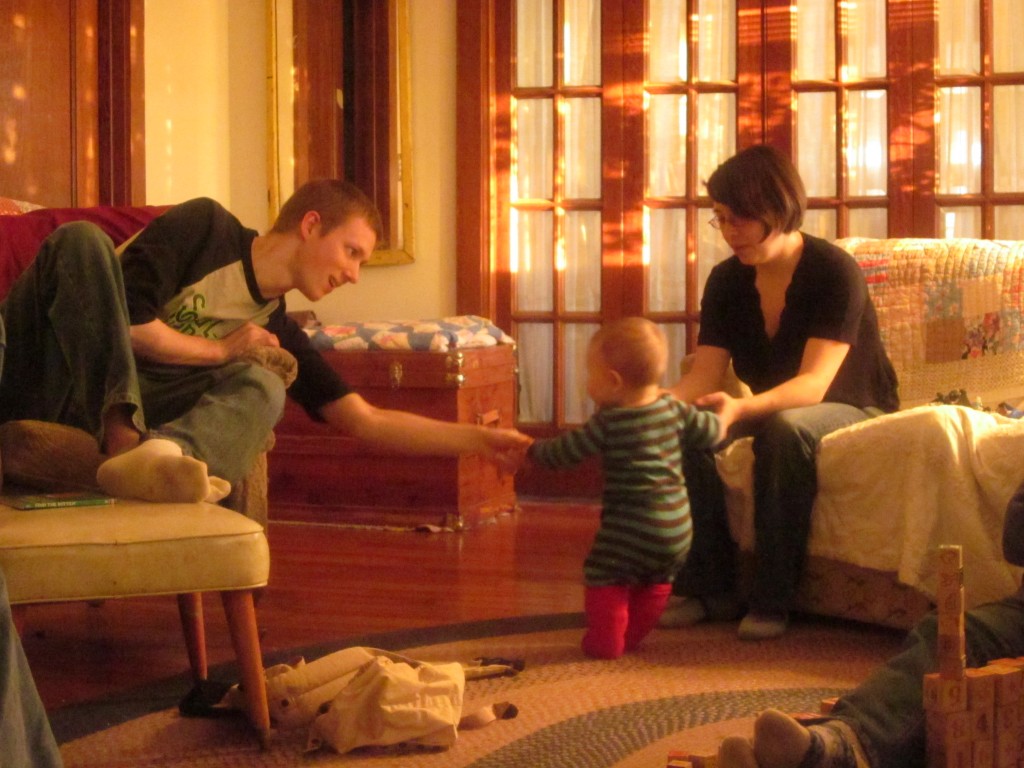 Our grandson Emmett is crawling quite handily now, but he is actually more interested in learning how to walk. Just like his daddy was, he is in a hurry . . . his little red leggings cracked me up. Here he is in action. He starts with his Mama . . .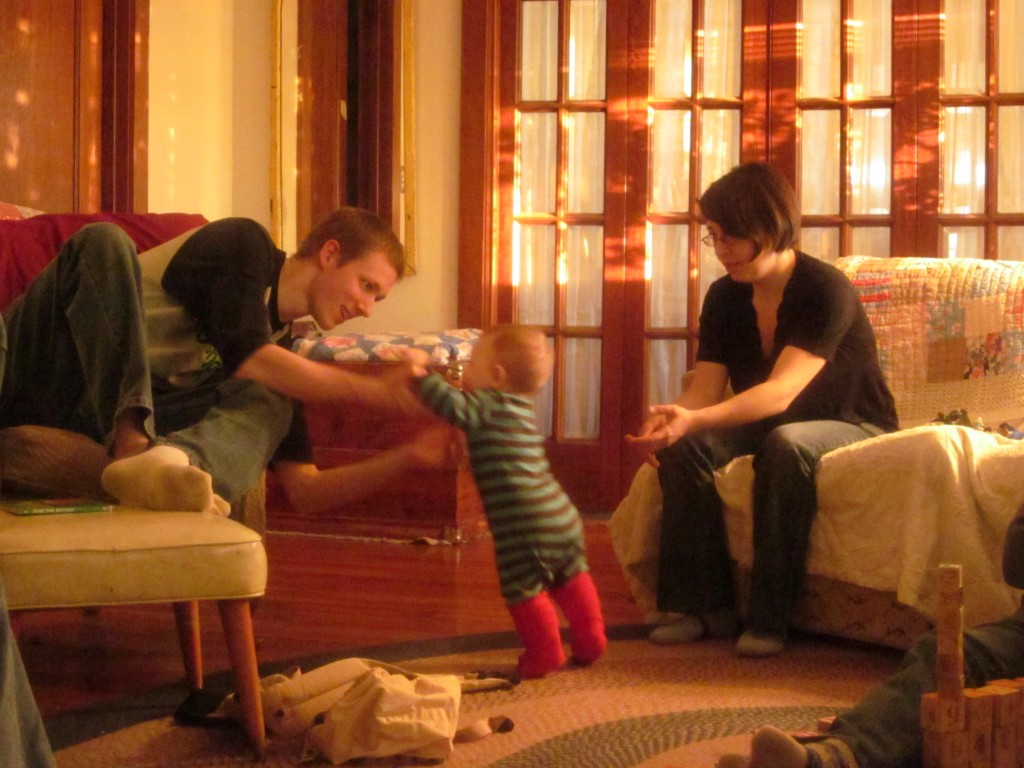 And on to Papa he leans . . .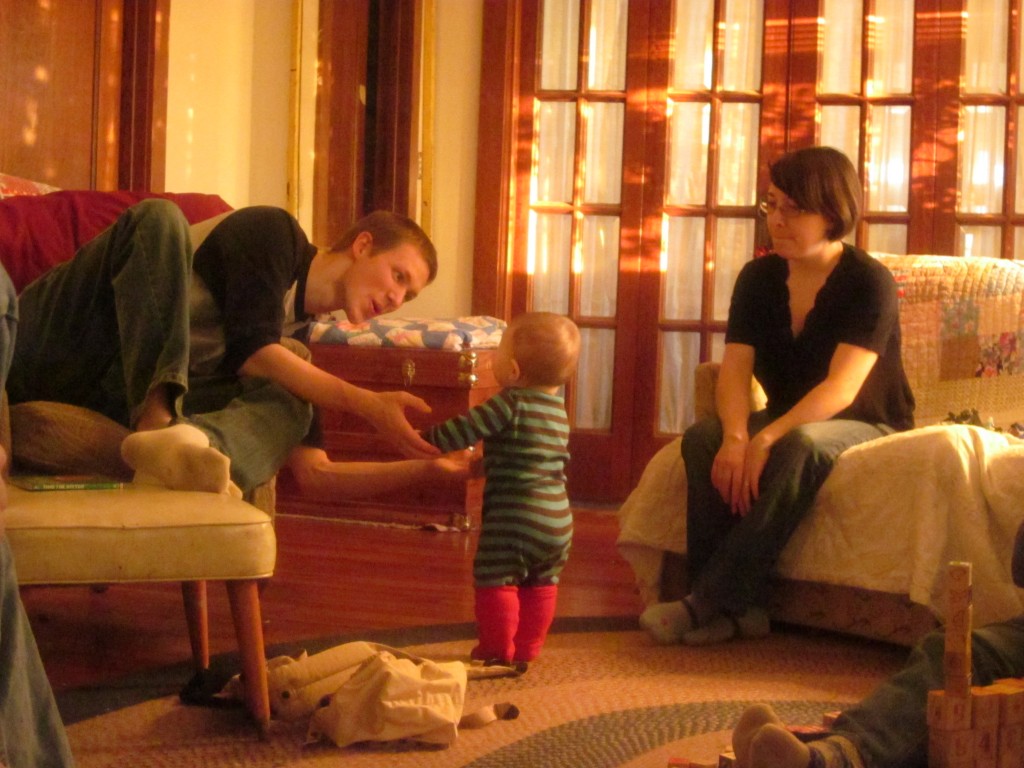 Success! The next time we see him, I think he'll probably be spending more time toddling and not do as much crawling. (Snif.)
6. You really can have too many pies. I know I'll get some heat from this fearless comment. There was a bit of a pie-related controversy after last year's PIE BLOW-OUT: Pictured below was what we had at Thanksgiving last year: 17 (made from scratch, natch) beautiful pies showed up at our feast. There were pumpkin, rhubarb, apple-crumb, pecan, frozen chocolate crunch, peach and sour cream raisin, just to name a few. I still feel a peculiar sadness when I think about all these pies, and when I try to dissect why (oh why!?) the thought of pies would ever make me sad, it's on two counts: 1. I didn't get to try even half of them, and 2. At the end of the day, everybody took their pie remains home, so I would never get to try even half of them. Snif. Sadness.
In our pre-Thanksgiving pie-related discussion* (henceforth referred to as pThp-rd*) (there, wasn't that simpler than typing it all out, geez) we–that is, the movers and shakers and Facebook chatterers in the fam, more importantly the pie-makers–decided that perhaps, after all, 17 pies for 35ish people is a bit of an overkill. After all, that's nearly half a pie for each man, woman, child, and baby in the group!
Those Who Don't Make Pie, of course, also the ones who could actually eat a half a pie each (half-dozen or so long-legged teen and twenty-something males, primarily) did not concur. 
"There's no such thing as too many pies!" they whined. "BRING ON THE PIES IN GREAT QUANTITIES, oh please do!" they wailed. In unison. Basically.
We, the makers of the pies, remained contemplative about the pie issue and in any case, we did end up having a much more modest number of pies (around 8, I think) which meant the scramble to the pie table did take on more of a serious feel to it. There were two frozen chocolate mud crunch pies with piles of whipped cream to pile on top, a cheesecake pie, several pumpkin pies, a slightly-burnt (my fault) deep dish apple and cranberry pie, and a few others, including a fabulous but mysterious lemon pie (mysterious because it took us all day long to figure out who had brought it–it was Grandma Mary, who had unwittingly lost her hearing aid early in the day–under the couch–and thus wasn't aware that we were wondering aloud who made the fabulous lemon pie.) There were also a few excellent additions to the pie table: Mom's pineapple fluff, and Felice's adult port wine dessert, and Jaclyn's chocolate chip applesauce cake. Yum.
7. You really can't have too many pumpkins to blow up. We did this for the first time last year: we bought a quantity of pumpkins after Halloween (they are ridiculously cheap then) and we invited the adventurous folk in the family to bring their guns and do a little target shooting, with the pumpkins as targets. My brother-in-law Dave upped the adventure by attaching explosives to some of the pumpkins, which resulted (when one was hit) with a hearty "boom!" and bits of pumpkin going up into the air, and lots of maniacal laughter from all witnesses. Especially those who had been into the Glogg already.
We decided that it was great fun and we did the same thing this year, except that we didn't snag as many pumpkins, mainly because of the fact that we had some very cold temperatures one night the week after Halloween, which meant that most of the pumpkins that were sitting outside (most of them) got frozen. I did manage to bring home a dozen, and Dave found about that many, too, so we still had a decent range of pumpkins to shoot.
8. What is it about opossums and Thanksgiving day, for pete's sake? It was the day before Thanksgiving Day last year when we caught The Dreaded Varmint, that awful predator that decimated my flock of hens over the summer, one dreadful night after another. You can read the entire tale starting right here, if you like.
This Thanksgiving morning, as I was doing the outside chores, I walked into the garage, my arms full of buckets of eggs and pans of cat food, I actually stepped on a dead opossum. Opossums, you see, have discovered that we feed our cats in the garage, and they have been going in at night to clean up any morsels that might get left behind. They are gleaning, I guess. Our dogs, Bea and Ollie, are not fond of these opportunistic filchers, and now and then they'll bark crazily at an opossum in the garage and if they can get to it, they'll kill it, too.
My first thought was, as my hands were full: "Dead Opossum Clean-up in Aisle Three!" I don't know why I thought that, but I did. I would have yelled it out, but everybody else was inside, setting up tables and chairs and getting things ready, so nobody would have heeded me.
So later, when I remembered it, I told Bryan quietly (so as not to alarm the guests) "Dead Opossum Clean-up in Aisle Three. Actually, in the garage," and he did the Manly Thing and went out and took care of it so I didn't have to. (Thanks, honey.) Actually, I've cleaned up my share of dead opossums: they do have such a long curling tale that makes an excellent carrying-handle. But it is pleasant now and then to delegate such matters, when you can.
9. It's a lovely thing to have so many happy folks in one place at the same time. The only thing–the only thing–that would have made it better would have been to have a person very dear to us, who is ill right now, well enough to join us. But I am hopeful, so hopeful that our prayers will be answered very soon on this count. There is Christmas to look forward to.
10. I'm sure glad that Mom and Dad had all us kids. I remember what rascals we were, and how we argued and fought and what a pain we all were, but I enjoy my siblings so much. I just want to sit and laugh and talk and joke and eat together, and never stop. So blessed.