Emmett and a few other less important things
Over the Labor Day weekend, we made a quick trip down to St. Louis so I could kiss my grandson's cheeks.  This is what our schedule was, pretty much exactly:
Friday: Drive all the blessed day long, from home to St. Louis
Saturday: Hold Emmett, play with Emmett, kiss Emmett's cheeks and watch Emmett laugh
Sunday: More of the above. Also: smell the back of Emmett's neck
Monday: Drive all the blessed day long, from St. Louis back home
When we got home Monday night, after four days away (and those four days were HOT and DRY, even by September-in-Nebraska's standards) I came face-to-face (on that bewildered garden walk of the gardener who leaves for a few days during High Garden Season) with larger-than-life weeds that had sprung up overnight everywhere and buckets of tomatoes that were (I wish I could use the word 'literally' here) screaming to be picked, scalded, stuffed into jars and canned and my house dirtier than I can even believe I left it and my lovely pak choy (you know how attached I was to that stuff) all gone to . . . seed. . . alas, and my blueberry bushes dangerously close to dying because they needed watering so badly . . .
What do you think? Did I suffer a whisper of regret for spending four days away at this crazybusy time of year, drawing near to the cusp of harvest, just so I could spend two days touching the silky skin of my grandson and drinking in his adorableness and generally doing nothing else?
Not on your life, baby. It was totally worth it. Totally. I'd do it again, in a heartbeat.
(Is it too late to get hotel tickets for this weekend, Bryan?)
And you don't really mind if I write a quick, photo-heavy post today because I'm too tired to do anything else, do you, Gentle Reader? I do have granola in the oven, so we will have something to eat in the house, if I suddenly fall down flat on the (dirty) floor after getting up early this morning and throwing the weekend's laundry in the washer and then picking corn and then picking tomatoes and then (sigh) hauling wood and cleaning out a path in the shed with little Mack so he could drive the little tractor (with the trailer full of wood, see now, aren't we smart?) through the shed instead of turning it around perilously in one end and even getting it stuck right in front of my own mother, as if I don't know what I'm even doing?? (Now you didn't understand a word of that, did you?) 
I feel even a little more tired now. Better get to those pictures, before I decide to take a nap.
A fun thing about our visit this time was that Emmett really fell for little Mack.  I got pictorial proof of this phenom! Here is Emmett looking at one of us:
Here is Emmett looking at little Mack:
Here is Emmett, looking at one of us:
Here he is, looking at little Mack: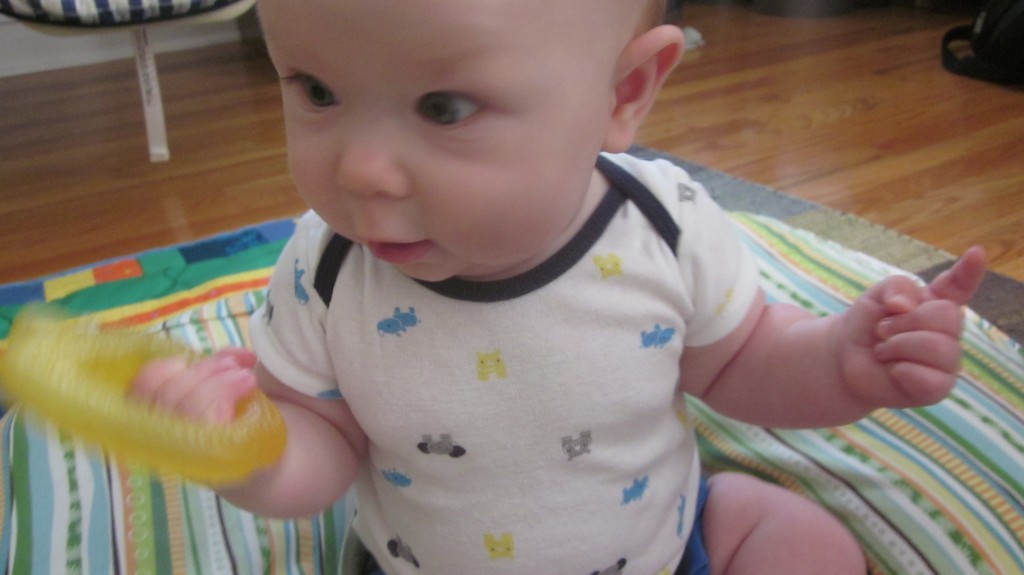 Okay. So now you understand why we went to St. Louis, don't you? You get this, don't you?
On the way home I saw a few chicken-related things that made me chuckle. This next picture is really poor, but there was a rubber chicken hanging on the back of a truck. I told Bryan that I want a rubber chicken to hang on the back of the Suburban. I told him that it would be fitting, and better, even, than a real one. Better than a vomitingchicken.com bumper sticker, maybe!
He didn't reply.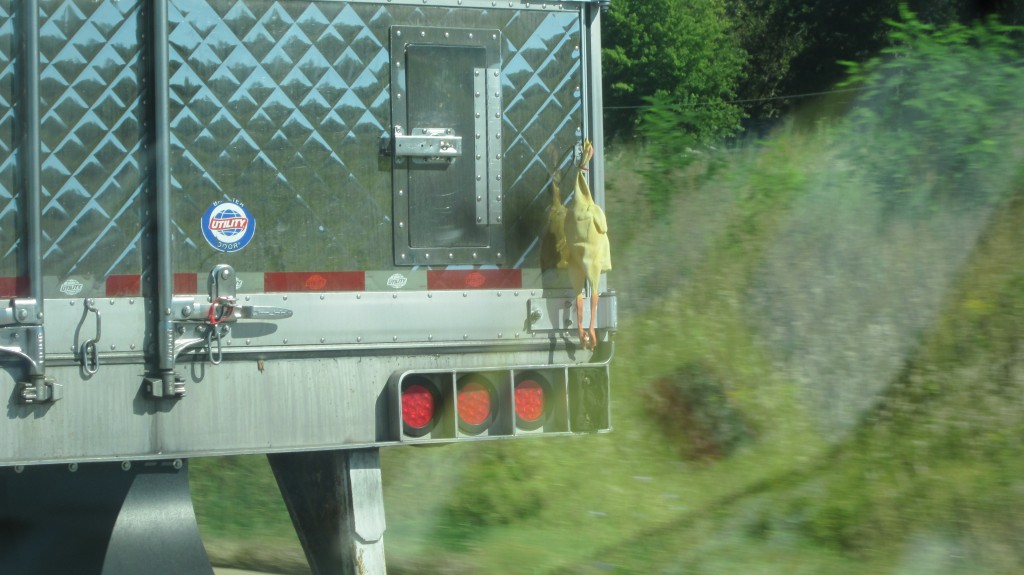 We stopped–twice–at my favorite store, Twin Oaks Produce and Bulk Foods, near Brookfield, Missouri. (Is it strange that my favorite store is a grocery store?) This store is run by kind-faced Mennonite folks, and it was really hopping on this holiday weekend.  If you ever travel in this area, do make an effort to stop.  And buy some stuff. They have just about everything there . . . bulk herbs and homemade jams and jellies and vast piles of fresh fruit and organic wheat berries and deli meats and cheeses and homemade cheese curds and homemade noodles . . .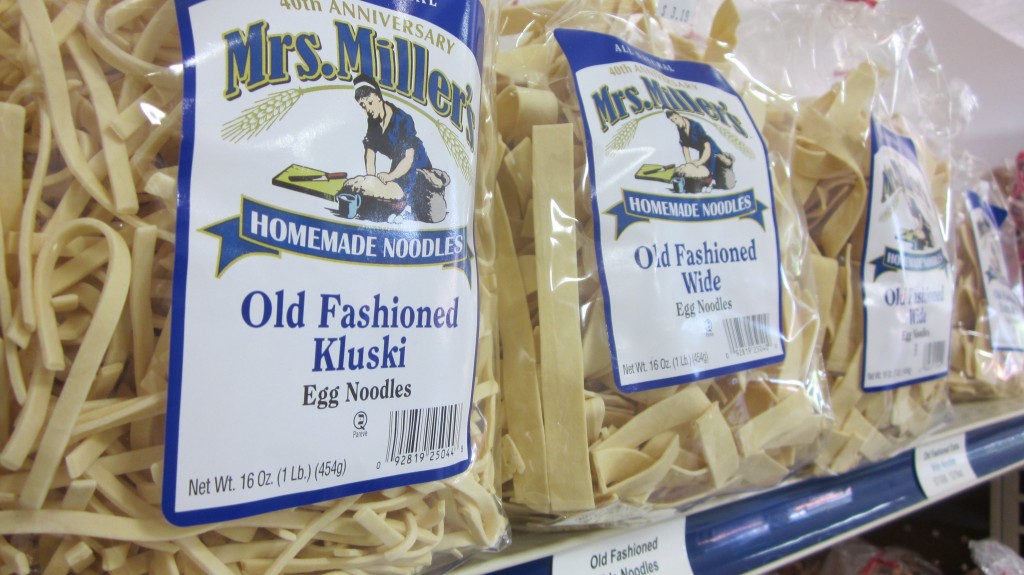 Plus, they are quite generous with their samples, which my brood appreciates. Sample cheese curds in the cooler . . . sample dipped pretzels in lots of flavors . . . samples of fresh fruit . . . samples of snack foods . . .
To my kiddos' delight, this store also carries gummy candies in just about every shape and size, including:
And . . . (wait for it . . .)
Now I'm suffering non-buyer's remorse because I didn't buy any of these! Really, what was I thinking?  Probably I was still sad and morose from having to leave Emmett and his dear 'rents and actually driving away from them.
That so goes against my nature.
(Bryan, can we just go back? Please??)
Also at Twin Oaks there were these really gorgeous mums. I'm not a mum person, but I could be persuaded . . .
I can see them. East of the house. In their gorgeous array, all colors, blooming all season until frost. Of course I'd have to pull those weeds, first.
Bryan? 'Nother reason to head south?
Welp. It's time for me to get off the 'pooter and rustle up some supper. Homemade tacos with seasoned meat, rice and beans (it is Tuesday, after all) with corn on the cob (I raised it myself, it's an heirloom variety called "Bloody Butcher") and melon. Always melon. Sounds easy. And quick.
And sometimes, quick is good. Actually, quick is always good. And good is always good. And now I'm just playing with words, which means it's time to stop.
Thanks for reading, my Gentle Readers, and for enjoying my grandbaby with me! You are all very, very good to me, you know, and I appreciate you so much for it.
Really.  Thank you.