Make The Best Granola on the Planet. Period.
Updated just for you guys in June 2016. With my compliments.  🙂
This granola is crazy-good. I started with a recipe I found online and then I added and subtracted until it's . . . well, just the best. It's crunchy and chewy and a little sweet, but not too sweet. It is yummy under milk, or on top of yogurt.  It's chock-full of good, nutritious ingredients. So you can feel very clever about your kiddos and your Beloved and your friends and your relations eating it out-of-hand, if they take a mind to.
Not so with Fruit Loops or Lucky Charms, which are, basically, candy in a box. Candy for breakfast?  Not at my house! So what are you waiting for? Go ahead and stir some up! Anybody lucky enough to get a bowl of this from you will be your slave for life.

And a slave for life? A very handy thing to have. 🙂
But remember the oft-quoted adage, Gentle Reader: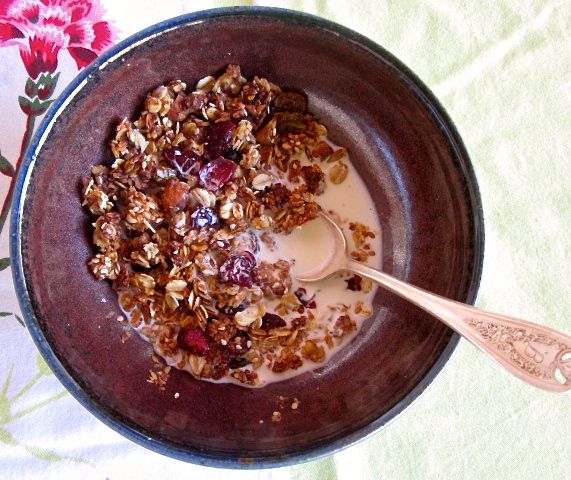 One more warning: once your family is spoiled to this granola, you'll never get away with buying the boxed stuff again. (But that's okay. Really. It is.) You are raising the proverbial granola bar, once you've made this granola.
Now to the recipe:

The Best Granola on the Planet
Author:
Amy from vomitingchicken.com
Recipe type:
breakfast! snacks! dinner!
Prep time:
Cook time:
Total time:
For our big family, I triple this recipe and mix it all up in my biggest bowl, and then freeze baggies full of it for later. Feel free to add or subtract ingredients, according to your and your family's tastes! We like to keep it in the freezer.
Ingredients
6 cups old fashioned oats
½ cup wheat bran
½ cup wheat germ
½ cup sesame seeds
¾ cup raw pumpkin seeds (shelled) (if you have them!)
1 cup raw sunflower seeds (shelled, natch!)
¼ cup flax seeds, crushed
1 cup (or more!) chopped nuts (I like them in bigger pieces.)
2 cups flaked coconut
2 cups raisins (I dote on the golden ones, but either way)
1 cup diced dates or dried apricots or dried apples or dried Craisins or whatever
¼ cup shredded orange peel
½ cup coconut oil (or your favorite kind of oil. Olive oil is good, too.)
½ cup concentrated orange juice
½ cup honey
½ cup packed dark brown sugar
½ teaspoon salt
1 teaspoon vanilla
Instructions
Preheat oven to 275 degrees.
Mix together the first eight ingredients (down to the coconut) in a very large bowl.
Combine the oil, honey, orange juice concentrate, vanilla, brown sugar, salt in a sauce pan and heat on medium heat until all are dissolved and the solution is like a thick syrup.
Pour the syrup on top of the bowl of dry ingredients and mix very well, until every piece is evenly coated.
Spread the mixture evenly in two or three large jellyroll pans and bake for 40 minutes.
Turn the oven up to 325 and bake for another 10 minutes, watching carefully as it burns very easily at this point. (My family will still eat blackened granola, but still.)
Pull the granola out of the oven and let it cool completely. Then carefully stir the raisins and dried fruit and orange peel in. If you bake it with the raisins and dried fruit, they will puff, turn black, and become inedible little black nuggets. You've been warned.
Store in freezer bags in the refrigerator or the freezer, or just share with your family immediately!

Doesn't it sound awesome? That's because it is. What are you waiting for?  Let me know how it turns out in the Comment box below!

By the way . . . if you're looking for a great source for coconut oil, check out Tropical Traditions. It's my favorite place to shop for coconut oil, and if you (full disclosure time!) make a purchase from them by clicking on the cute li'l bucket below, I'll earn a gift certificate which will make me very happy, indeed. see?—–> 🙂

One more thing: Folks ask me all the time how I eat this granola. My answer (after the eyebrow-raise, sorry, just kidding) is always this: out of the bag, baby! By the handful! With milk in a bowl! Or my current favorite way, sprinkled over Greek yogurt with honey and cinnamon on top. Yum.

Of course by now you, my Gentle Reader, have come up with more ways to eat this tasty granola. Share them with me in the comments, and if you share this post with your friends, I'll give you a hundred dollars! 🙂 Okay, I'm just joking about the hundred dollars, but you will earn my undying gratitude, and that's something . . . isn't it?

*hugs*

Save

Save