How Facebook's shenanigans might affect YOU
It can make an ordinary person dizzy, don't you agree, trying to keep up with all the changes that are happening day in, day out, in the natural world of course, but also in the social media world?
Take, for example, the latest shenanigans of our favorite social media sharing site: Facebook. Have you noticed?
I have a Facebook "fan page," as many of you know. I share a lot of cool stuff over there: all my new blog posts, as well as cool stuff I run across on the internet, and also photos and comments about what's going on at our place. I post stuff there that you will see nowhere else. Obviously!
Facebook is pretty cool about noting how many people look at each thing I post, so I can tell what my fans like, and post accordingly. For example, I know that most of my fans prefer personal posts: what little Mack might have gotten into today, for example, or what new things are happening at our place. What my chickens are up to.
I'm quite sure, for example, that the addition of a few goats to our place would drive my stats up. (Hint, hint, Bryan?) I don't obsess about these numbers, but I do take note when there are big changes.
About a month ago, I noticed that the numbers of views on my posts took a sharp dive. I mean, a sharp dive. Instead of having views in the hundreds, I was getting views in the tens. I was really surprised, but I attributed it in my own mind to the busy-ness of the holidays. I was busier than ever, trying to get a handle on Christmas events coming up, so wasn't everybody else, too? I figured the numbers would go back up in time. And then I started hearing from other bloggers that it wasn't just my page, everybody's pages were affected, and the conclusion was that Facebook was changing things up. Again.
After doing a bit of digging, I learned that Facebook had started sharing only a fraction of what I posted on my fan page. Instead of letting all my friends see what I was posting, they started letting maybe ten percent of my friends see each post. Thus the sharp decline in views.
From another blog: "According to AdAge, Facebook said, 'We expect organic distribution of an individual page's posts to gradually decline over time…' And a Facebook spokesperson said, 'the best way to get your stuff seen if you're a business is to pay for it.'" (If you're interested in reading the AdAge article, which goes deeper into the whole thing, just click on the link above.)
Ergo: Most of my friends on Facebook are no longer seeing what I post, so they can't click on it, even if they wanted to.
This is a bit disheartening, to say the least. Most bloggers I know work pretty hard to build up their Facebook fans, so when they share something, lots of eager readers will be there to read it.
Facebook is apparently hoping that by severely limiting my reach, I'll agree to pay to "boost" my posts, and then they'll make more money and I'll get the reach that I used to have.
You can't blame Facebook for trying to make more money, but it's not going to work. At least not where I'm concerned. Here's why: most websites that I follow offer large amounts of great content through their websites and Facebook pages, for free. Vomitingchicken.com is like this. You know what you get from me: great recipes, organic gardening tips, astonishing chicken stories, homeschooling tips, and photos of mummified mice. And it's all free. You can't get that kind of content just anywhere, can you, Gentle Reader?
Did I mention that it costs nothing? Ergo, it doesn't make sense for me to pay Facebook to "boost" my free content. When I publish my book, I may consider paying for advertising, but that means that the only stuff I'd pay for on Facebook would be posts to advertise my book that I want to sell.
Facebook offers a free service (for now) and so they can do what they want with it. But do you know how most people access my website? Three guesses. Yup. You guessed it. Through clicking on Facebook. But with these changes, it'll make it that much harder for my readers to find what I publish.
So what's a humble blogger to do, in the face of these changes? Well, here at vomitingchicken.com, we don't plan to change a thing. We'll still be writing up great content and helpful tips and awesome recipes, not to mention photos of chickens bobbing for corn. Stories of Dreaded Varmints and bossy deranged guineas.
Except for one thing. Oh yes. I would encourage you to do this, to avoid missing even one post: sign up for my e-mail list. That way you won't have to rely on the folks who run Facebook, to get each and every thing that's going on at our place. Recipes. Stories that make you laugh. Great tips on taking care of chickens and raising kiddos and getting the very most out of your garden. Dead Opossum Clean-up in Aisle Three. That sort of thing. Make sure that you'll get every post, just by signing up on my e-mail list.
It's so easy. Just put your e-mail address in the little box to the right. It looks like this.
And don't worry, you'll never get a single spam from me. That's not my style!
Okay, so there's my little administration update, and I do appreciate your reading it to the very end. That means you, Gentle Reader! Have a fabulous day, you!
And just because you made it to the end, here's a picture of my daughter Bethie with little Mack, skating on our little pond yesterday. It has been punishingly cold for weeks, and now it's warming up for a few days, so it's perfect ice-skating weather, hooray!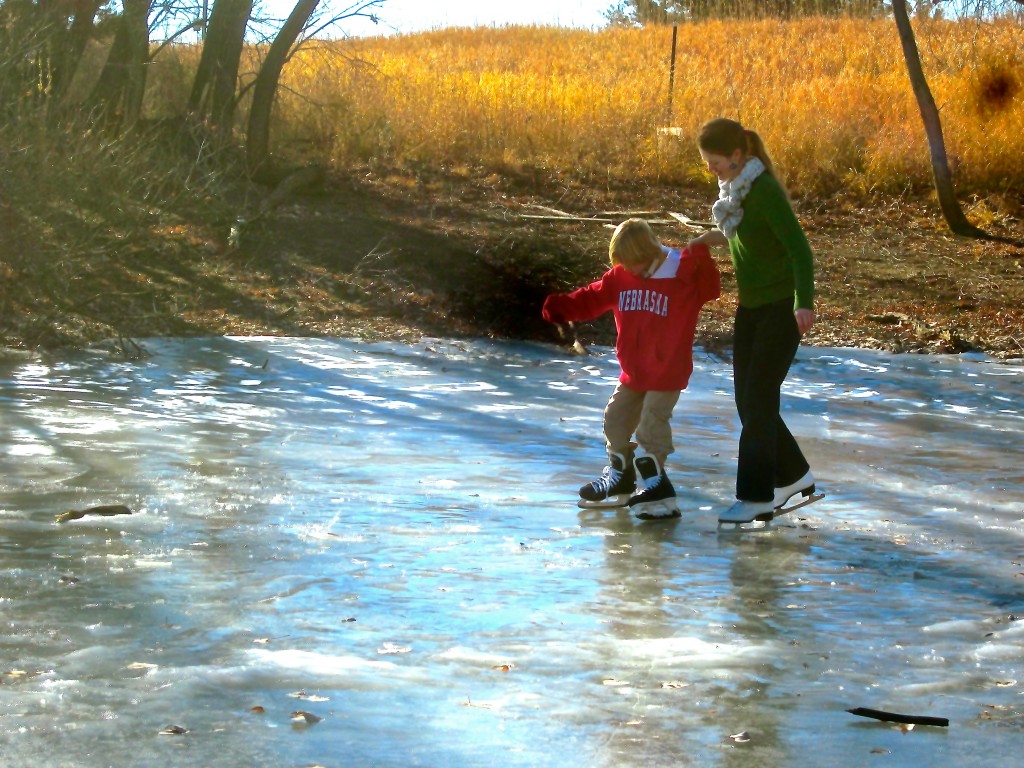 P.S. And speaking of The Prairie Homestead (okay, or not) . . . every Monday, Jill sets up a fun event that you may want to check out, or even (if you're a blogger, too) participate in! It's a linking party of sorts, a big countrified barn dance of homesteading-related posts! I'm linking this post up this week right here, and I encourage you to jump on over and check out the other posts there!