A few things at year's end
Just a few things of humble import, on New Year's Eve. The last day of 2013. My heart is full as I thank God for the year that has passed, and look forward to the year that is to come. 2014! Wow. Time just rushes on, doesn't it?
"Time changes everything except something within us which is always surprised by change." –Thomas Hardy
I've been reading the tiny, exquisite little devotional book by Oswald Chambers, and this is what I read today: "As we go forth into the coming year, let it not be in the haste of impetuous, unremembering delight, nor with the flight of impulsive thoughtlessness, but with the patient power of knowing that the God of Israel will go before us."
"But you will not leave in haste
or go in flight;
for the Lord will go before you,
the God of Israel will be your rear guard." Is. 52:12
That is my prayer for the coming year. That no matter what happens in my life in 2014, that I will remember that the God of Israel will be with me. It's quite a comfort.
My heart is full. My life is full. I've been an emotional mess lately, with some hard things happening around me, involving dear friends and family members. I can burst into tears, these days, Gentle Reader, at the mere drop of a hat.
No exaggeration. Here's a typical daily scenario at our house:
Timothy: "Oops. I dropped my new hat."
Me: "Waaaaaaah!"
Malachi: "Hey. I dropped my hat, too."
Me: "Waaaaaah! Would everybody just cut out all the hat-dropping?" Snif.

All: "What the heck is wrong with Mom?"
So if you see me buying waterproof mascara at Wal-Mart sometime soon, you'll know why. I'll be the one with the blotchy face and the big dark glasses. And the cart full of Kleenix boxes.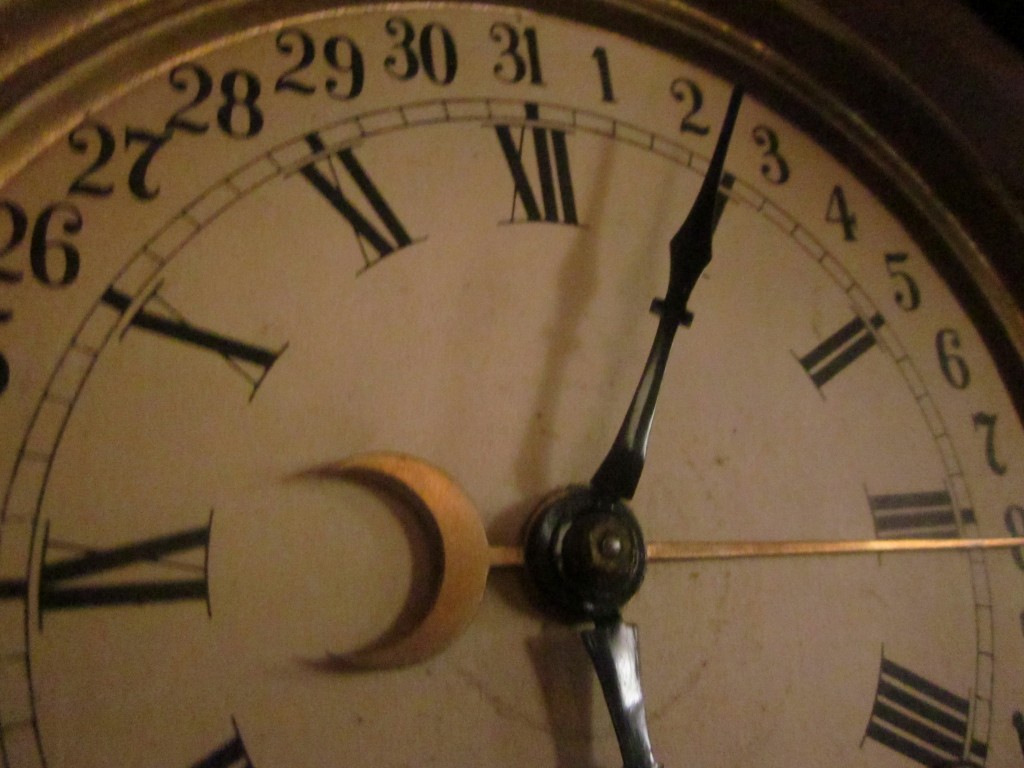 Without further ado, here are a few things that have been going on at our place lately:
First, we've had lots of fun with our granddaughter Anya spending more time out at our place with us. She's a little doll who loves to have her nails done. When her Papa drops her off for a playdate at Amma's house, the first thing we do is to get a snack. The second thing we do is to paint her toenails and fingernails. It takes a lot of time to do a good job at it, but we don't mind a bit. She rewards us with the sweetest smiles you've ever seen.
Little Mack lines up all the colors, so it's easier for her to choose which colors she likes best today.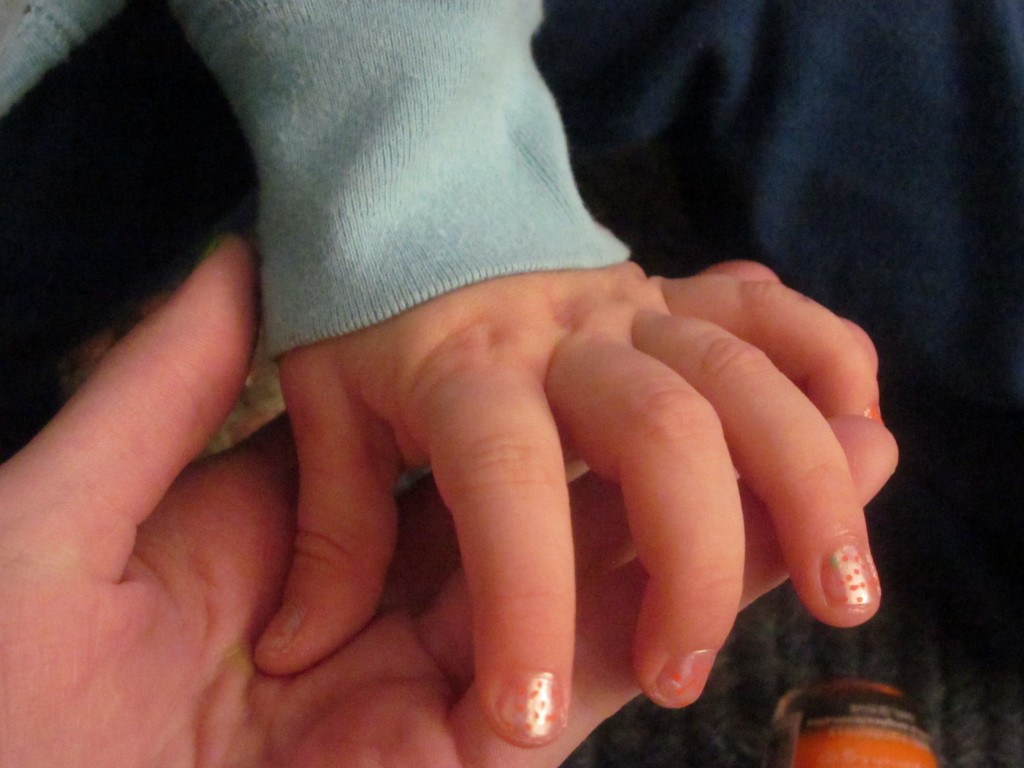 Anya loves to have polka-dots added. Polska bots. "Polska bots! " she'll squeal happily. (Oh geez, so sweet, snif.)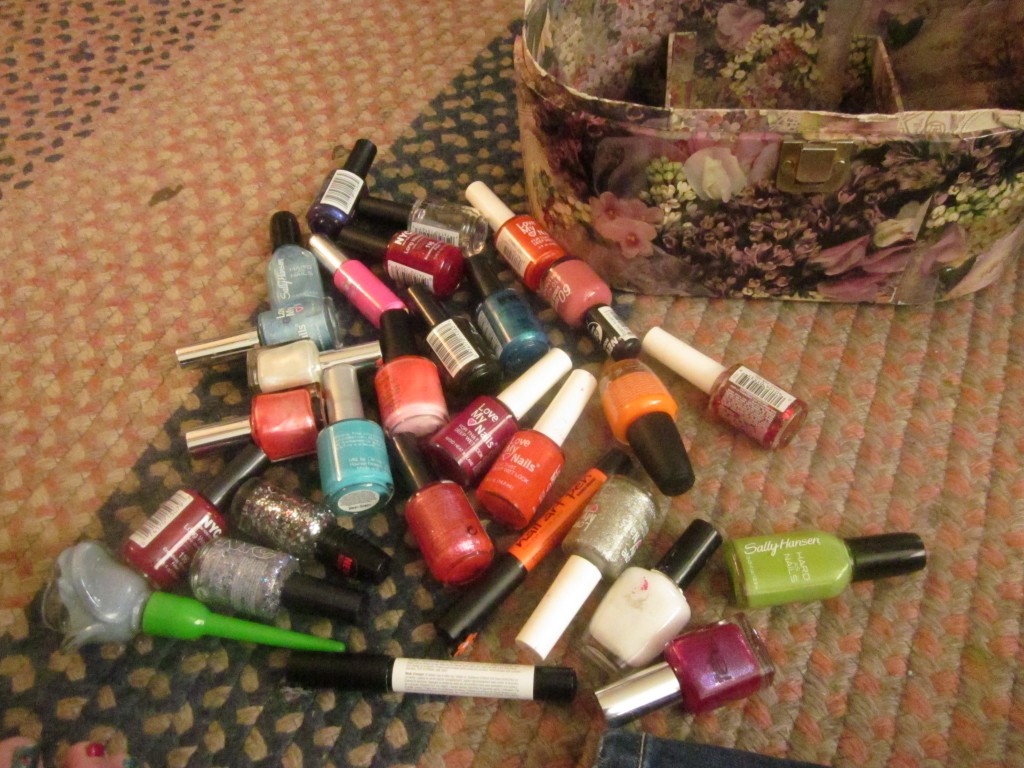 So many colors! Some days it's very hard to choose.
Secondly . . . Little Mack has decided that he wants to be a hunter. He thinks he'll start with rabbits. I told him that if he managed to bag a rabbit, that I would make him a pot of rabbit stew. Honestly I have no idea how to clean a rabbit, but I would figure it out for him. I suppose I could find instructions on Google. And a recipe, at that.
He spent a good share of two afternoons out in our windbreak, just sitting and watching for a rabbit. I'm still waiting to see if he'll be able to shoot a rabbit with an arrow. I honestly don't think so. Rabbits are so furry and big-eyed and fluffy-tailed.
They're just too cute to shoot, I'm thinkin'. Now if there was a homelier animal that's edible . . . a warthog comes to mind . . . I don't think he'd had trouble shooting one of them. Especially if the said warthog, say, was threatening somebody dear to him. Like Anya. Or his old dog, Ollie. Of course we don't have warthogs in Nebraska, that I know of, anyway. Perhaps Bea has chased them all away.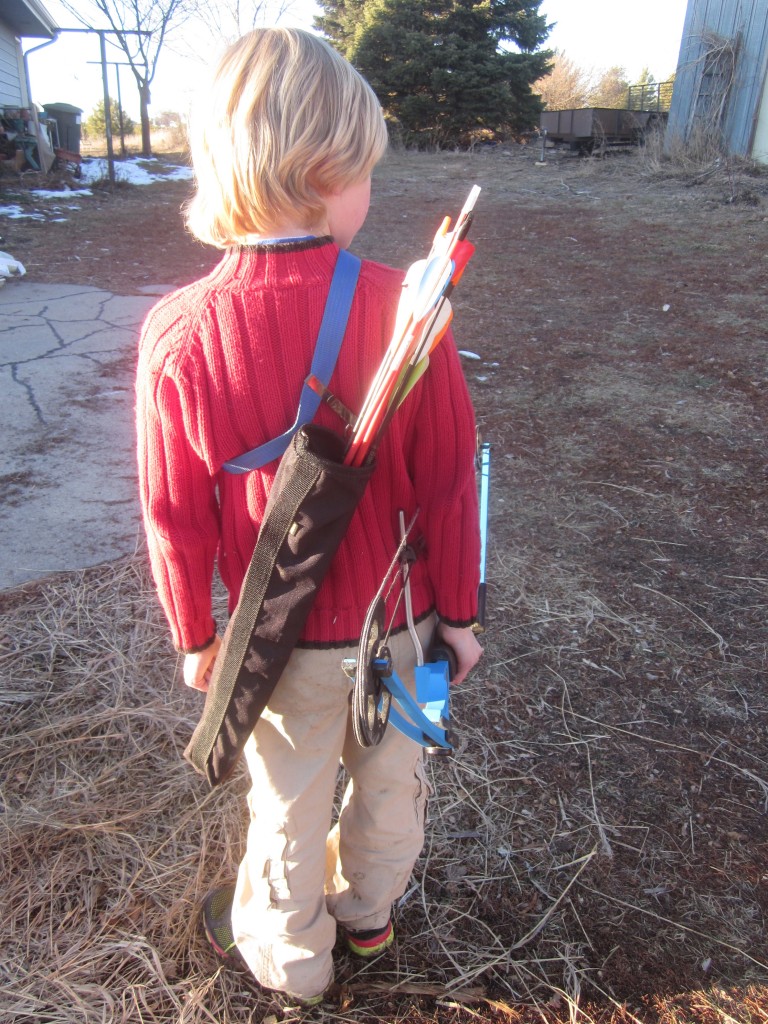 Third . . . Drama is in full swing, although we're on a holiday break for another week. We do two rehearsals a week, on Monday and Friday nights, and we work the kids very hard, but we have lots of laughs, too. Lots of laughs: it's melodrama! We work with absolutely the best group of kids on the planet, I believe. I just love them to pieces, and not just because they bring me chocolate nearly every week. Although that does help make them very endearing to me. Not that they need help.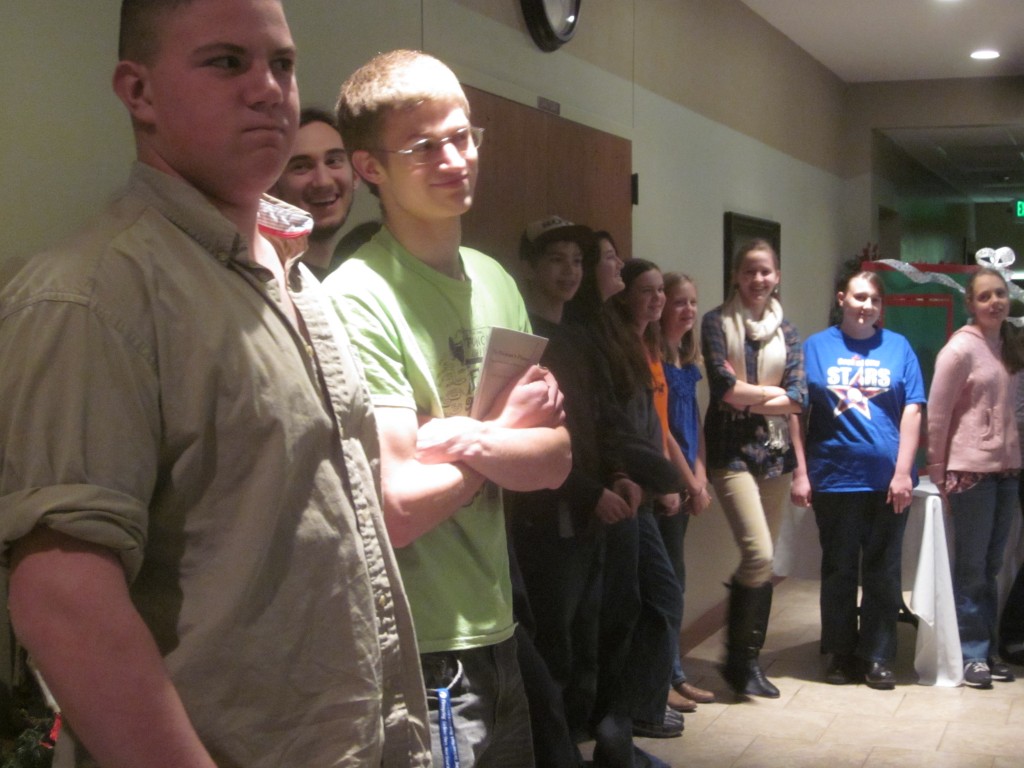 Our college girl, Bethany, has generously agreed to teach the cast the two dance scenes in the play: she's a dancer with years and years (and years!) of dance classes to draw from. And she's a wonderful teacher. She's so sweet, as my dad likes to say, that you practically need an insulin injection when you're around her.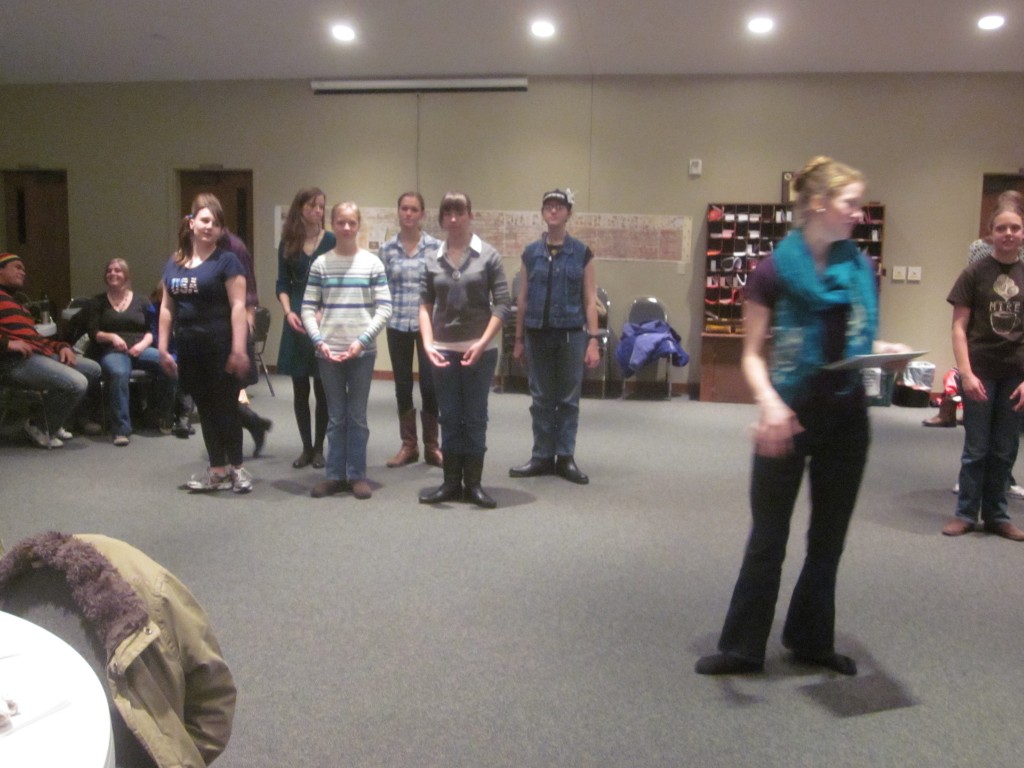 Here she is teaching our girls a ballet dance.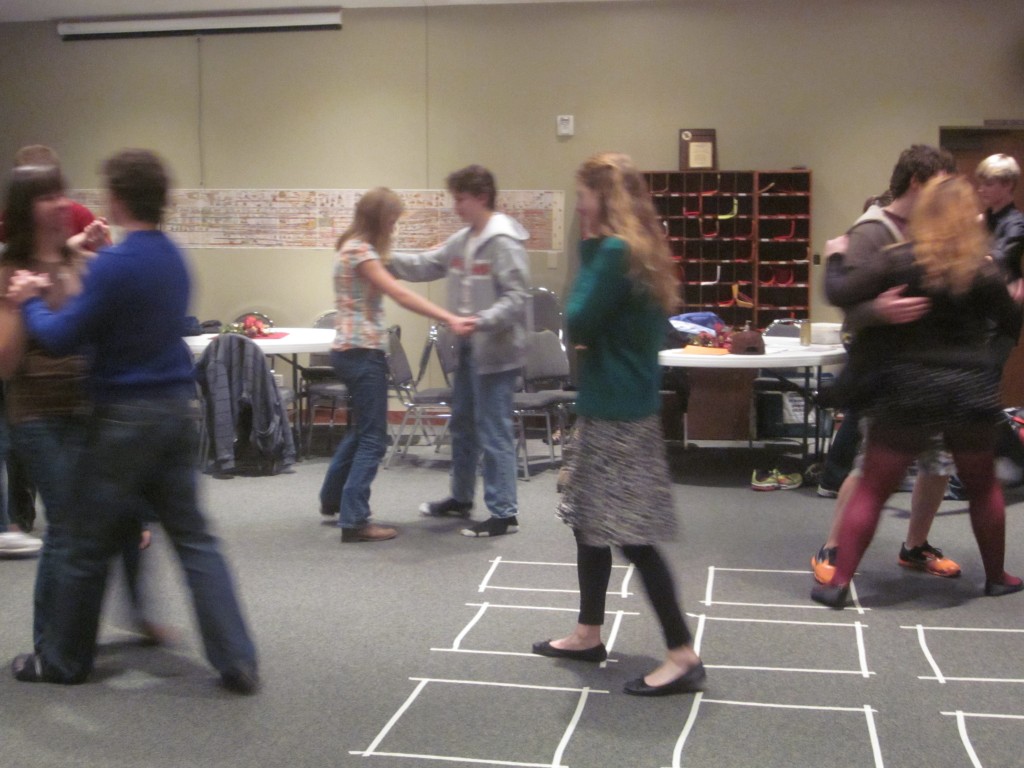 And here she is teaching the cast how to do a basic Waltz step.
I love this! It's enormously fun, sitting and watching my darling girl teach these students how to waltz.
Fourth: a Big Event! Little Mack just recently was awarded a new level of his orange belt in a solemn ceremony with his Taekwondo teacher and other students.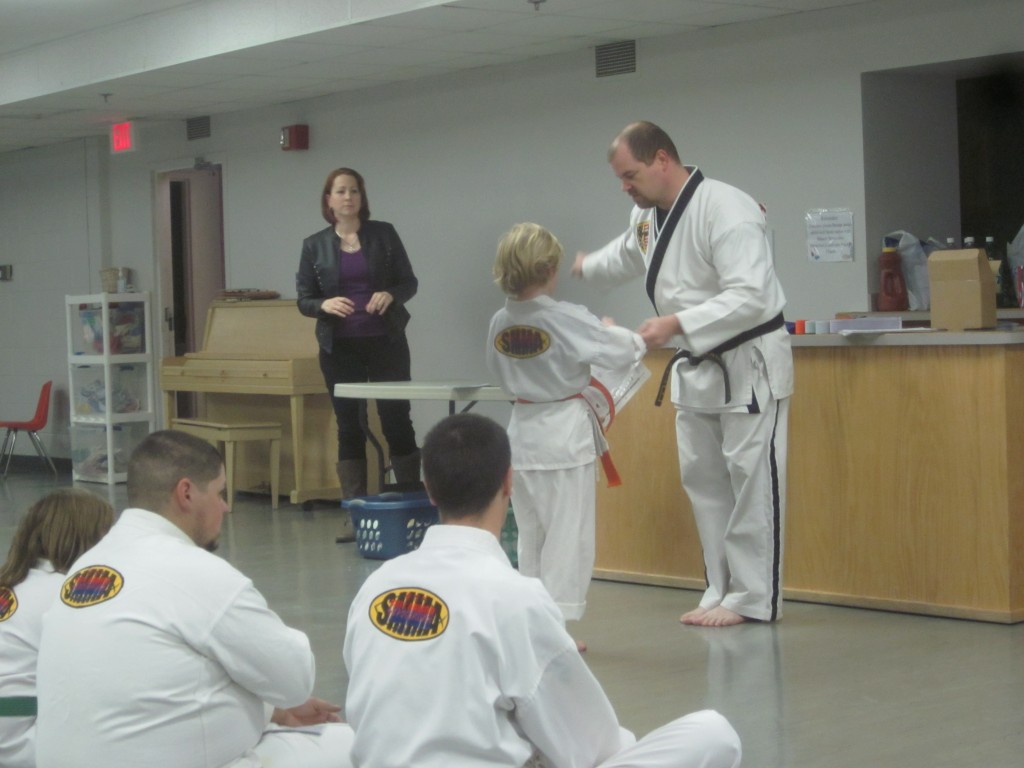 Here's his instructor, Tom Fosler, of Supreme Master Martial Arts. I'm so thankful for Tom and his positive influence on little Mack's life.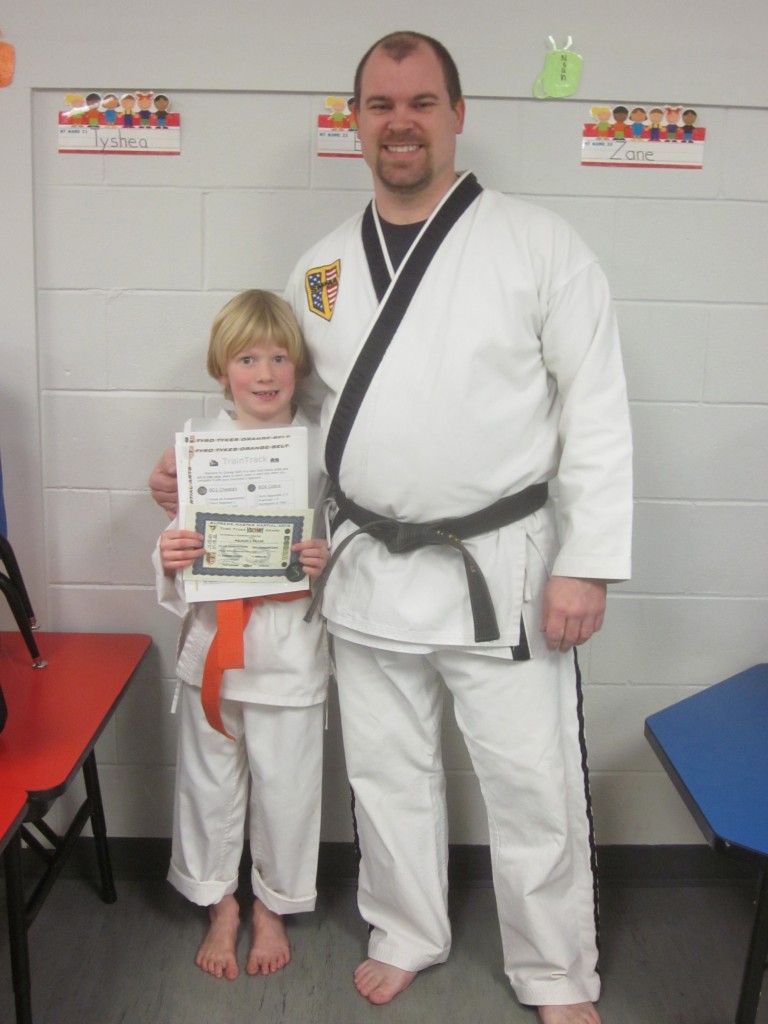 Tom did some sparring with some of the older students, after the awards ceremony. After watching his powerful kicks and blows, I'll tell you this: I wouldn't want to get on Tom's bad side. Tom can really kick and hit and he can also break boards with the side of his hand. He looks all smiley and he seems good-natured and all that, but apparently he could do some real damage, if the situation was dire. Yup. Not going to find myself in a dark alley with Tom anytime soon, say, trying to take his wallet or something.
Just an observation. I'm not crying, either, you'll notice.
Mack can't wait until he can break boards with his hand.
Fifth: Have you wondered about our hoophouse and if there's anything growing in there, now that it's wintertime and the temps are regularly plunging down to 0° and even lower?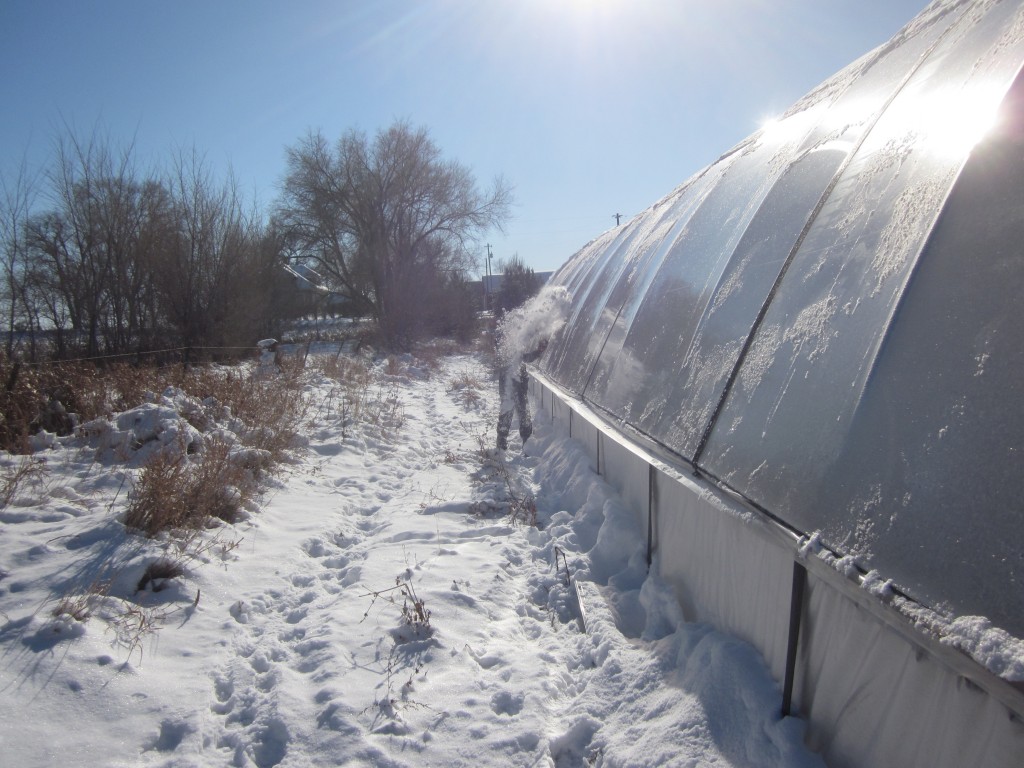 Here's little Mack (behind the cascade of snow, can you see him?) helping me get the snow off the top of our hoop house. So far it has withstood a couple of storms, though we've not had a blizzard or a heavy snow event yet. Knock on wood!
I'm still digging up leeks, carrots, and parsnips in there. They are all delicious and sweet, and also a bit hard to find. The green tops have been frozen, but the roots are just being kept nicely cold underground. When we first built this structure, I couldn't imagine ever wanting more hoop house space–it's so big!!–but now I must admit that I'm dreaming about having a space this big, just full of root crops, for the winter's eating.
Please don't tell Bryan about this yet.
For now just a couple of beds in the hoop house, dedicated to roots, is pretty spectacular!
Just picture it, though, Gentle Reader: an entire hoop house, with beds full of beets, parsnips, turnips, rutabagas, leeks, carrots, winter radishes . . . all waiting in that convenient cold storage for your hearty winter meals. You would time your digging (and eating!) so that by springtime the hoophouse would be all harvested, and then you'd plant your spring crops. What do you think?
Of course it's a brilliant idea, isn't it?!
Actually, I think "low tunnels" would work for this, too, and would be much less work and expense to construct. I might have to just plan on this . . .
Sixth: We've had stretches of very very cold days, followed by a couple of warmish days (in the 40s and even 50s) which makes for perfect ice-skating weather. Solid hard ice on the pond + air warm enough to be able to be outside = ice skating weather! Bethany spent time on the pond with little Mack and her boyfriend Saia (and Bea) one day and I got a few pictures.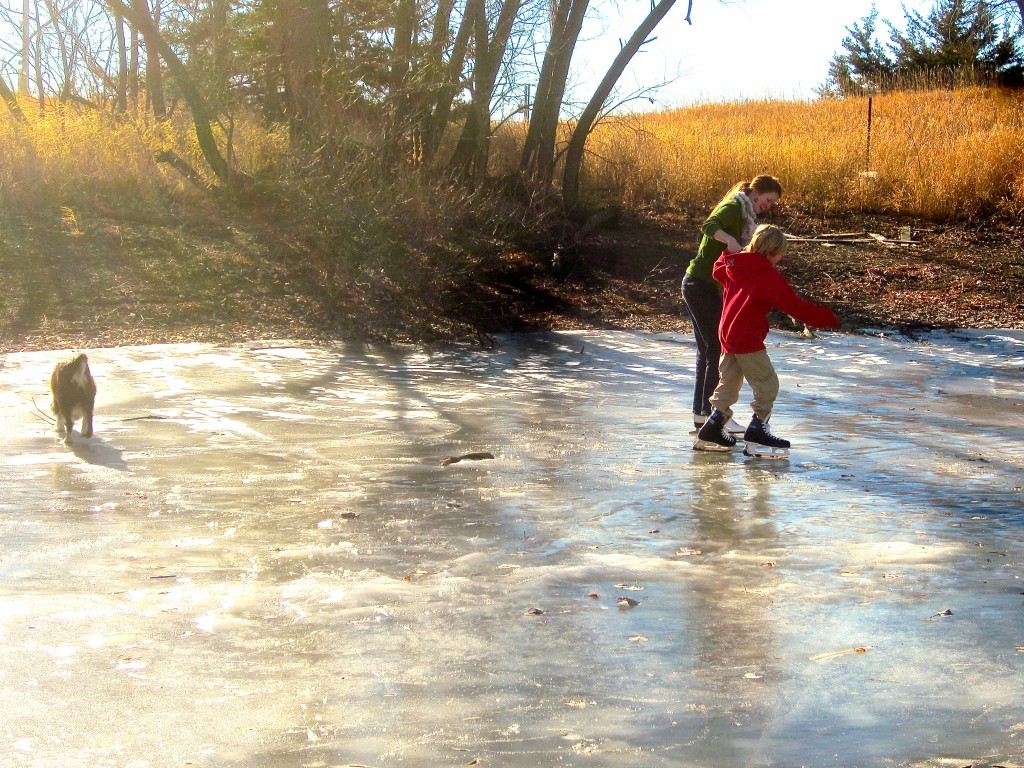 Bethany skates like a dancer, all fluidity and grace.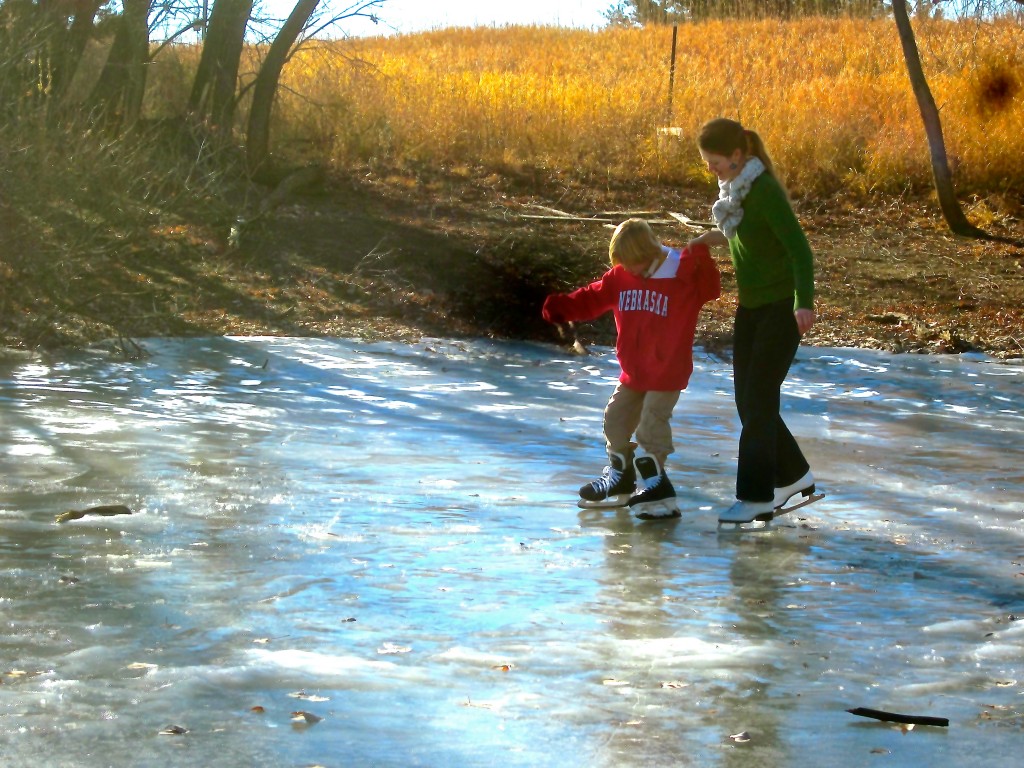 Little Mack and Saia skate like hockey players, with short choppy strokes and lots of noise and occasional running into each other, falling down, and colliding with the dog. Well. Saia was smoother than that. Especially when he was holding Bethie's hand.
Well, Gentle Reader, that's all I have for now. Six things that are going on around here. I hope that you are having a good and pleasant end of the year at your place, and I'll see you on the flip side . . . in 2014!
love,
Amy
P.S. And speaking of The Prairie Homestead (or not!) . . . every Monday, Jill sets up a fun event that you may want to check out, or even (if you're a blogger, too) participate in! It's a linking party of sorts, a big countrified barn dance of homesteading-related posts! I'm linking this post up this week right here, and I encourage you to jump on over and check out the other posts there!