From Chinese Gooseberry to Kiwifruit: how it all happened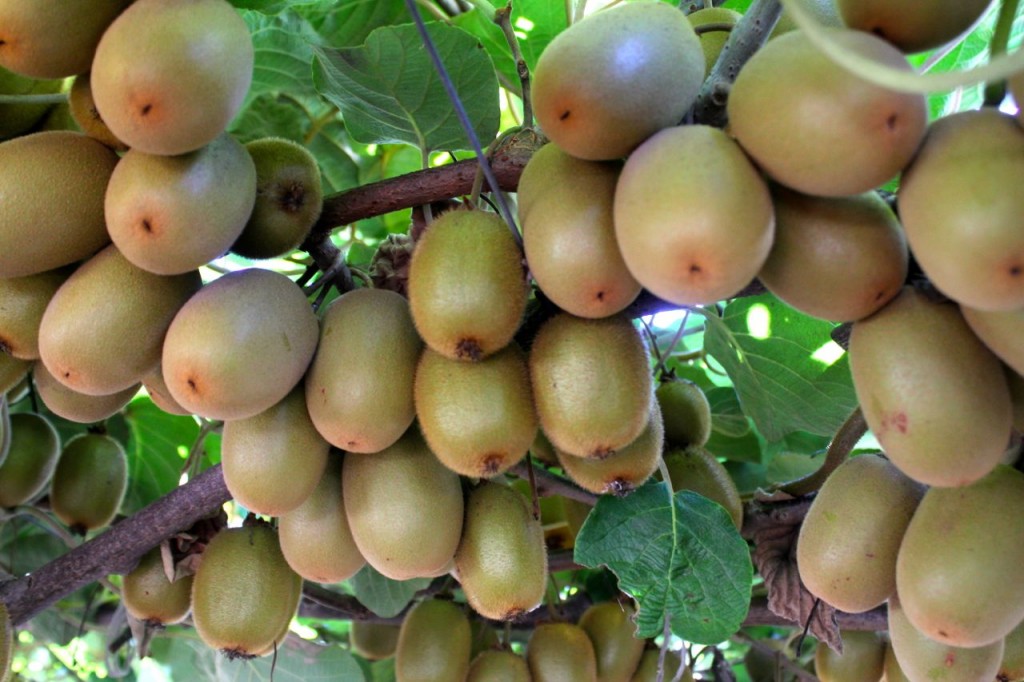 I would imagine, my Gentle Reader, that the last time you bought a carton of kiwifruit at the grocery store, you looked down at the fuzzy brown fruits and wondered about the story behind them. You're a curious sort, otherwise why would you be reading this blog? Guess what: I am here today to satisfy your curiosity. The story of the kiwifruit is an interesting one, especially if you enjoy learning about growing things, like I do.
The surprising thing is this: it has only been a few decades since these delicious fruit have been available to buy nearly all over the world: not like, say, wild plums or apples or grapes, which have been available for the picking and for the buying, for as long as anybody can remember.
Kiwifruit, in contrast, are the new kids on the block. 🙂
Okay now, fasten your metaphorical seat belts. The story of the kiwifruit is a cool story, and if you stick around long enough, you'll see some pictures of kiwifruit that will make you gape, not to mention go to the store to pick up some kiwifruit for your own selfie. Oh. I see I already attached one, above. Are you gaping at it? (I thought so.)
At the end of our lesson, sweeties, we'll hand out samples of New Zealand-grown kiwifruit and delicious kiwifruit wine and some sweet kiwifruit jam . . . oh, I guess we can't do that, can we? But it would be fun if we could. Next time, we'll meet on site!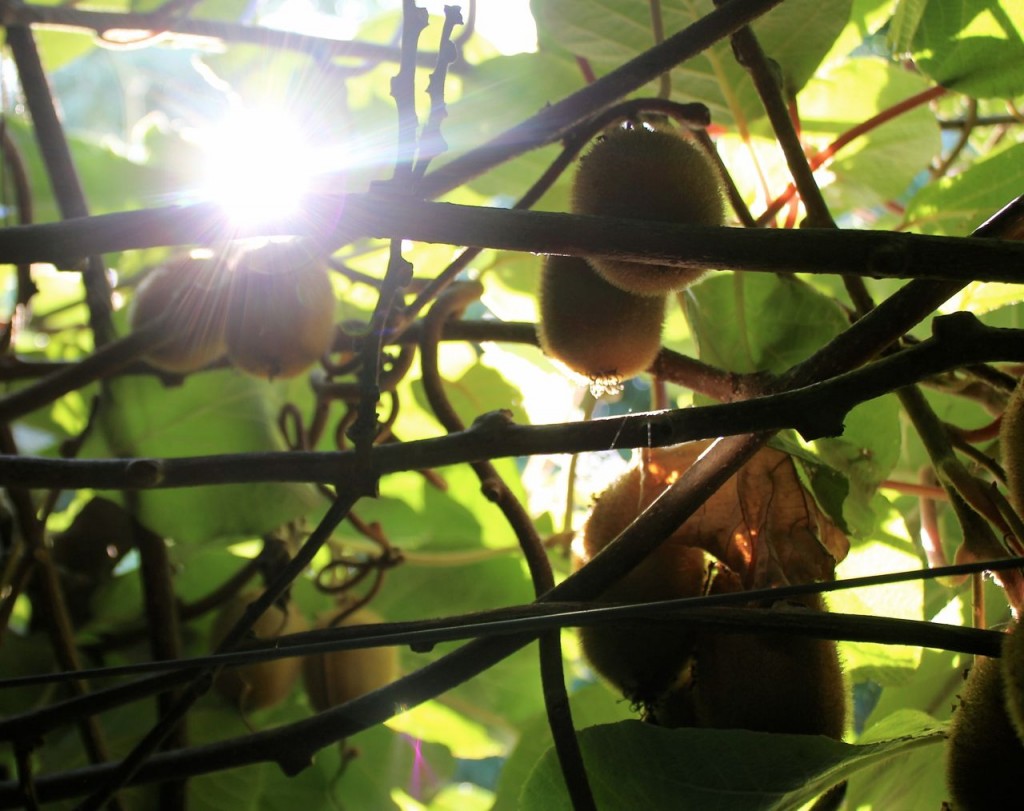 New Zealand is unabashedly impressive in many ways, but especially exciting to me (as a crazygardenlady gardener and a grower of many things) is how easily and beautifully things grow there. I wanted to visit growers while we were on our trip, and we settled on touring a kiwifruit orchard. The Bay of Plenty, the area of the north island where we stayed, has incredibly fertile soil and the highest number of hours of sunshine in New Zealand (according to our tour guide at the orchard). Also, they receive a goodly amount of rainfall year 'round: 60″ is the average annual amount of rainfall (that's fully twice as much as we get here in our area of Nebraska, on a good year).
This lovely climate seems to be the perfect environment for growing many crops, including kiwifruit.
Kiwifruit, actually, are native to China. Cultivation of the fuzzy fruit spread from there in the early 20th century to New Zealand, where the first commercial plantings occurred. Cultivars were originally called a variety of Chinese names, such as "yang tao" but the name "Chinese gooseberry" became common among growers in England and New Zealand during the early 20th Century. American servicemen, also, stationed in New Zealand during World War II became interested in the fruit and it was exported to California using the names "Chinese gooseberry" and "melonette". You can read much more about kiwifruit, if you wanna, right here.
In 1962, New Zealand growers began calling this confusing-looking fruit "kiwifruit" to give it more market appeal, and a California-based importer subsequently used that name when introducing the fruit to the American market. Americans started calling the fruits "kiwis" but this is not a correct term.
By the way . . . a word to the wise Gentle Reader (heretofore and from now on abbreviated to *WTTWGR) if you ever travel to New Zealand, be sure to get this straight:
a "Kiwi" is an inhabitant of New Zealand, as in "Ask that Kiwi for directions to the store."
a "kiwifruit" is the fruit we're discussing here, as in "Honey, would you bring me home some kiwifruit from the store?"
a "kiwi bird" is the funny flightless bird that you hear a lot about while you're there, but you never actually see, as in "Is that a kiwi bird that I saw scuttle across the road, dear, on our way to the store?"
If you get these terms confused in New Zealand, for example, "I ate three kiwis for lunch," you will be sternly and promptly corrected. Just an FYI. Because I love ya.
*WTTWGR

Okay, I just realized that I'm having too much fun with my words in this post, and that if I don't stop, I'll never get to the rest of the pictures. And the pictures are the best part, of course! Soooo, here we go . . . I shall attempt to hie myself off to the pictures . . .
The kiwifruit orchard that we visited was made up of only ten acres, but they grew there, besides kiwifruit:
fejoas
macadamias
plums
navel oranges
hazelnuts
passion fruits
pistachios
almonds
ugli fruits
avocadoes
several varieties of apples
pears
carob
manuka bushes for honey
quince
and more!
I really, really wanted to bring home seeds from this tree, the Irish Strawberry, but you know that sort of thing is frowned upon, these days, at least for mere mortals like myself. 🙁 (My husband would have been so disappointed in me if I would have done this, too. Bless him. He's a rule-follower. How he ever ended up with me, a purported rule-bender, I'll never know.)
Our guide told us that all of these crops grew well, but the kiwifruit outperformed them all.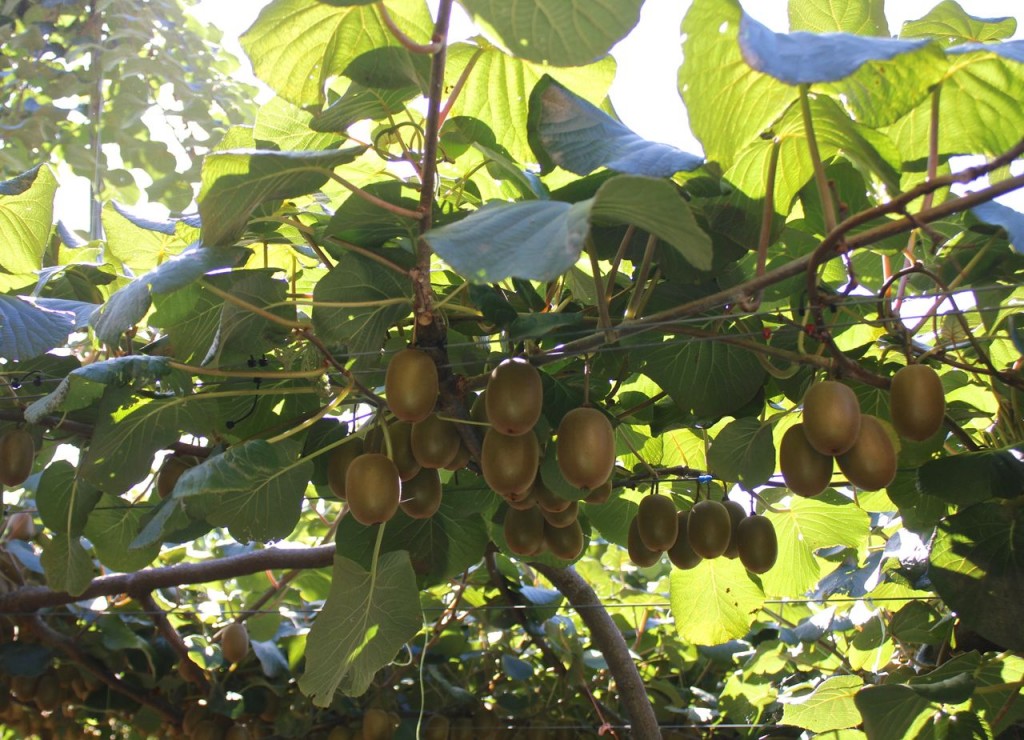 What a place, eh?
Here are a few kiwifruit stats for you:
There are 2500 kiwifruit orchards in New Zealand.
175 tons of kiwifruit are grown in New Zealand each year.
1.5 billion (give or take) fruit are picked every fall.
All kiwifruit are picked at once, though the harvest takes several weeks.
The New Zealand government issues 15,000 temporary work visas for kiwifruit harvest.
The kiwifruits are cooled for 8 to 10 months at right above freezing temps.
Kiwifruits are shipped to 60 countries around the world
When the New Zealand kiwifruits are exhausted, then those of us in one of those fortunate 60 countries have to put up with kiwifruits from Mexico, California, and Italy.
Frankly I don't think they are as good. 🙂
Thanks for reading, by the way–I appreciate you!
*hugs*