End of Summer: Fun at the Fair
There are folks who embrace Autumn as if it's a long-lost friend. They exult in the falling temperatures, the falling leaves, the explosion of fall color, and the shortening of the days, with open arms and undisguised delight. They enjoy plowing up the garden at summer's end, and raking up the leaves, and mowing the grass one last time, and they grin when they pull on jackets for the first time. I watch these people in curiosity and wonder, and also with just a touch of envy.
But. I am not one of them. Sometimes I wish that I was one of the Autumn-lovers. My spirit is just too tied up in green and growing things, in sunshine and blue skies and lengthening days, and the scrumptious, tantalizing out-of-doors. My forbearing husband made a comment to one of the kids the other day, explaining why something in the house hadn't been accomplished (a room that we had started painting during the winter had never been finished, or somesuch thing): "Your mother is addicted to being outside." I've been thinking about that ever since.
It's true. I'm an outside addict. I've always been this way, as long as I can remember. I muddle through the cold days of winter, by becoming engrossed in books and projects and kiddos and making food and putting on a melodrama and other pursuits, but it's during the sweet days of spring and summer and fall, when I can be outside most of the time, that I really feel alive. I think God meant for me to live in a temperate area of the world (like New Zealand) where I can be outside all day long, nearly every day.
But then, who would do all the things I do during the winter?
Apparently my brother in law, Kirk, was not one of these Autumn lovers, either. His life was cut tragically short twenty-two years ago, as he was biking on a highway and was hit by a motorist who fell asleep at the wheel. Kirk was a poetic soul, like his mother, and he wrote this:
"The autumn wind still calls me home
In voice of rustling leaves
And as I watch one more year die
Something within me grieves." –Kirk Miller
Yup. Autumn–as lovely and as welcome and as needed as it is–makes me sad, too. Sigh. Maybe it's because at the end of autumn, it will be winter, and winters here are long and cold and gray and icy, and for us they involve lots of wood-hauling and fire-making and woolen layering. Maybe there are other reasons. I don't know. I just know that I fight this change in seasons as long as I can.
One fun way to keep summer going as long as possible, is to not start school until you really have to (cough) participate in as many of the end-of-summer small town festivals and county fairs as you can. So we spent an Autumn-defying, Summer-glorifying evening at our county fair recently.
We go to our county fair every year. We cluck over the exhibits, we ooh and ahh over the handmade quilts, and we pick up enough free pencils to last us through the school year. We eat popcorn and ice cream cones, and we always watch at least a good portion of the Ranch Rodeo. We catch up with lots of friends that we don't see enough of. This year was the first time that I can remember that the fair hasn't been the hottest weekend of the year. It was pleasant and cool, and we even got chilly when we sat and watched the rodeo. I've never needed a jacket in August before, but, oh well. I wasn't complaining. Of course, that might have been due to the snow cones we were eating. I'm so glad that Amalia had her camera along, to document our blue lips. Blue lips in August. Whoda thunk.
"Malachi . . . this painting is a take-off of the famous Grand Wood painting, American Gothic, and the folks in the real painting looked very serious. Very grim, indeed."
"So what?"
"Sooo. . . . look serious! Look grim."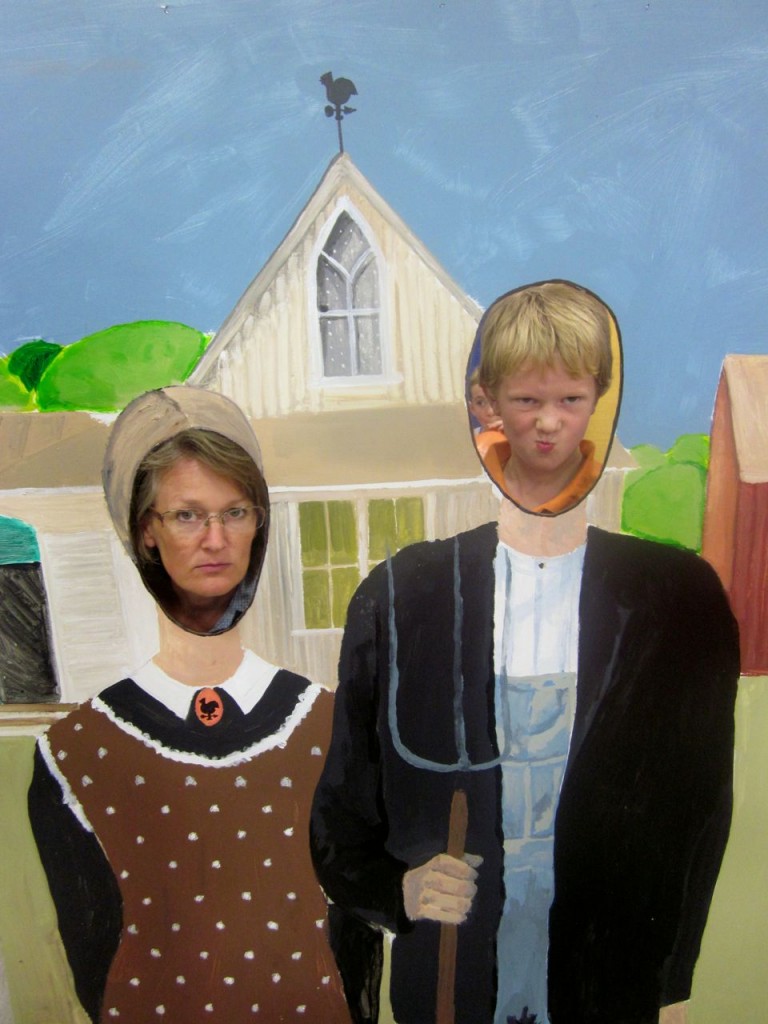 "Well. Maybe not that grim."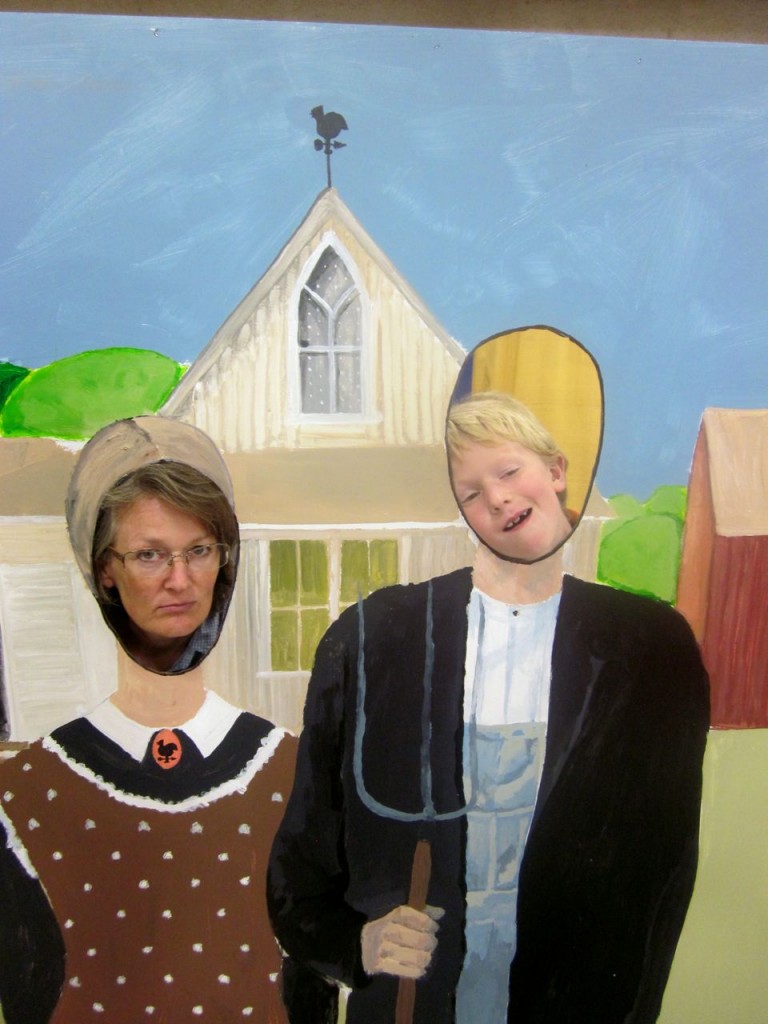 "What are you doing? Are you taking a nap? Are you dying? C'mon, Mack!"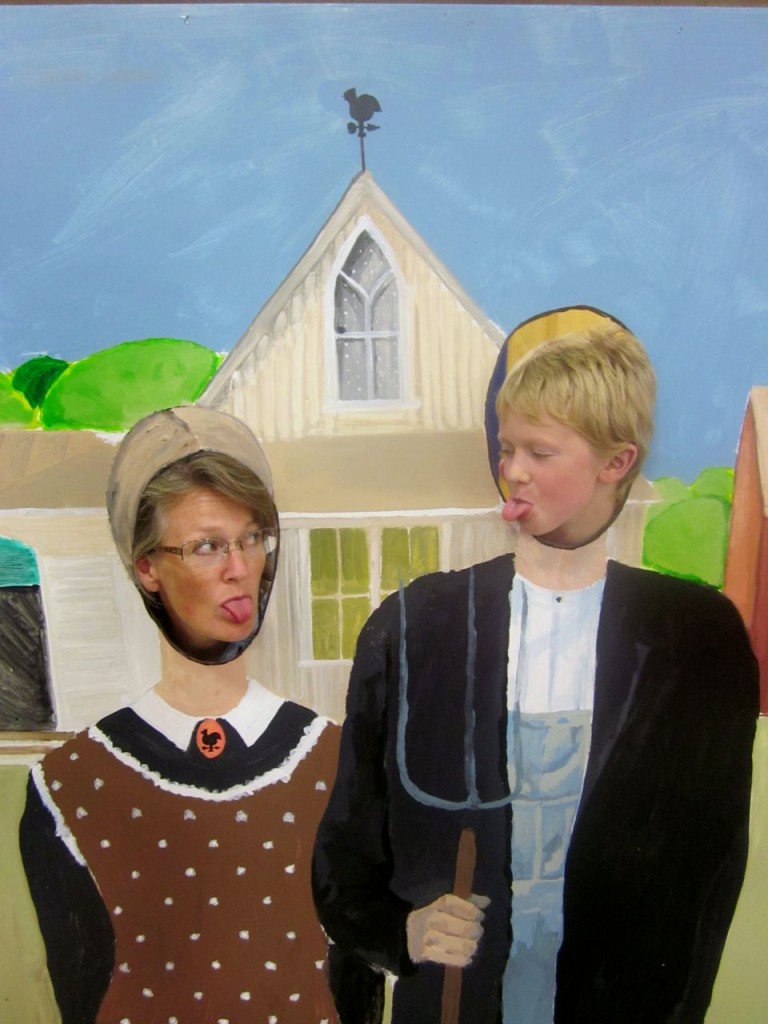 "Oh, just forget about it . . . nerd! . . . "
"I'm not the nerd, Mom, you are!"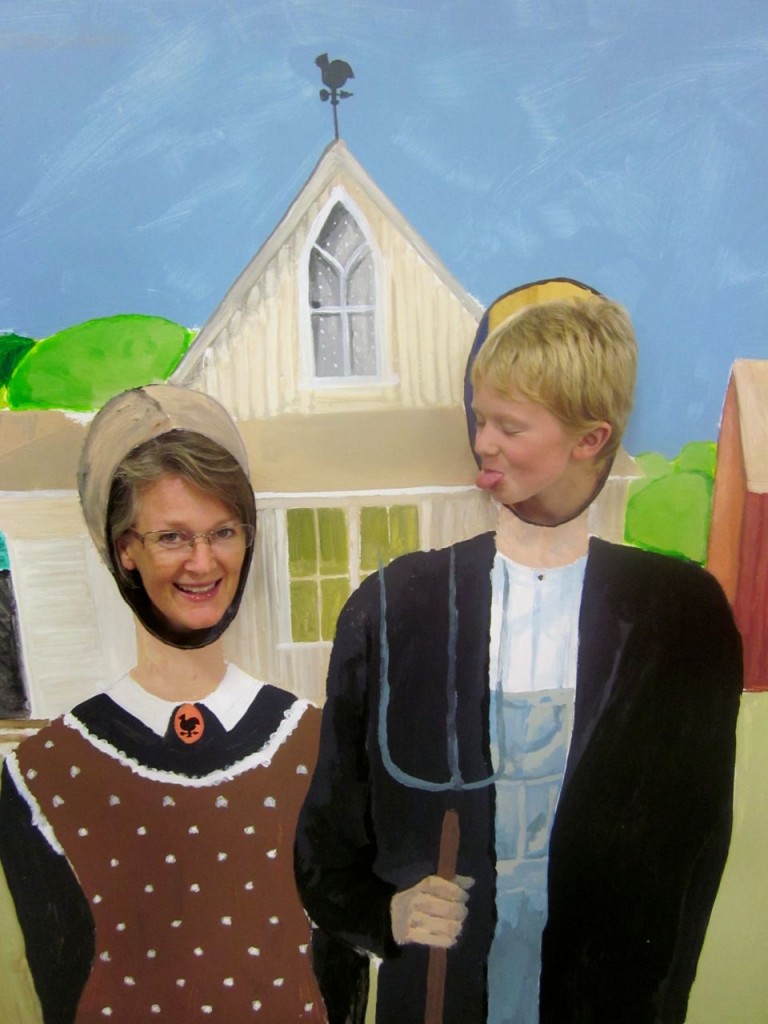 "Mack. Enough of this. Are you ready to go to the rodeo now?"
"Not yet, Mom. Look, the petting zoo! Aww, look at the baby donkey. He's so soft."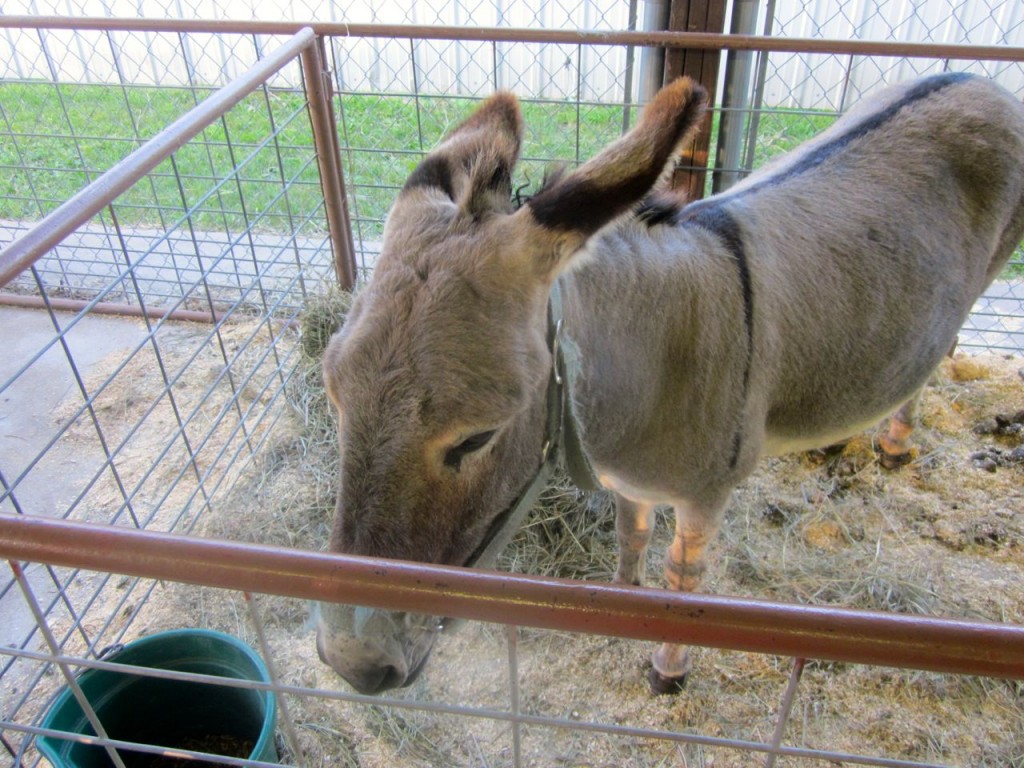 "I think this little guy just wants to go home, Mom. Hey, little fella."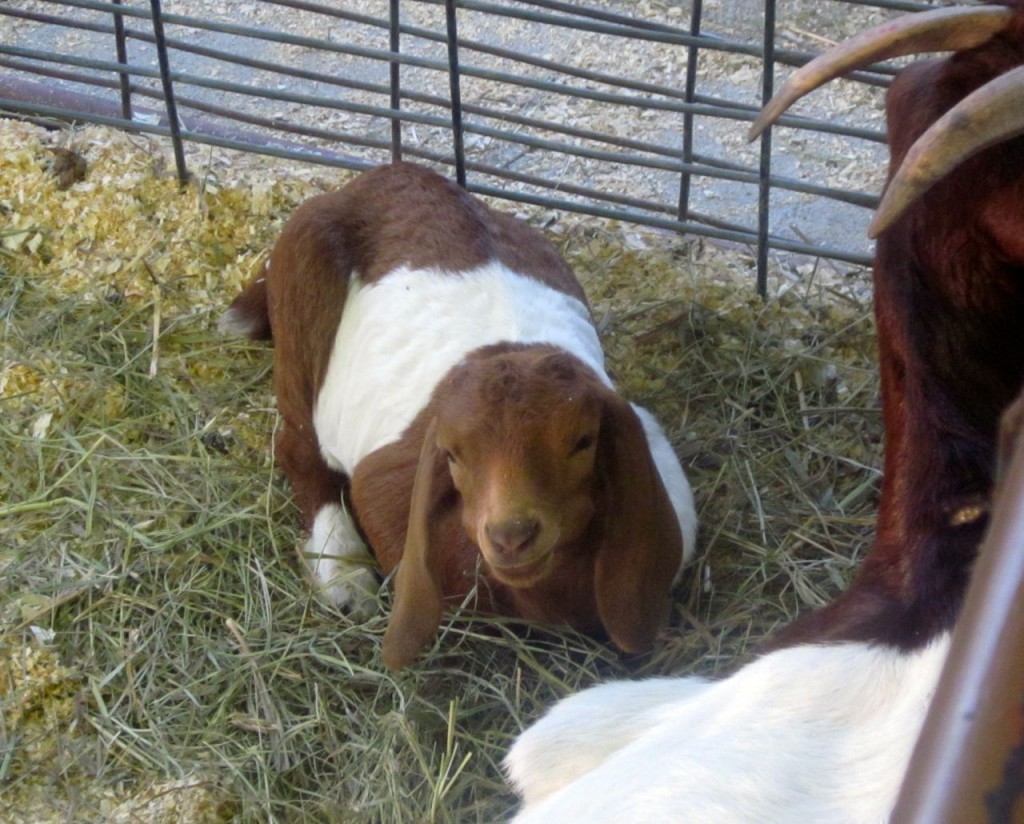 "Awwww, look, Mom, a baby goat. Why don't we have goats, Mom?"
"I'll let Dad answer that question . . . Bryan?"
"Look, there's the ferris wheel, Mack!"
"Ohhh, I really want to ride on the ferris wheel!"
"You mean that ferris wheel?"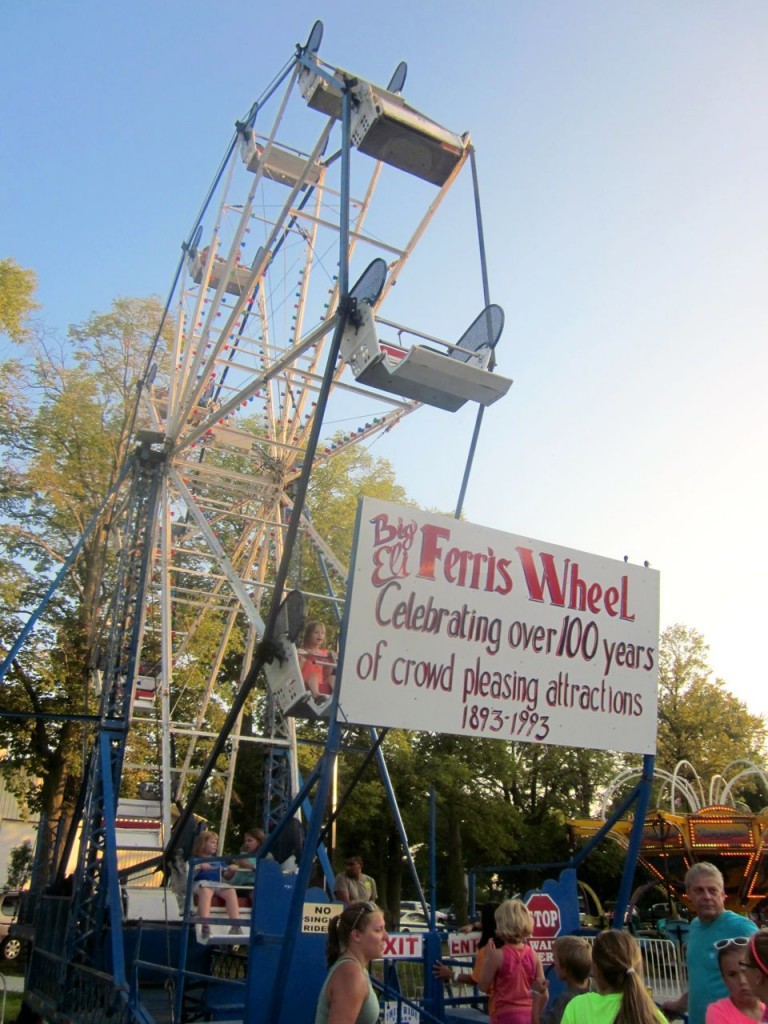 "It looks awfully big. Look, it says 'No Single Riders.' And they're only filling it half full. It looks old. Why do you suppose they're only filling half the seats?"
"You mean only married people can ride it, Mom?"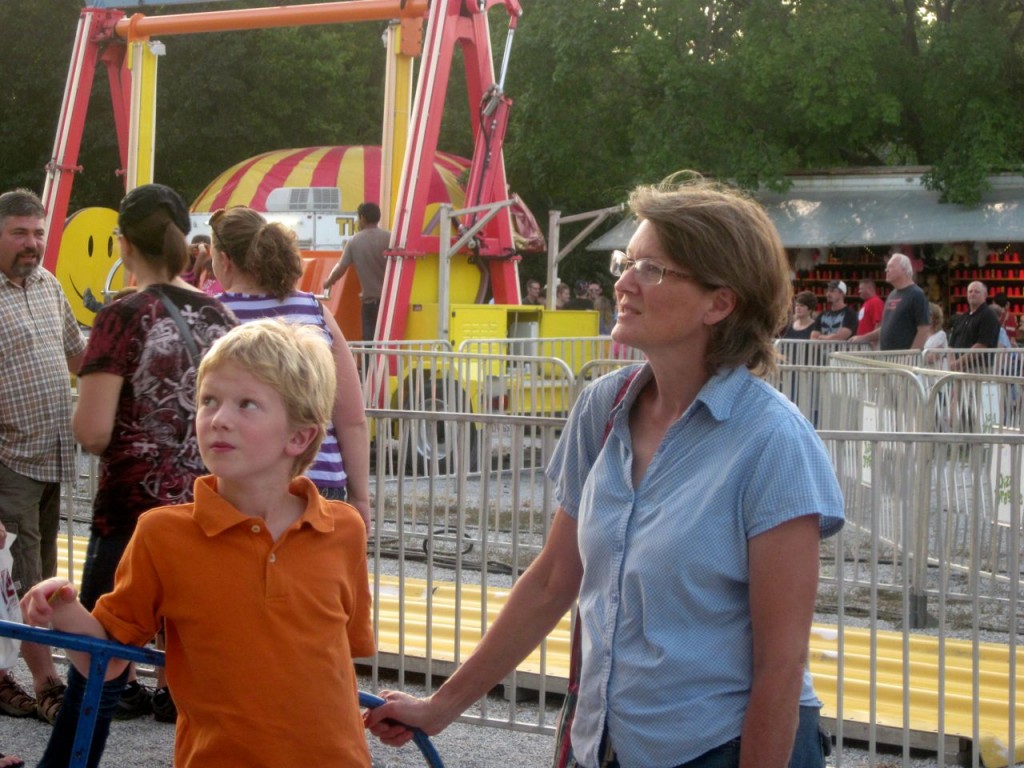 "Yikes. Do you think it looks safe, honey?"
"Of course it's safe, Mom. It says it's over 100 years old. They've gotten all the bugs out by now, surely."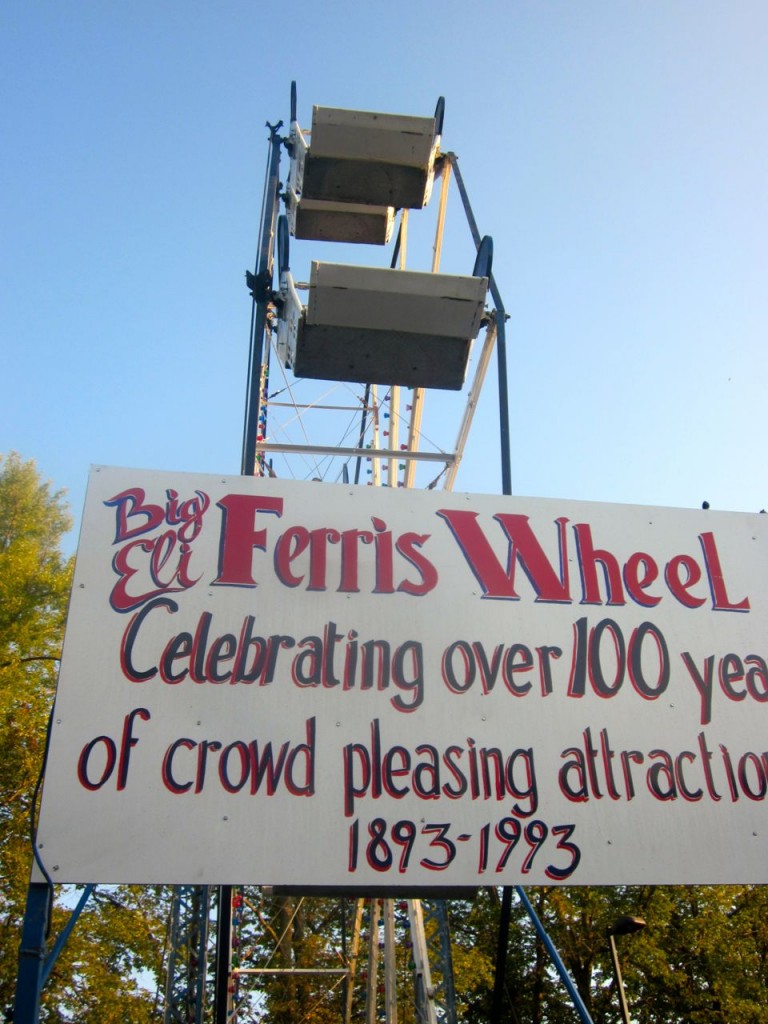 "Hmm. I don't know about that. C'mon. Let's get in line. If I die on this ferris wheel, Mack, remember that I loved you enough to throw common sense out the window and ride this rickety old thing with you."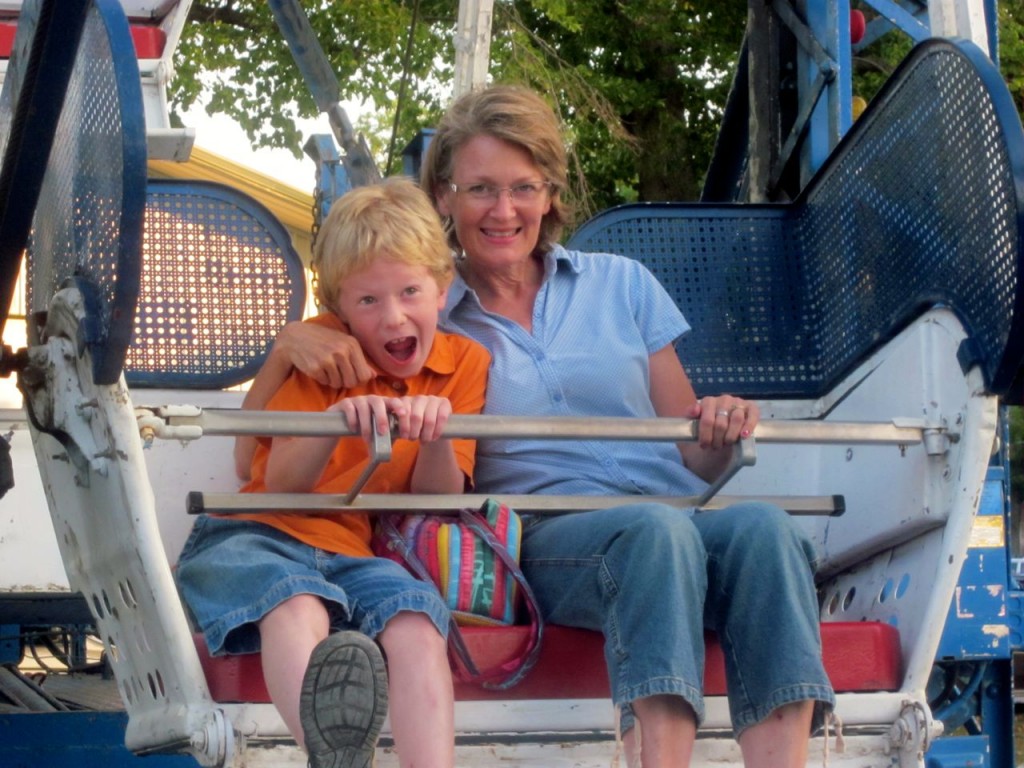 "Probably it wouldn't be a bad way to go, anyway . . . atop a ferris wheel. You know, better than dying while digging a ditch. Or fixing the toilet. Or scrubbing the shower grout, say."
"Or cleaning my room."
"Didn't you clean your room before we left, like I asked you to . . . ?"
"Oh! Ulp . . . oops."
"Malachi!"
"Yeah . . . at least we'd die with happy smiles on our faces."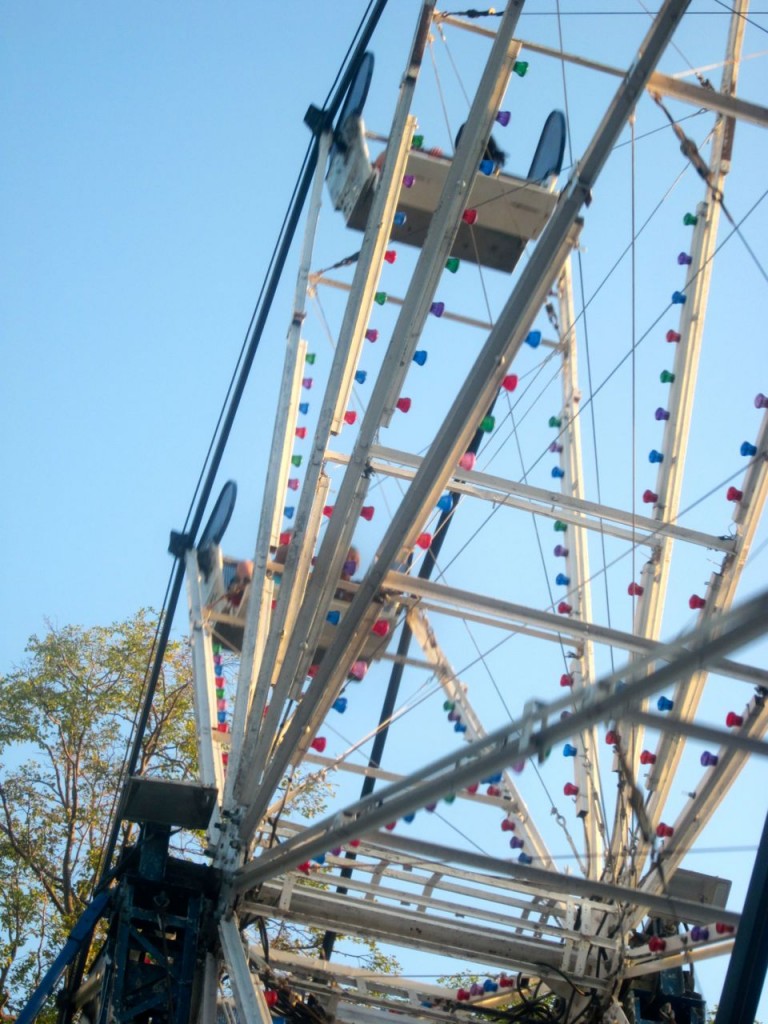 "Smiles of terror, maybe."
"Here it goes! Wheeeee!"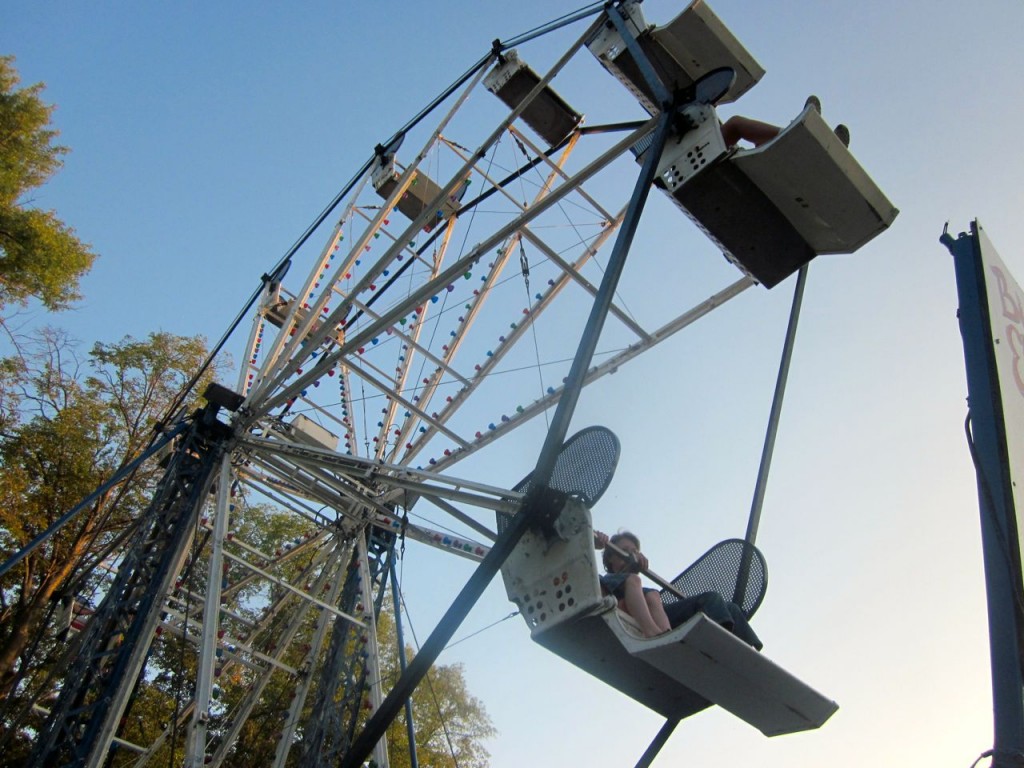 "Wow. That was scarier than I thought it would be, Mom. Wanna go again?"

"Ready to go to the rodeo now, Mack?"
"Sure! But let's get snow cones, first. Look! They have, like, 100 flavors to choose from!"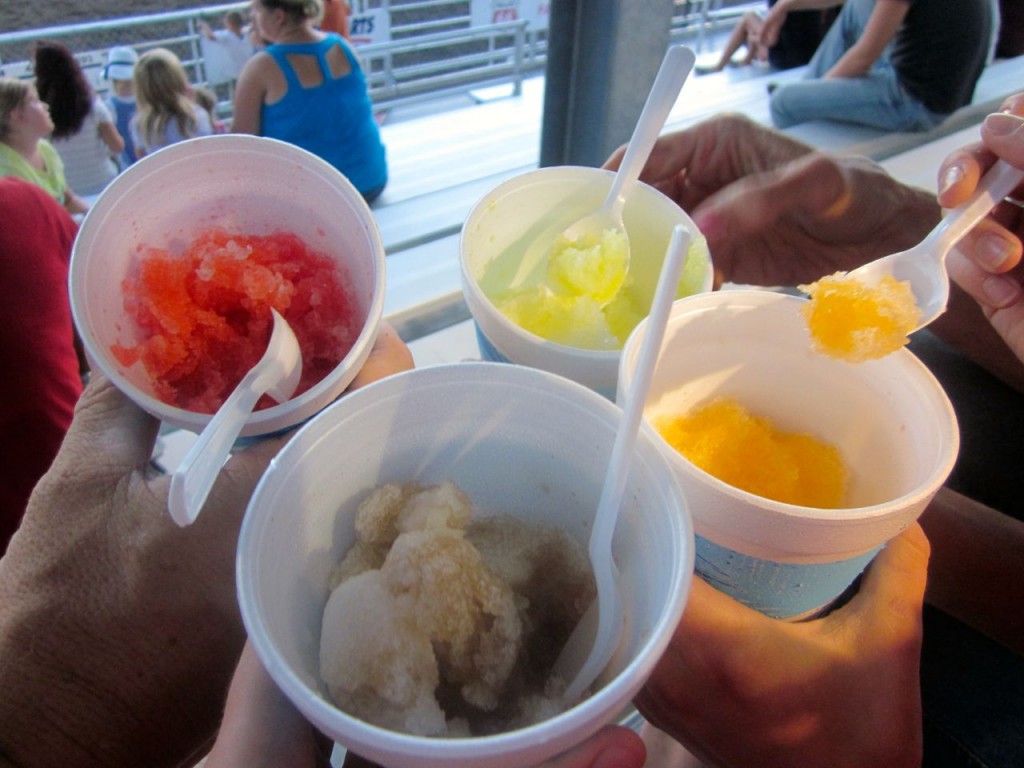 "Root beer float, cherry, pina colada, and mango!"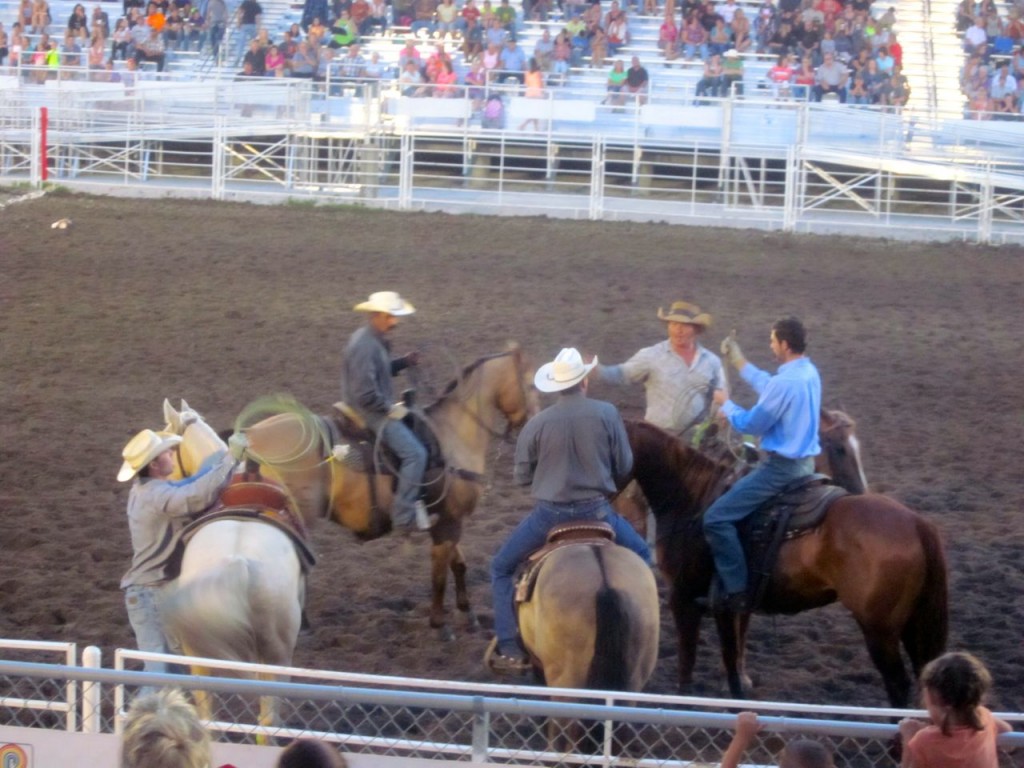 "I could watch these guys competing to catch the calves and brand them all night long. But my snow cone is making me cold. Whoever heard of being cold at the fair? It's August!"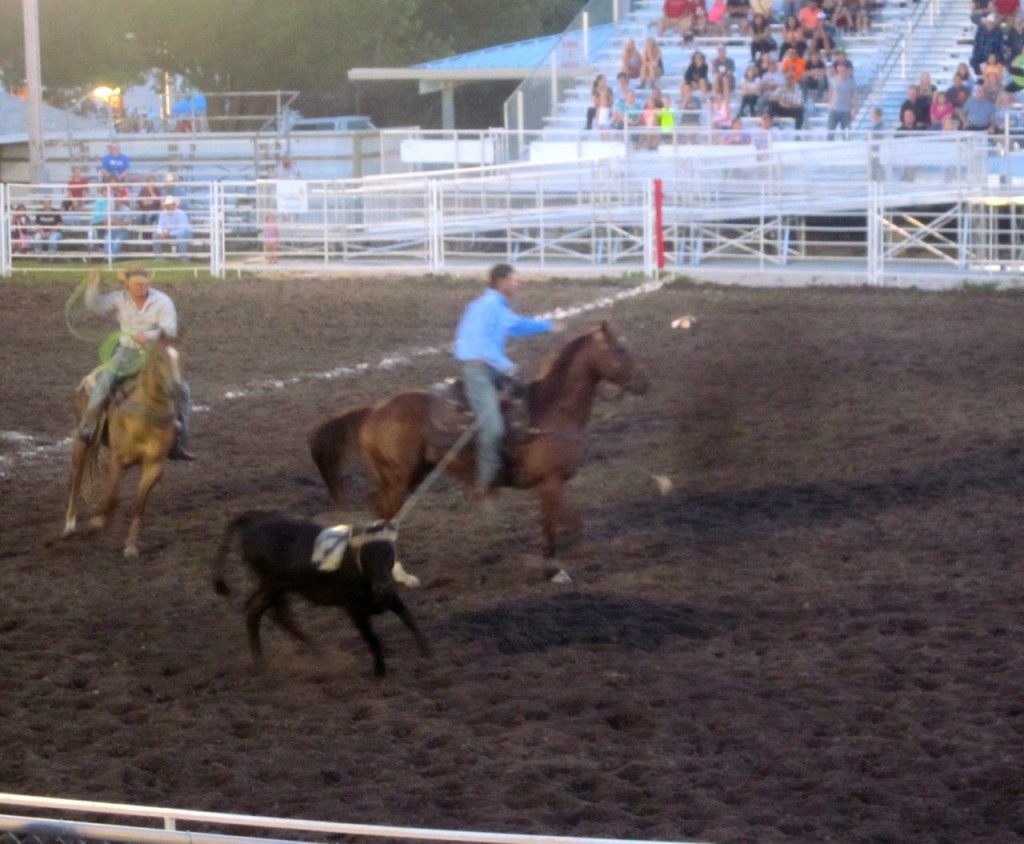 "They're going to catch him! Go, go, go!"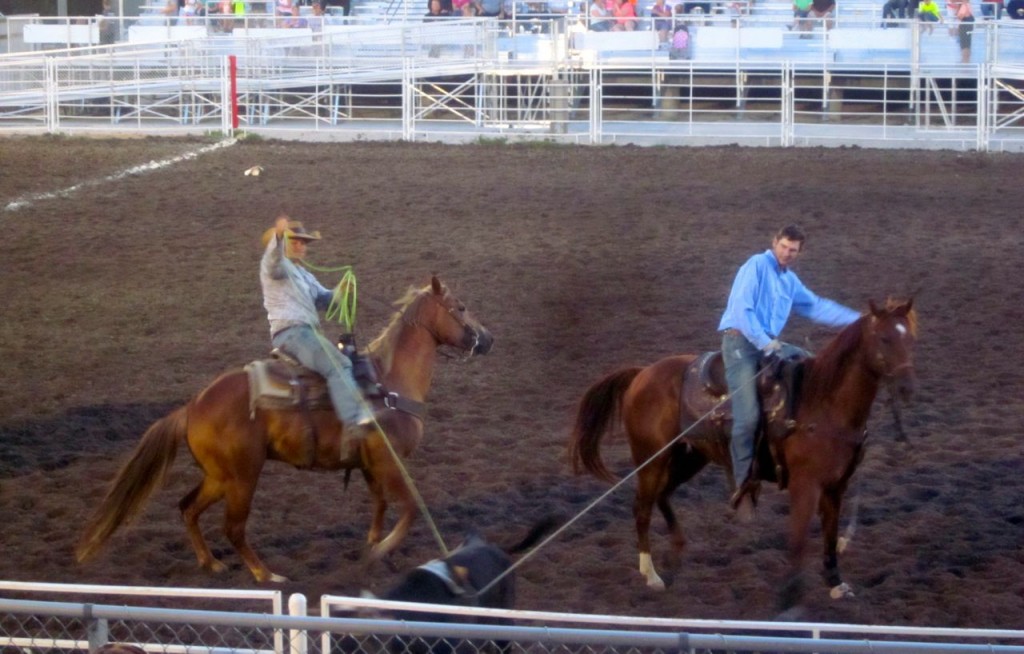 Success! Smiles all around.
Okay, kiddos, it's getting late. Ready to go home?
"Sure. Unless you want to go for another ferris wheel ride, Mom."
"Nope. I'm good."
"You sure? Or are you just . . . chicken?"
"Chicken? Me? No way. I went on the 100-year-old, rickety, scary-high ferris wheel once tonight. That pretty much proves that I'm not chicken. Dad didn't go, though, and neither did Amalia."
"Bwwwaaaack, bwack, bwack!"
"I can't believe it, but my lips–are–blue!"