Oh Yeah. Putting up sweet corn. Sweet sticky goodness.
If you can believe it, there are folks who think that we who live in Nebraska don't know fun. I've heard it over and over again: "No mountains. No ocean. No nuthin'. What do you guys do for fun?" Well. This gets my back up, sometimes, it really does. We have absolutely no trouble thinking up fun things to do, no trouble at all, and if you've been reading this space for any time, you'll have figured out that Fun is our (collective) middle name. We Nebraskans. You may think we are all about work and hardship and tumbleweeds and wind storms and drought and pulling weeds and husking corn and dodging tornadoes and so forth, and you might be right about all that, but Fun is right in there, too.
Take a gander.
Here's some fun.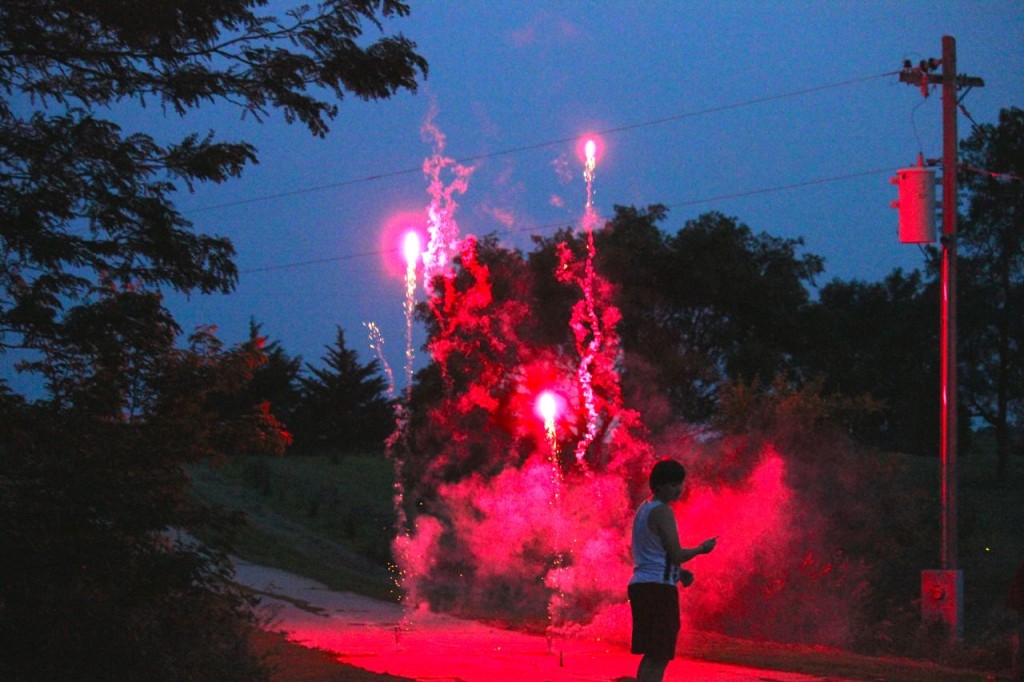 More fun! And it happened right here. In Nebraska.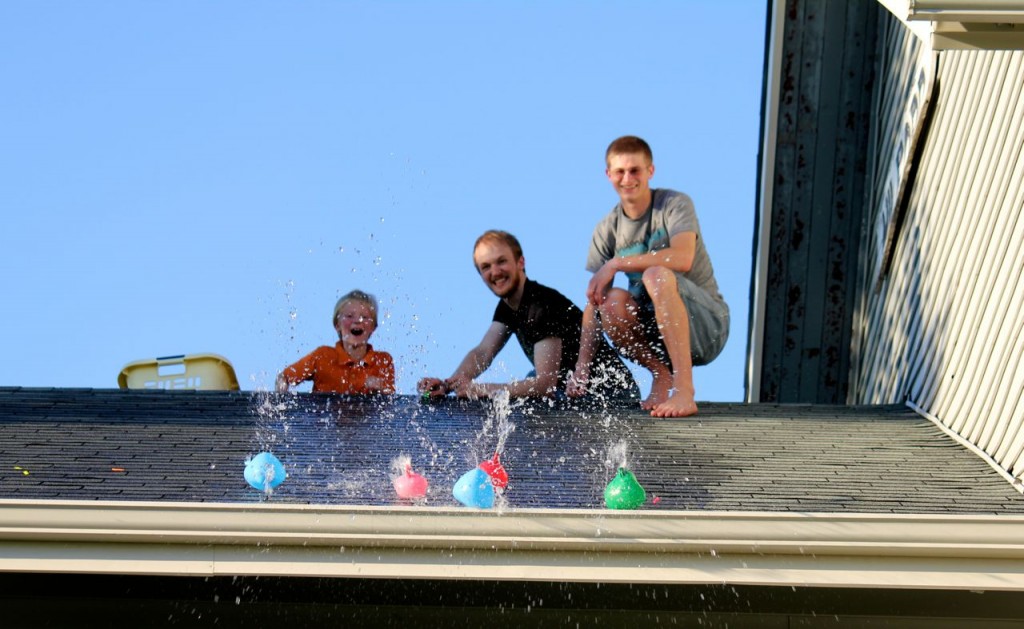 These guys seem to be having loads of fun, as well. And yes, this happened here in Nebraska, as well. 🙂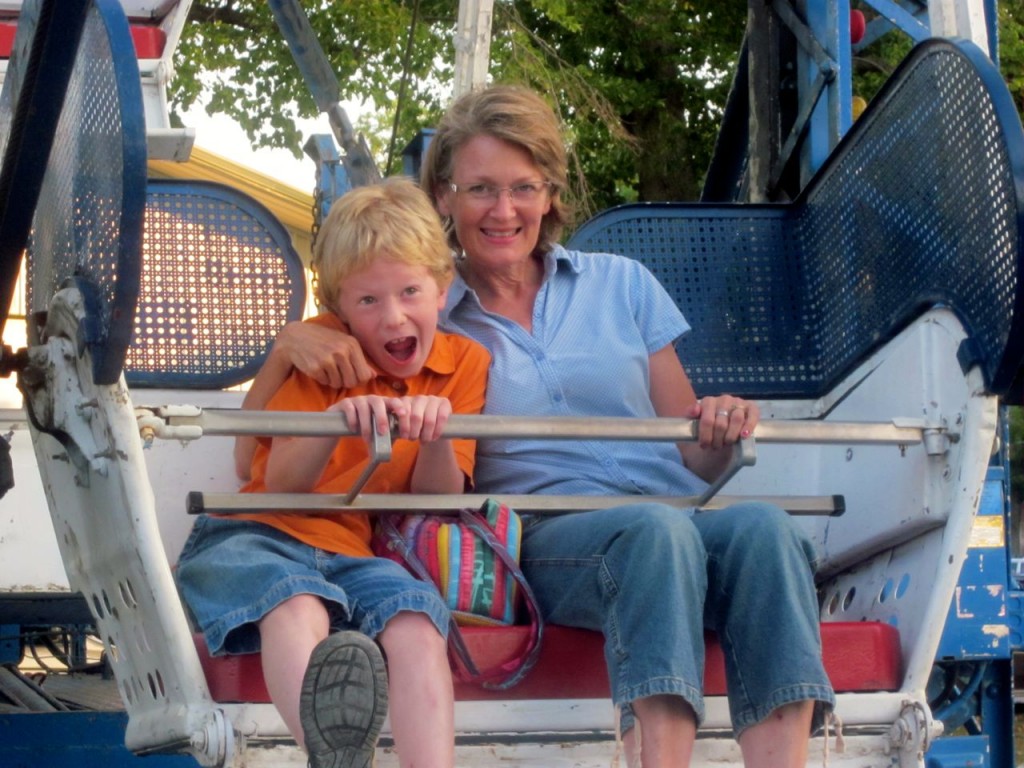 You don't get much funner than riding on a big rickety Ferris Wheel! (And ever since somebody told me that "funner" is not a real word, I've been using it like crazy. So there.)
So, as you can see, even without an ocean to enjoy or mountains to climb, we somehow muddle through the "fun" thing. That's probably a huge relief to you. Now you can sleep at night. 🙂 (Happy to oblige.)
And there's something else that we at which we Nebraskans excel: raising corn. I was pretty surprised, actually, when I looked it up and found that Nebraska is the third biggest producer of corn in the U.S. I figured we were the top corn producer in the nation, for sure. You'd think it, too, if you took a drive around our neck of the woods. The corn looks fantastic this year. No matter your feelings about GMOs and Roundup-ready corn, and all that spraying of chemicals, and the like, you'd still have to admit that the fields of corn look amazing this year. I think we've had just enough rain (for the dryland corn) and just enough heat for it, too, to be very happy, indeed.
The sweet corn that is growing around us looks great, too, although it doesn't get as tall and impressive as the field corn.
A friend of my dad's invited us to pick in a sweet corn patch on his land. It was going to get shredded the next day. The corn was absolutely beautiful. My mom and I have the same food hoarding tendencies, the same "I hate for it to go to waste"ness, that tug of the heart and the belly that keeps you picking up dropped apples and cutting them up for cider, that spurs you to pick armloads of sweet corn to put up for the winter, even though you know the freezer has precious little space, due a recent butchering of old stew hens, partnered with the fact that you have a few big bags of beef bones and chicken feet that need to be turned into bone broth and whatnot.
Why, oh why can't I use up the all that is squirreled away in the freezer before summer starts? I try every winter to use up the foods that we've so carefully put away in the freezer–the summer's end ratatouille, the frozen cherries from the orchard, the elderberry juice and frozen rhubarb frozen for winter delicacies, the bags of beef bones from the quarter beef we buy in the spring, but no. I will do better next year. I guess I need a better system. Or a system at all.
And that's my circuitous way of introducing the topic of this post. And my sneaky way of using the word "circuitous," which is a word that I (personally) love. Almost as much as "funner." 🙂 It has such a lovely feel on the tongue, does it not? Not unsimilar to a mouthful of buttery hot sweet corn.
And back to the topic du jour we land. Corn. Sweet corn. It is, after all, that time of year. The month of Sweet Corn.
On that recent hot summer evening, we picked enough sweet corn to fill the nooks and crannys in our freezer, and also the freezer of my folks. Here it is in my mom's pickup bed, before we started working on it.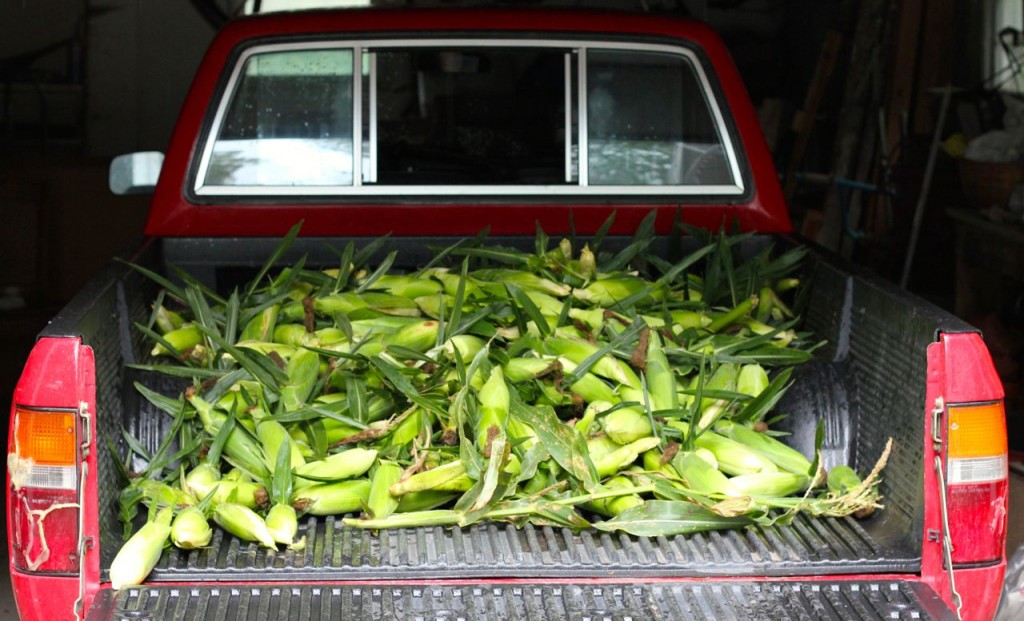 Dad had made a new tool, to make slicing the corn kernels off the cob easier. We all agree that that's the only difficult thing about this job. Well. That, and then cleaning up all the sweet stickiness afterwards. Sweet corn is sticky, folks, loaded with sugar as it is.
Here's Dad's ingenious new tool: a little wooden plug, to fit in the end of the angel food cake pan that Dad uses to anchor the cob. Did it surprise any of us that Dad thought about what was needed to improve the corn-kernel-slicing process, and then tromped down to his shop and made the very thing, and then made a second one, in case he had company in the task? And that it worked just like he had expected it to work? Nope. Not a bit of it. No surprise registered, because my dad is really amazing that way. 🙂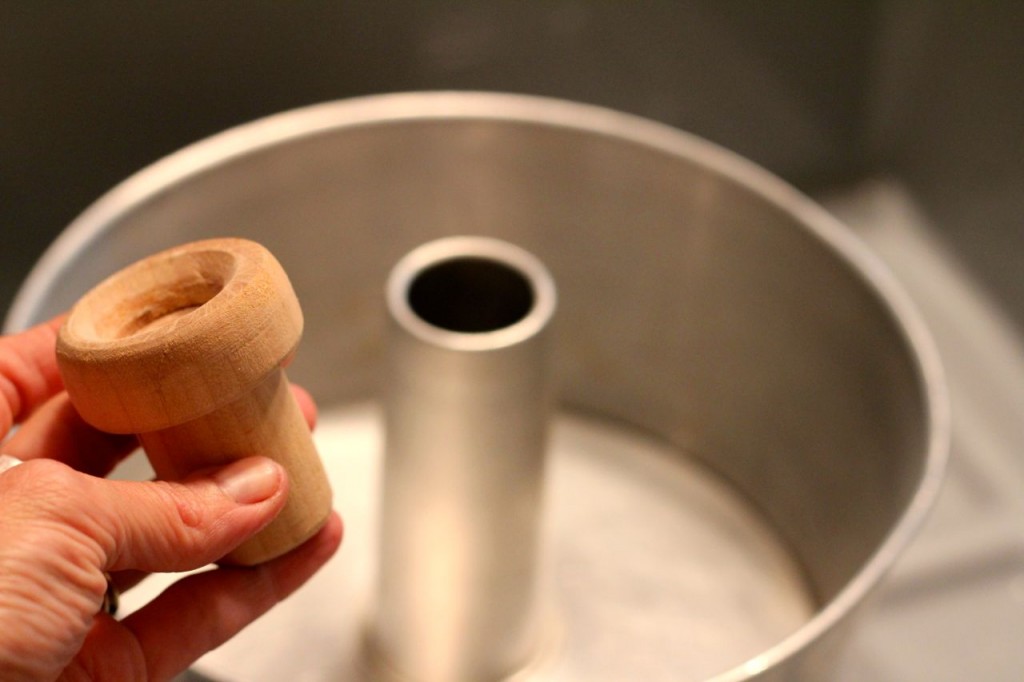 Pretty cool, eh? Here's the little doodad Dad made. And here's how it fits into the end of the angel food cake pan: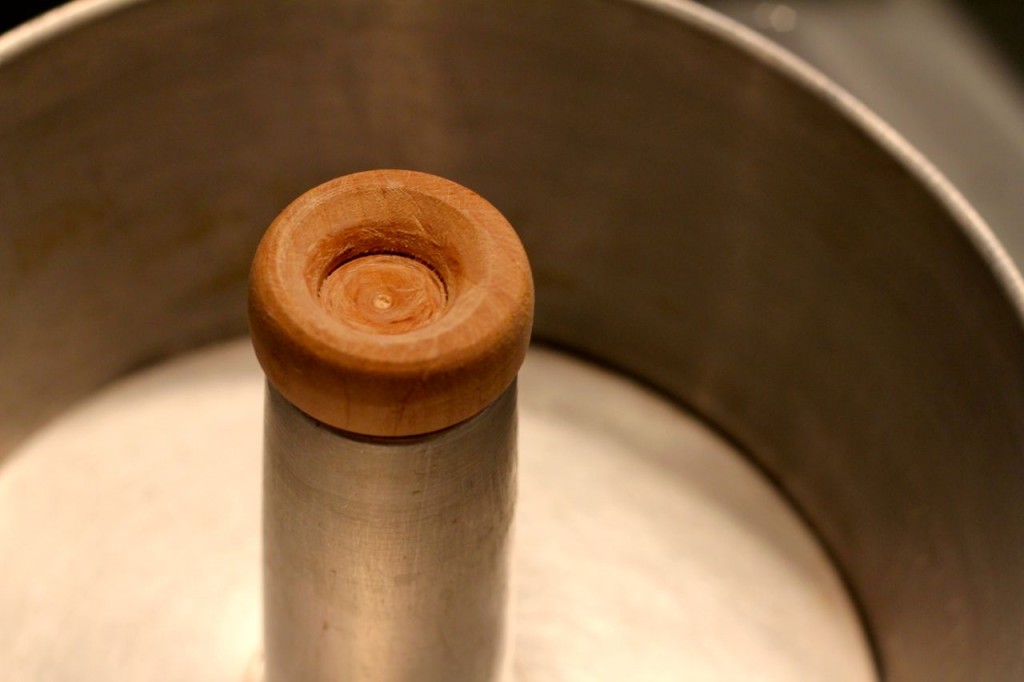 As I mentioned, Dad very thoughtfully made two of these little doodads, so I could slice kernels off the cobs, at the same time he was doing it. Here's how it worked: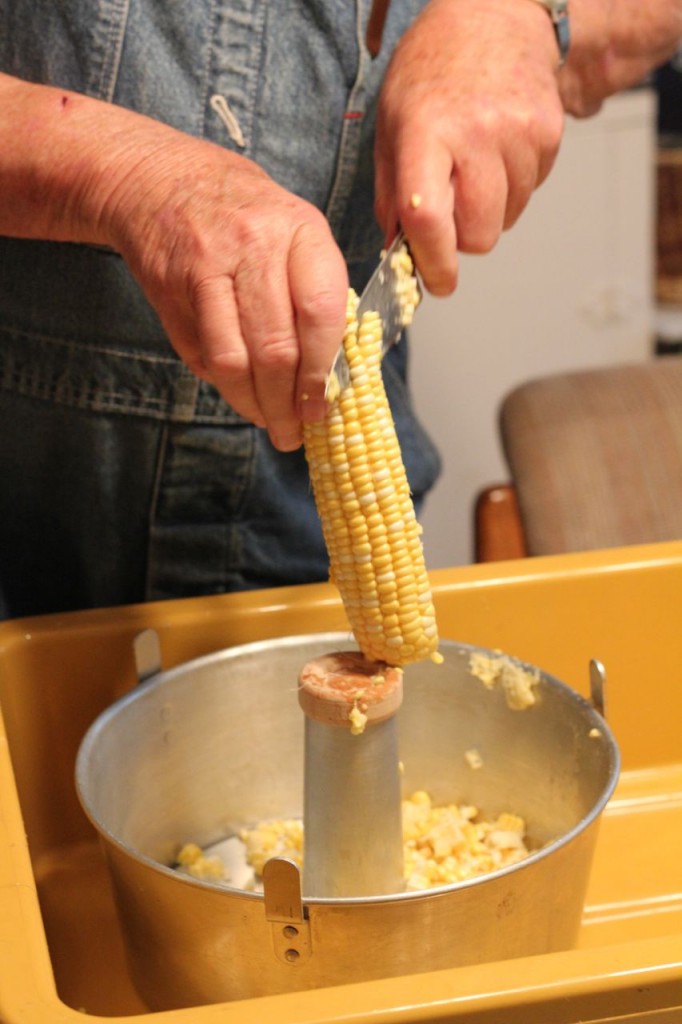 The cake pan goes into the big dishpan. The little plug doodad goes into the cake pan. The cob is poised at the end of the doodad. And voila. Easy as 1 . . .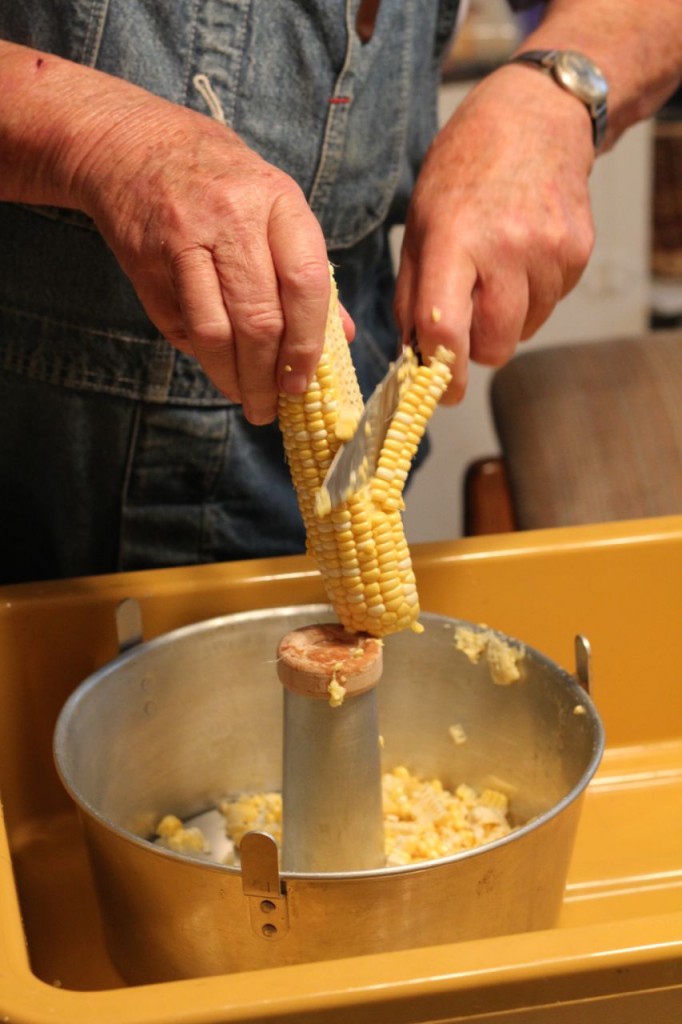 . . . 2 . . .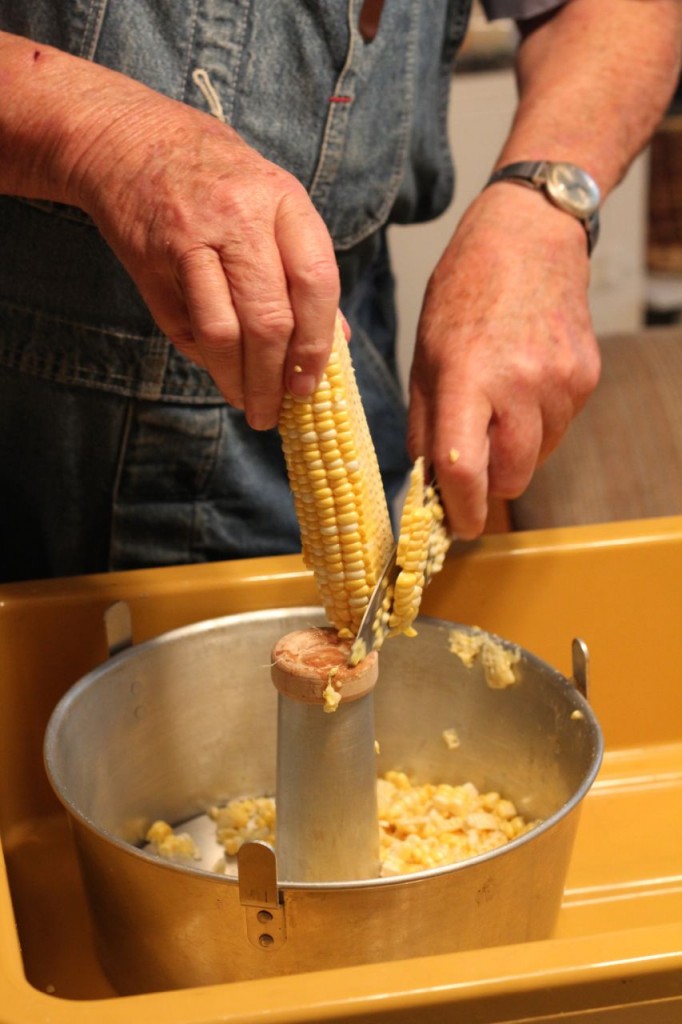 . . . 3! . . .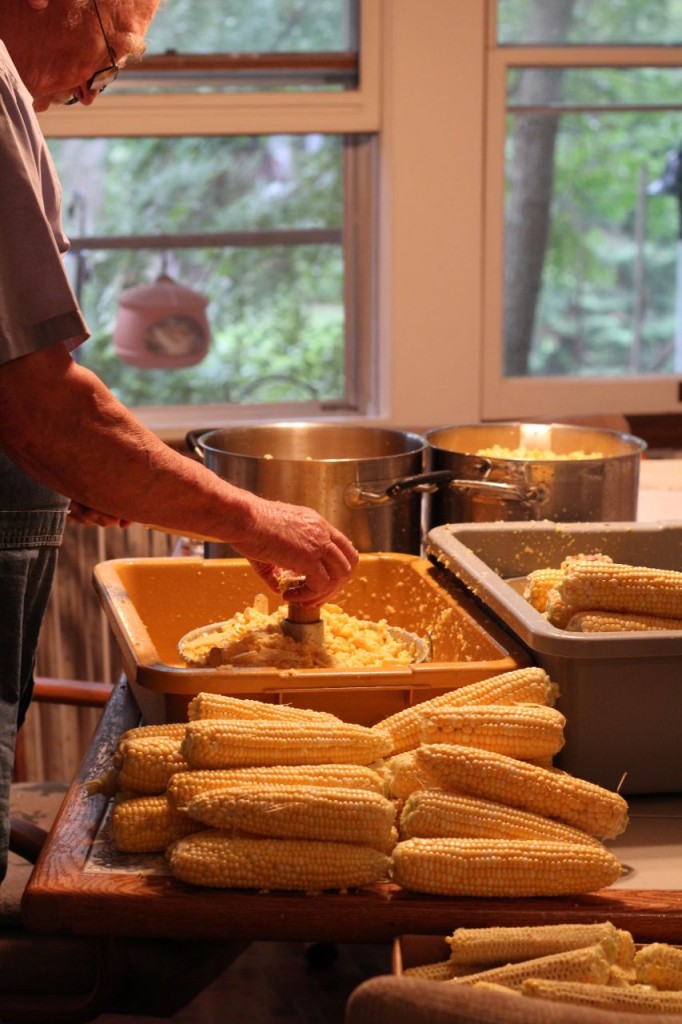 Once the cake pans were full of kernels, we'd dump them into the stock pots next to the dishpans. The empty cobs (in the foreground) were taken home to my chickens. They worked them over for days. Waste not, want not: my mantra and certainly my chickens', as well.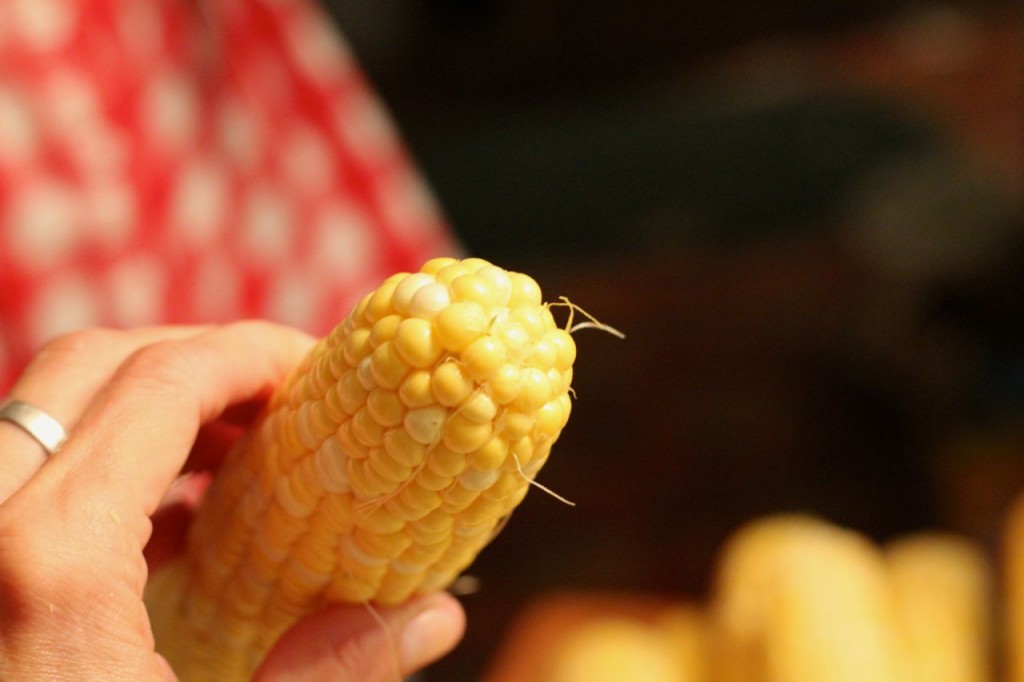 We were so thoroughly impressed by the beauty of this sweet corn! Check out how the kernels wrapped around the end of the cobs!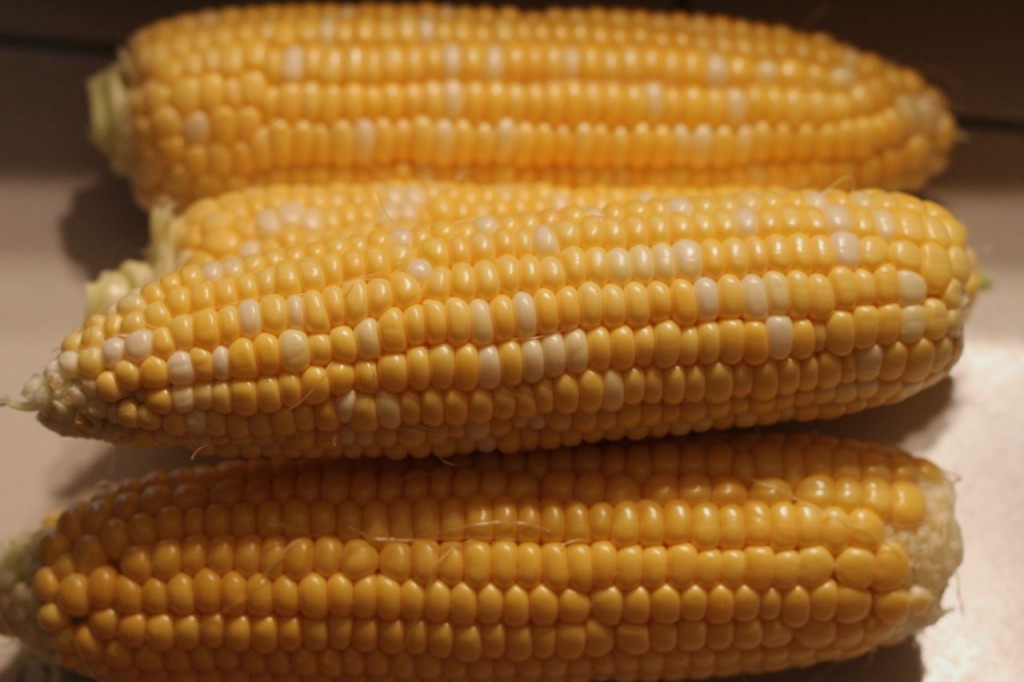 Pretty, pretty! Bicolor and all-yellow, both. Once our stock pots were full, we added the following to each of them (there was about 40 cups of corn per pot): 1 stick of butter, 2 Tablespoons of water, and 2 Tablespoons of salt. This is my dad's friend Donna's recipe. We then heated up the corn (covered) until it was steaming and boiling, and then cooked it for 5 minutes. Then we spilled it out into a very big bowl to cool. When it was cool, little Mack helped me dish it out into freezer bags. Oh yes, we each ate a big bowlful, too. Each of us. Or maybe, two bowlsful. It was so good. Hot buttery sweet corn. Yum.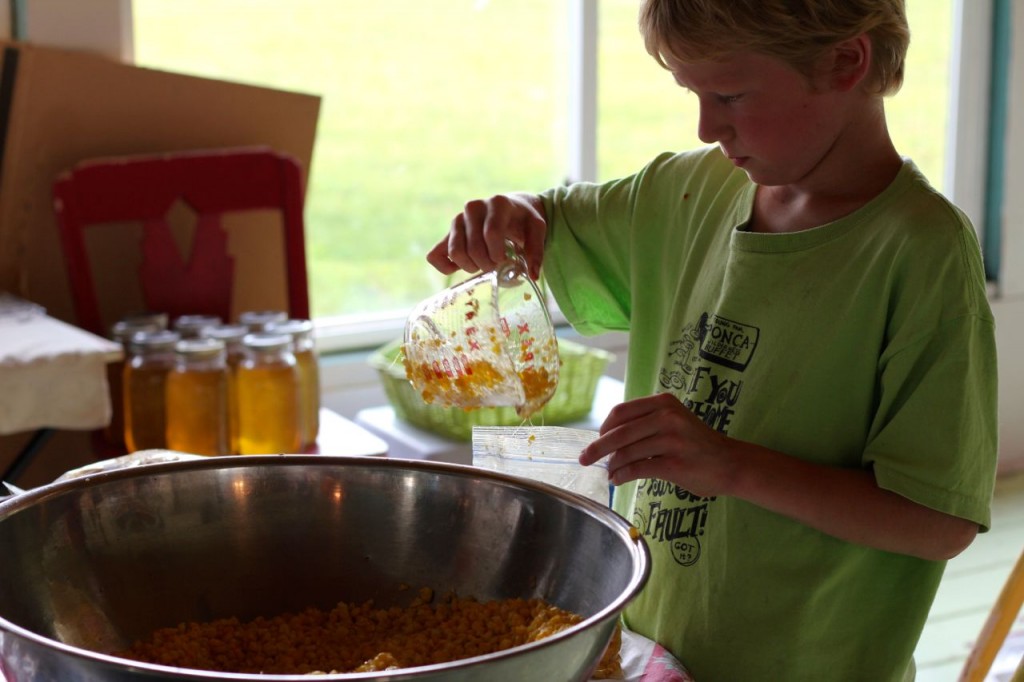 The bags went straight into the freezer. They'll taste like ambrosia, come winter, I know they will.
As you can see in the background of the picture above, we were processing raw honey on the same weekend that we were putting the corn into the freezer. It was indeed a sweet sticky weekend.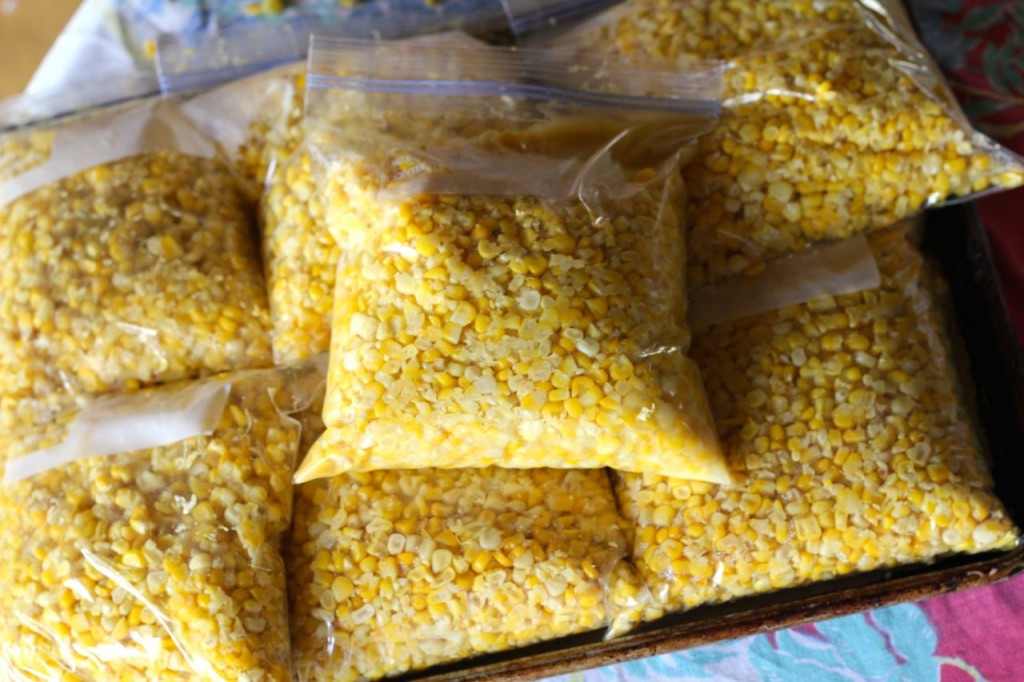 Here's a simple recap of Donna's recipe, just in case you're fortunate enough to have sweet corn to put away in your freezer!
Slice sweet corn off cobs, into a large stock pot.
To 40 cups of corn, add: 1 stick of butter, 2 Tb salt, 2 Tb water.
You can add sugar if you like, but most of today's sweet corn doesn't need any more sweetness.
Cover the pot and bring it to a boil over medium heat, stirring now and then.
Cook for 5 minutes.
Cool in large bowl or big pans.
Put into freezer bags, and freeze!
Have you heard in the past few days that we're supposed to have an extra-cold winter? I think the Old Farmer's Almanac used the words "piercing cold" in regards to our area's winter forecast. Filling the freezer with yummy edibles like this sweet corn is one way we gird our loins, so to speak, for the cold and the snow that is sure to come. Cheers!
I'll be sharing this post with the congenial folks over at The Prairie Homestead this week. Come on over, chickie, and learn something new!
By the way, I'm running a second fall planting giveaway, giving away some packets of seeds for some lucky reader. Bop on over to this post to read about fall gardening, and to enter! But don't delay–it'll end next Tuesday, Sept. 2nd.