The Prairie Homestead Guest Post:My New Favorite Garden Tools!
Okay, Gentle Readers, I'm going to encourage you to visit another blog today.  I've discovered an amazing new blog, written by an amazing young woman named Jill.  Jill lives on a small farm in Wyoming and she blogs about things that I care deeply about, and other things that I want to learn about.  Gardening.  Cooking with whole foods. Jesus.  Farm animals. Free-range chickens. Raising children.  Making your own everything.  Essential oils. And lots more.
A few weeks ago I discovered that Jill hosts a cool feature on her blog every Monday, called a "Homestead Barn Hop."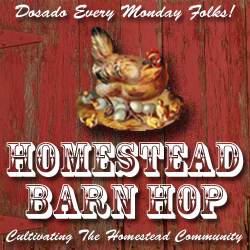 Every week she encourages other bloggers with homesteading-related posts to drop their links into her site, resulting in a cool new collection of homesteading stories and tips of all kinds, every week!  I've learned a great deal from reading a few of these posts every Monday.  Here are just a few of the topics that you can choose from this week:
(Oh! That last one is mine!)  You can find all these homesteading-related links and hundreds more every Monday at The Prairie Homestead. 
I'm quite sure that the lovely Jill and I are kindred spirits, and when she asked me if I wanted to write a guest post for her blog a couple of weeks ago, I didn't hesitate.  "Yes–yes–yes–yes!!" I think were my exact words.  I had an idea for a post that I felt would fit nicely into her blog, and she graciously agreed with me.
Because of an amusing and frustrating work-related income change in our family, I've discovered that my "humble" skills of raising chickens and a big garden and a small orchard and a large family can certainly work together for good during lean times.  Last summer when we were trying to catch our breath and pay our bills as my husband's income dropped, I discovered that we could eat meal after meal after meal (after meal!) from my garden and my orchard and from the chicken house and really not miss much from the grocery store.
I mean, really, it was a big eye-opener.  We are eating better than we've ever done, and have less grocery money than ever.  It hardly seemed possible, but it was true.  No longer did I walk into the grocery store and drop a hundred bucks on groceries.  Instead, I paid a lot more attention to what I was planting; I used the garden and orchard produce more carefully; I become much more creative with my cooking; I traded bread for produce and meat at Farmer's Market every week.  We bought very little processed food (well, the occasional bucket of ice cream found its way into the cart and fudgsicles are practically a staple out here, and I can't grow my own rice . . . you know . . .) and I got really creative with the fruits and vegetables that we produced on our place.
Here is what I learned: this was all forced on me because suddenly we were grappling with how to live on much, much less, but it turned out to be a very good thing, and actually we eat so much better and wiser now.
Kale is so much more nutritious than potato chips, for example.  Homemade bread made with freshly-ground wheat is loads better-tasting and better for you than the "air bread" (my kids' term) you can buy in the store.  Pop and candy bars are a waste of money and actually are full of all kinds of stuff that probably you're better off without.  You can prepare eggs hundreds of different scrumptious ways, and if you've got really good eggs, nobody complains.
All that back story is just to explain that I don't spend a lot of money on fancy gardening tools.  I just don't.  Well . . . I must confess that if I had the money for a fancy new mower with a rototiller and a grass bagger, and a huge mower deck and a dandy plow in the front . . . (sigh) I'd certainly buy one, but for now I'm thankful that my dear dad will come out and rototill my garden in the spring, and that we can still coax our used-up riding lawn mower to run. Most of the time.
We have so much to be thankful for.  No matter what, I will not forget that.  My old hoes and shovels and trowels, if I take care of them, should last  a long, long time.  You just don't need much fancy equipment to get a lot of goodies out of a garden!
That said . . . I get pretty excited about anything that will help me use my time wiser, especially in the garden, where I tend to plant more than ten people could keep up with, when there's only me and my two youngest kiddos (bless them)–Amalia and little Mack–to help.
And that's what I wrote my guest post for Jill about, a few new gardening tools that I've discovered this year and how they bless me and save me time and effort, every time I head out to my garden!
If you have a garden or even just a few plants in pots, it's so helpful to have a few great tools that help you do your gardening faster and better, isn't it?  These new things make me so happy, and make me feel so smart, and that's a pretty cool deal, really.  Read about my favorite new finds on The Prairie Homestead today.
And then I'd love it if you'd make a note in the comments section below about any new garden tools that you've discovered recently that help you to garden smarter! We're all in this together, aren't we?