CHEAP & EASY Deer Fencing that WORKS!
INWHICH I show you how to erect an cheap and easy deer fencing that actually works to keep the ornery critters out of your plantings!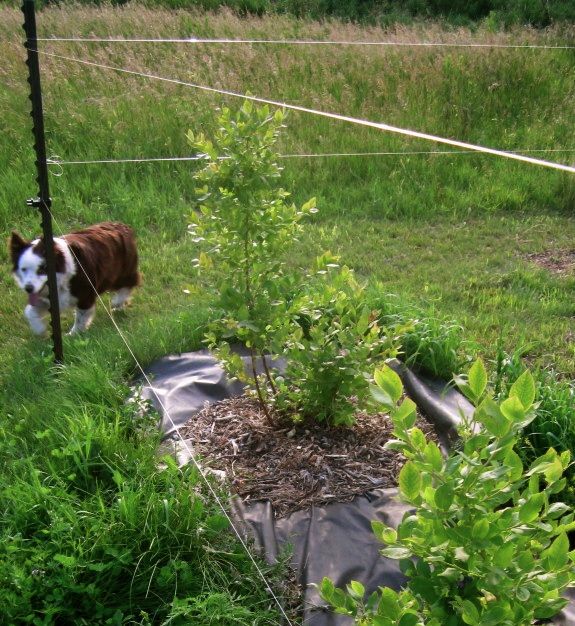 The Habits of Odocoileus Virginianus
Lovely white-tailed deer (Odocoileus virginianus) roam about our place in alarmingly high numbers. Wait. That was not strong enough. What I should have written is this: there are are too many stinkin' deer around these here parts. There. That's better.
In the late fall, these lovely creatures are hunted for their meat. The meat is tasty and lean. It makes good sausage, jerky and steaks. The deer I spot during hunting season seem to have a hunted, harried mien. They're trying to get as much living as possible into their day, just in case it is their last.
However, during the spring and summer, I see them nearly every day on my early morning walks, and it's a different story entirely.
They know it's not hunting season. They blithely bound about: into my orchard to nibble on baby peaches still on the trees, or through my garden, happily finishing off the beet greens and the sugar snap peas, or (alas!) among my lovely blueberry bushes, clipping off buds, branches, berries, all at one fell swoop of those efficient, sharp little teeth. Yep. They are completely different animals. They are not hurried in the slightest.
Deer are beautiful in their graceful bounding, their lean and lovely lines, their big expressive eyes and soft muzzles. The fawns are heart-meltingly sweet, with their sweet little spots and huge Disney-esque eyes. I can see why so many people abhor the thought of shooting them.
They are also a royal pain in the you-know-what, if you try to grow anything that they like to snack on.  And that list is a long one: pine trees. Fruit trees. Garden veg. Any young trees at all, as a matter of fact. Berry bushes. So many things.
Backstory on The Deer Problem
Please indulge me as I share a tiny bit of deer-related backstory. When we first moved out to the country many years ago, we planted a small orchard right away–about a dozen trees: apples, plums, cherries, peaches, a little bit of everything. The little trees had a good start and they looked great going into our first winter. But. As soon as the young buds and leaves and new growth blossomed out in the spring, that new growth would disappear. The trees would be completely stripped down to the older branches, overnight.
It was frustrating and many of the trees didn't survive the rough treatment.
Eventually, we realized what was happening to our little trees. As soon as the trees put out any kind of fresh new green growth, the deer would move in during the night and eat it all, every last bite. Most of our little trees died, for without leaves they couldn't put on any new growth.
(You are familiar, are you not, Gentle Reader, with photosynthesis?)
The next year was the same. And the next. The few trees that didn't die outright just barely hung in there. Of course there were no dreams of fruit, there was just a raggedy effort to keep the trees alive.
What we needed, of course, was a method of putting up deer fencing that was cheap, easy and really worked.
Confounded!
We had moved to the country, in part, so we could grow as much of our own food as we liked, and the local deer were killing our orchard trees, one by blessed one. A fence tall enough to keep the deer out wasn't a possibility–it would have to be at least 8 feet tall. We couldn't afford a fence that big, nor did we want one.
And even if we could have put up such a high fence, there was every chance that the deer would just leap right over it to get to the goodies inside. Doggone lickity-split bounding greedy deer-faces.
We were down, but we weren't out. Did we despair? Well, yes, as a matter of fact, we did. For awhile. Because . . . although we replaced the trees one by one, the new trees would get eaten, too.
We didn't give up. Or give in.
Really good apples (ask anybody) are among my top five favorite foods. And the way to get lots of really good apples (ask anybody) is to raise your own.
So. We tried one thing after another to keep the deer from eating our tender young orchard trees:
First, we installed tomato cages around all our orchard trees, but it didn't work, and it was ugly, to boot.
Putting up electric fencing was our next defense, but our prairie grass grew so quickly that it would ground it, rendering it useless.
We collected hair cuttings from our local barber and scattered them around the perimeter of the little orchard, hoping that the scent of human would keep them at bay. It didn't seem to make a wit of difference.
Bryan brought home bottles of "Deer Away," a commercial deer deterrant, and sprayed it around the orchard.
Nothing worked. It baffled us.
Clearly. We needed a cheap, easy deer fencing solution that would work against the ravenous Odocoileus virginianus. And fast!
A Chat With Another Farmer Gave Us An Answer: a cheap, easy deer fencing solution that actually worked for her!
And then. One day I was commiserating with another friend, a gardener and grower who takes her plantings pretty seriously, too.
She shared with me an incredibly easy and cheap solution to keep the deer out, and I went straight home, buying the supplies on the way, and did exactly what she said and, Gentle Readers, it worked perfectly. The rest, as they say, was history!

Finally. A cheap, easy solution to the deer problem.
I've made and maintained this cheap, easy deer fencing for years now, and it works. Furthermore, I'm that grateful that it works so well, because it's so, so easy. If it was difficult, complicated and expensive, there's a very good chance that I'd never get it done. (Frankly!) This takes just a few minutes to put up, and then a few minutes every now and then to maintain.
And finally . . . after several years of making and maintaining this one super-simple fencing solution, I have bushels of apples every year, as well as peaches, plums, cherries. . . . and this year I also protected my blueberry bushes–which are loaded, as well–the same way.
Here it is! A Cheap, Easy Deer Fencing that really works!

Here is how you can protect your fruit trees or your berry bushes, or your vegetable garden, or your perennial beds, with very little money and very little time.
This is all you need:
a few stout t-posts
a post driver
a roll of sturdy fishing line, like this one here:
Or, if you have lots and lots of deer pressure, try this: it's much stouter line:

If you have little ones running around, you may want to go with something more visible, like this:
That's it! That's all you need. You even may have these items in your garage or shed right now. I know we did. And this is what you're going to do:
1. Drive the t-posts at the corners
First, drive the t-posts at the corners of your orchard, garden, or whatever you want to protect.
2. Attach fishing line to the t-posts at about waist-height
Attach the line to a t-post, and pull a strand to the next post. Wrap it around the second post a few times and proceed to the third post. Again, wrap it tightly and proceed to the fourth and final post.
3. Add a second line, closer to the ground, and maybe a third
When you've made it completely around your orchard, wrap the fishing line around the post a few times and then start again, at another height, and repeat, until you have two or three strands of the fishing line now protecting your treasures.
An important note about safety matters
Personally, I think it's ideal to string three strands of fishing line as your deer fence: the first one about 10″ off the ground, and then the next two spaced fairly evenly on the t-post above it. We only keep two strands, though, omitting the lowest one, because we have a couple of dogs that regularly run under and get tangled in the lowest strand if we don't keep it higher off the ground.  So if you don't have this problem, for example if you only keep corgis or dachshunds, then by all means, add the lower line.
But! Keep in mind that this fence is practically invisible, so if you have short little people running around (as I do, and I thank God for them!) then you may want to tie bits of rags or masking tape, or something quite visible so your tots don't get tangled up in it.
Question: What about mowing?
Fishing line is actually fairly stretchy, and we've discovered that you can carefully ease under the bottom line (ours is about 3′ off the ground) with the mower, making mowing around and under the deer fence a snap.
One Last Word to the Wise about Safety
Since we do have a mobile little man who races about at break-neck speed, we (obviously) are careful not to string the practically-invisible fishing line at the level where it might catch him in the neck. There is only one place where our mowed path intersects with the fishing line fence, and we strung a strand of very visible white electric fence tape (not electrified, obviously) along with the strands of fishing line, to ensure that little Mack will be reminded of the fence.
Question: Why the heck does it work?
Gosh, I don't know! We do have a hypothesis, however, about why this cheap and easy deer fencing simple really does seem to work. We believe the deer graze along in our grass, and when their sensitive muzzles brush against the (invisible) fishing line, it startles them, so they strike out in a different direction. If they really wanted to, I'm sure they could crawl under it, or leap over it, but since it is invisible, I don't think they know what they're up against!
I'm thinking about the movie Entrapment here, with the deer as Catherine Zeta Jones, working to slip under and between and around the invisible laser beams . . . I love that movie.
How do I maintain this fence?
Great question! Because deer can do so much damage through all the seasons, we keep our fishing line fences up all year 'round. But it is important to patrol them every couple weeks or so, because deer will run into them and break them, from time to time. If you keep fishing line out where it's available to you at all times, it's just a matter of a few minutes to replace any strands that get broken. This is also why we wind the line around each post, so if one strand gets broken, it stops there and doesn't ruin the entire fence.
As for me, I walk daily past and around my berry bushes and orchard, on my way to the chicken coop, so it's a simple matter to check the fences then.
This makes me very happy.

And if you try it and it works for you, you'll be happy too. Your local deer? Not so happy. But it's not your job to make your local wildlife happy, is it?
So there it is, Gentle Reader: a fence against the deer that is cheap and easy to put up, easy to maintain, practically invisible, and that actually works. Ta-daaa!
If you're the sort who works hard to plant fruit trees or vegetable gardens or berry bushes, I know that you want to reap the rewards of the delightful rewards that can come from such efforts. If the deer move in and spoil it all, well, it goes without saying that they must be stopped.
So go–build your deer fence . . .

 . . . and save those goodies that you work so hard for!
Thank you so much for stopping in today! If you found this information to be helpful to you, would you consider doing one, two, or three very simple things: and I will love you forever! Sign up for e-mail updates in the bitty box above, and 'like' my vomitingchicken.com Facebook page, we get into a lot of animated conversations there, really! Then you won't miss a thing that's going on in my little space of the interwebs.
And if you would share this post with somebody who might also benefit from it, I'd really be indebted to you. Oh! And please leave me a comment if you tried this fishing line deer fence at your place, and how it worked. I'd love to hear from you.
So simple, really, to win my undying gratitude! 🙂 
🙂 Thanks for reading in this space!
*hugs*
One more thing:
Check out these related posts:
Frank's brilliant addition to my deer fence (especially for those with great deer pressure)
The dandy all-natural insect bait that I hang in my fruit trees every spring (it works!!)
Several non-toxic ways to outwit the nitwit cabbage moths that flutter around your garden.
Pin it for later!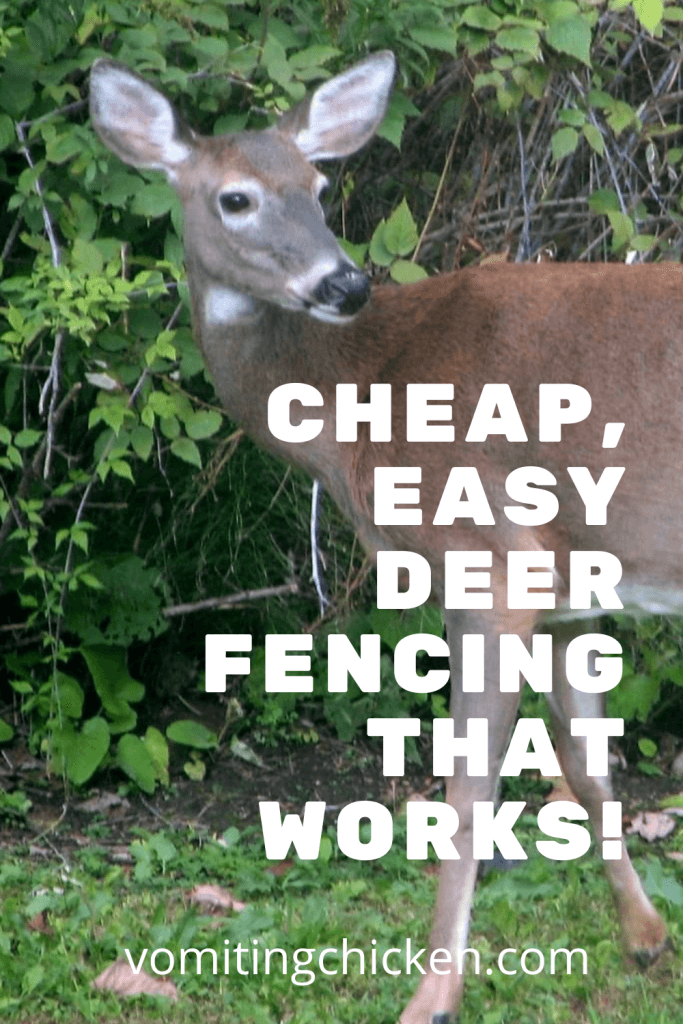 Thanks for popping in, my friend. If you have a friend or relation whose plantings are also regularly picked on the local deer population, will you do me a favor and share this post with them? Thanks kindly!
*hugs*
Amy