"It is the summer's great last heat,

It is the fall's first chill: they meet."

–Sarah Morgan Bryan Piatt
I had a big "AHA!" moment last week. I had an opportunity to spend a couple of hours doing some housework in utter quiet. Amalia and I were in somebody else's house and (despite Amalia's best efforts!) we couldn't figure out how to hack into their computer so we could listen to music as we worked. Alas.
But we only had a couple of hours to get our work done, so we just got to it: Amalia in her area of the house, and me in mine. Without music. Without a radio to help pass the time. This is not at all our usual modus operandi.
Generally when either of us is working, the first thing we do is we set up our diversions: What'll it be today, Amalia–The Pirates of Penzance soundtrack? Some bluegrass fiddle music? J. J. Heller? Or should we turn on the radio and catch up on the news? (Gilbert and Sullivan it is!)
Then we work away. Our hands are busy, our heads are busy. We chat and we laugh and we sing. It's a very nice way to work.
But this day, Amalia had a job to do, and so did I, so we did it, sans diversions. Our hands were busy, our heads were . . . not.
And I learned something, Gentle Reader. Or, more accurately, I re-learned something, because I used to know this. Here it is. Are you ready? Here's what I learned: a quiet brain is a creative brain.
As soon as I adjusted to the utter quiet (not without some anxiety, at first, I am accustomed, as you know, to lots of noise and clutter and activity, at all hours of the day and sometimes night, alas) I was amazed at how my brain started to work on creative projects and problems, too. As my hands kept busy.
When I finally adjusted to the awkward and enforced quiet state, my brain started to work, and the two hours that we spent working just flew by. I caught up on some heavy-duty prayer time, I worked out a few problems that I had been struggling with, and I wrote (in my mind) something very funny indeed.
I was surprised at how much I had actually accomplished at the end of the two-hours-plus-time span, and it was all because it was so . . . incredibly . . . QUIET.
I think we need quiet, (certainly occasionally but perhaps often) don't you? We need it. It's not just a pleasant way to spend a bit of time. I think I personally need this quiet more than I realize. I think my spirit and my brain and my heart suffer a tiny bit from not allowing myself quiet, from time to time.
My wildly-creative and efficient brain-work that I did while I was forced to work in stillness was a reminder to me about that.
Perhaps your brain and heart and spirit are craving a bit of quiet, too. Can you get away by yourself–sans MP3 player, sans radio or ipad or iwhatever–today for a bit and just enjoy the rejuvenating effect of Quiet. Stillness. Peace.
Here's one of my favorite verses from the Bible that I hope for you today, Gentle Reader.
"The Lord bless you and keep you,

The Lord make His face to shine upon you

and be gracious to you;

the Lord turn his face toward you and give you

Peace." –Numbers 6:24
That's my wish and hope for you today.
Now that I've waxed on and on about quiet, I really need to remind you of something that is not quiet-related. It's this awesome sale that I've had the fun of being part of this week. It's been a pretty cool experience for a newbie blogger like myself.
It's a Bundle of Goodness: information about health and wellness and so forth. The numbers are pretty impressive.
Here they are:
71 ebooks
22 discounts
4 meal plans
3 online magazine subscriptions
1 month to an online fitness plan
$1107 value when you add up the cost of all ebooks, meal plans, online magazines and the fitness plan
And here's the most important number:  there have been 4066 happy customers so far and you could be an added one, but you only have 24 hours left!
Check it out by clicking on the link below: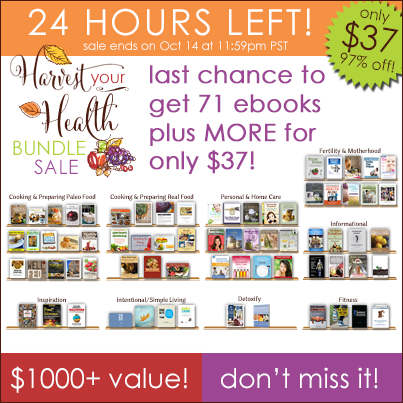 Maybe you've been on the fence on this one, but now you're ready to make the purchase. Then simply click on this link below: (and thank you, in advance, since I am an affiliate of this event I'll make a dainty commission every time somebody buys from my site.)